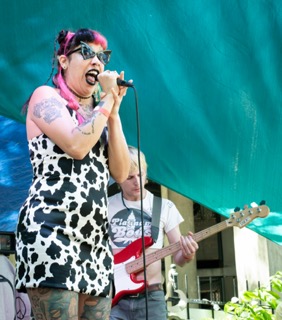 5 June 2023
It turns out that the nicest kids in the world are playing noise rock in the Midwest. Caterwaul Music Festival lived up to its name by desiccating Minneapolis' West Bank with bowel-stirring rock. Walking up to the festival, I heard a wall of sound from the first band, Curve. Even from blocks away they seemed to vibrate the pavement with joyful, terrific noise; the sign of a good show underway.
The lineup was absolutely crammed and bands were quick to set up and tear down, making for a nearly manic presentation. There was little to no downtime in between sets and the bands themselves were blissfully not usually long on the forced banter and awkward one-sided chit-chat that some indulge in. It was all rock, all the time.
Due to an oppressive need to hold a day job, I'd missed the first day of the festival and I'd have to fly home before the last, and initially I was bummed to get only the cream filling out of this Oreo of a festival. However, I would say that the experience was still delightful, and I experienced more music in those two days that I had in the past month.
Saturday's bands were all fantastic, but there were definitely some standouts. Delicious Monsters played a wiry, spangly set that was more controlled and tight that most bands that day. Their sound was angular and protracted without being pretentious, and they had moments of real harmony mixed in with grottier, dirtier vocals.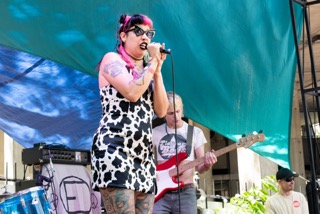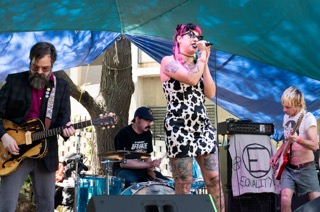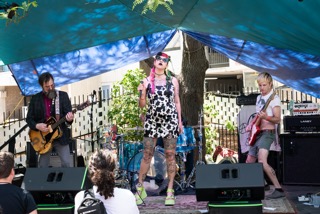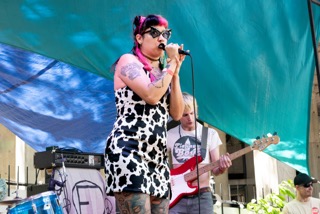 On the opposite end of the spectrum, Haploid brought a charming sound with percussion that bordered on a Burundi beat on Klonopin – slower but just as mesmerizing. Their singer has a density and weight to her voice that carried throughout.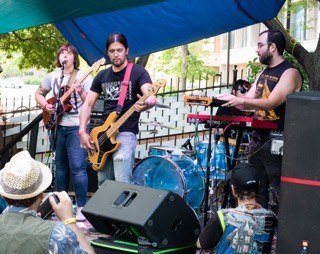 Festival organizer Conan Neutron's band Conan Neutron and the Secret Friends were also stand outs. Conan is a live wire on stage and this show was no different. Like a runaway train, Secret Friends powered through an impressive set. "Avid Fan" has long been one of my favorite songs of theirs, and this was probably the best rendition of it I'd heard. So dark and syrupy . . . truly music to lose your mind to.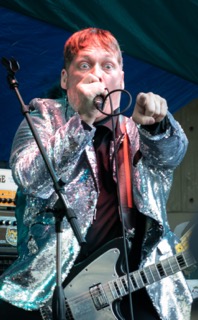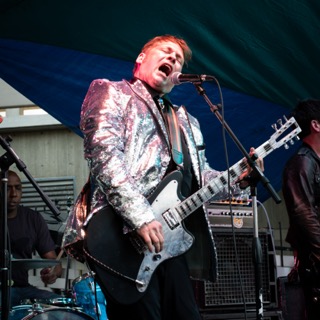 Hands Up Who Wants to Die and Multicult played equally impressive end-of-evening sets, and their back-to-back placement was like a tour-de-force of, well, force. These two bands had a lot of proverbial muscle behind their sound and it was a great way to end the night.
The absolute star of the day, though, was Chicago band Djunah. Front woman Donna Diane has a voice that could launch a thousand ships – solid, stoic, and simply satiating. After a day of gluttonously stuffing myself with the fat and fiber of noise rock, Djunah still found a way to satisfy a hunger I didn't know I had. Dense and dilated, their sound was so simple an true. Their recordings do not do justice to their live performance. I recommend anyone able go see them live.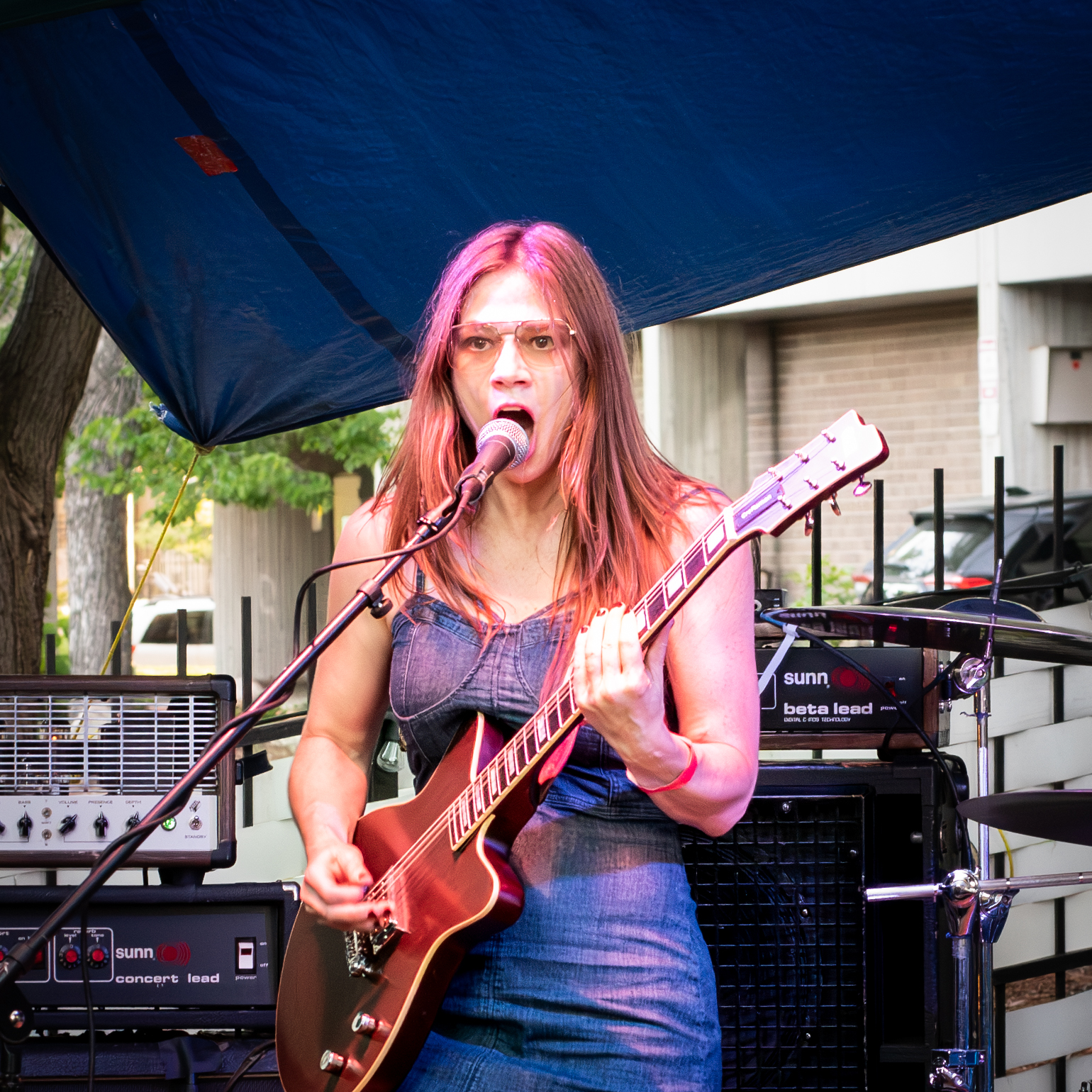 Sunday morning I woke up with an intense stomach ache. I think the rock from the first day may have actually punctured something inside my guts. I'd heard the quickest, albeit probably not smartest, way to cure a hangover is with another drink. Figuring I was perhaps absolutely hungover on rock, I decided the best thing to do would be get back to the show as soon as possible.
kicked off the day with an explosive set. It was a good appetizer for the following band that absolutely dominated – chaotic duo, Heet Death. I always enjoy when people play their instruments like they are mad at them, and Heet was absolutely furious. Charing through their set, they produced enough sound to lay waste to multitudes; it was hard to believe it was coming from just the two of them.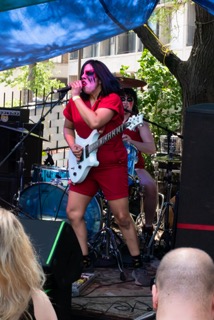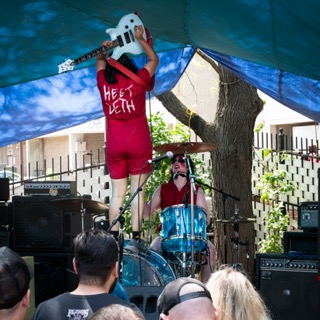 The Bay Area's Reptoid managed to carry more noise into the space, playing his experimental dreamscape (nightmarescape?) of percussion that borders on being science fiction even though it's happening in front of you in real time. It's just hard to believe that Reptoid, whose rig that consists of a practically animatronic drum set, exists in the same realm as the rest of us.
Mr. Phylzzz nearly neurotic brand of windmill rock was a good addition to the day, too, with buzzsaw guitars mixed with some oddly old-school rock charm. I could swear there was some Chuck Berry influence underneath all that grot and grime.
All in all, Caterwaul was a blast. The bands were ferocious on stage and nearly familial in their support of each other off stage. If you want to have your mind blown and possibly your ear drums, I highly recommend catching this festival next year in what I hope is going to be an annual event for a long time.