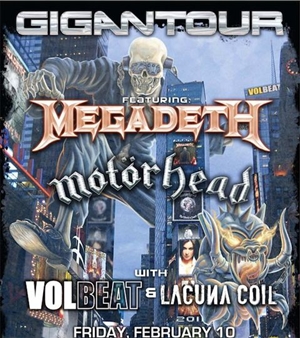 13 February 2012
First off, Tim Bugbee's Gigantour review had some great pics, so I won't even attempt to follow that with some sad, blurry cell phone pics taken from the balcony. I will, however, regale you with some words.
Starting things off was Lacuna Coil, a band that I have made no secret as to the regard that I have held them in. I have no idea how they are the low band on the totem pole. It may have been due to the fact that they had another show scheduled later that night but I doubt it. As a result, they only were given enough time for 6 songs. With a brand new album out, half of their set was from that. The first three were a bit of a bore with one lackluster new song sandwiched in between two forgettable Karmacode tracks. The second half choices were far more wise as two of the new album's, Dark Adrenaline, best three songs ("Trip The Darkness," and "Kill The Light,") led to the strong finish of "Spellbound", by far the best song from their last effort, Shallow Life. The song serves as singer Cristina Scabbia's clarion call to come see them on their headlining tour. Most disappointing is the lack of representation of their first four excellent releases. An unfortunate result of being the first band of a four band bill.
Next up were should have been openers, Volbeat. The crowd reacted far more loudly to them than to LC and I don't see it. They do offer a more energetic brand of rock but it's also pretty one dimensional. The rapid delivery of Mr. Ed crossed with James Hetfield vocals certainly doesn't do it for me. To their detriment, the most interesting part of their show was finishing with Slayer's "Raining Blood", only to stop after a few bars of that most evil riff. I will say that the track that stuck out for being completely different, "Fallen", is a pretty good rock song. Cool note, though; Hank Shermann of Mercyful Fate was guest guitarist.
All that was merely prologue anyway as Motörhead used "Bomber," to blow it all to hell. "Everything louder than anything else" is not just a slogan on one of their t-shirts. It's a promise as they played as loud as they could without it all becoming indecipherable cacophony. The crowd was surprisingly tame through "Damage Case," and "I Know How To Die,". Not until "Over The Top," did the pit begin to stir. The biggest reaction of the set came when über-drummer Mikkee Dee unleashed a flat out beast of a drum solo. It's hard to believe that this line-up has been together since 1984 and can still be the same high octane force. That continuity never makes it mechanical. Lemmy repeatedly urged the crown to get louder. He demands mass decibel output from everyone, I guess. They finished up with three classics ("Killed By Death", "Ace Of Spades", and "Overkill,") and left the crowd attempting to roar over the sheer volume. We were all in a tizzy.
As the keyboard intro of "Trust," began playing behind the curtain, I started to have flashbacks to the last time that I had seen Megadeth nearly 15 years ago. Leading off with the Cryptic Writings track was something I was not expecting and it was a pleasant surprise. To no surprise, however, was the tight, impressive performances of guitar duo Dave Mustaine and Chris Broaderick. While only on his third tour with the band, Broaderick (of Jag Panzer "fame") has proven to be a welcome addition and is the kind of partner Mustaine has been missing since the departure of Marty Friedman. Also, of little surprise was the difficulty in hearing Mustaine's voice for much of the night. Whether this was due to less than ideal engineering, the after effects of Motörhead, or Mustaine's voice itself is unknown. Having seen the initial Big 4 show and hearing Mustaine's vocal struggles that night make me wonder. However, there was nothing resembling a food poisoned cat on this night so I'm going to lean towards sound problems.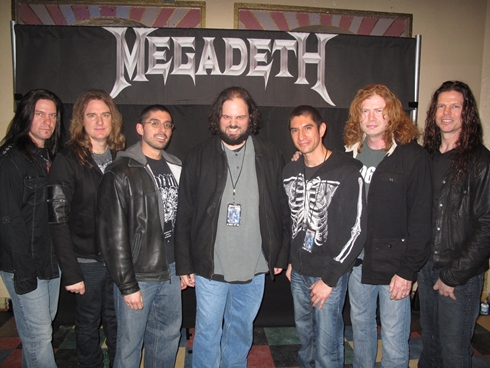 In between every song, the band would leave the stage. It was a bit confusing but whatever works, right? There were plenty of hits and they were spread out nicely. The 20 plus year-old (really?) "Hangar 18," thrashed by into an even bigger Cryptic Writings surprise in "She-Wolf,". That segued well into a particularly enthusiastic performance of Countdown To Extinction's "Foreclosure Of A Dream,". Then came a dip, by my estimation. I appreciate original and nearly constant bassist Dave Ellefson getting a chance to stand out front but "Dawn Patrol," is (especially by Megadeth standards) just not a good song. Fans seem to just love when they play anything from Rust In Peace but, personally, I can do without "Poison Was The Cure," too. The lone choice from the very good Endgame choice was the not very good "Head Crusher,".
Things got back on track as Lacuna Coil's Scabbia returned to duet on a rendition of "À Tout le Monde,". Mustaine's vocal effort was very strong as well, not to be shown up by the very attractive and talented Scabbia. The latest album, TH1RT3EN, then got a healthy block before the band kicked it into overdrive. The Aragon erupted and swayed violently to the "Symphony Of Destruction," and bought into every note of "Peace Sells," before Megadeth, as a whole, left the stage. They came out for the one number to make my life's Megadeth concert experience come full circle. The first and last song I have seen them perform is the brutally amazing "Holy Wars…The Punishment Due,". No show is complete without it. I went in thinking that Motörhead was just going to wipe the floor with everyone but Megadeth proved that they still have the chops to deserve the headlining status.