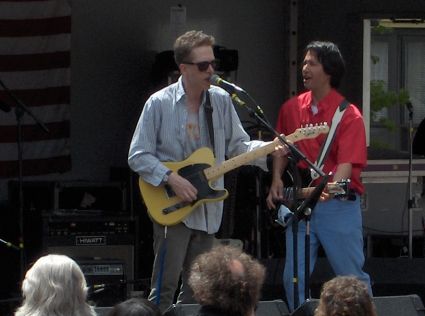 23 May 2006
GLENN MERCER, along with absent co-founder BILL MILLION, formed THE FEELIES way back in 1976. After only four albums with several different lineups (the only constants were Mercer and Million), The Feelies broke up in 1991 and Million moved to Florida. Recently, Mercer has been working on a solo album that has yet to be released, and has been playing out with former Feelies drummer VINNIE DENUNZIO. The sets have featured mostly Feelies material, as well as some new songs, and this performance was no exception.
Although it isn't quite a Feelies reunion without Million there, it was still great to hear Mercer and company, including original drummer turned percussionist DAVE WECKERMAN, tackle Feelies classics like "Higher Ground" and "It's Only Life," along with the set closer "Crazy Rhythms." In addition, they played a few of Mercer's new songs. I didn't catch the titles of any of them, but according to the official Feelies website the titles are "Days to Come," "Wheels in Motion," and "Morning Lights."
Mercer's guitar playing reminds me a lot of TELEVISION's TOM VERLAINE, though in this current incarnation the push/pull tension that Mercer created with Million is lost. Mercer himself handles all of the lead parts while the other guitarist just chugs away on the chords. Nevertheless, it was still a pleasure to hear Mercer play on a clear, sunny day, in his old stomping ground of Hoboken. Hopefully, he can convince Million to join him next time, though.