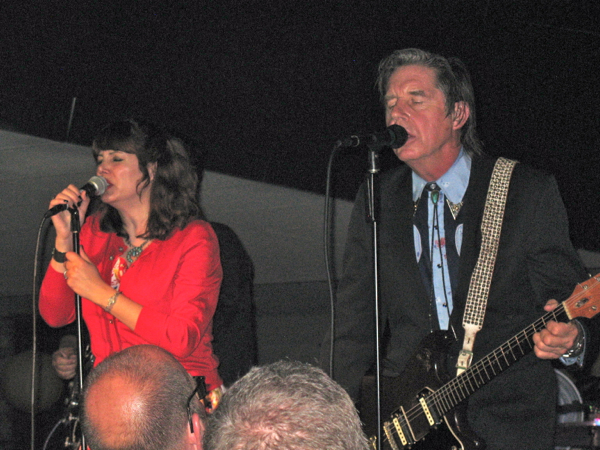 3 October 2014
Photos by Mark Suppanz
Doe's had a successful two-pronged musical career, as founder/frontman of L.A.'s legendary, still-going-strong rockabilly-punk quartet X and as a rootsy folk-rock solo artist. So it's no surprise he seemed just as comfortable at this old school Asbury Park, NJ bowling alley/punk venue — with its stage plunked down smack dab on top of the lanes! — as he was at Manhattan's more intimate, cozy Rockwood Music Hall, where I last saw him play in September 2011, and much-missed lounges like Fez and The Living Room. And while he again brought along an ass-whooping band as he did at Rockwood, he was able to let loose more freely at Asbury Lanes' spacious, spread-out confines, with an enthusiastic end-of-weekend NJ shore crowd egging him on.
Jesse Dayton, Brady Blade, Cindy Wasserman, John Doe, Chris Rhoades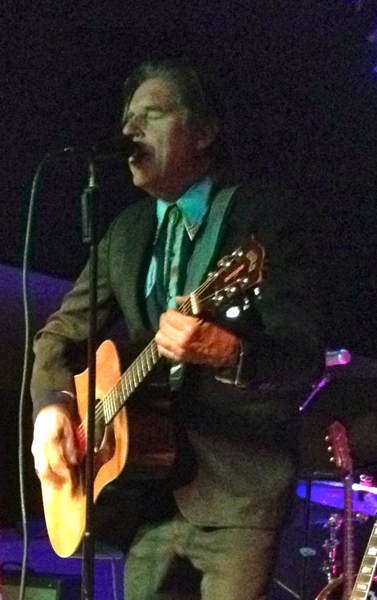 Not everything was ideal, mind you: while the venue's stinging, sharp sound was perfectly suited for the five previous fantastic punk shows I'd previously partaken in here – i.e., The Germs, Leatherface, T.S.O.L. (twice), and OFF! – it was at times too ear-splittingly loud for this one. This caused Doe's harmonies with golden-voiced co-singer Cindy Wasserman to occasionally be overwhelmed by the instruments, and forced me to abandon my prime spot near the stage, eardrums throbbing. But putting aside my old man quibbles, co-guitarist Jesse Dayton tossed out licks as hot as Smokey Hormel did at the Rockwood show. And with upright bassist Chris Rhoades and drummer Brady Blade affixing tight, tough rhythms, this was Doe's most hard-rocking solo band of the seven times I've seen him! (Deep-voiced Dayton did double duty with a hearty and hellacious opening set of down-home country-soul and honky-tonk, backed by Rhoades.)
In keeping with Doe's 2014 best of compilation This Far, twelve of the night's 20 songs were culled from his various solo albums, giving us a concise career overview. These included a solo acoustic version of 1990 debut LP Meet John Doe's "Take 52" (co-written with his X co-singer Exene Cervenka), gorgeous live favorites like Dim Stars, Bright Sky's "This Far" and A Year in the Wilderness's "The Golden State," and a handful from his last self-billed album, 2011's Keeper, like the country-stomping "Walking Out the Door," the pretty ballad "Lucky Penny," and the breakneck, junk-condemning "Never Enough" (another Keeper tune, "Handsome Devil," was a "cautionary tale about Cervenka," Doe said). And gearing up for his older band's four upcoming shows at Manhattan's City Winery (playing each of their first four 1980-83 LPs!), Doe also cranked out four X tunes, one each from their third through sixth albums: the twangy "Fourth of July," galloping "Burning House of Love," raucous "The Have Nots," and bouncy "The New World."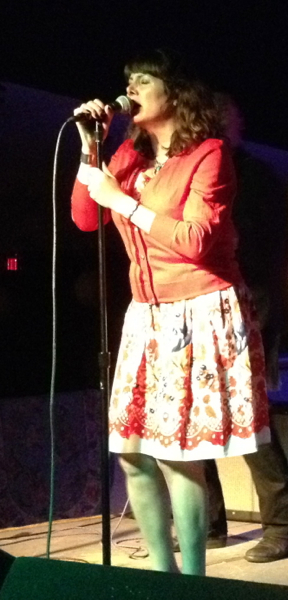 The set was rounded out with four covers, including Johnny Cash's 1958 "I Still Miss Someone" (included on Doe's 2009 LP with The Sadies, Country Club) and Cervenka's "Alone in Arizona" (from her 2011 album The Excitement of Maybe) — the latter was puntuated with some sizzling Dayton guitar blizzards. Wasserman also traded off a few lovely leads with Doe on two spiritual, gospel-inspired numbers, The Staple Singers' 1955 "This May Be the Last Time" (also a #1 UK hit for The Rolling Stones in 1965) and Bob Dylan's "Pressing On" (from his 1980 Christian album Saved). Like he did playing with X a few blocks away at the Wonder Bar in December 2012, Doe still sounds every bit as revitalized as the formerly decrepit, once again hopping Asbury Park beachfront.