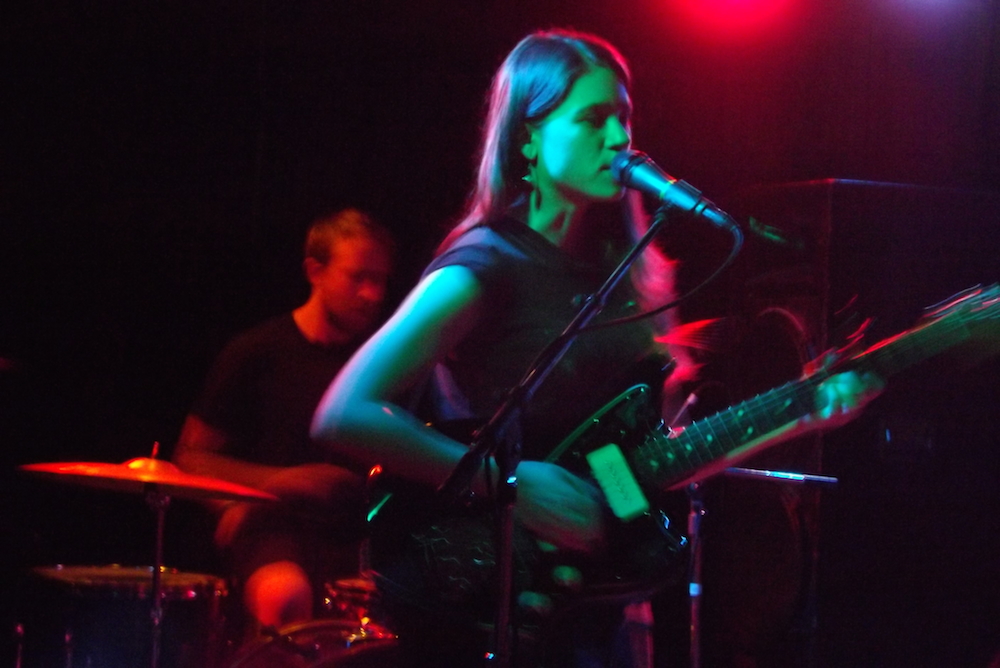 18 June 2015
Sometime before her stop in Minneapolis last month, Aly Spaltro dropped a few superfluous syllables from her Lady Lamb the Beekeeper moniker, as if they'd only weigh her down. The larger audiences made inevitable by After, her excellent second album, will need an easier way to name her. Standout track "Billions of Eyes" acts as a sort of pre-fame reckoning, telling the story of how she got here. She travels around on trains and planes, feeling familiar with her fellow passengers one moment, nauseous the next, and when the pilot asks her to sing, she'd rather go fall down on a pile of laundry. She considers what value she can offer strangers. "And I could tell the story of how my great grandmother's sister was deemed a saint," she sings with a sudden rush of energy, like a joke about the kinds of stories people expect from female songwriters, like she's not sure what else she could have to say. But the speed and clarity of her delivery, the strength of the music, the self-awareness of the words, all of these tell a different story, that she knows her value and is well past the days of seeking out opportunities to test her voice. She has a career now. By the song's end, all the smiles are for her and she's able to forget herself.
And that was more or less the situation during her hour-long performance, a fully arrived performer greeted by smiling strangers, watched by a few less than billions of eyes. The biggest surprise was how close Spaltro's trio, led by her swift guitar work, came to the lean, visceral thrill of PJ Harvey's trio circa "Sheela-Na-Gig." None of the songs on After had led me to anticipate this, though "Dear Arkansas Daughter" might have. The recording somewhat tames the music's turbulence, smooths out any potentially abrasive sounds, but it still reveals the band's labor, regular intervals of unleashed and bottled up energy achieved in remarkable unison. This kind of physicality came to define the set. Where the album transforms restlessly, blowing out its runtime with adventurous song structures and leavening its heaviest moments with folk music, the live show's rawness made everything else feel like a dreamed interlude, whether it was Spaltro's solo acoustic numbers in the middle of the set or the shuffling country tune dropped right in the middle of "Arkansas Daughter."
Where the band understandably fell just a bit short, relative to "Sheela," was in the hunger and desperation that animated their playing. PJ Harvey thought Dry might be the only album she ever got to make, which pushed her, by her account, toward the most extreme articulation of her sound. Spaltro, on the other hand, has a second album glow, the confidence of having secured her place as a working artist. The nature of her performance had me briefly wondering what a Steve Albini-produced Lady Lamb record might sound like, but Spaltro, whose ferocity is ultimately more evident in the breadth of her material, doesn't need recording intervention. Like Harvey, she holds all-consuming rock 'n' roll as just one of her tools.