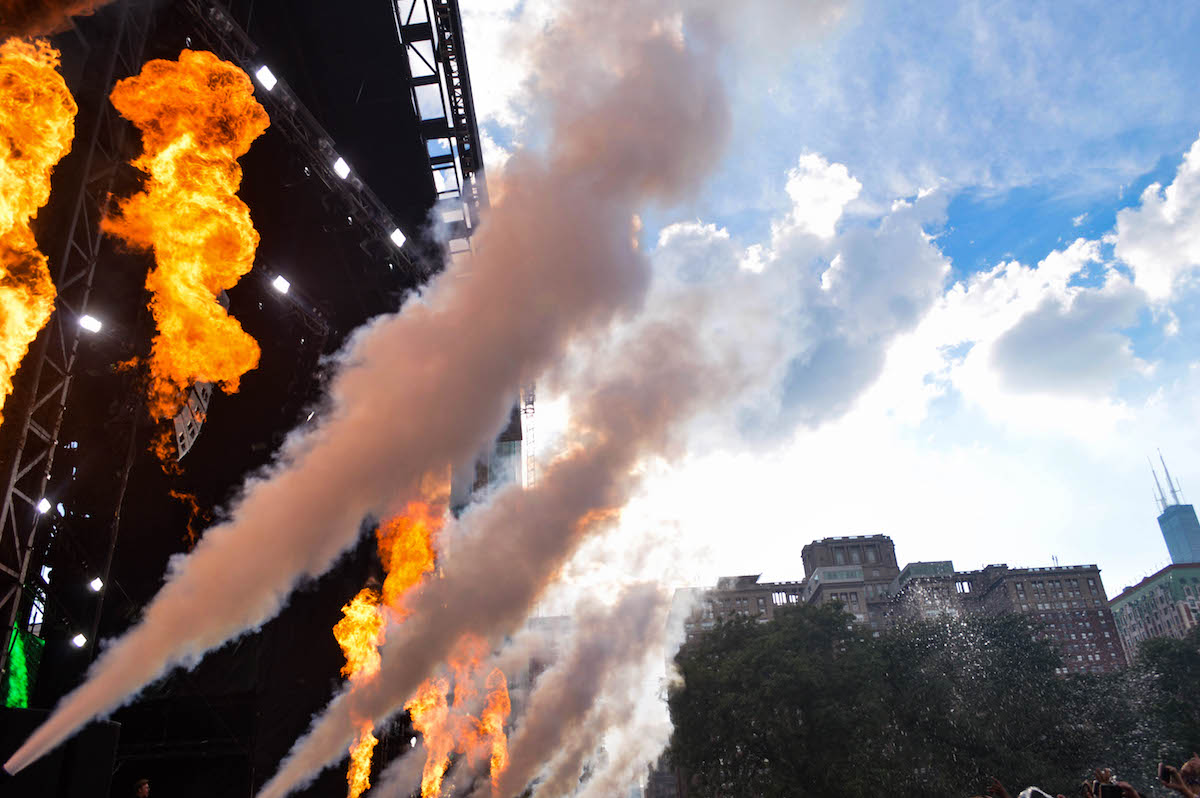 3 August 2018
It's Thursday, August 2nd, at 11:00am. An archetypal businessman somewhere in his 40's or 50's curses when the intercom at the Metra station robotically babbles "Metra commuters: the train scheduled to arrive at you station has reached capacity and will be running express to the city. An additional train is on its way and is running six to fifteen minutes late. We appreciate your patience and understanding." This man doesn't seem particularly patient. Or understanding. I can almost feel him grinding his teeth. A few minutes later, our frazzled professional watches the train rush past the platform. Through its tinted green windows, he sees suburban high school kids packed like sardines, each of them appearing to wear either a basketball jersey or a generous layer of body glitter. Their destination? Lollapalooza 2018. My dear readers—Chicago's largest, most extra-in-every-possible-way, corporate orgy of a music festival is upon us, whether we like it or not! With that, let's go on a musical adventure together, shall we?
Tyler Childers Admittedly, I do not know much about country music besides the fact that I don't like it. But this. This is, well, kinda fun. Tyler Childers and his band—all of them besides the bassist sporting either a beard or thick mustache—are masters of their genre and instruments. Behind Childers' non-pandering lyrics is a jam band with southern twang: shuffling and chugging drums, guitar solos well acquainted with blues scales, and a delightfully sliding lap steel guitar being the highlights. A nearby couple swing dances during the whole set. We're having fun.
Stars Channeling the shimmering analog synths of The Who and Van Halen as well as the vast atmospheric sound of old U2 (and a vocal performance reminiscent of—dare I say—Bono), the patient songwriting and disciplined vocal performances of Stars satisfy the modest crowd gathered at the Grant Park Stage. The drummer blends the old and new with dance groves made possible by the mix's generosity to the kick drum and snare. Behind the meticulous vocal harmonies of front-people Amy Millan and Torquil Campbell, Stars' pop/rock hooks are elevated and irresistible. And a shout out to the ASL interpreter between songs? Classy move. Nice, Stars.
The Wombats You know how people keep saying indie music is dead? The Wombats must be a contributing factor to this sentiment. With the childish energy of a B-list boy band, the Liverpool natives deliver a performance out of touch with their music, perhaps out of necessity, because what I'm hearing is boring. A copy of a copy of a copy. But The Wombats look like they are having fun (this phenomenon is colloquially known as having "good" or "chill" vibes), and their audience seems to buy into the set. For reasons I don't feel like pondering, they're commanding the first sizable crowd of the day. During a chorus of one of their songs, I hear the lyrics "Shut up and move with me, move with me." Sigh. Face palm. Shaking my head, or smh, as the kids (myself included if I'm being truthful) say. What's with the trope in the indie-pop/like-they're-super-hipster-and-so-am-I genre of music where telling a romantic interest to shut up is synonymous with an invitation for a good time curated by a command demanding physical proximity without a hint of consent? (Looking at you, Walk the Moon.) I digress. Shut up and move with me. Shut up and dance. It's all the same. If you want to see an actual indie band, catch Japanese Breakfast the next time they're in town.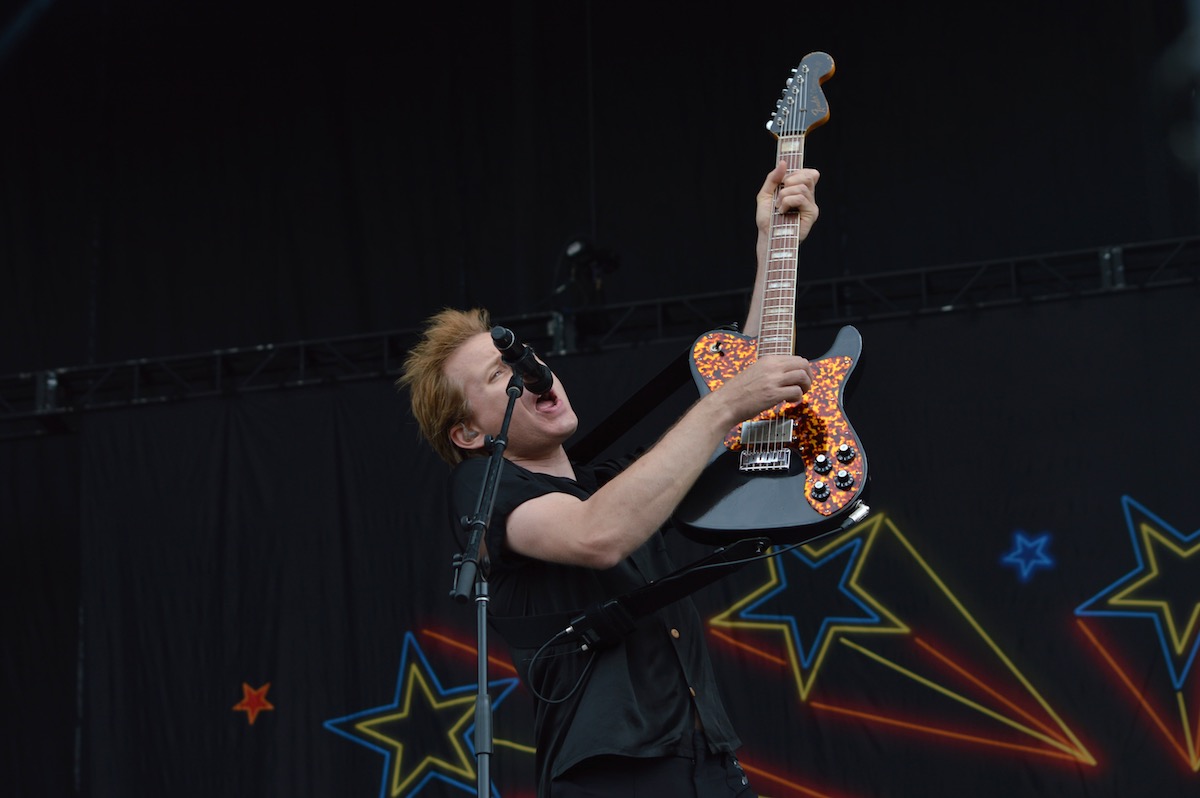 Franz Ferdinand Hey rock is still alive! And "Take Me Out" isn't Franz Ferdinand's only good song. Tight and crisply overdriven guitars navigate catchy rhythms and hooks for the entire set. There's even a hint of David Byrne in front person Alex Kapranos' goofy, yet confident swagger. Lesser-known cuts are still dynamic and surprising; they continue to satisfy the generally attentive audience. It's also a solid showing today for Scotland, given Franz Ferdinand and CHVRCHES (the following act on the Grant Park stage) are Scottish. Kapranos notices a Scottish flag in the audience and gets sentimental. "I'm happy to be here, but I miss home," he shares. A tender moment for a rock show, but refreshingly vulnerable as well.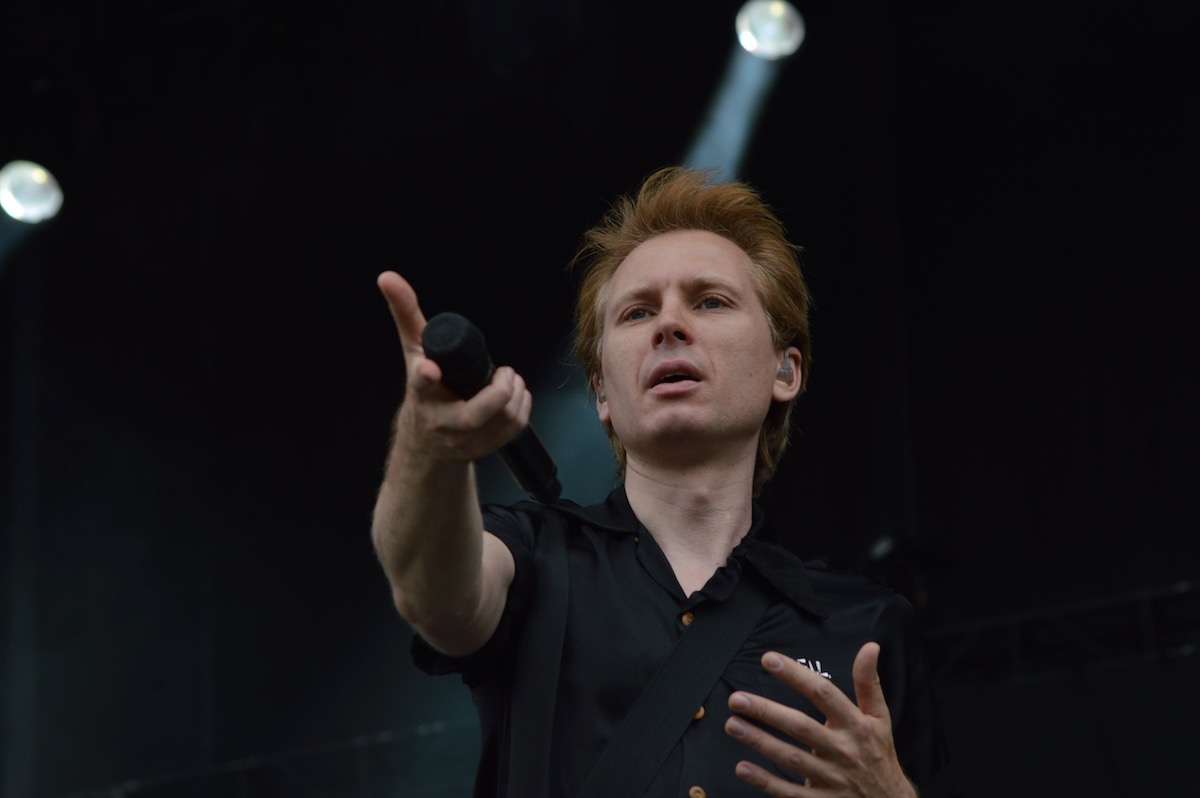 CHVRCHES It's 6:30 when synth-pop favorites CHVRCHES start playing and I realize that front person Lauren Mayberry is only the second woman I've seen perform today. So I do a bit of research. On the full bill of acts Lollapalooza put out when they released their lineup, CHVRCHES are listed fifteenth on the bill. What's surprising is that the fourteen acts listed before them contain not one woman. Hm. I don't know Lollapalooza, maybe book more female and mixed-gender acts? The all-male rock band shtick is getting old already. This doesn't seem to bother Mayberry; she's marching around the stage with contagious confidence and commanding vocals. When they play music from their latest effort, "Love is Dead", the songs admittedly fall flat, as the album lacks gritty and frenetic synth grooves. Instead it opts for slower, "epic" pop tunes without the urgency of CHVRCHES' first two albums. But, the Scotland natives play the old cuts and they shine behind Mayberry's passionate vocals. "And you had best believe," she sings while hitting impossibly high notes, "that you cannot build what I don't need." It's synth-pop with bite, but CHVRCHES are here to have a fun time together. Mayberry spontaneously banters with her band, and suddenly they're discussing how she has to use a roll of saran wrap to reach the top shelf at the grocery store. "I'll sing a song now," she humorously quips.
Camila Cabello Camila Cabello deserves our attention. Lollapalooza organizers can't seem to understand that. We will return to our regularly scheduled programming—Cabello's set review—after some seething words from yours truly. During Cabello's extraordinary performance (I'll elaborate shortly) I find myself furious with the state of Lollapalooza as a music festival for the first time. I've been disappointed with Lolla plenty. I think we've all been disappointed. But this situation crosses a line of general decency and demonstrates that the festival fails to respect neither its attendees nor its artists. Here is what happened: about halfway through Cabello's set, the gargantuan video screens of the Grant Park stage flash into action with a livestream of the popular online game "Fortnite". What's the big deal? Well, opposite the Grant Park stage is the Lake Shore Stage, on which Cabello performs. Cabello's stage is much smaller, meaning its speakers are less powerful than the Grant Park stage's towering PA system. So Fortnite is displayed on the video screens across the field, but worse, its audio blares at full volume through Grant Park stage's powerful speakers. It is a multiplayer shooter game. The sound of a fully-automatic assault weapon envelops thousands of festival-goers' ears. It's loud enough to overpower Cabello's sound. I'm disgusted by this. I see panic on some faces until they turned to see that it was just the sound from the video screen. To allow the sound of gunfire at a music festival is tone-deaf. Given the current climate around mass shootings—the Las Vegas shooter had booked a hotel room overlooking Grant Park during Lollapalooza last year—I feel confident saying this is a failure on all fronts by Lollapalooza. Whether it was a mistake or a choice to display Fortnite and include its audio, I do not think we should forgive or forget festival organizers for this occurrence. I commend Cabello for powering through the display of disrespect and insisting her show go on. Okay. That is all. Smooth sailing ahead. Now, let's talk about her set! I planned on seeing maybe the first song or two of Camila Cabello's set, but I find myself staying to watch the whole thing. "I always wanted to come here but I didn't have enough money," she shares, "but now I'm playing here!" That's one way to do it. Her performance was exactly that—a performance. Every detail aligned thematically and musically with her songs. Behind Cabello, a top-notch live band with studio-precision drums and exciting guitar. Above her, an appropriate light show to illuminate the darkening sky. Beside her, six talented dancers, their choreography a medium of storytelling, much like Cabello's lyrics. She's opened for Bruno Mars' tour. She's opened for Taylor Swift's tour. And she's 21 years old. Cabello takes her art seriously, and has enlisted the help of only those who match her focus. The result is the best set of the day. Cabello's pop tunes are fresh and infused with her Cuban heritage. It's charismatic and so authentic. The Latin-influenced rhythms make for quite the dance party. She has the ballad down as well, slowing the set down to demonstrate her chops on the piano while maintaining flawless vocals and the occasional angelic falsetto. And she's wise! She shares her musings and advice with the audience as a form of gratitude. "I'm fascinated by the concept of love," she says, and explains how caring about someone—be it a romantic partner, a friend, or a family member—is a privilege of the human condition, even with all the consequences that loving someone carries. After performing "Soft Tissue", she explains the meaning of the song: difficult times must bring pain in order for us to heal. "Promise me," Cabello declares, "that each of you will be so loving and caring and patient with yourself during dark times." Someone told me the other day that "lovely" is a wholesome adjective. It got me thinking— "lovely" can mean so many things. It's all-encompassing. But here we are, Cabello's musical honesty working as the soundtrack for the clouds in the sky which look more and more like cotton candy as the sun sets behind the city. I'll say it—it's lovely. Ask yourself: who are you thinking of?
Arctic Monkeys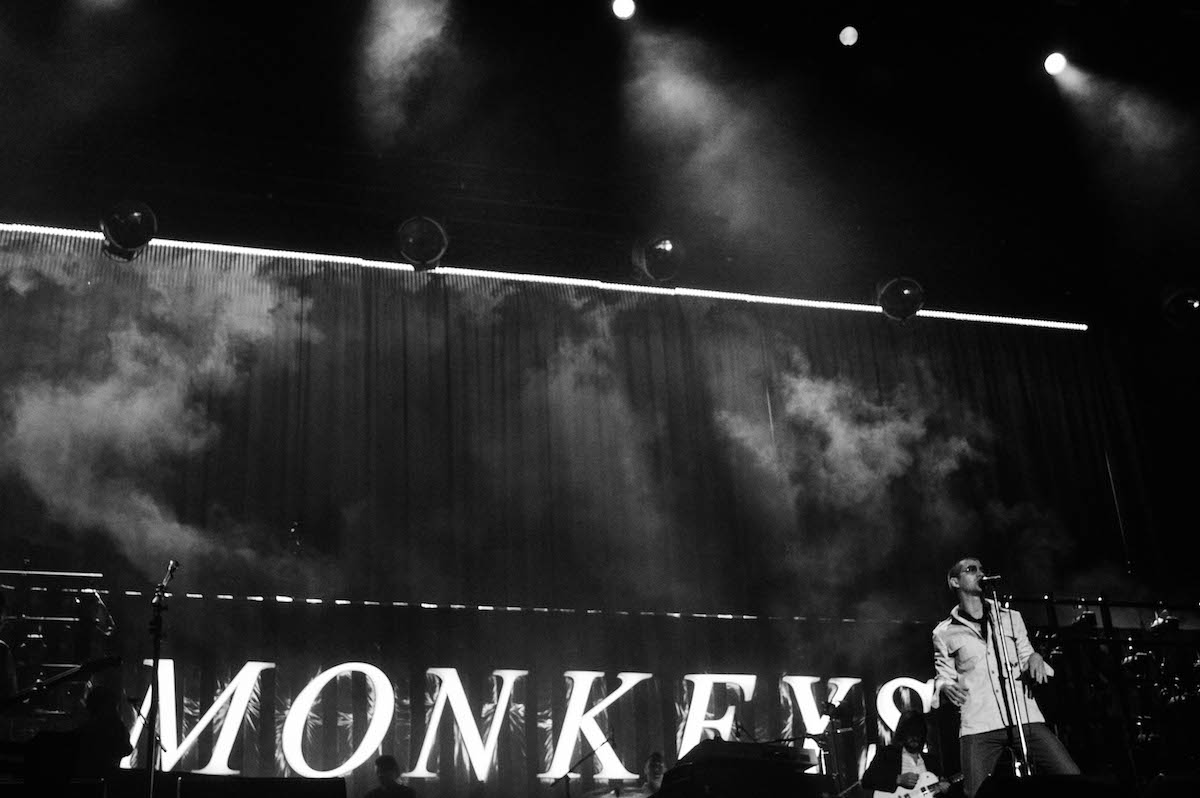 Will we get "Tranquility Base Hotel and Casino" Arctic Monkeys, or will we get the chip-on-the-shoulder rockers we would hope for at a festival? Their newest album, though a fascinating and entertaining listen, simply won't translate to that exciting of a festival-headlining performance. Front person Alex Turner and company mosey onto the Grant Park stage, and open with their new song "Four out of Five." Their sound is fantastic, their self-awareness to rate their polarizing new album within the actual album proves to be both absurd and hilarious, and oof¬—it's a slow start. It's not long, though, until they kick it into full gear with their older music. Suddenly, they're destructive and volatile in the best of ways. The drummer has no sympathy for his hi-hat. Songs like "505" and "Crying Lightning" allow Turner to strike the perfect balance of cockiness and allure in his vocal performance. Soon, we are getting the old hits and they sound sinister. The Arctic Monkeys are doing what they do best: that is, making mischievous, unapologetic, and relentless rock music. A few songs into their set, a couple plops down on the ground beside me and starts half rolling around, half playfully wrestling while they make out. Okay, yup. Definitely feels like an Arctic Monkeys show.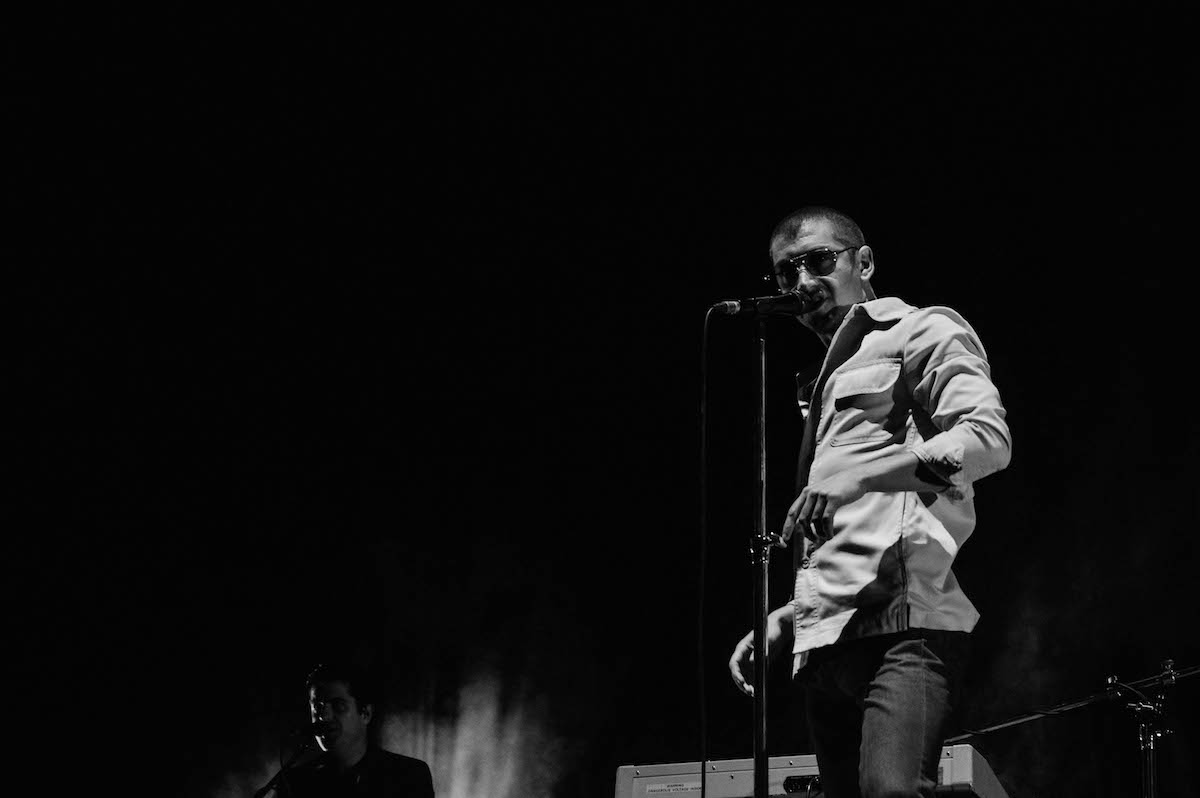 Day one is in the books. Stay tuned for day two!