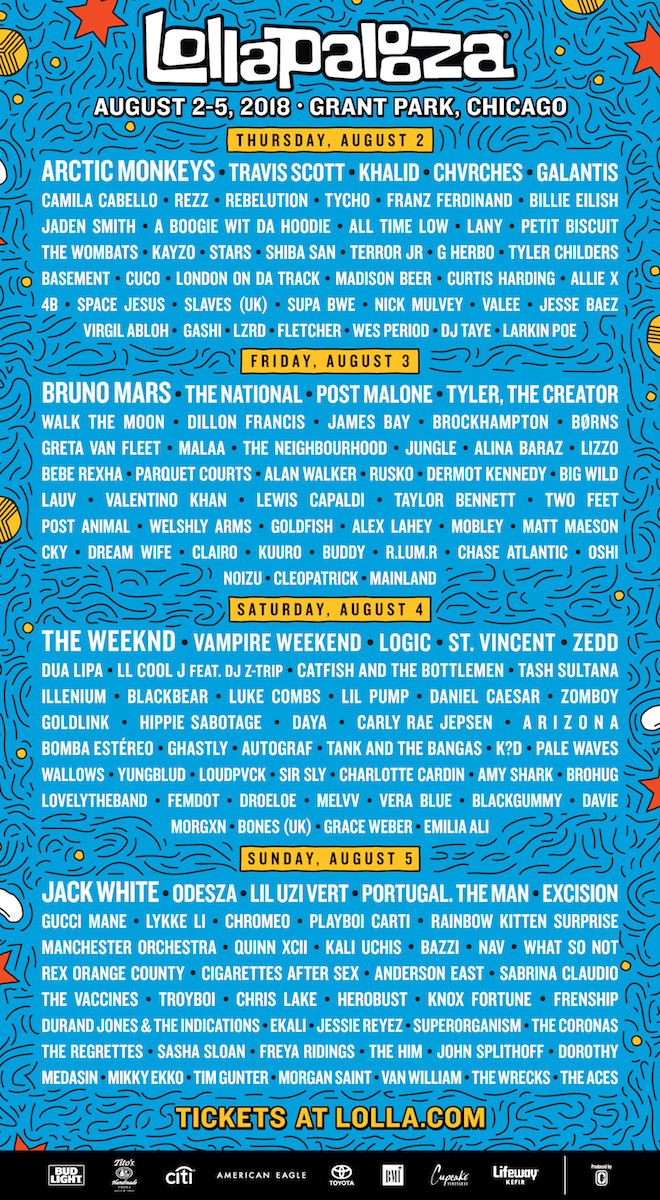 31 July 2018
The beginning of August harkens in a triumphant time for Chicago music fans. While the earlier summer months contain plenty of great music, few festivals dominate a region like Lollapalooza. In its 27th year, Lollapalooza has since expanded from a Chicago rock festival to a multi-national music and cultural phenomenon, spanning 3 continents an drawing hundreds of thousands of attendees every year. In a day and age in which festivals seem to be staggering slightly (and not without good reason), it would be hard to imagine this scenario in Grant Park this coming weekend, which will soon be packed with people, food and music.
It's certainly hard to build your schedule for the weekend. With that in mind, we've decided to break the 4 days down into must-see acts for every day.
Thursday
Thursday of Lollapalooza, while often dismissed as the 'throw away' day, always has some unique surprises thrown into the bunch. – Virgil Abloh (creator of Off White and former CD of Donda) will be DJing early in the day. Not too unrealistic to potentially have a Kanye appearance. – Rising phenom Madison Beer will be taking the BMI stage in the evening. Breaking out with Home with You, Beer makes her official Lollapalooza debut shortly after the conclusion of her As She Pleases Tour. An act not to be missed, Beer's voice remains a cut above with hints of Amy Winehouse and Sia blended in. This is a show that will no doubt cement the 19-year old in Lollapalooza history. – Australia natives The Wombats will be a fantastically fun show. With headliners including Galantis, CHVRCHES, Khalid and Arctic Monkeys, fans will no doubt find themselves facing difficult decisions. We'd recommend the former 2.
Friday
– Chicago natives
Post Animal
are a must see. Fans of
Twin Peaks
will not be disappointed. – Standouts include
Malaa
,
Lizzo
,
Big Wild
,
BØRNS
and fan favorite
BROCKHAMPTON
will all be making appearances. – Fans will be forced to pick between none other than
Post Malone
,
Tyler, the Creator
,
Bruno Mars
and
The National
to conclude their evening. While it's no doubt that Bruno and Post would put on a fantastic time,
The National
remains to be the standout for Friday. Continuing on a massive, multi-national and largely sold-out tour, the Cincinnati natives continue to rise to super stardom following their massively successful record,
Sleep Well Beast
. Comprised of some of (if not
THE
) best musicians of the era, it's little doubt that the band will likely dominate the evening and create a lasting legacy for the rest of the weekend to walk in.
Saturday
Rap and electronic fans will be in for a treat at the start of the Lollapalooza weekend. Must-sees include recent breakout Amy Shark, DROELOE, lovelytheband, Pale Waves, A R I Z O N A, Hippie Sabotage and Illenium. With headliners ranging from The Weeknd to Zedd, it's little doubt that St. Vincent would be the most memorable choice for the evening, making her Lollapalooza headlining debut and remaining one of the consistently best guitarists of the last 2 decades.
Sunday
Sunday is always consistently interesting for those attending Lollapalooza. Attendees can catch slow, gorgeous acts like Cigarettes After Sex, head to Perry's for Herobust, could (and should absolutely) check out Manchester Orchestra or Rainbow Kitten Surprise, and while the night can be capped with an excellent set of performances from either Excision, Jack White or Portugal the Man, the weekend would be entirely incomplete without catching Odesza, whose production alone could perhaps make or break the entire 4 days for many in attendance.
As festival culture continues to evolve and boutique festivals seem to be on the rise, many wonder about the continued existence of massive events like the one occurring in Grant Park. While it's impossible for us in music to predict the future, one can be almost certain that year after year, the fine folks at C3 and Fresh and Clean (among others) continue to cement Lollapalooza's legacy in music history – creating an experience that few this weekend will ever forget. We hope to see you there.