14 May 2014
Mogwai are on a roll. Maybe it took them close to twenty years to achieve it, but they are at the top of their game, in both the studio and on the stage. They have made the successful transition to Sub Pop, taken the task of providing the appropriate music for the excellent series Les Revenants, they've announced another lavish boxset (this time for Come On Die Young) and they can also boast the top-selling vinyl record in the UK for 2014. Just before they started their North American tour, I had the chance to talk with de facto leader Stuart Braithwaite, and this past weekend I traveled down through the endless highways of Connecticut to see them at Terminal 5.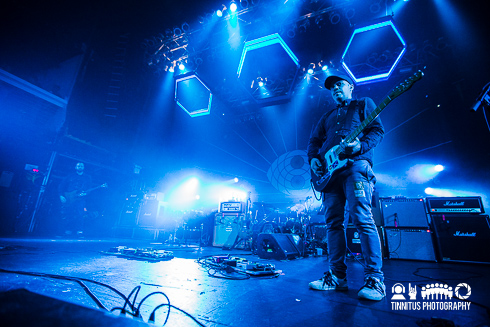 This would be my ninth time seeing the band, and the appropriate safety drill has been well-worn into my frontal lobe: before leaving the house, make sure you've got ear plugs. The beginning of the show unfolded pretty slowly and beautifully with "Heard About You Last Night" giving way to the gorgeous keyboard-driven "Friend Of The Night." I also finally saw Braithwaite sing, a lovely take on "Take Me Somewhere Nice" augmented by Luke Sutherland's plaintive violin. Stuart's freshly-grown mustache was the only visual difference noted from when they played the States two years ago.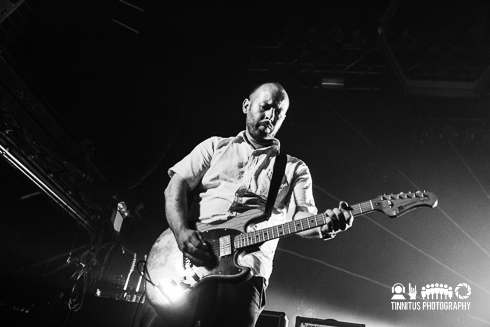 And then it got loud. And louder. A bristly early track ("Ithica 27ø9") started the momentum, and "Ex-Cowboy" was a welcome return visitor, the spiky cloud of white static slowly enveloping the entire venue. so thick that your vision started to blur. Big kudos to whoever in the Mogwai camp was running sound, because through the murderous din, the parts of the three headed guitar monster (ie, Braithwaite, Cummings and Burns) could be identified easily.
"Remurdered" brought back some of the electronic flourishes of this year's excellent Rave Tapes and to me is that record's standout track, but the proper set was closed down with an absolutely monolithic "We're No Here," just the sort of track that you'd expect to accompany legions of White Walkers as they stately ride through and observe a path of total destruction. And just to make sure there was nothing left standing, the encore 1-2 death blows of "Mogwai Fear Satan" and "Batcat" was the coup de grâce.
Majeure opened the set with a solo performance of ambient electronic music.