15 August 2023
Newport Folk Festival has always had a storied history, with plenty of remarkable events noted through its lifespan. Bob Dylan going electric is one of the key milestones of any festival, but James Taylor's aborted set in '69 due to the moon landing and Roger Waters' appearance as a surprise and unannounced guest sitting in with John Prine was a moment for the ages. Last year Joni Mitchell shocked the world by playing her first full performance in over 20 years. How was festival head honcho Jay Sweet and company to top that?!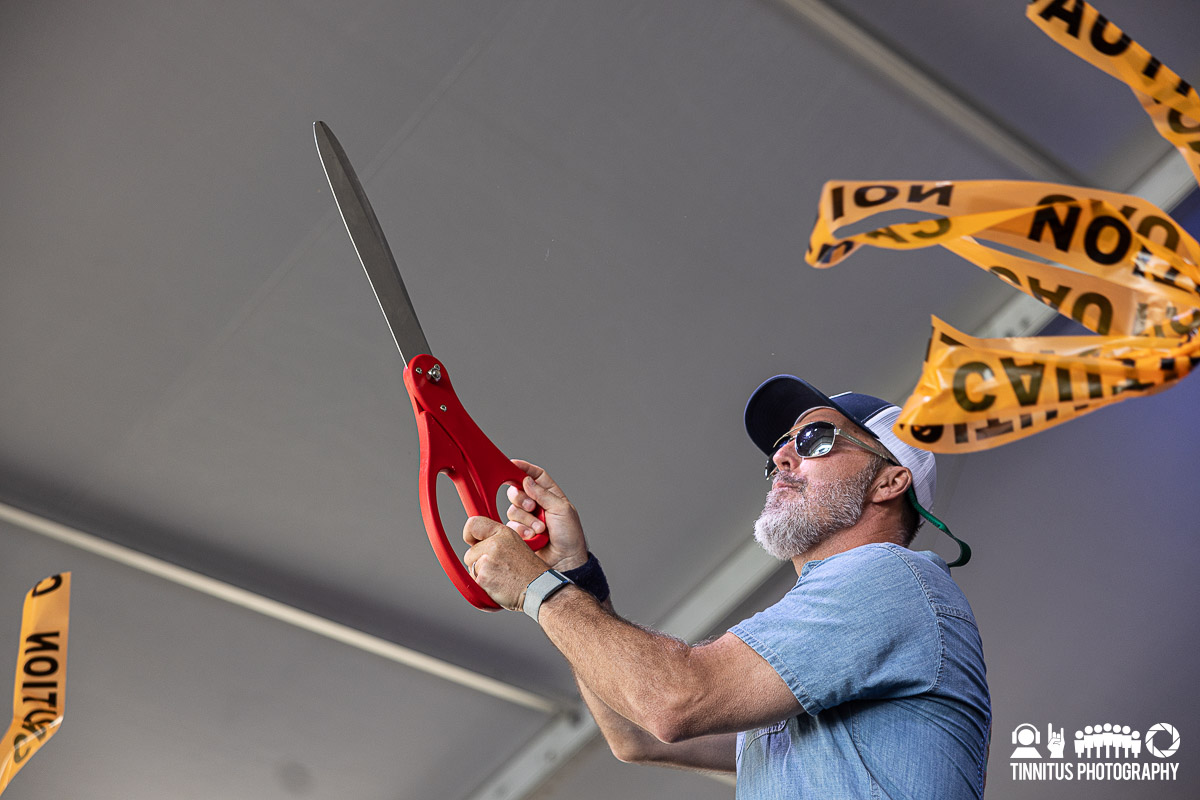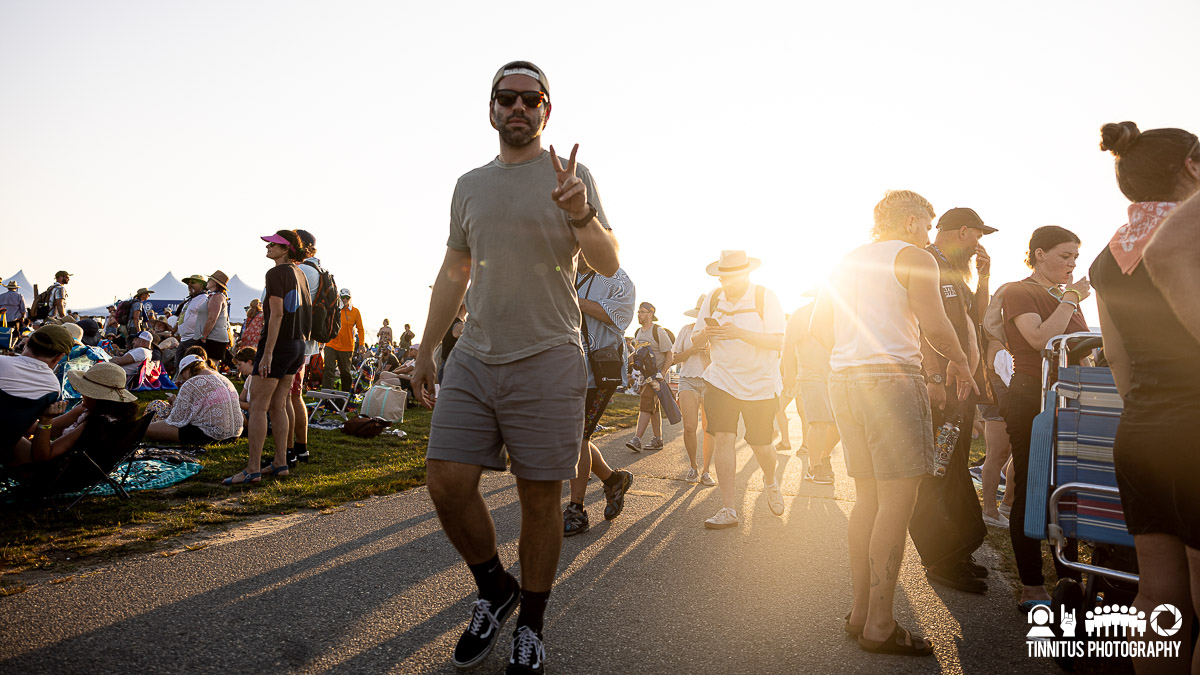 The answer is that they didn't have to. The festival is a special event regardless of who happens to be on stage; it's the collective family of both performers and audience set against the beautiful backdrop of Narragansett Bay that really shines year in and year out, and this year there were no shockers. There didn't need to be any. Well, some Muppets made a re-appearance, does that count?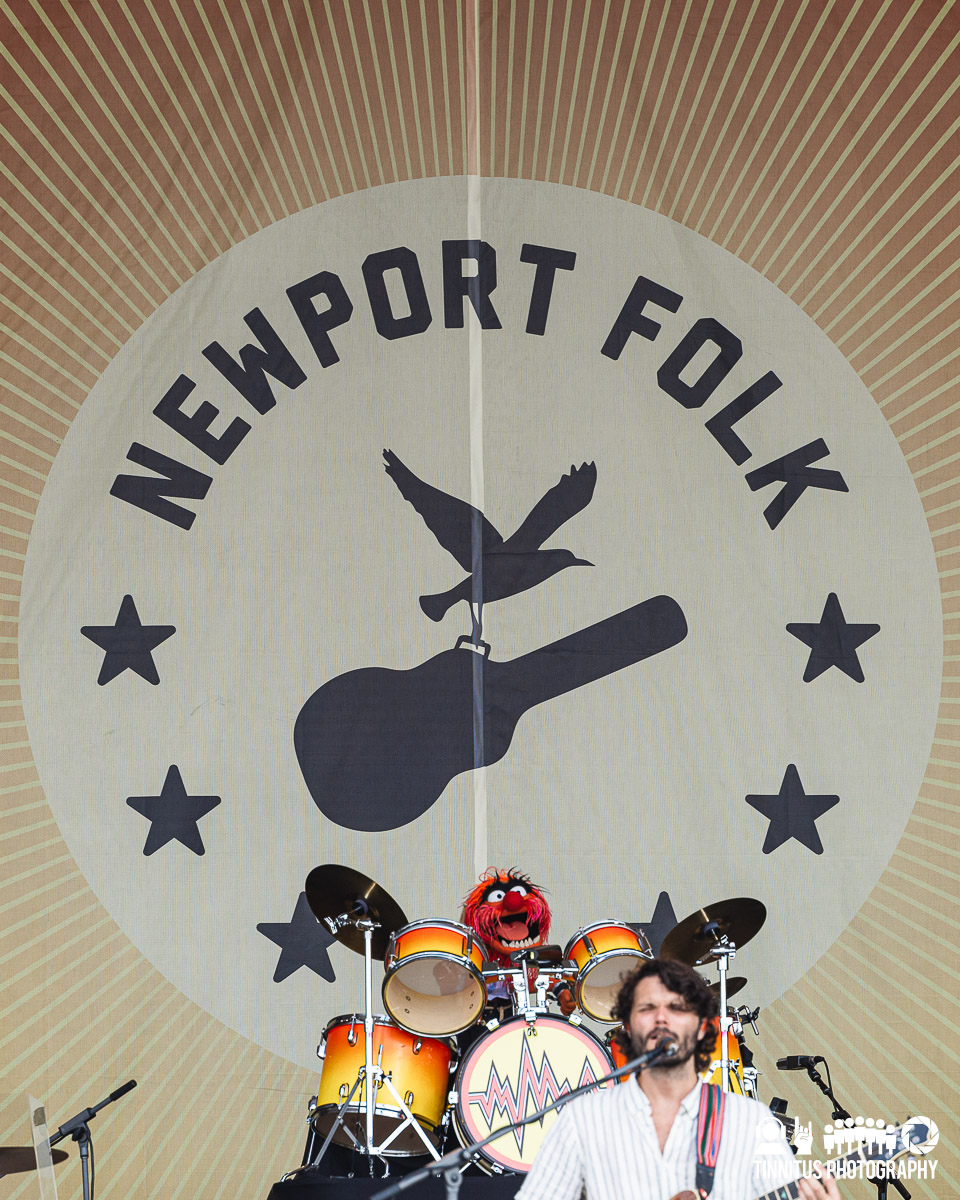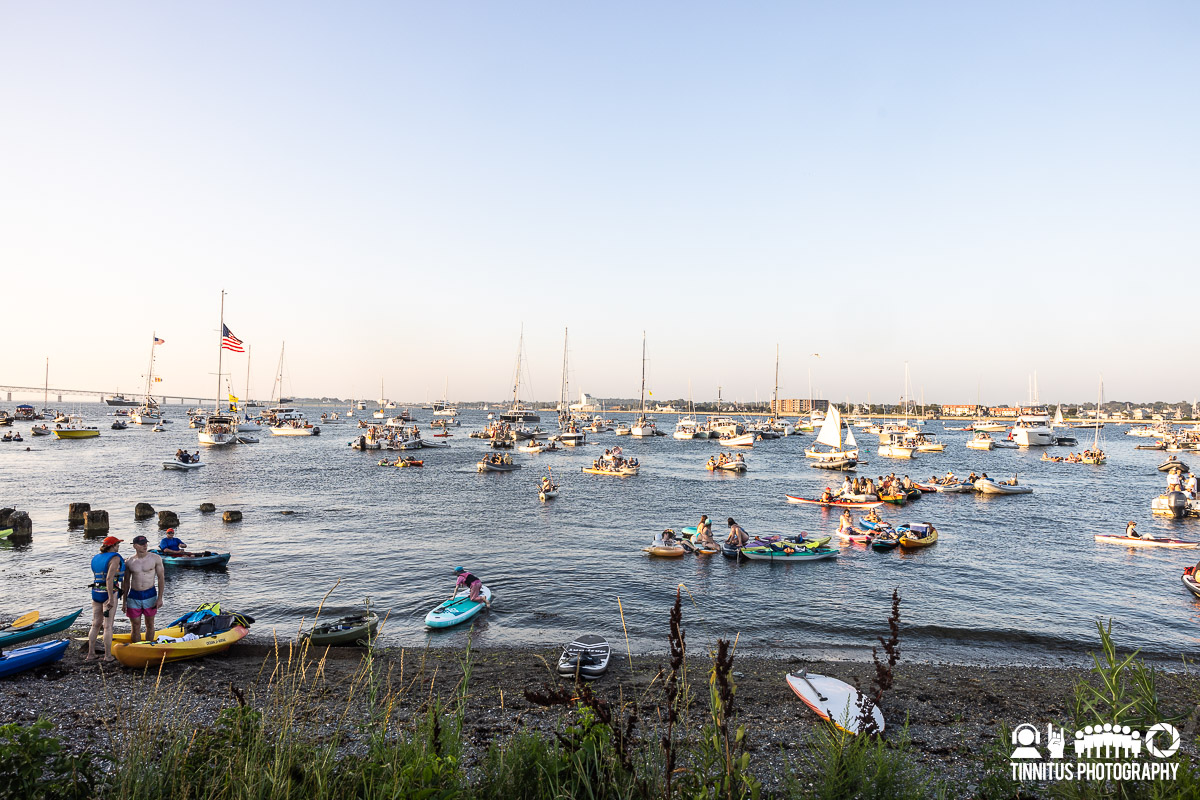 And so this year went. I guess the main surprise was the booking of pop chanteuse Lana Del Ray who brought a different crowd to the Fort Stage. Not to say that it was all Appalachian fiddle and mandolin music or raw blues; the fest has been pushing the boundaries for the last few years and amping up the volume here and there. Some returning fans might still have lingering tinnitus in their ears from Dinosaur Jr's set last year. But don't worry- J Mascis and his wall of amps didn't cast some sort of sonic spell to ward off the true disciples of folk from the festival.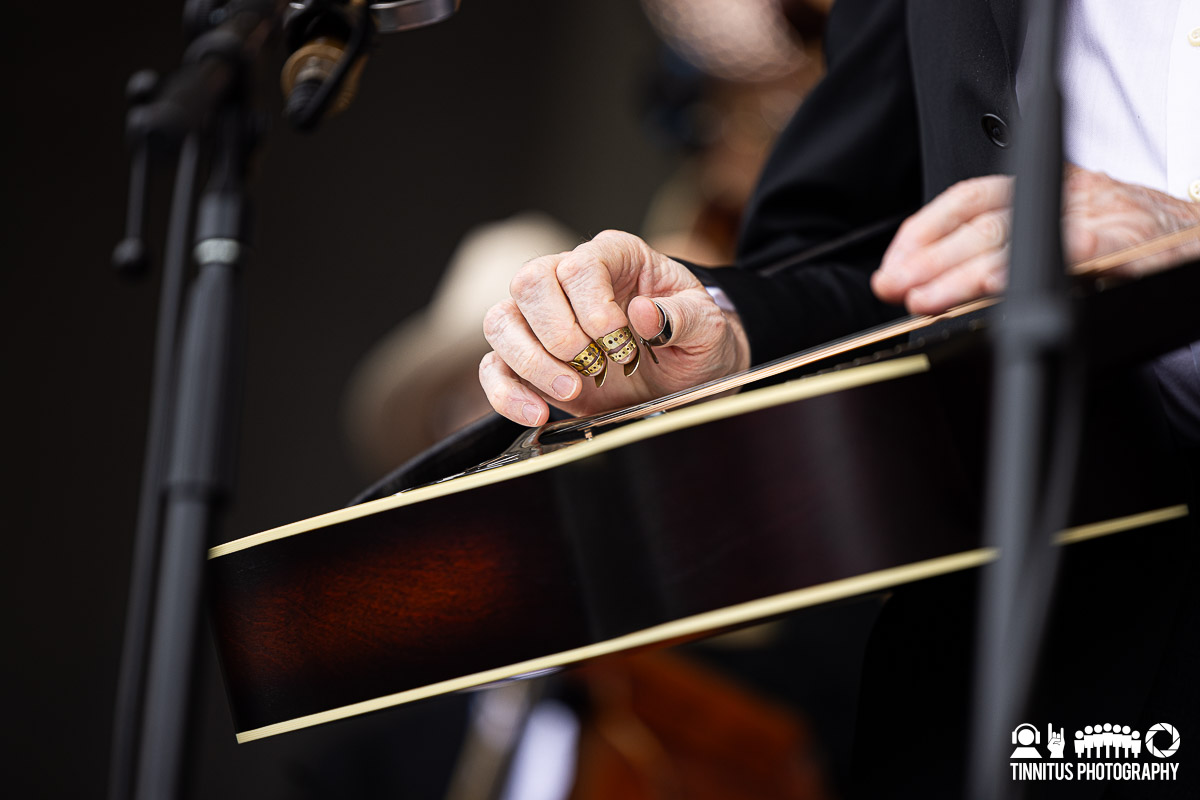 Waving this banner from on high was The Earls Of Leicester a combo of bluegrass musicians assembled specifically to play the music of Lester Flatt and Earl Scruggs. Nickel Creek similarly carries that bluegrass torch but with a modern spin. Folk isn't just an American construct either. Nanna from the Icelandic band Of Monsters And Men demonstrated her Scandinavian touch with a spell-binding set. Peter One hails from Côte d'Ivoire and sung gentle songs in French with just his acoustic guitar and a pedal steel player. While Los Lobos is certainly American, their Mexican heritage shines bright and clear in their songs (and it didn't hurt to bring friends out to help, like Nels Cline, Neko Case and John McCauley)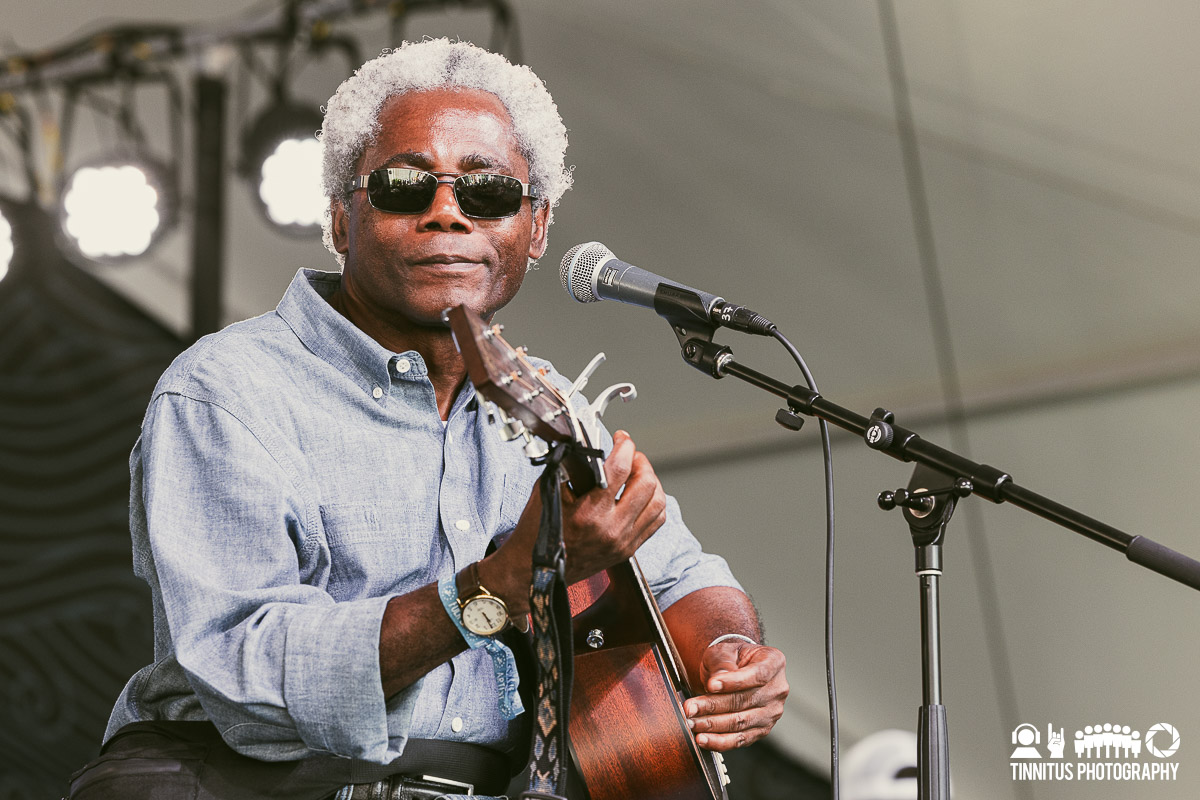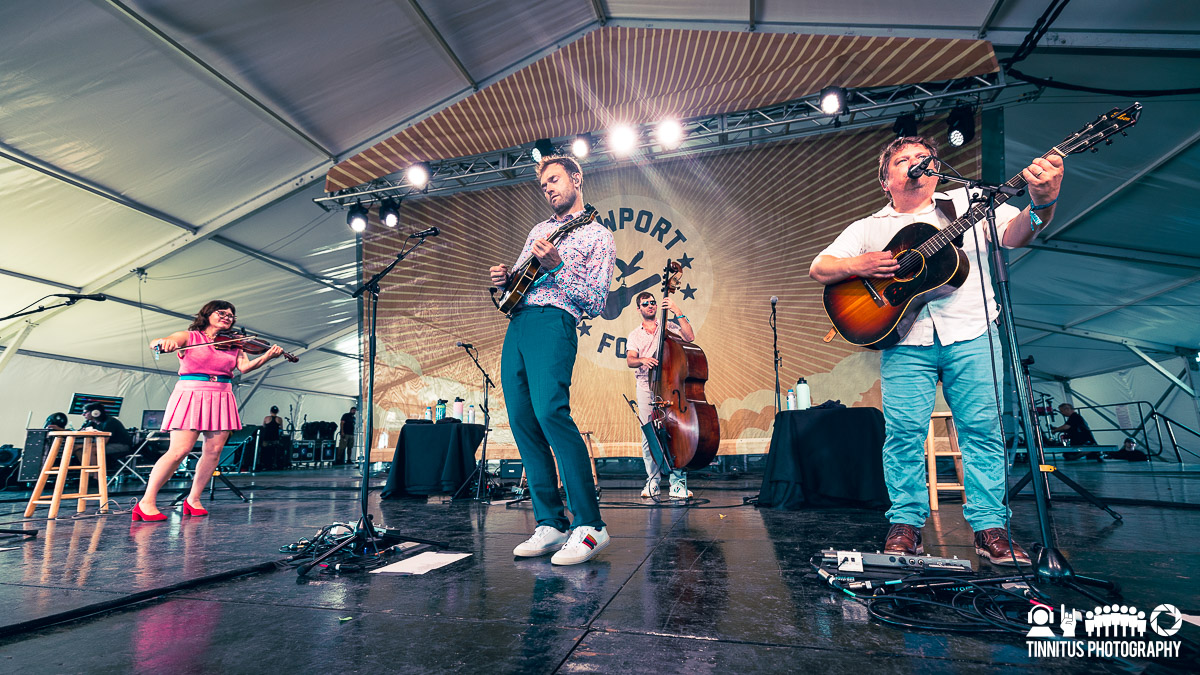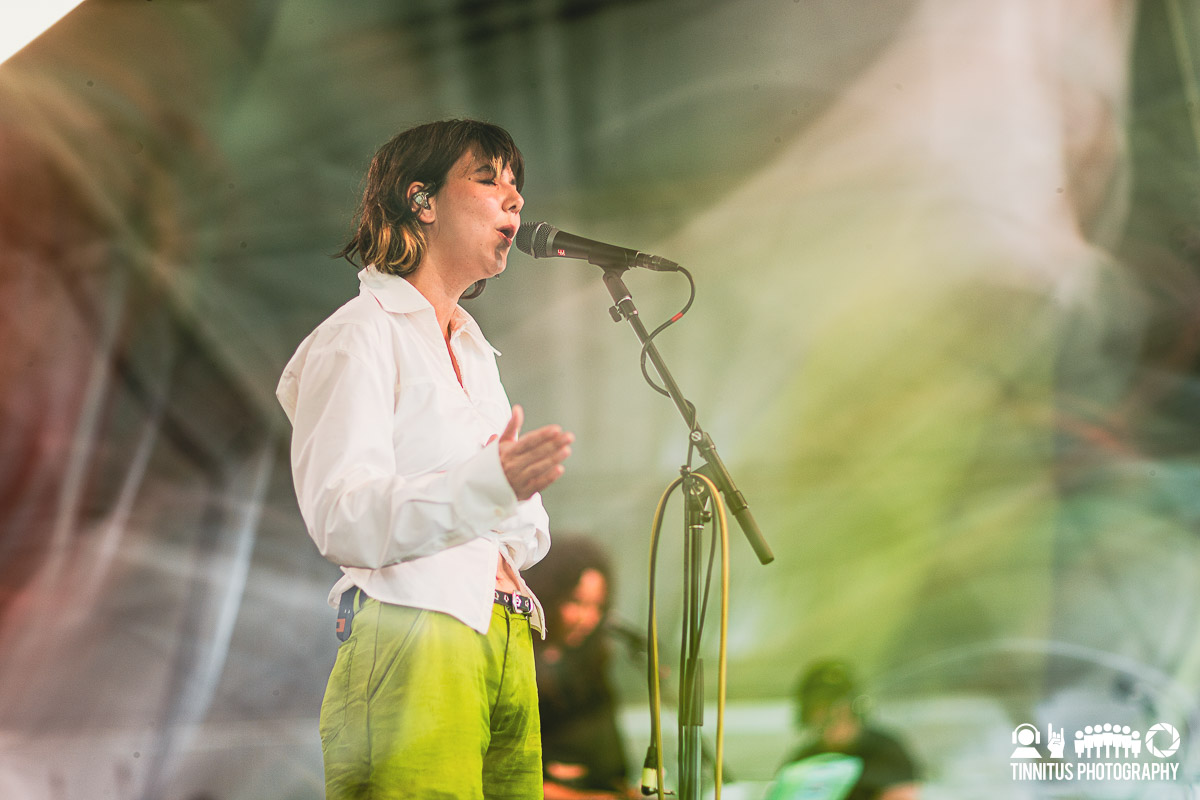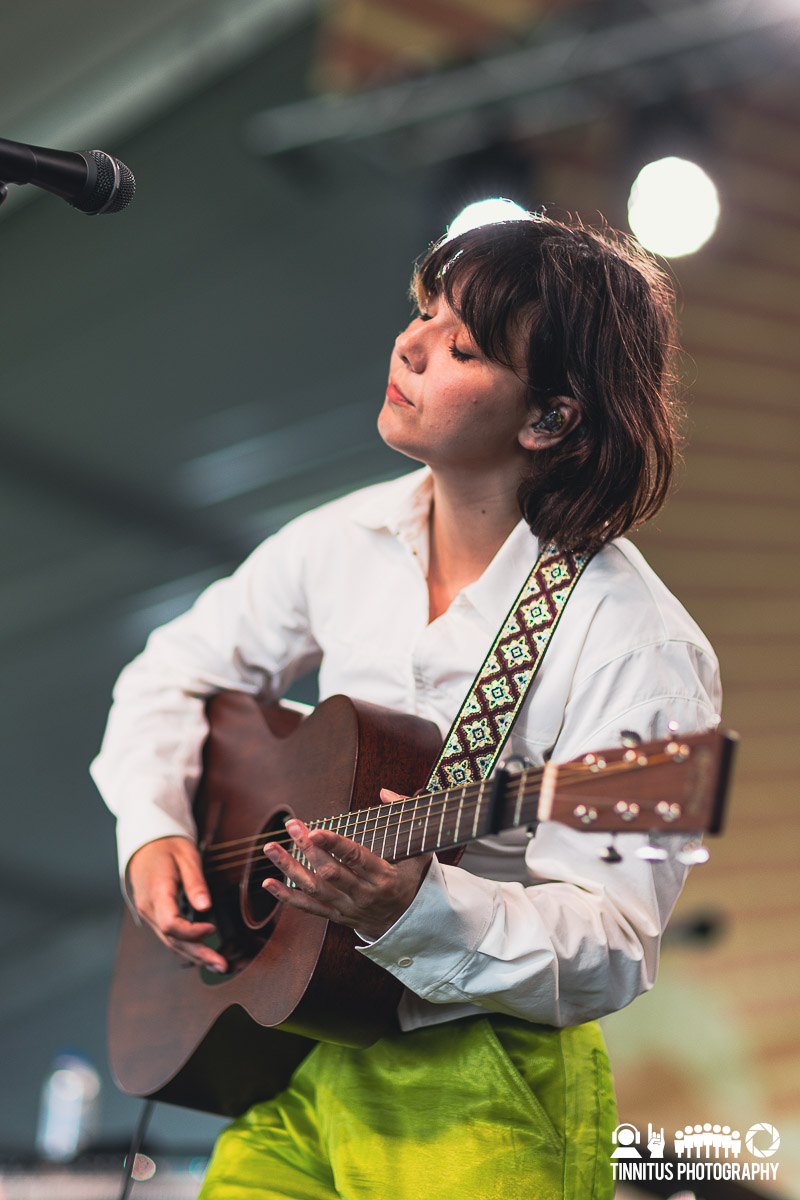 .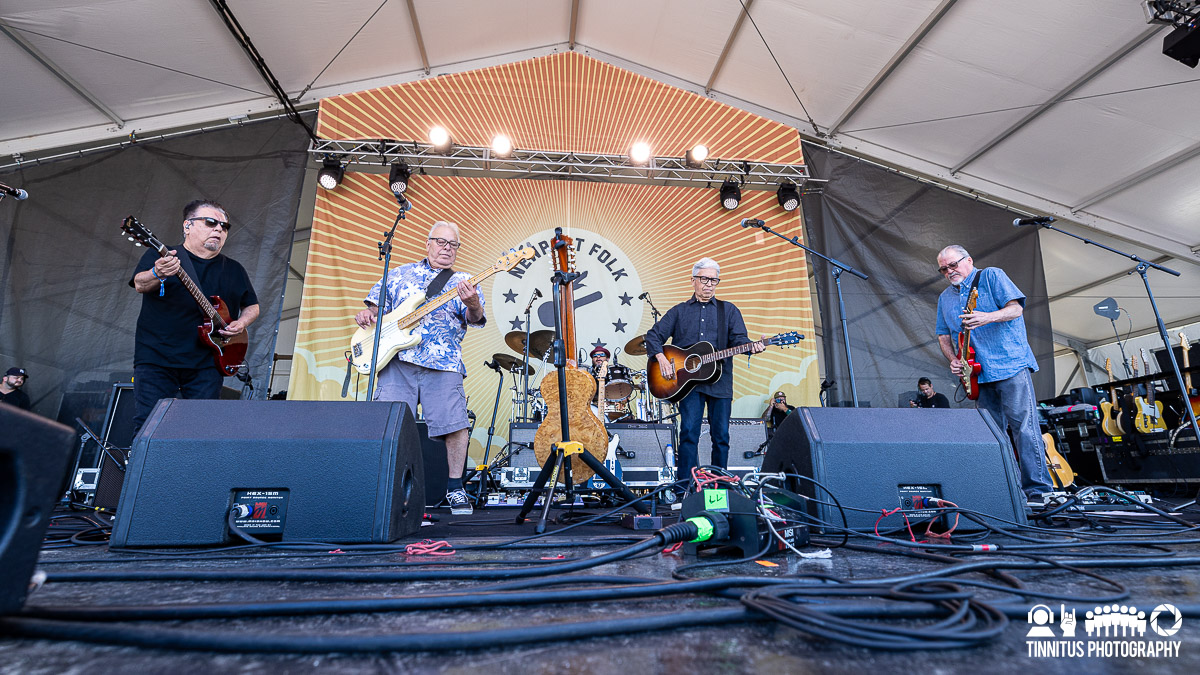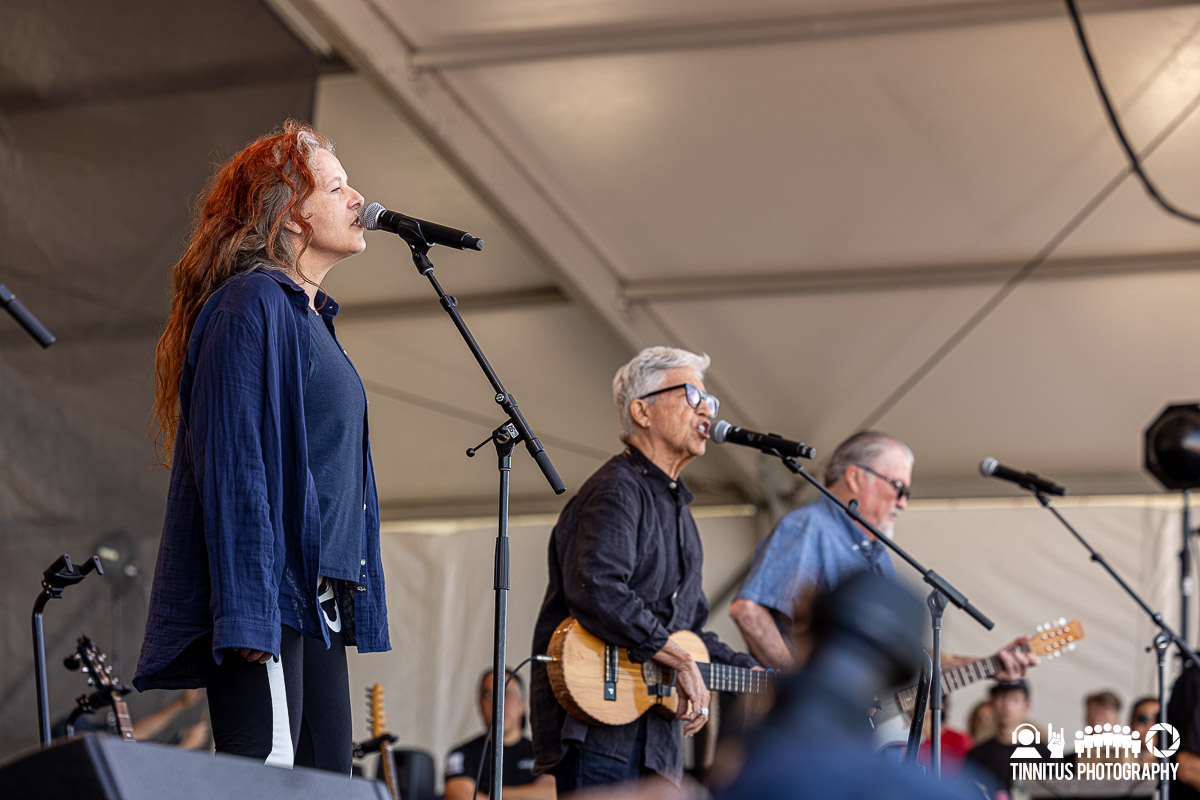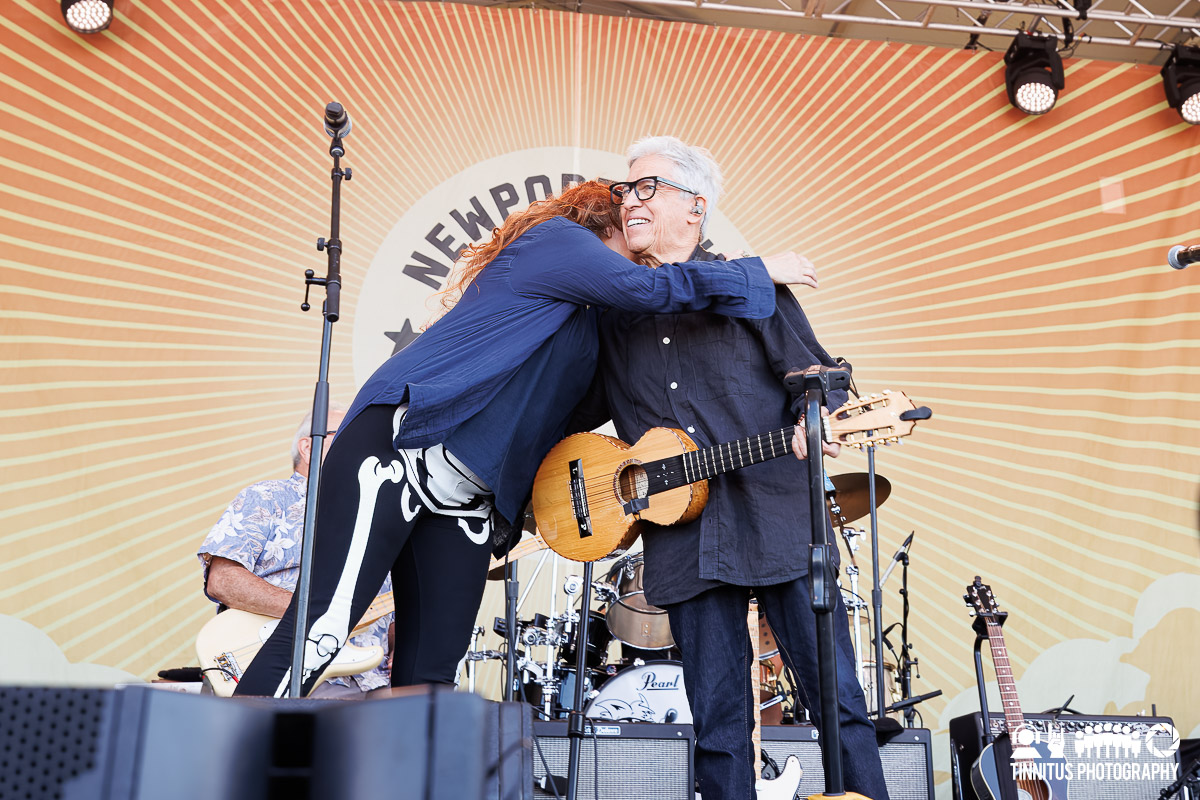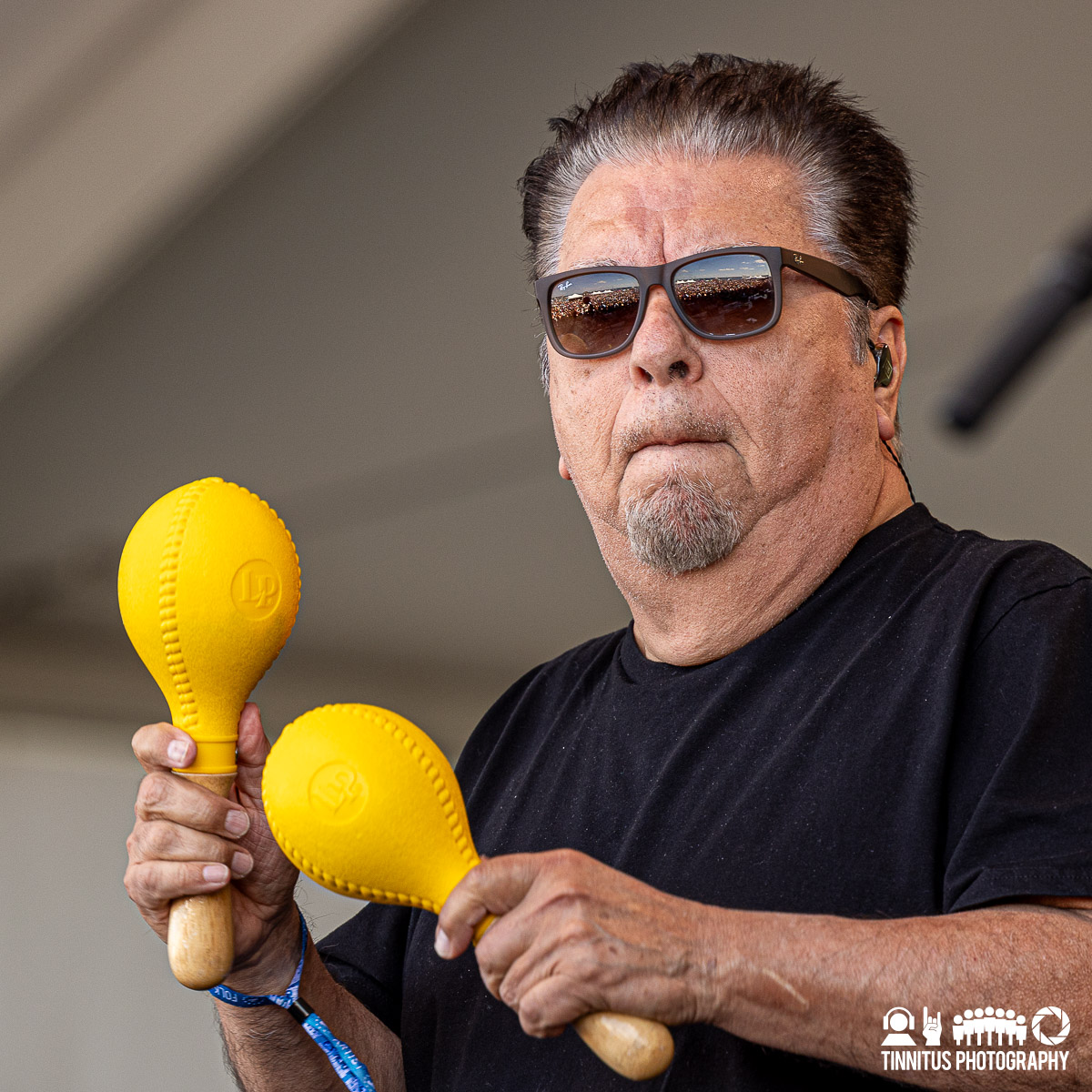 This isn't to say that America can't put their own spin on folk. Madison Cunningham won the Grammy this year for best folk artist and her guitar playing belies some influences that directly point to '80s-era King Crimson. Billy Strings is likely the best flatpicker going today and can play a variety of music in whatever manner he wishes; it was a straight bluegrass set flecked with covers and traditional songs and played in an absolutely blazing manner. No wonder he is selling out multi-thousand venues.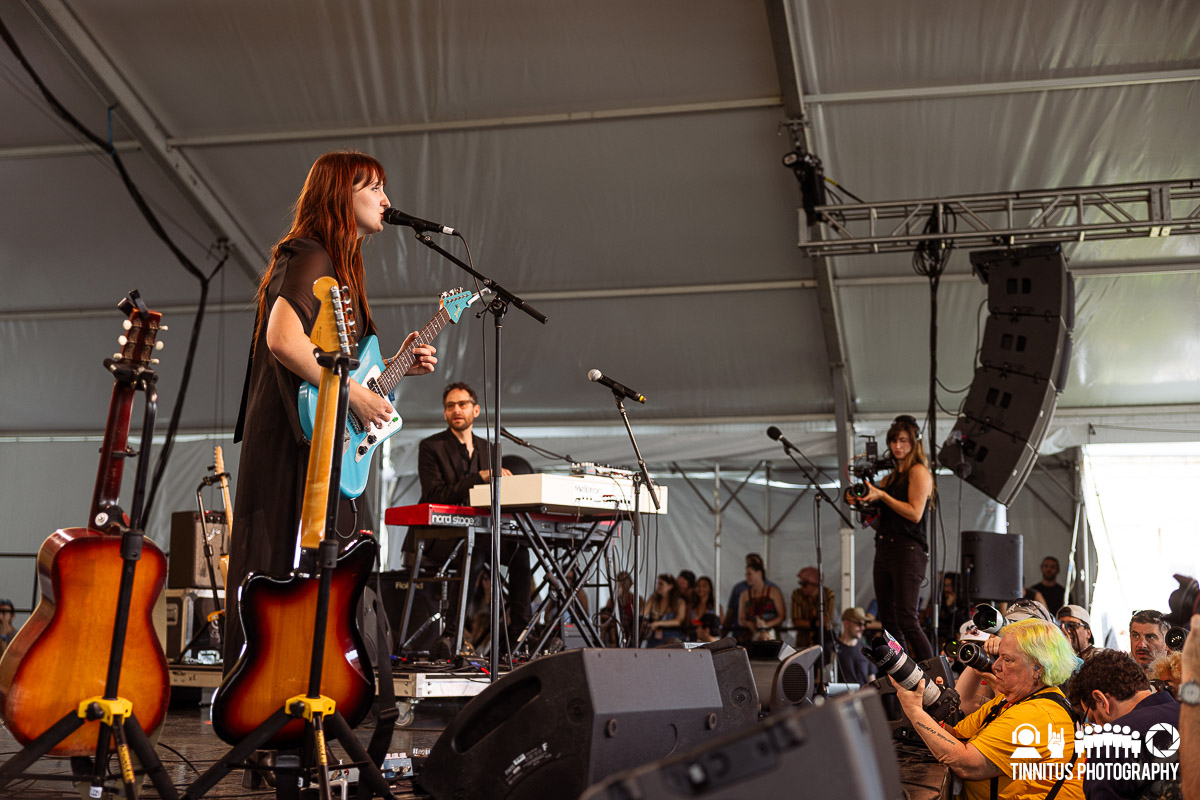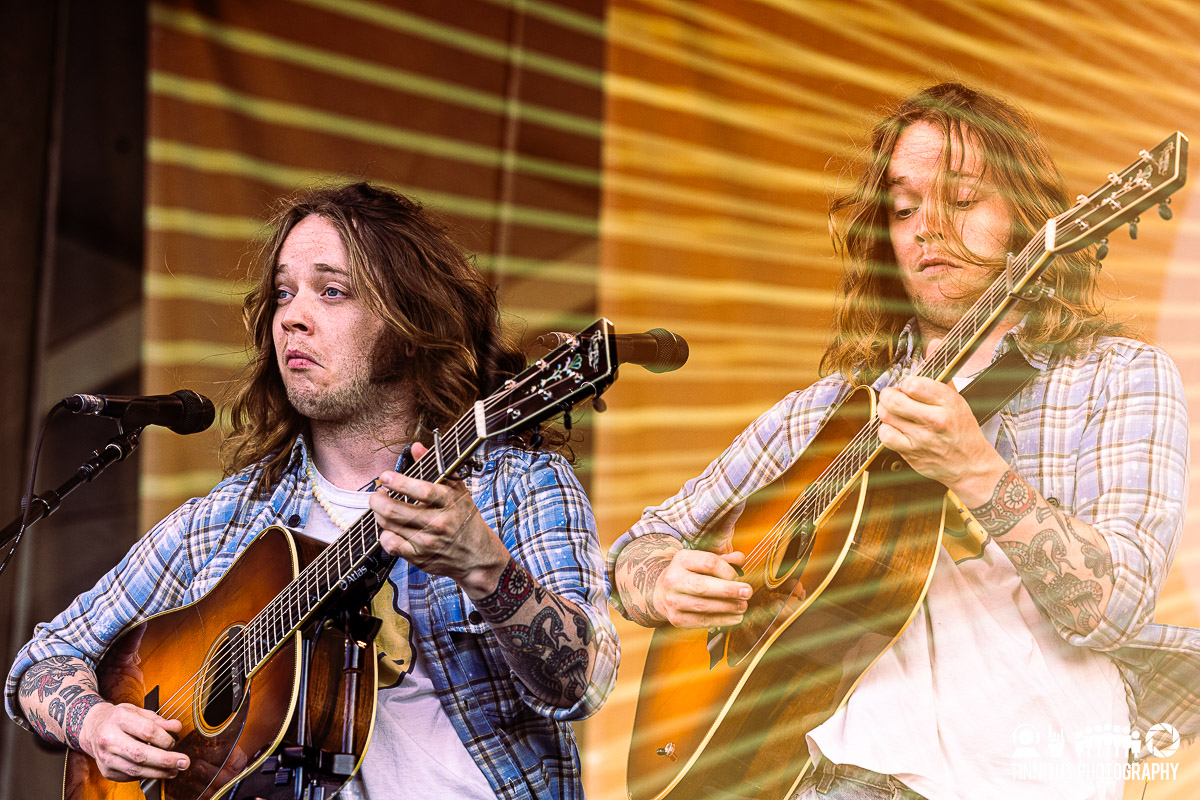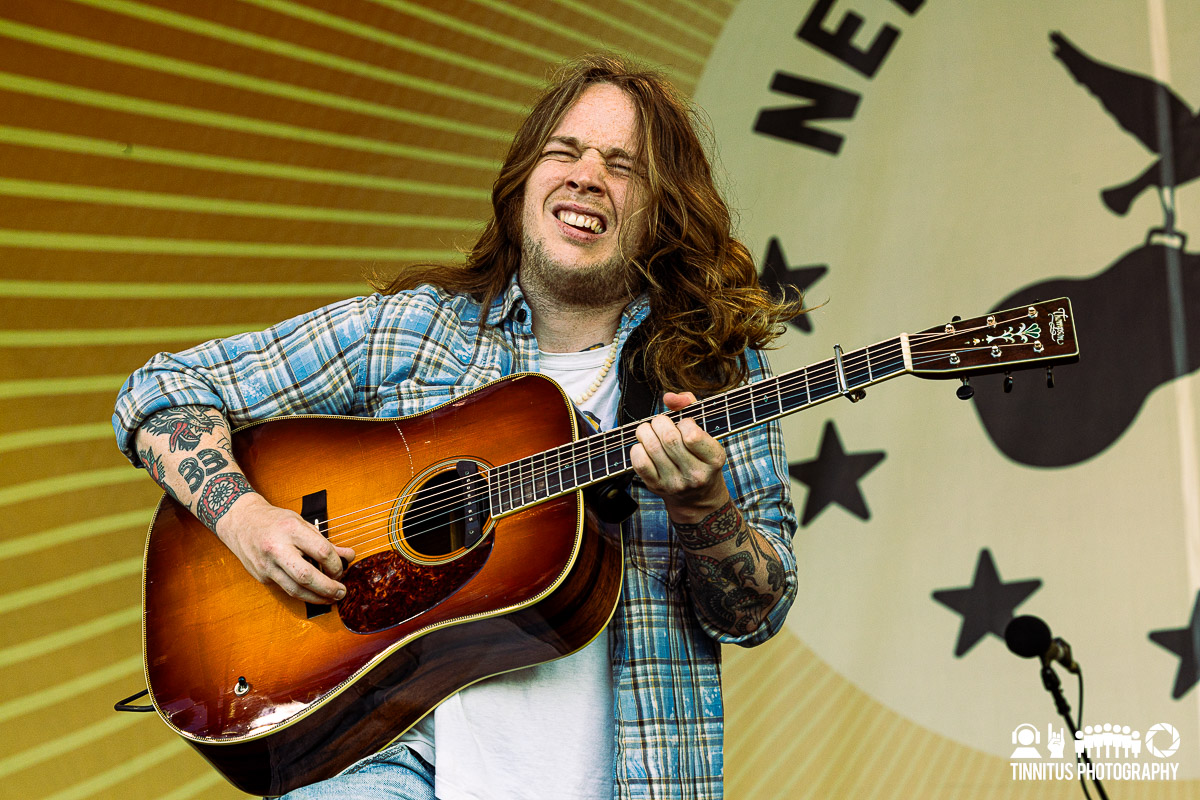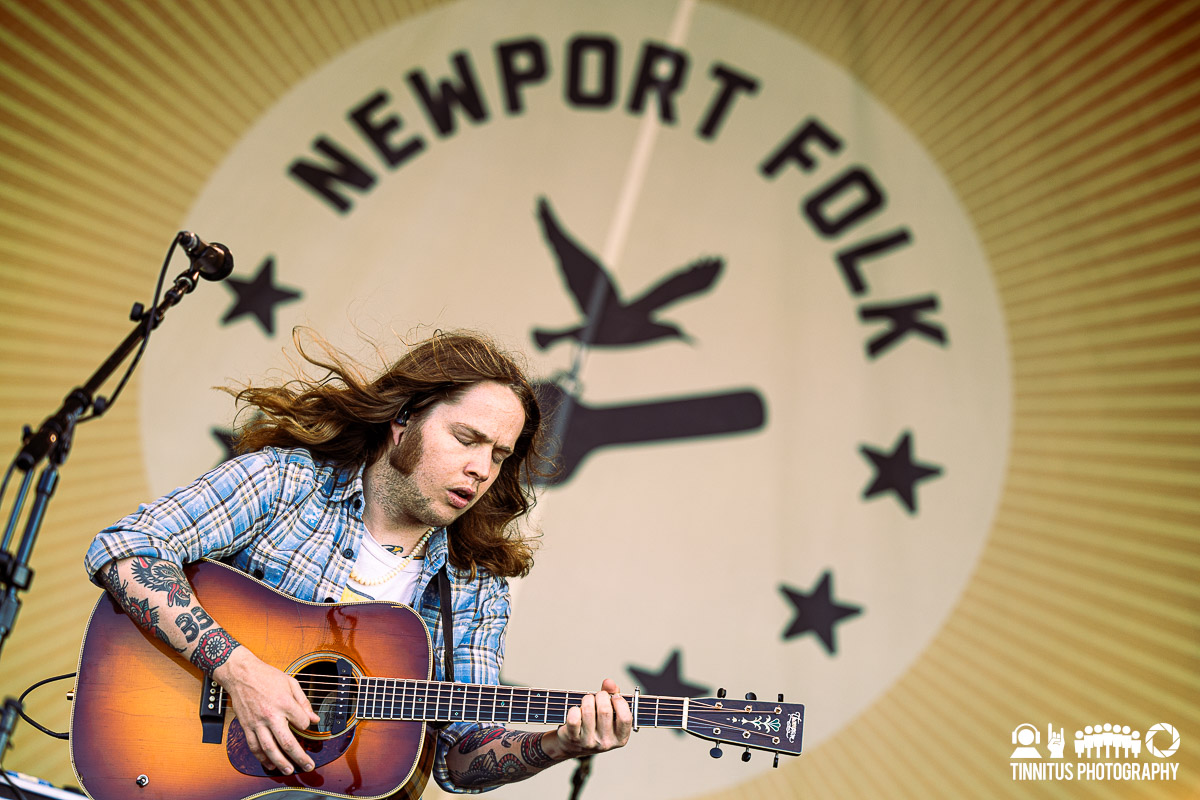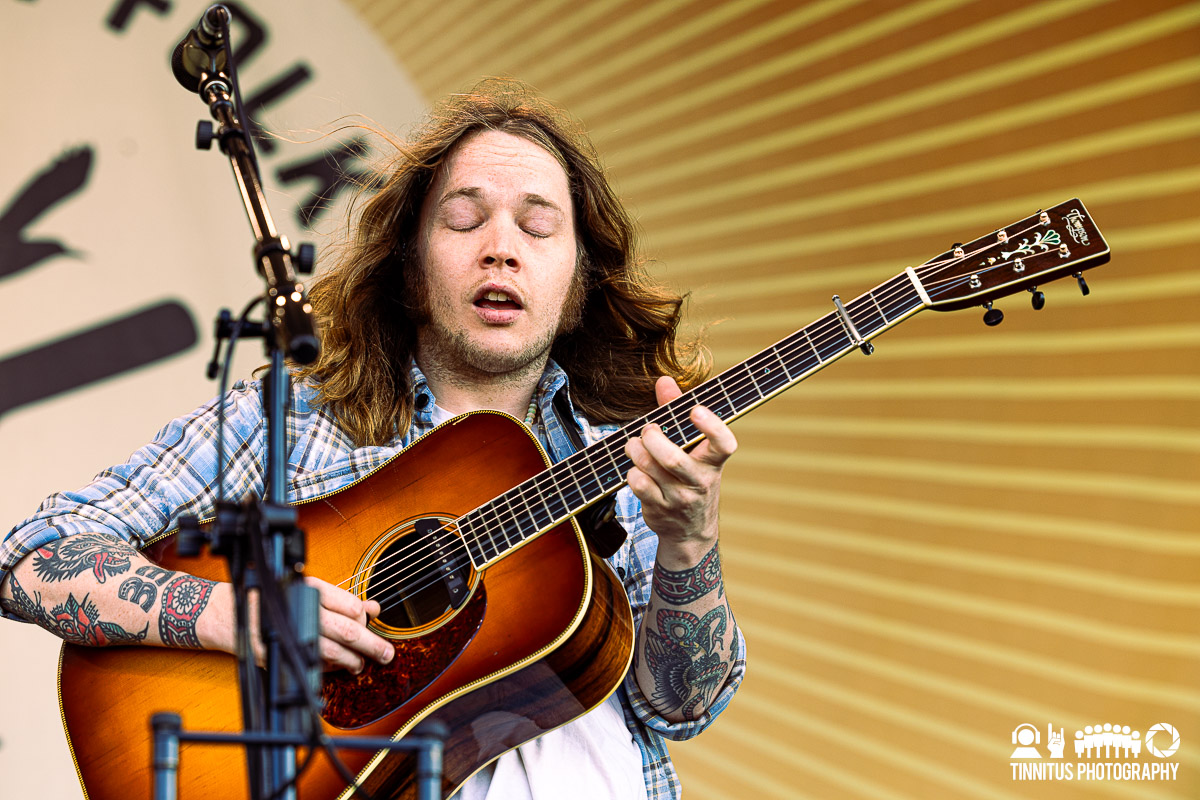 It's a fool's errand to try to describe all the happenings from this weekend at The Fort so instead here is a recap of some of the highlights I was able to catch.
Eastern Medicine Singers
A loose collective of Wampanoag and other native tribes from northern Rhode Island, this drum circle has worked with Yonatan Gat of Monotonix for the last few years and this year the circle was widened to include Lee Ranaldo and Chris Pradvica of Swans, along with drummer Ignabu. Starting out with a ceremony and initial drumming with four members across from each other, the piece built as Gat, Ranaldo and Pravdica also lent percussion while two tribe members enacted a fight scene. They soon joined the circle, guitars were raised and the glorious chords of Link Wray's "Rumble" thundered across the park grounds. They only played three songs, the latter reaching Swans-ish heights of repetition and power with the unit fully enraptured and acting as one, until a stage hand walked across the stage to give the 'cut' sign that their time was over. They might still be playing otherwise, and I'd certainly still be listening.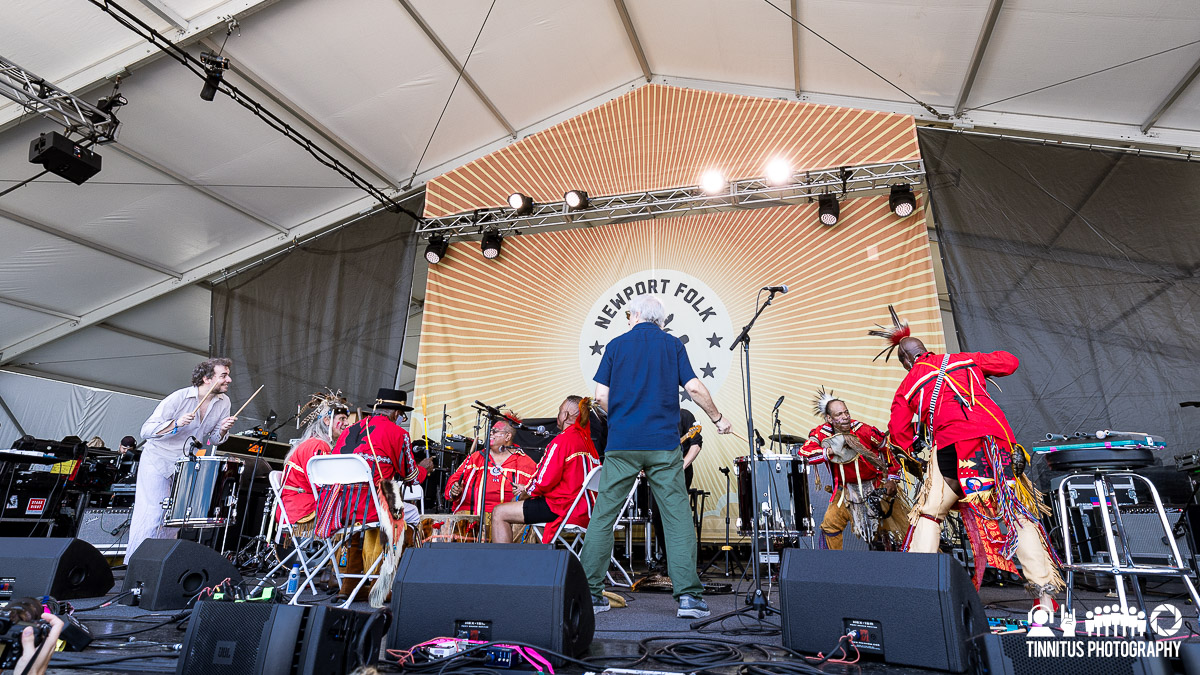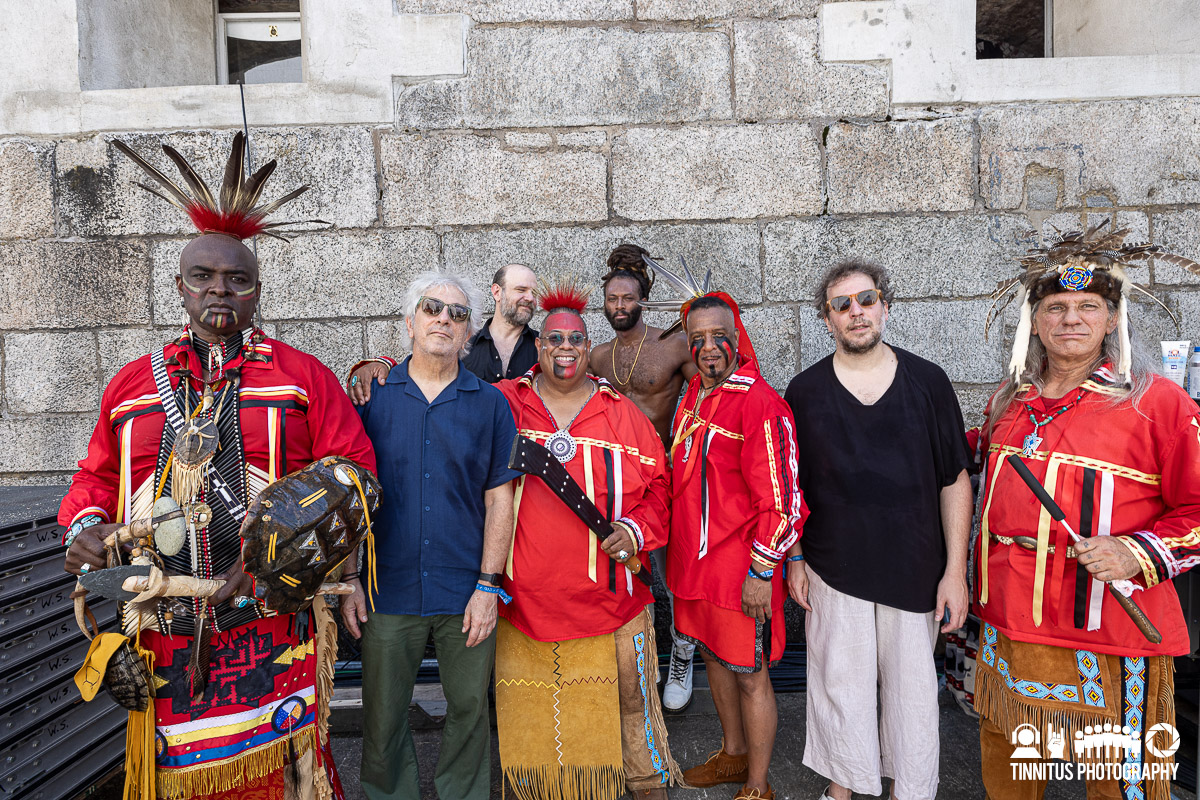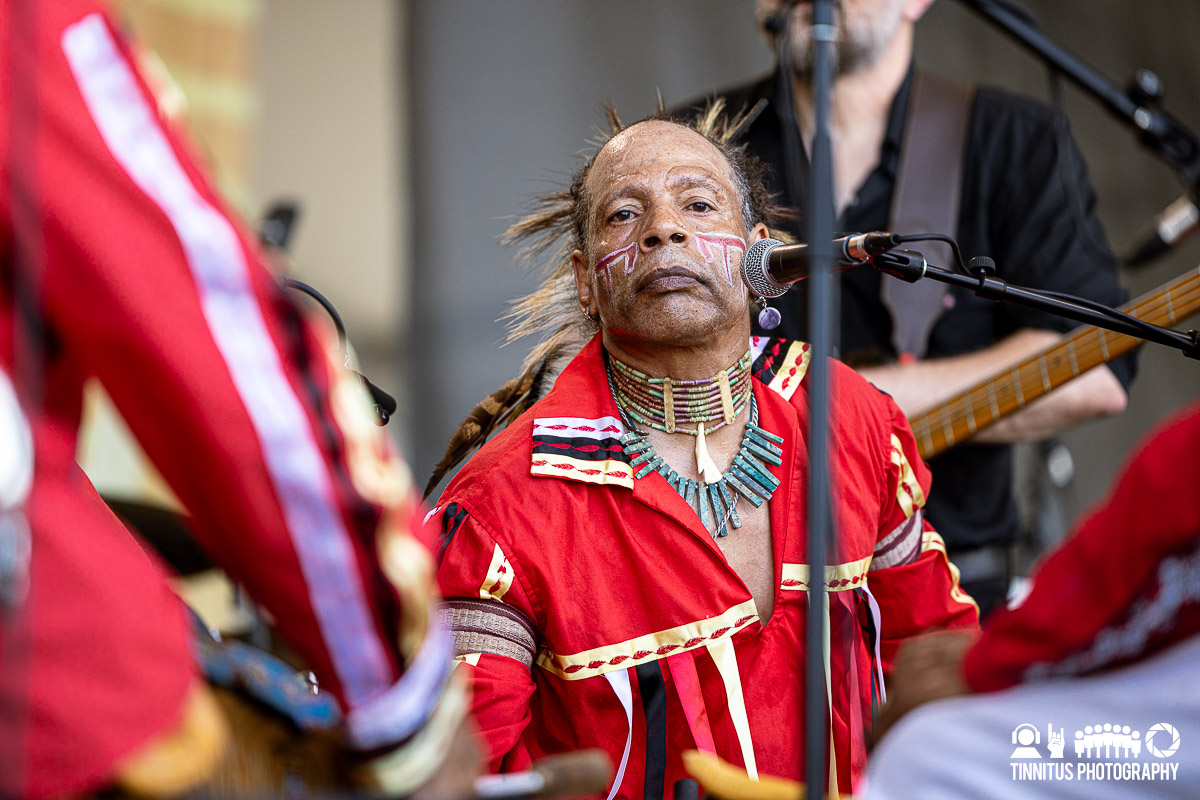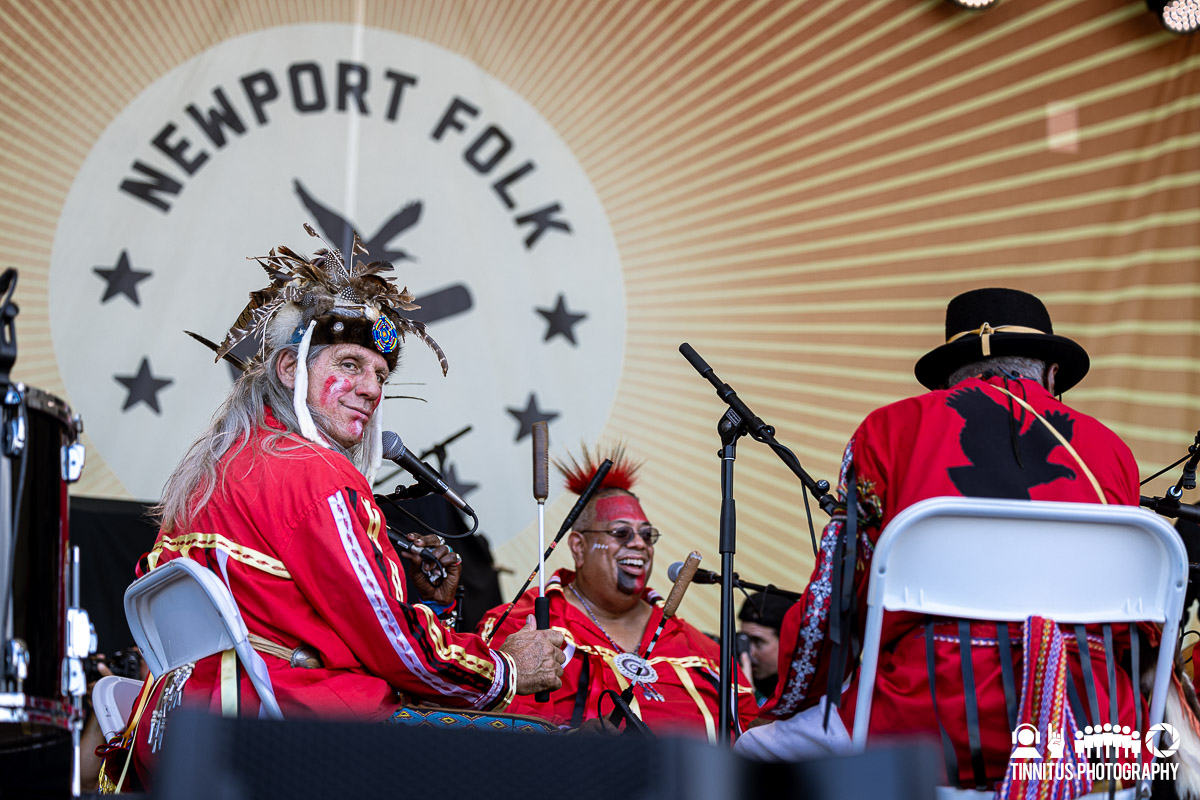 Mdou Moctar
The nation of Tuareg knows no internationally recognized boundaries and the culture of sub-Saharan warriors/musicians spans six African countries. Tinariwen was one of the first to gain Western exposure but Niger-based Mdou Moctar brings a whole new level of fire and passion to this blues-based rock music. Disarmingly charming and deceivingly wicked in his riffs, Moctar and company brought the Quad stage alive. The sad footnote to their performance was that when their tour ended after the next performance, Niger suffered a military coup and they were refugees from their homeland and unable to return. A successful fundraiser was launched to help them and their families through this crisis and it's still active if you wish to donate.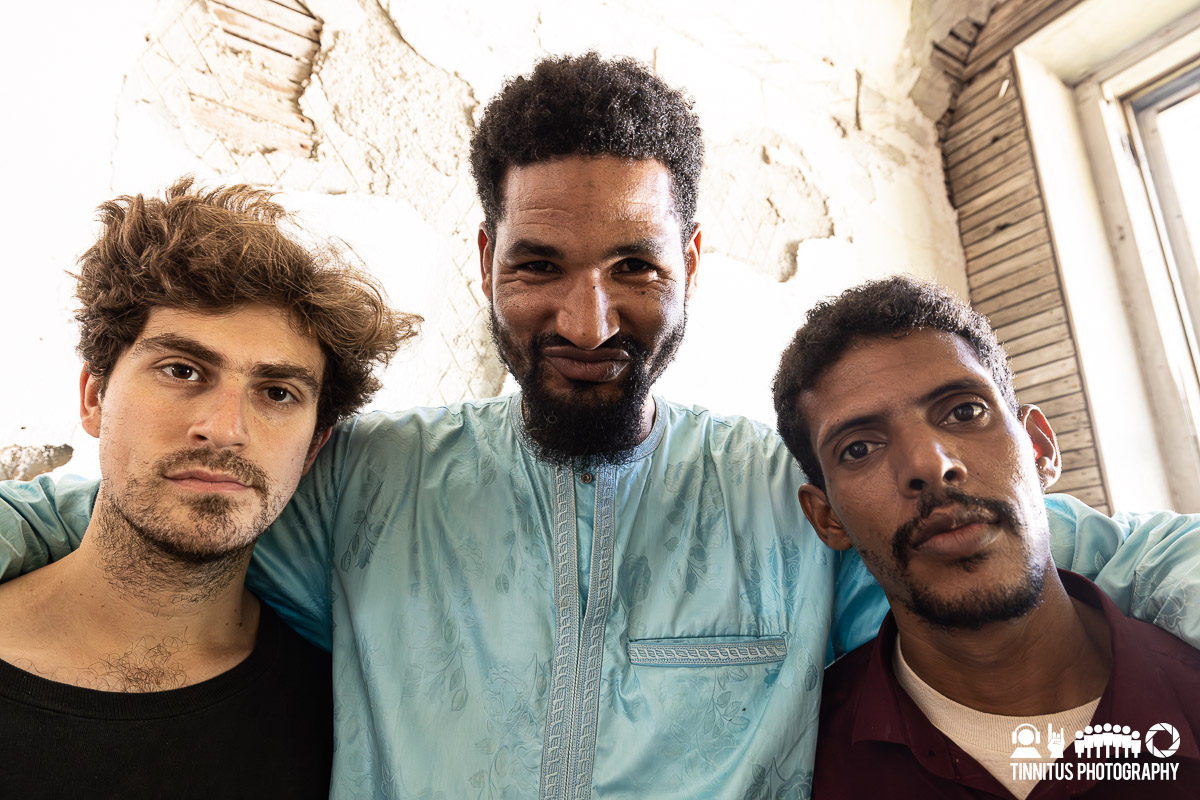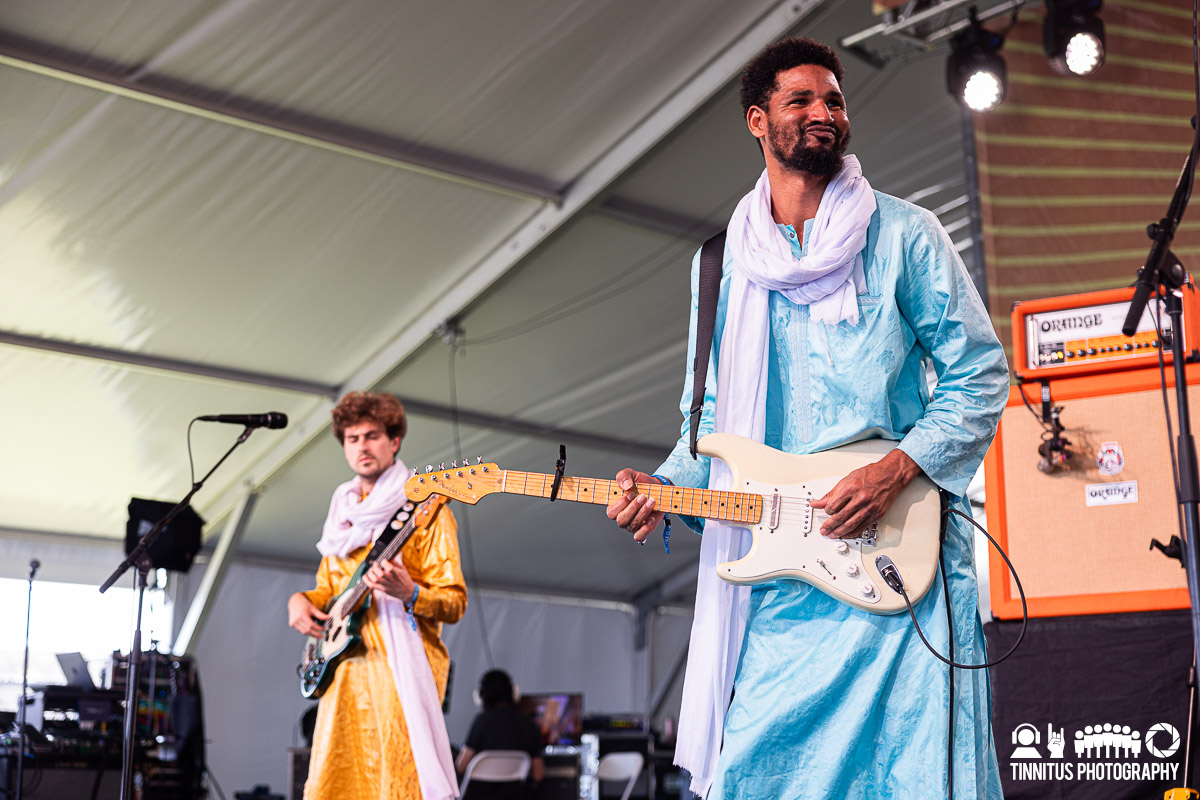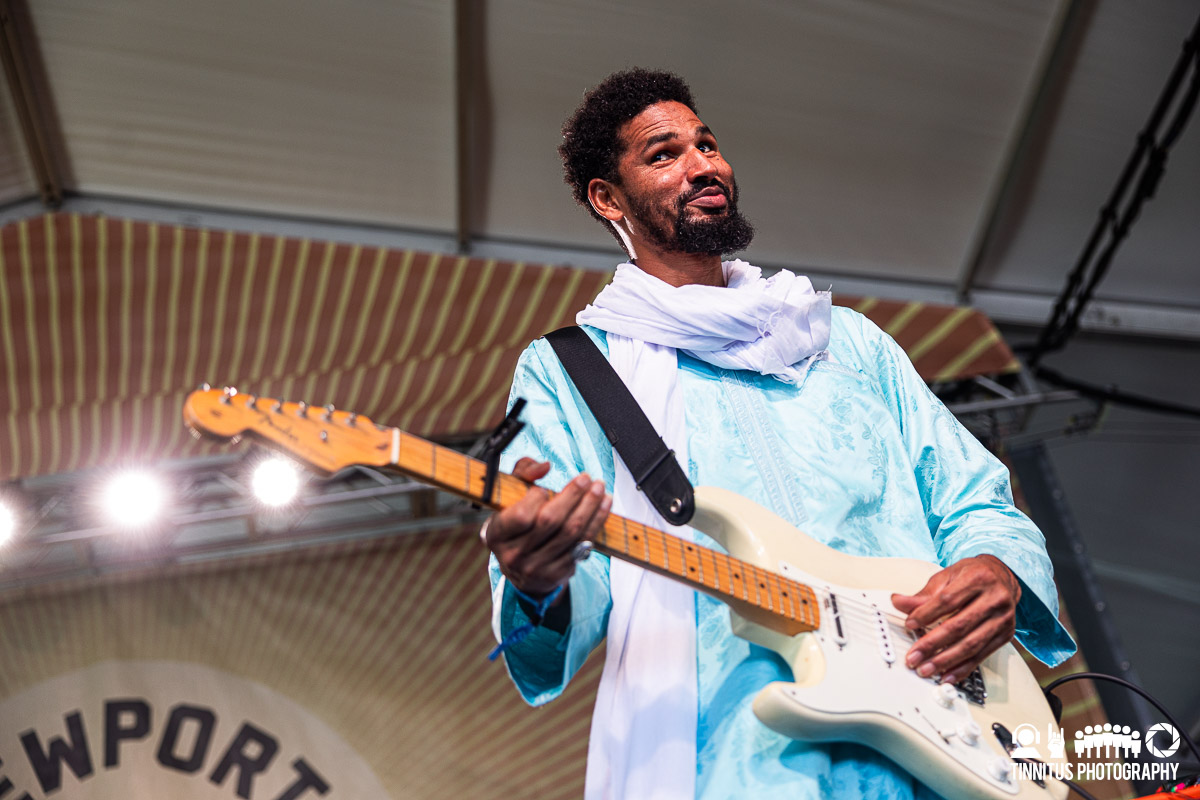 Jason Isbell
Isbell has become a familiar face around Newport over the last several years, and this would be his fifth appearance in the last decade at the Fort. In addition to his notably wicked sense of humor and insight on Twitter he also makes some incredibly moving music and this year's Weathervanes is among his best work. With Will Johnson joining his trusty 400 Unit band, after the stirring "Cover Me Up" Isbell played a huge chunk of the new record and damned did it sound good. "King Of Oklahoma" is a gripping tale about an unraveling life due to drug addiction and will be regarded as a classic in a decade or two; mark my words.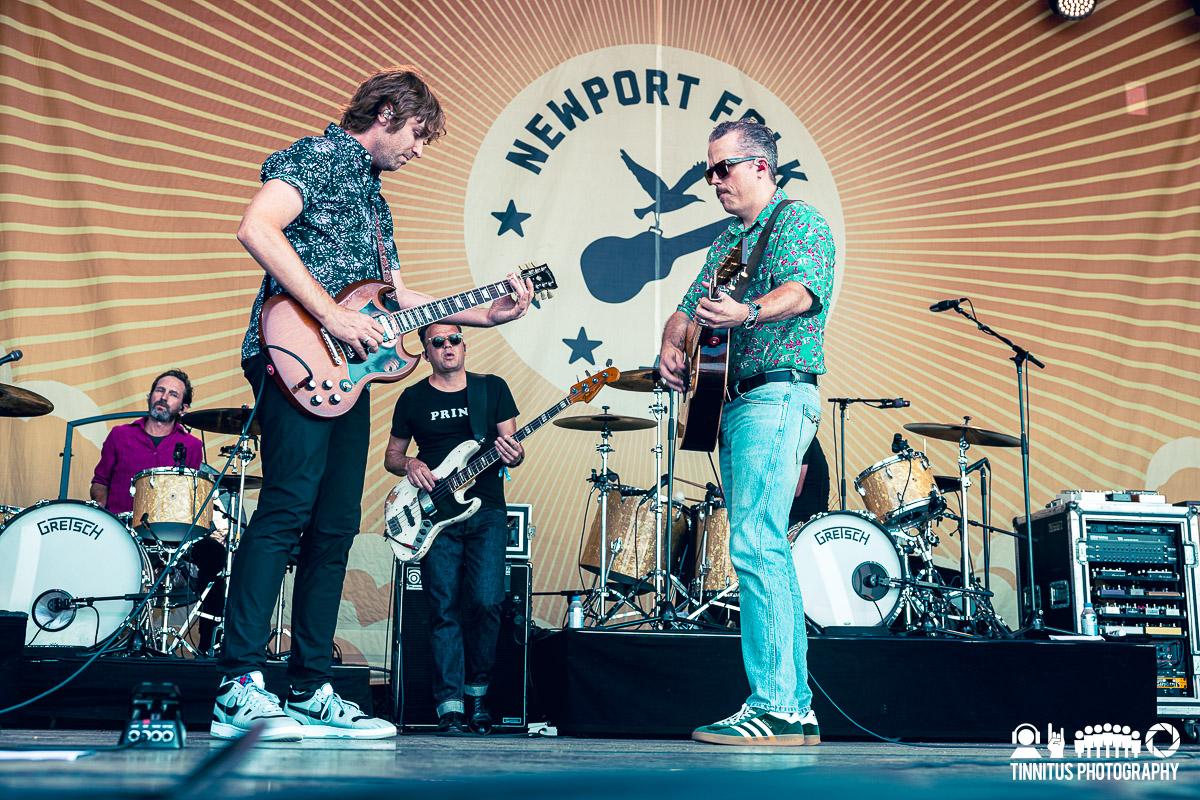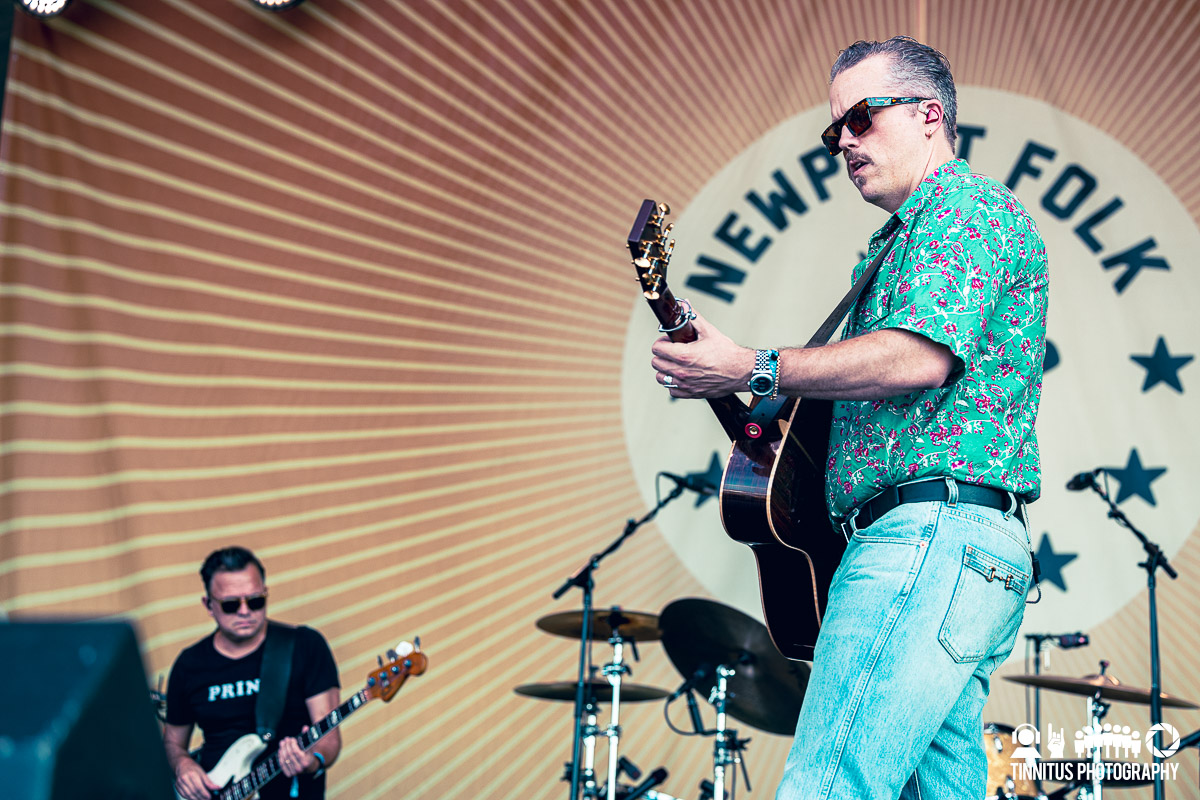 Remi Wolf
I knew nothing about Wolf before I saw this diminutive powerhouse take the stage and just own the Fort interior during her set at Quad Stage. Dropping F bombs like a NY cabbie, her joy was palpable and spread to her large band. A bit hip-hop, a bit pop, a whole bottle of non-stop energy.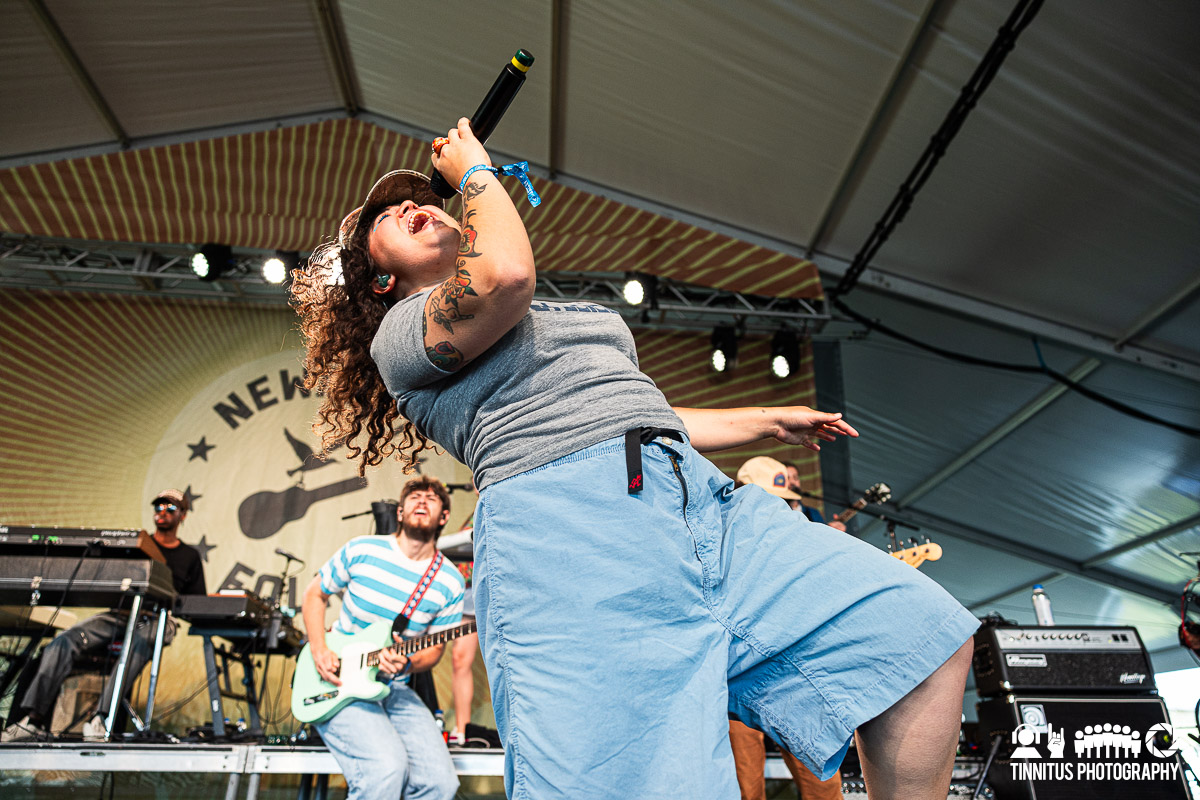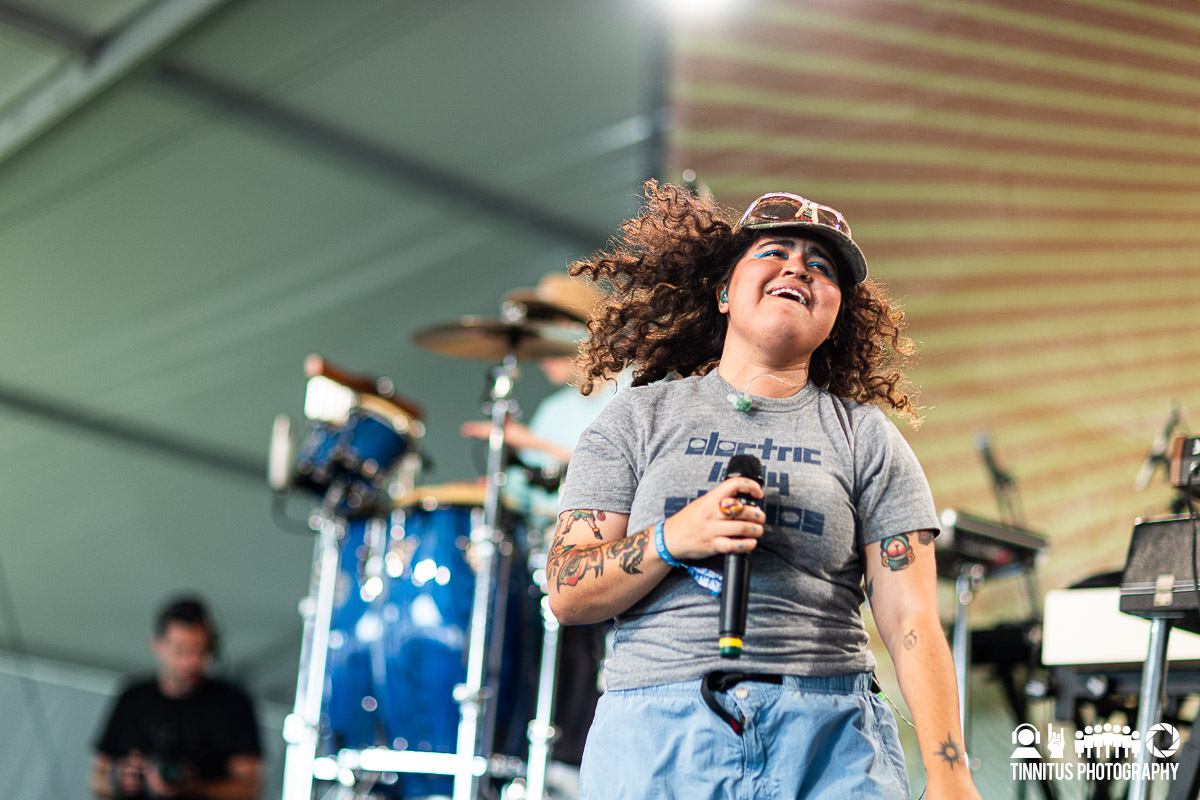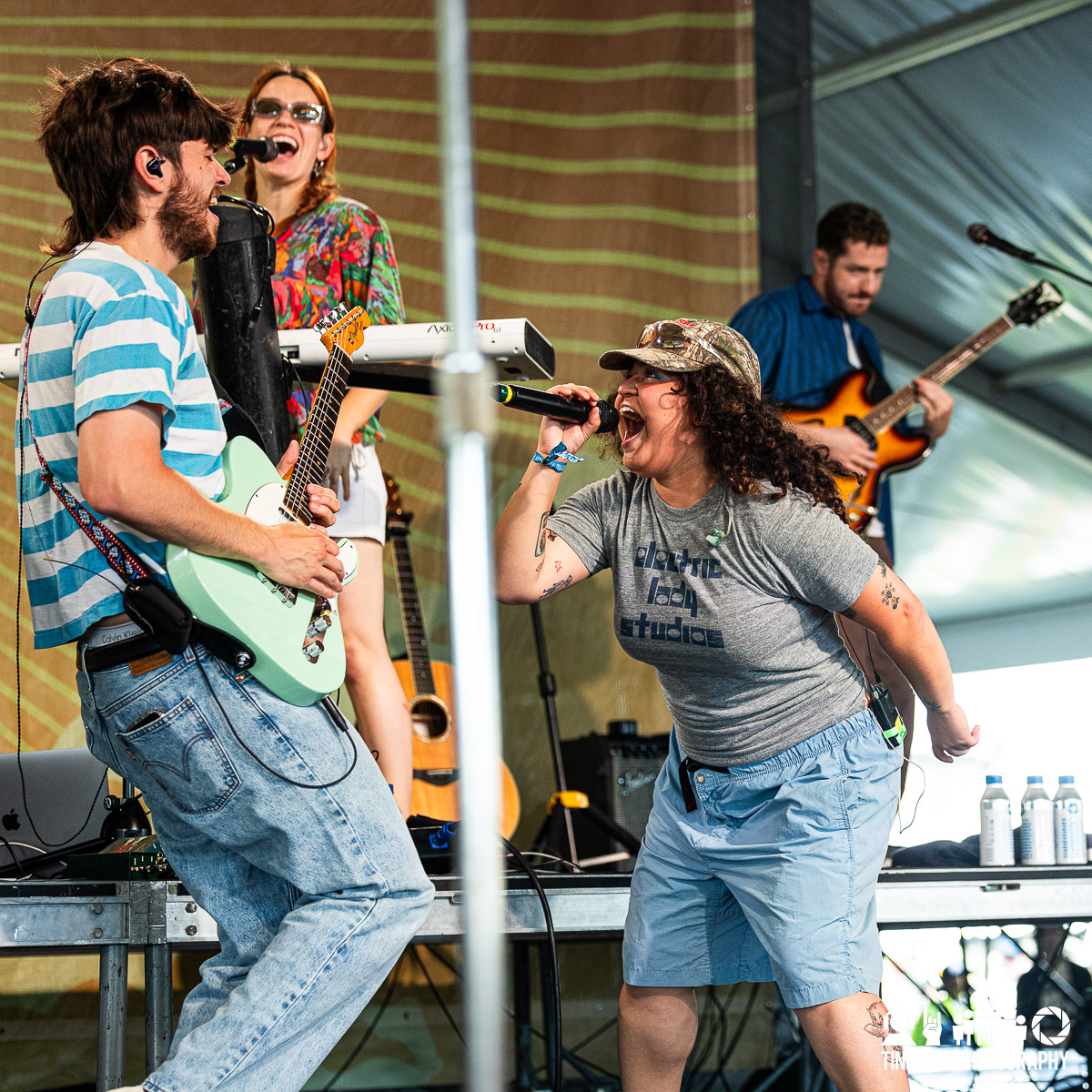 Danielle Ponder
A voice that carried across the Sound and into Connecticut, Ponder and her ensemble set up a slow burn that elicited both the hallowed halls of a Baptist church and the darkened recesses of a New Orleans brothel. Have I mentioned her voice already? You certainly need to hear it for yourself as she channels every ounce of emotion through her larnyx. Bummed I missed her cover of "Creep" in the moment but we can all experience it here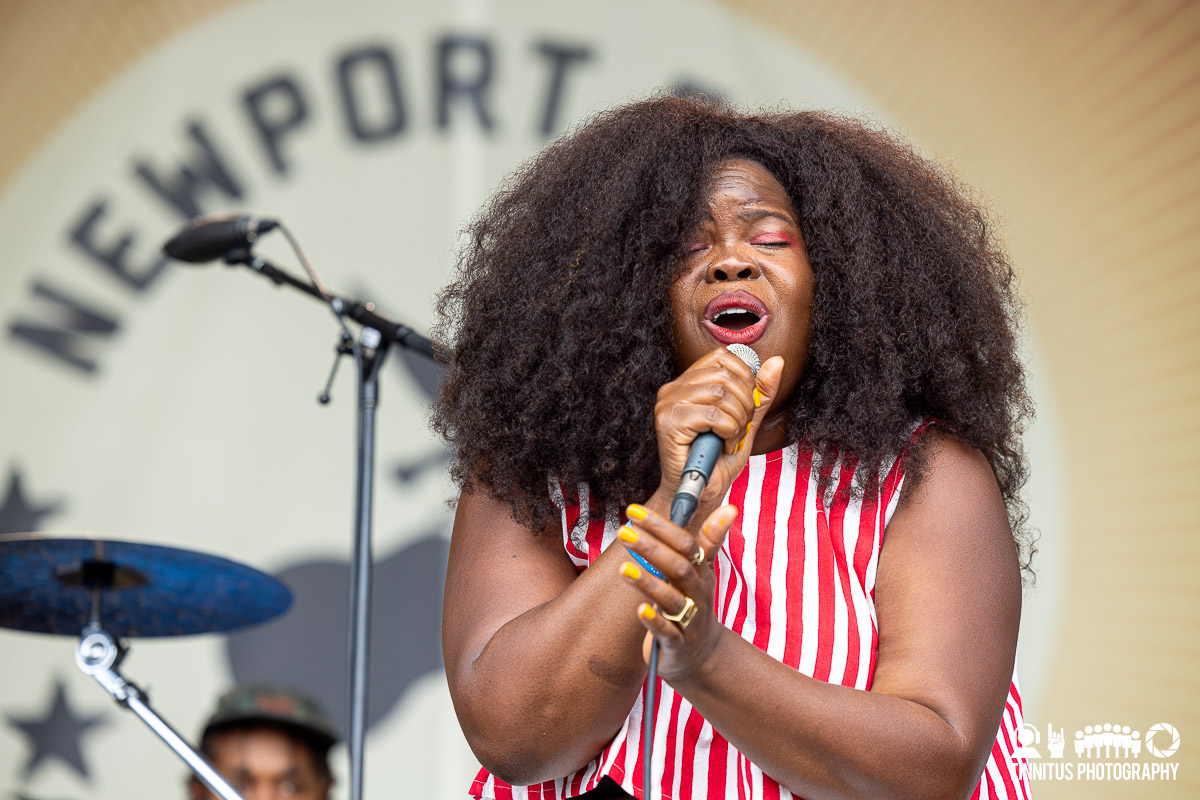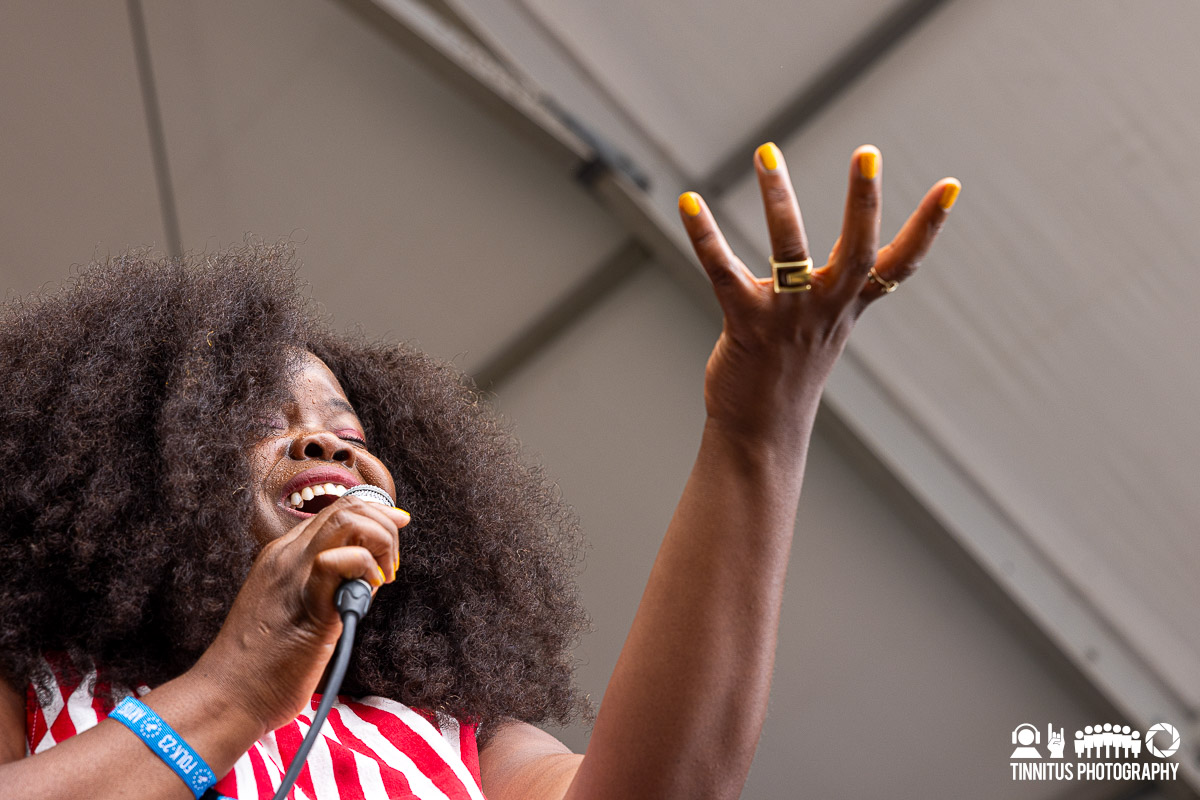 Newport Folk Revue
Newport is always full of impromptu guest spots and this set that closed down the Quad Stage before Billy Strings took it all home at Fort Stage embodied the collective spirit and celebration of music, period. Not just folk, Robert Ellis, Beau Bedford and Phil Cook took the reins on songs from 1973 and let it rip. Songs from Herbie Hancock, George Harrison,Doobie Brothers, John Prine, Neil Young, Gladys Knight – all played with heart and soul with a huge ensemble of guests, including Muppet Floyd Pepper guesting on "Midnight Train To Georgia" with Valerie June. (Animal would lend drums to both My Morning Jacket and Goose, fittingly on their song "Animal".) The set ended with a jammed stage much like the usual Fort Stage festival closer. This time it felt a bit more intimate, a bit more off the cuff, but with the same amount of joy. That's Newport, folks.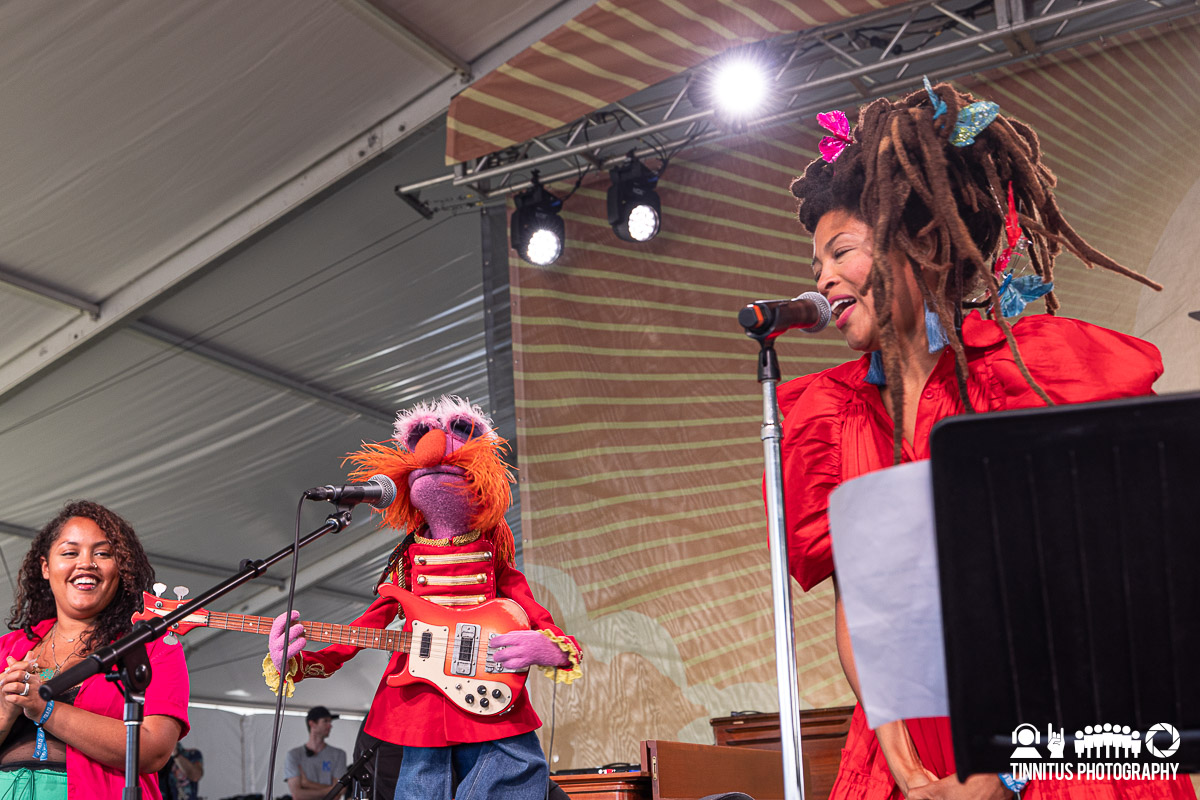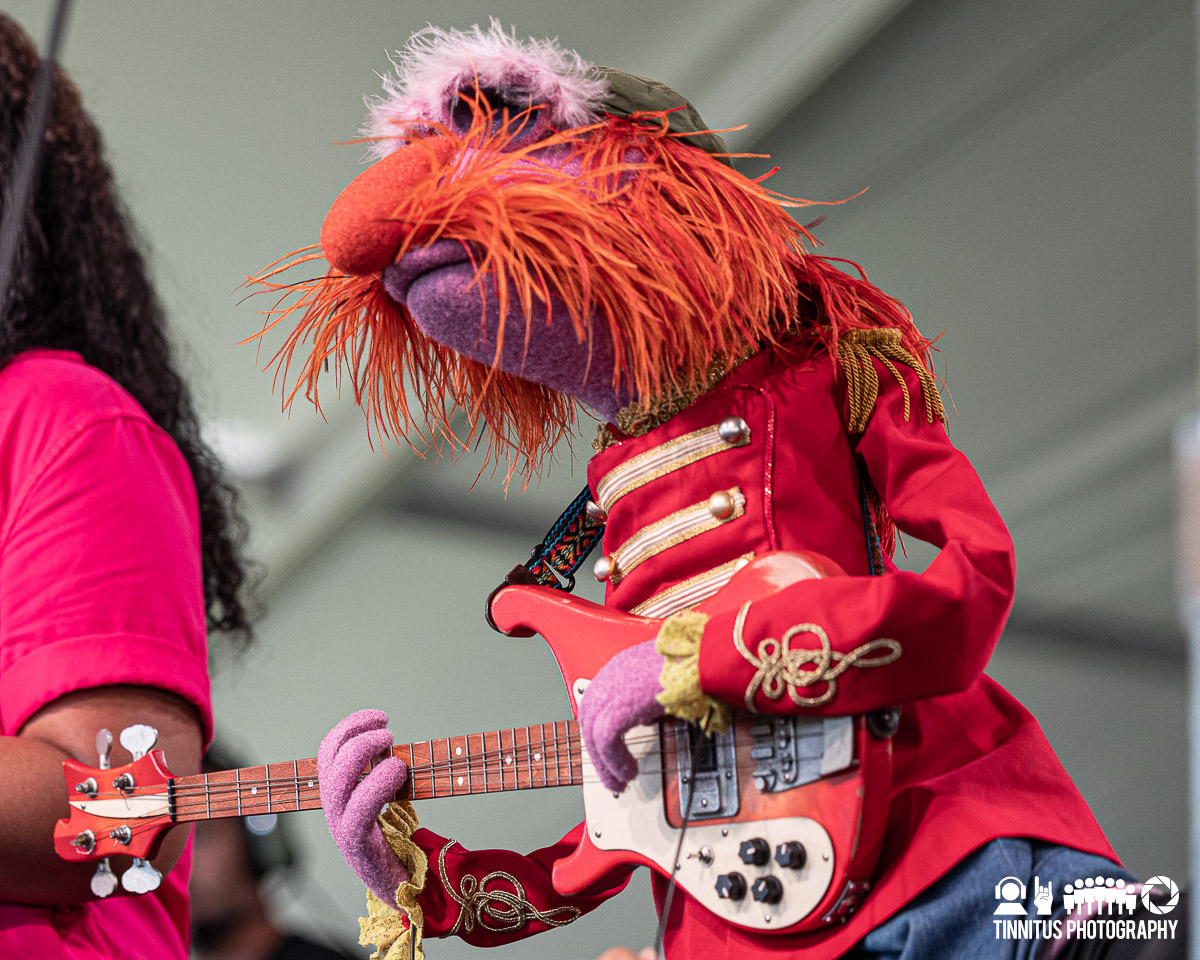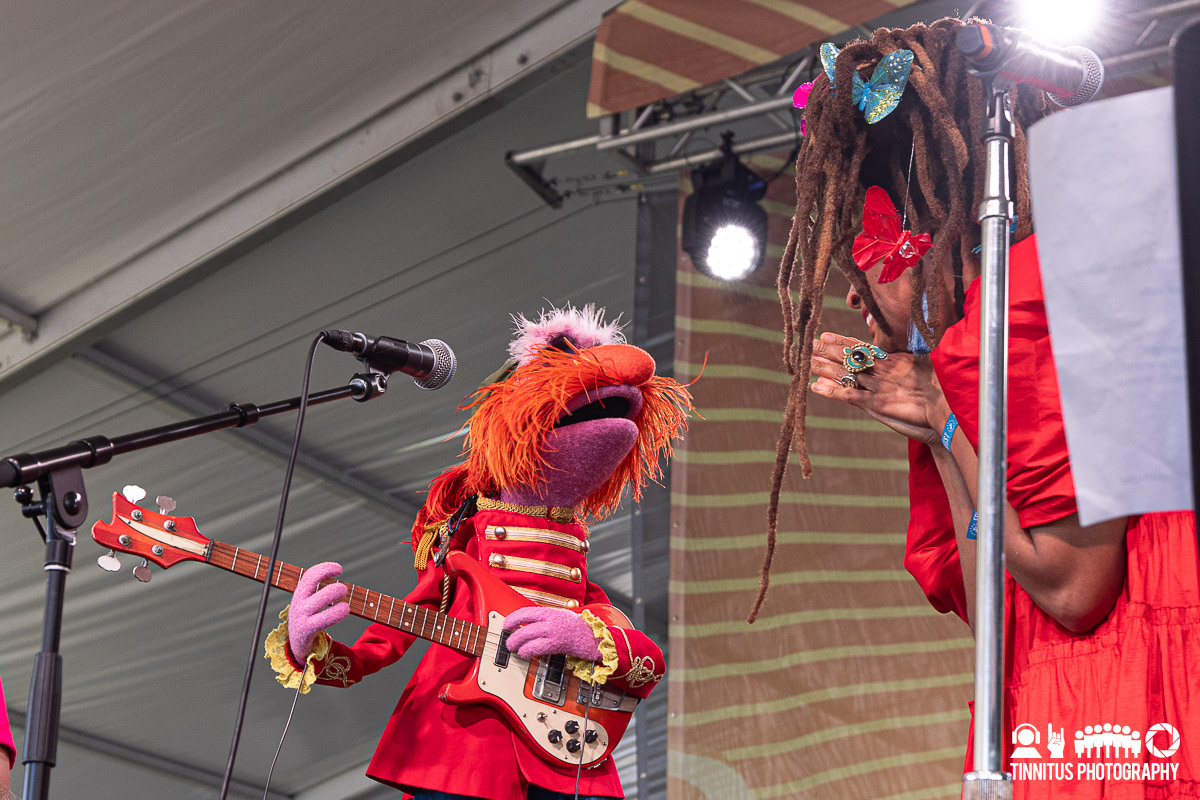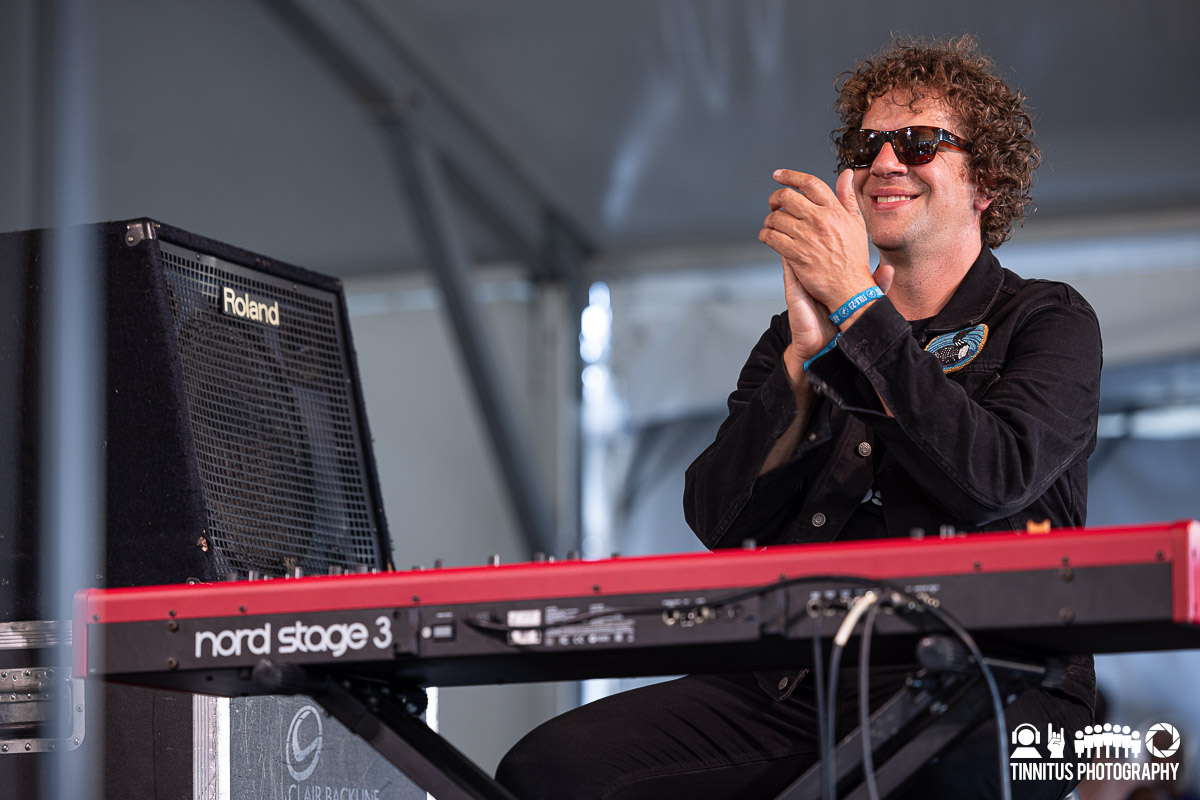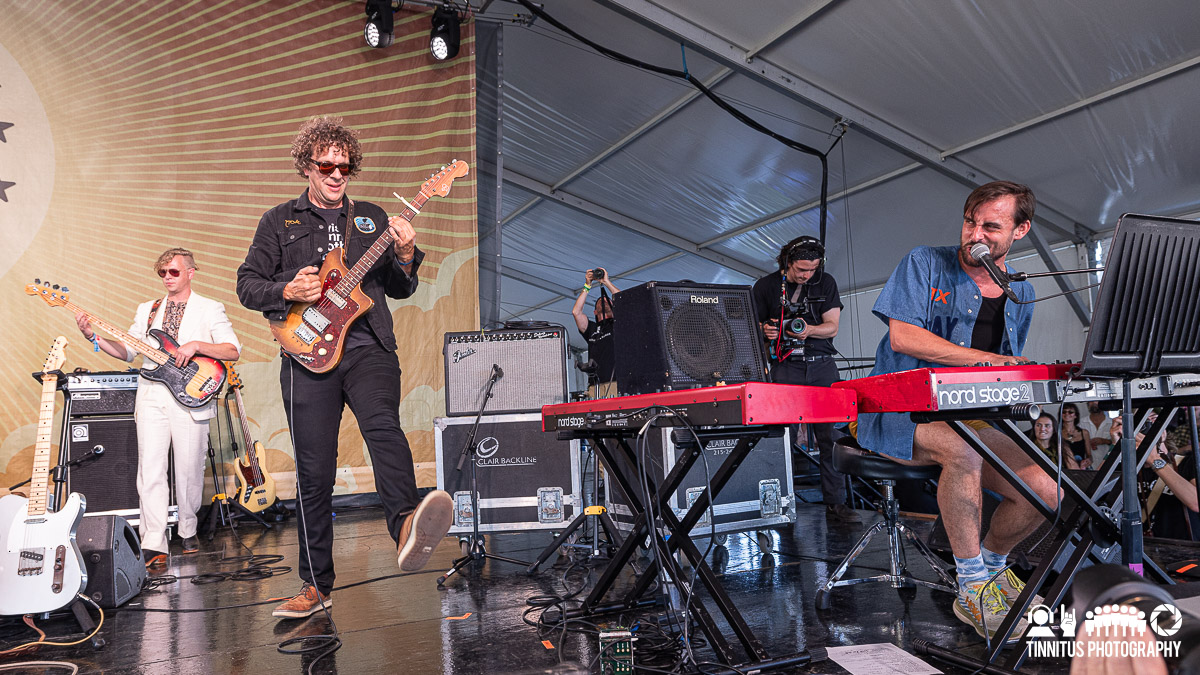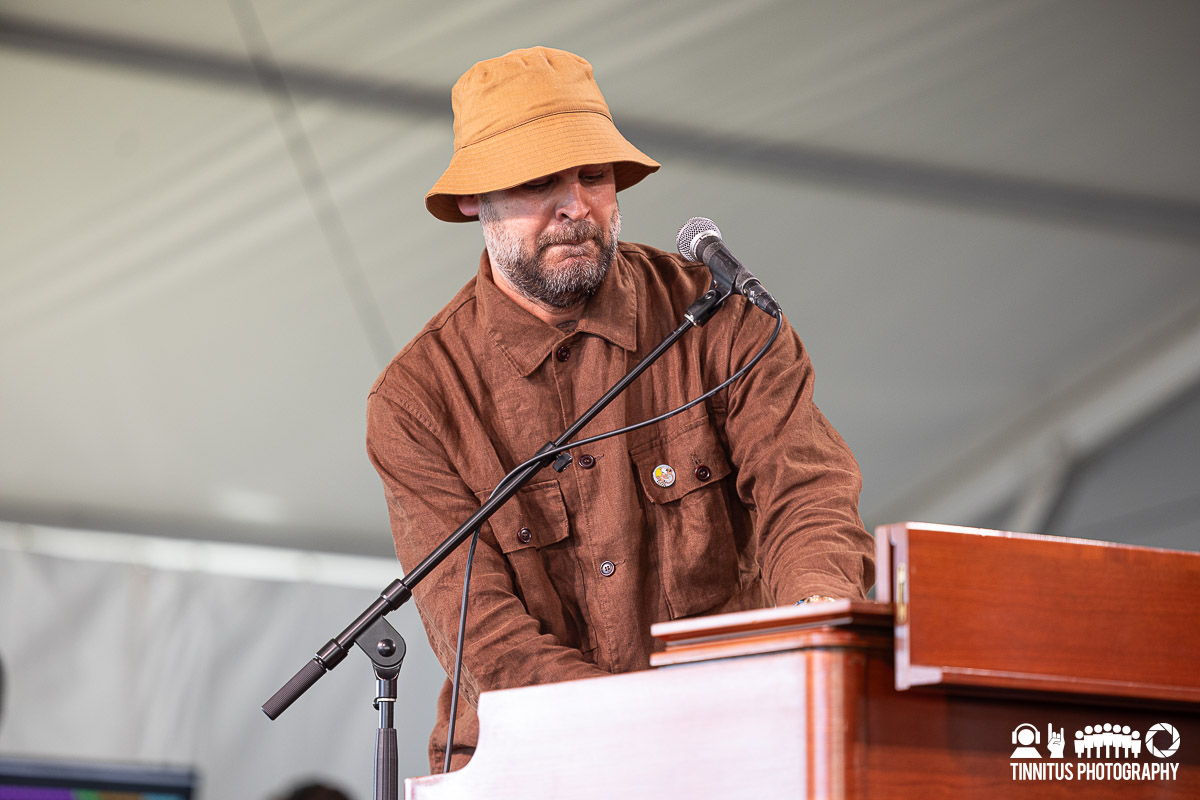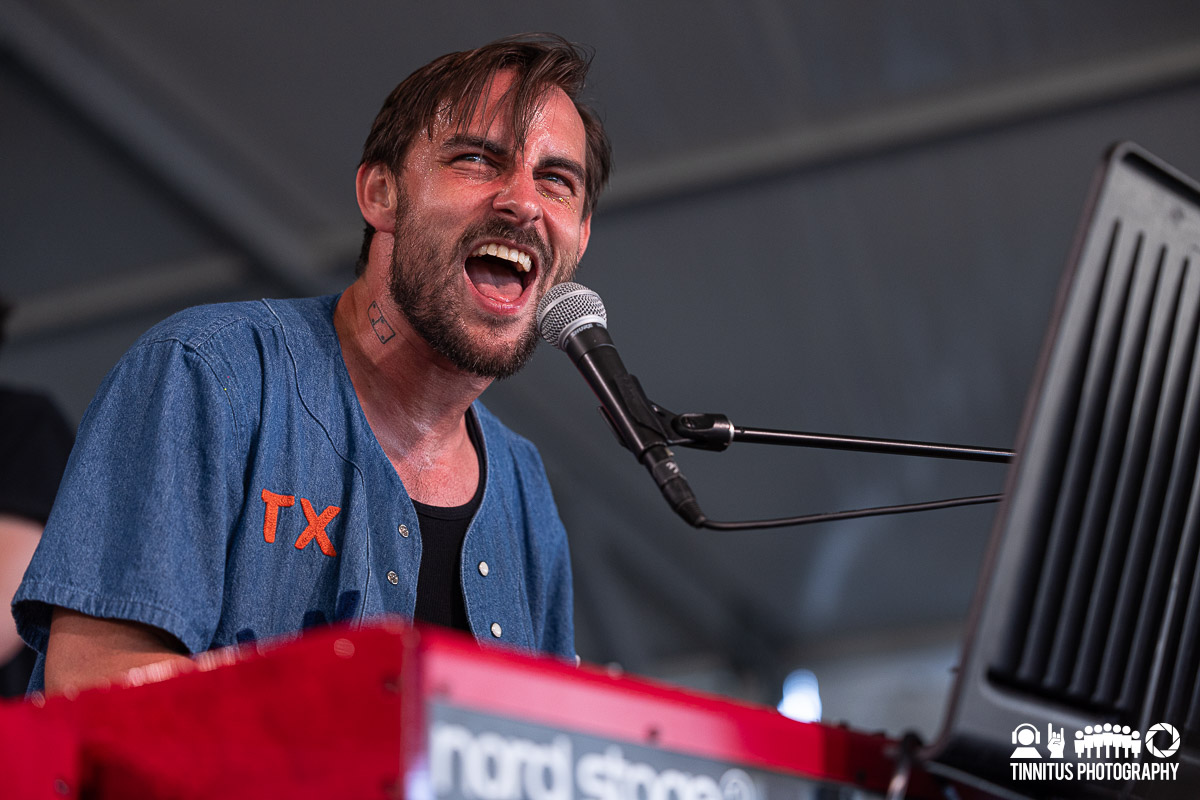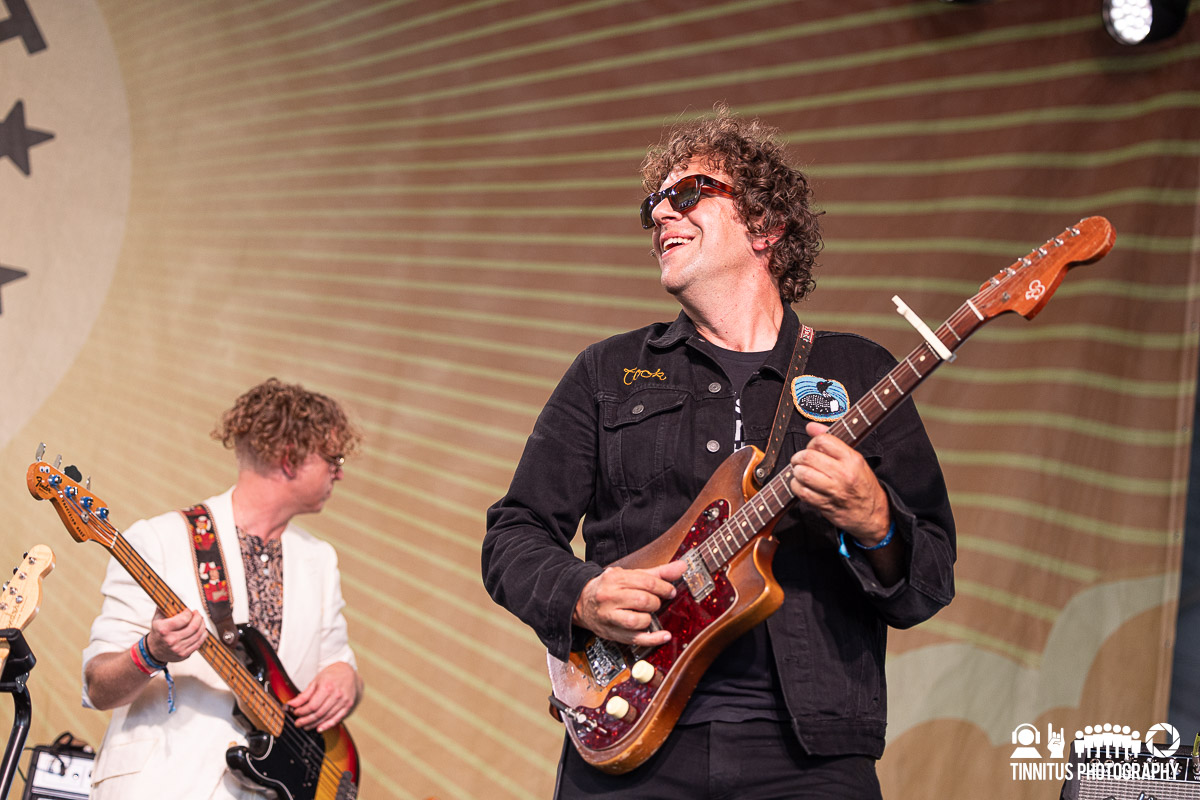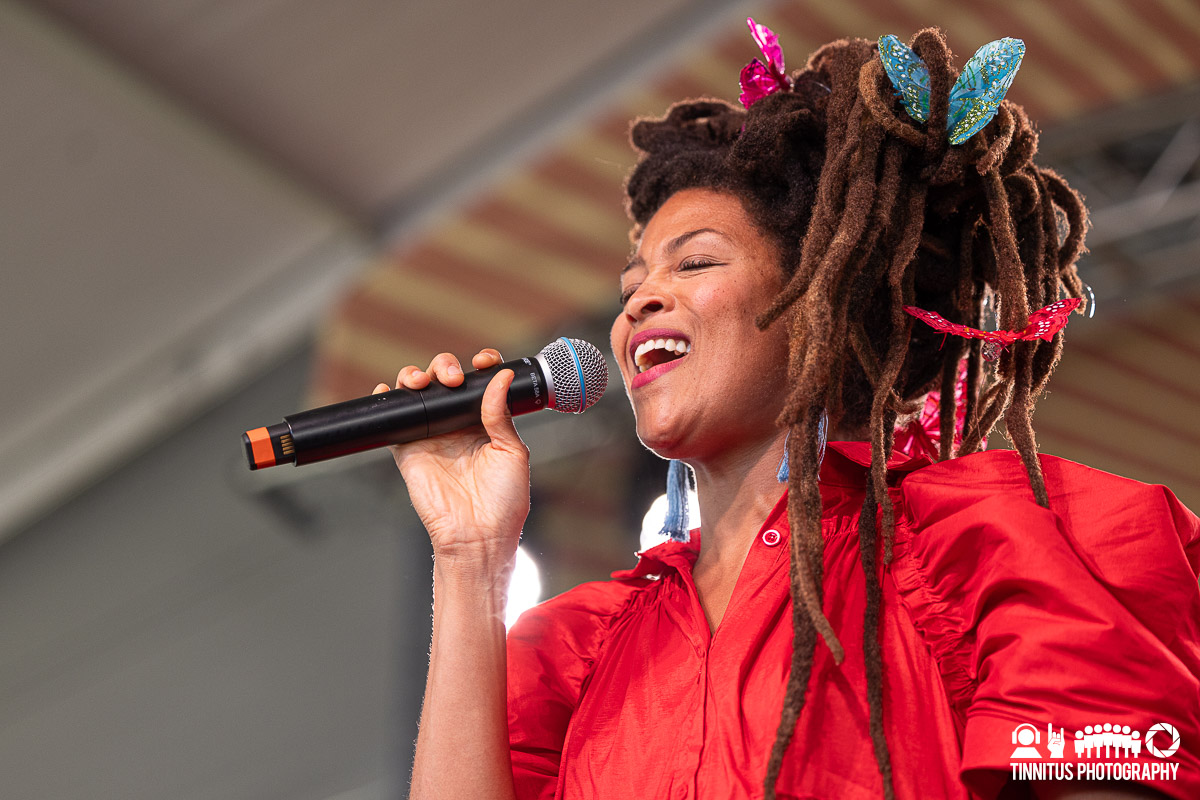 More photos of the festival:
Maggie Rogers (with Sista Strings, My Morning Jacket and fans)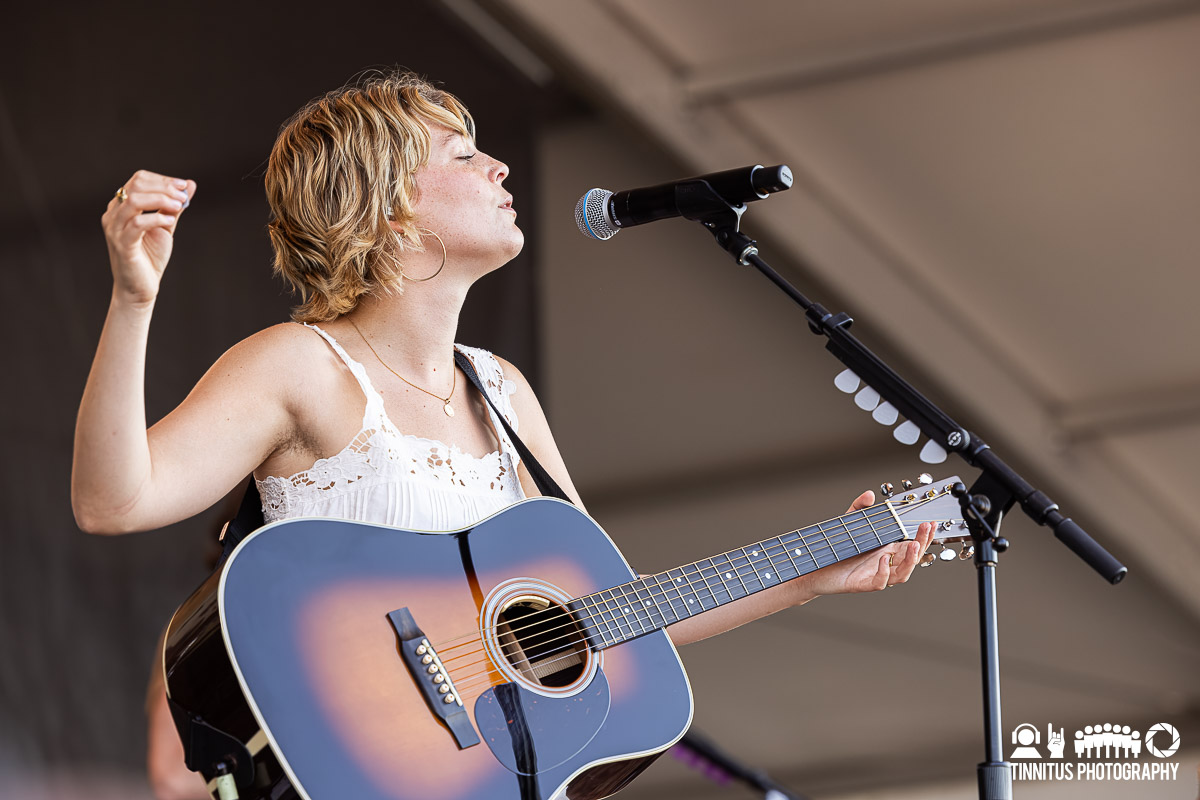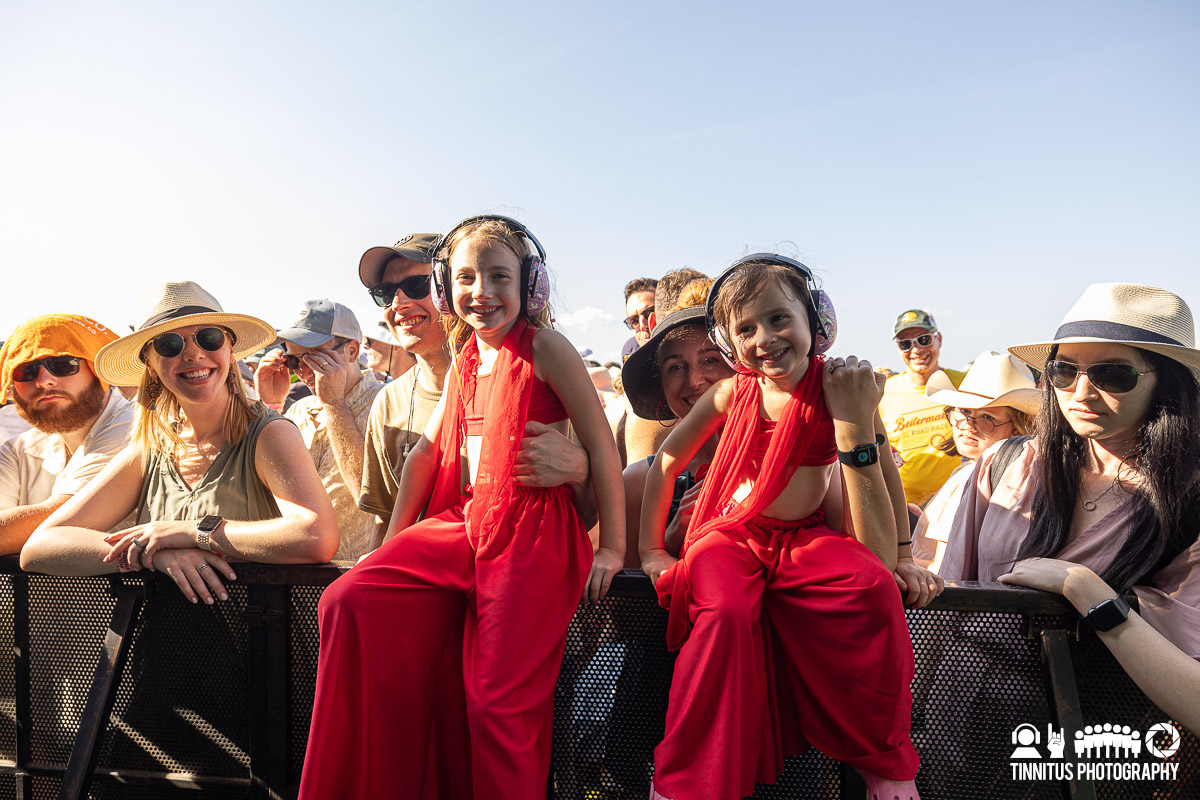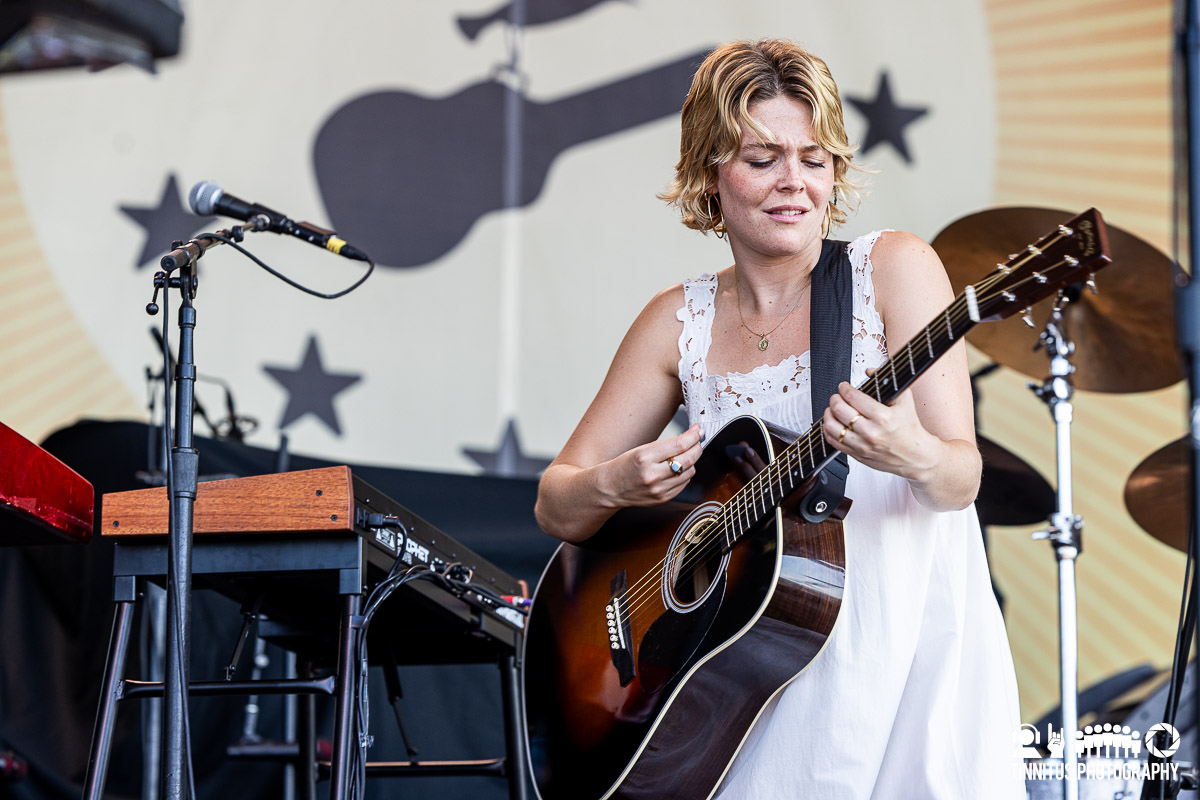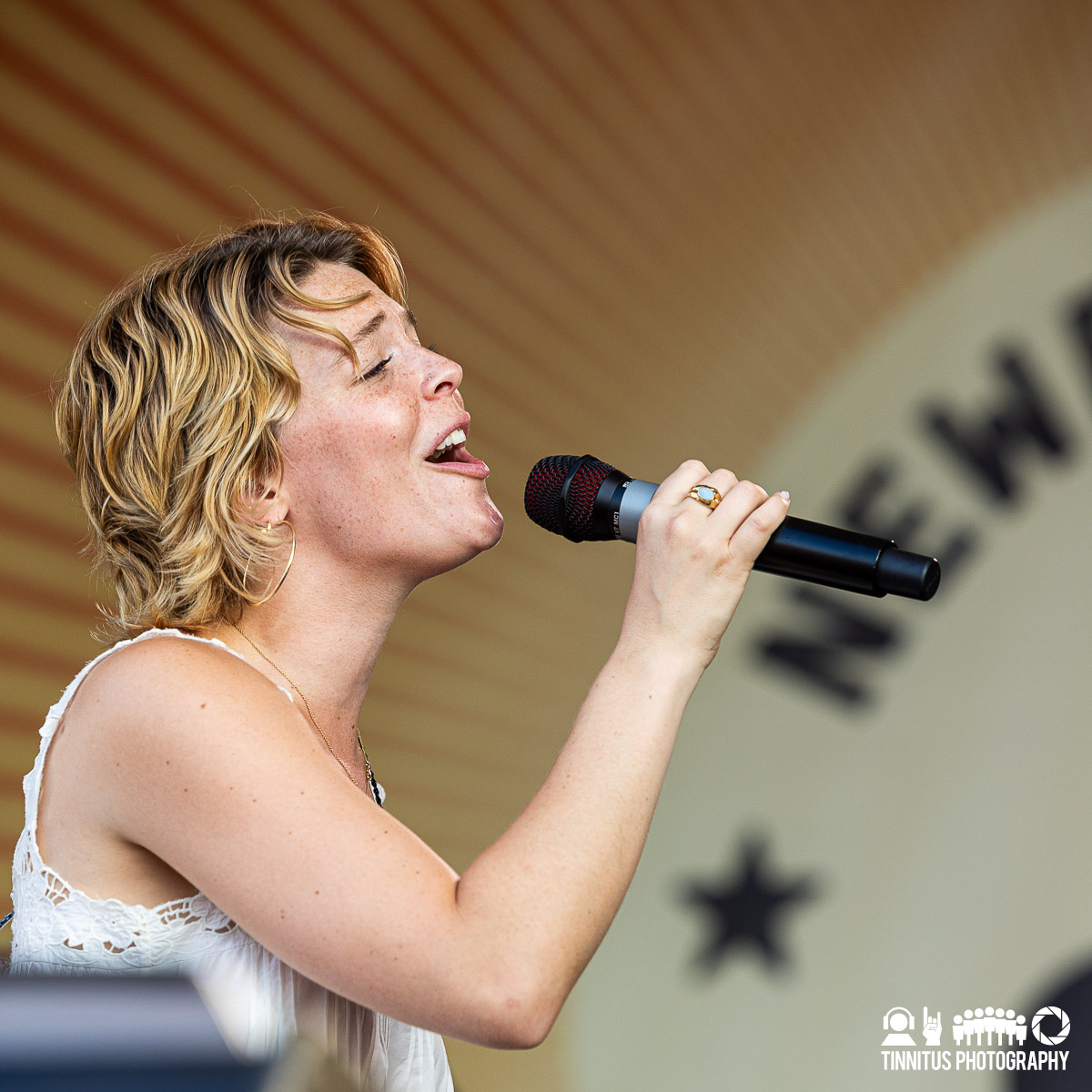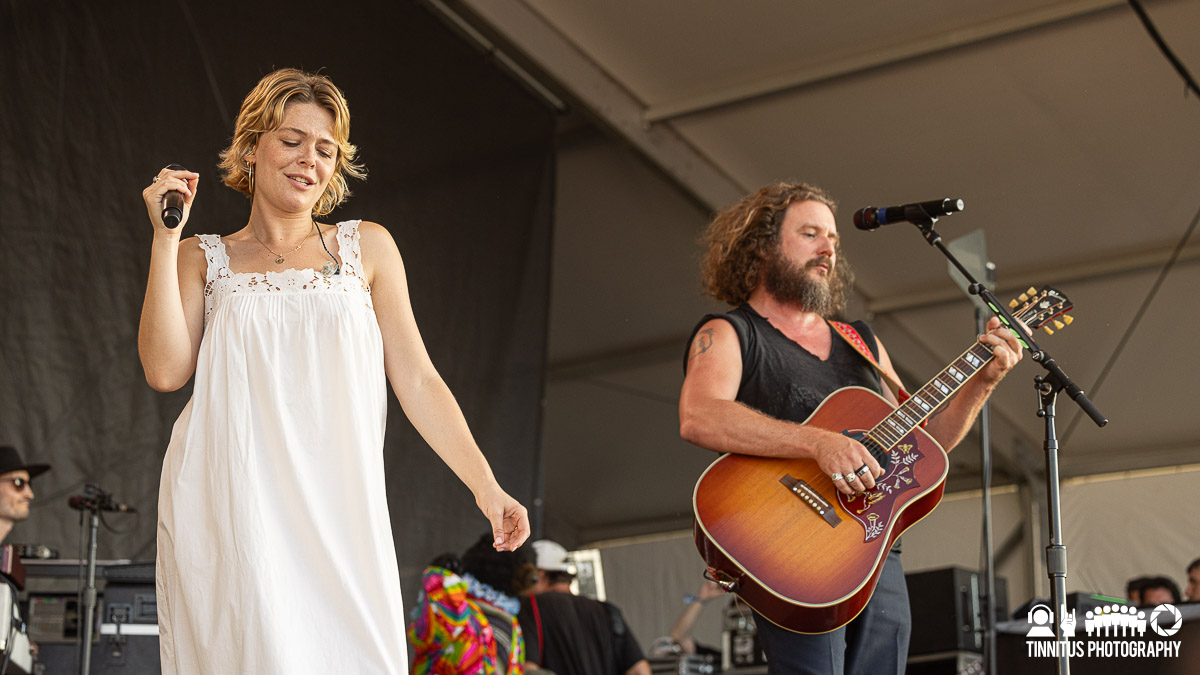 My Morning Jacket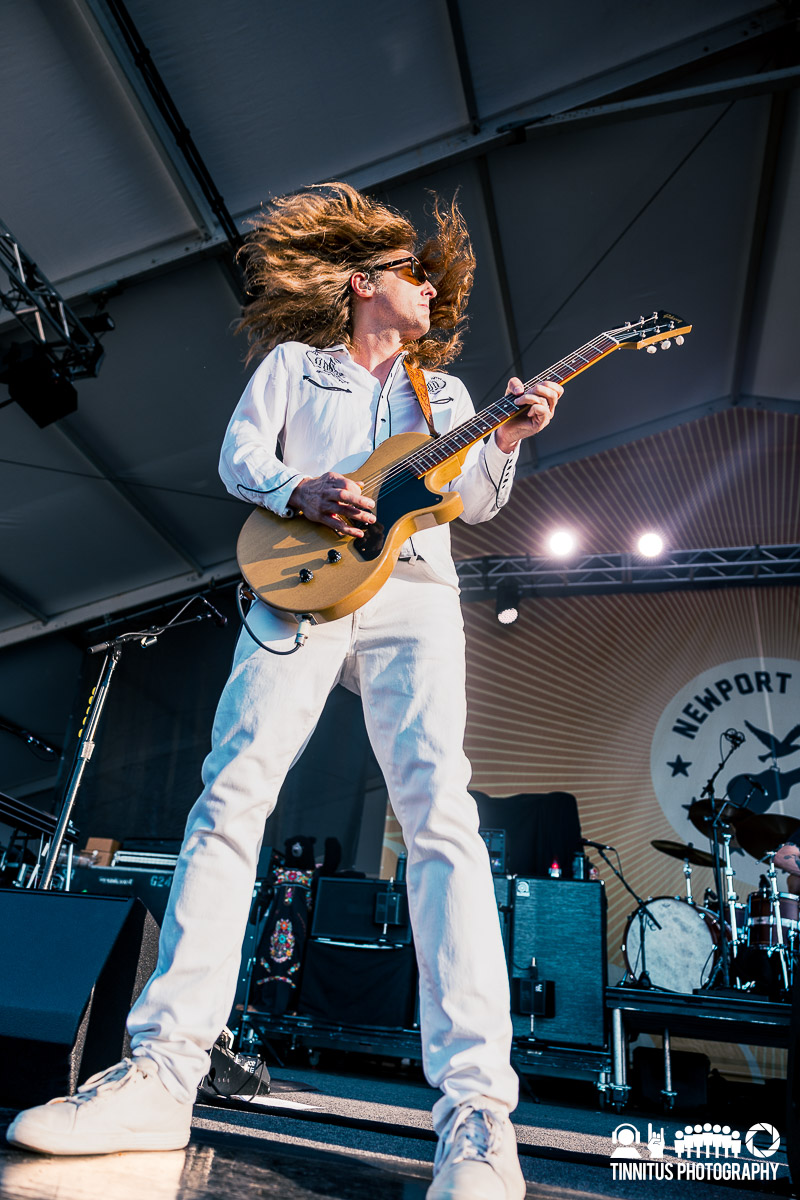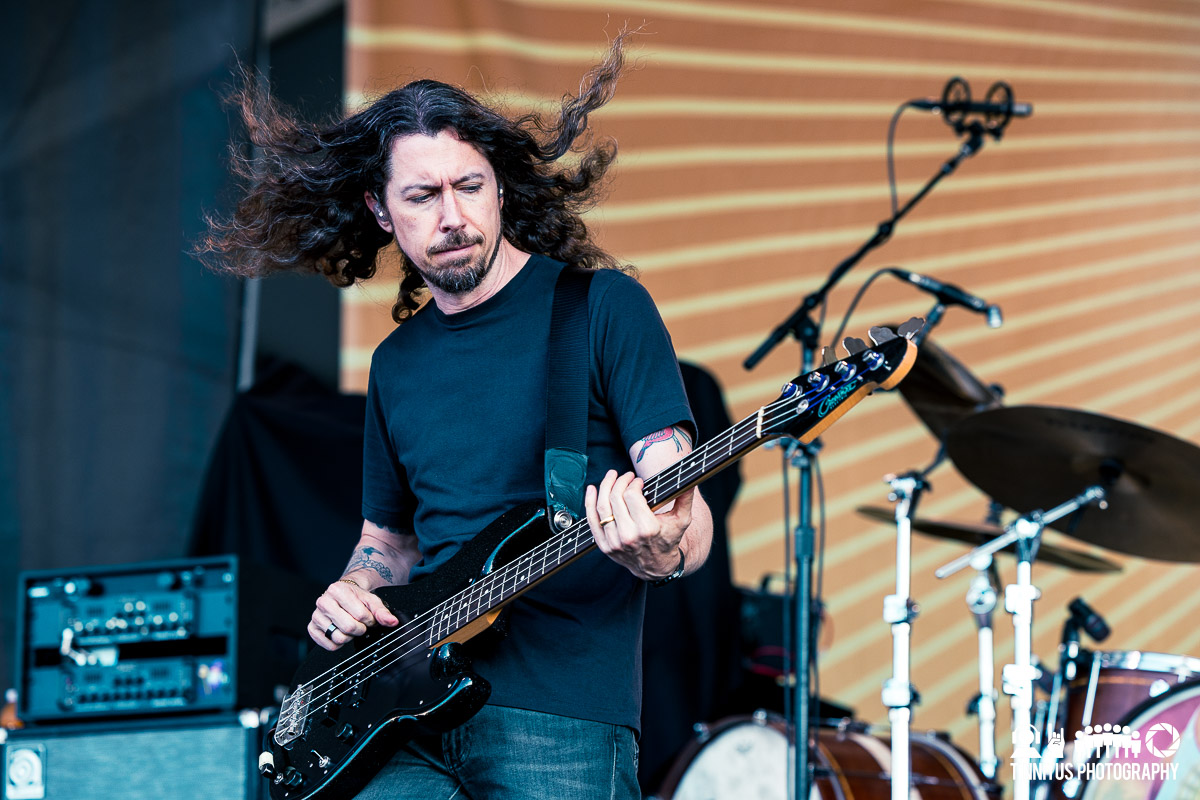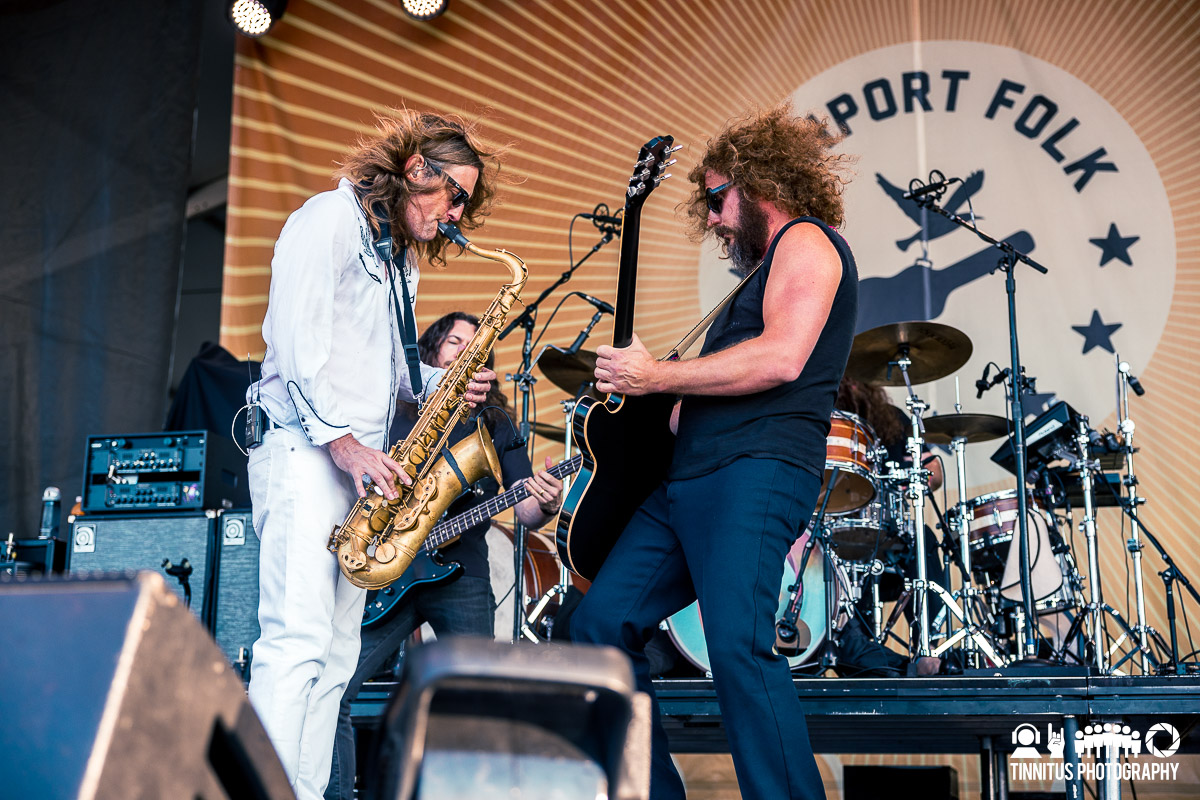 James Taylor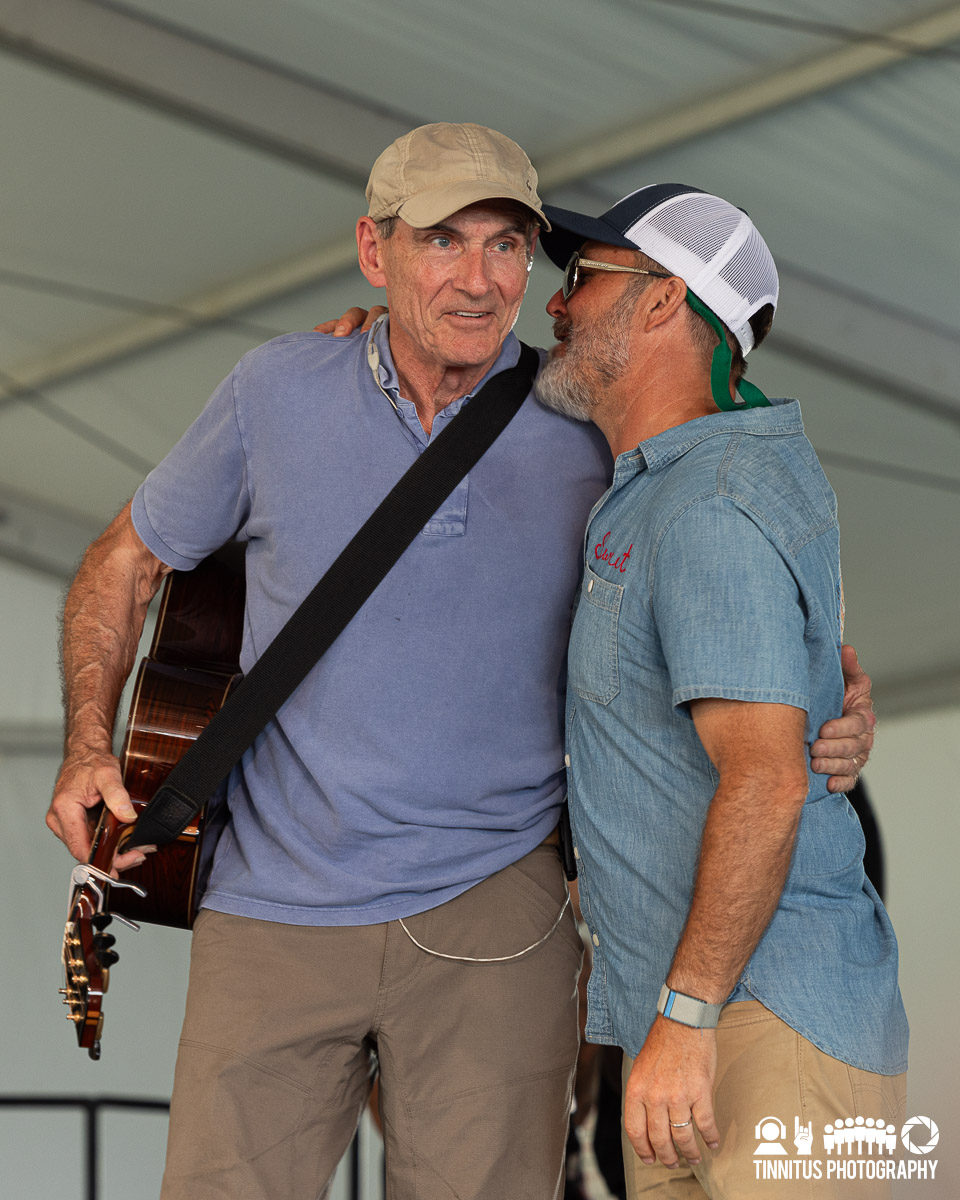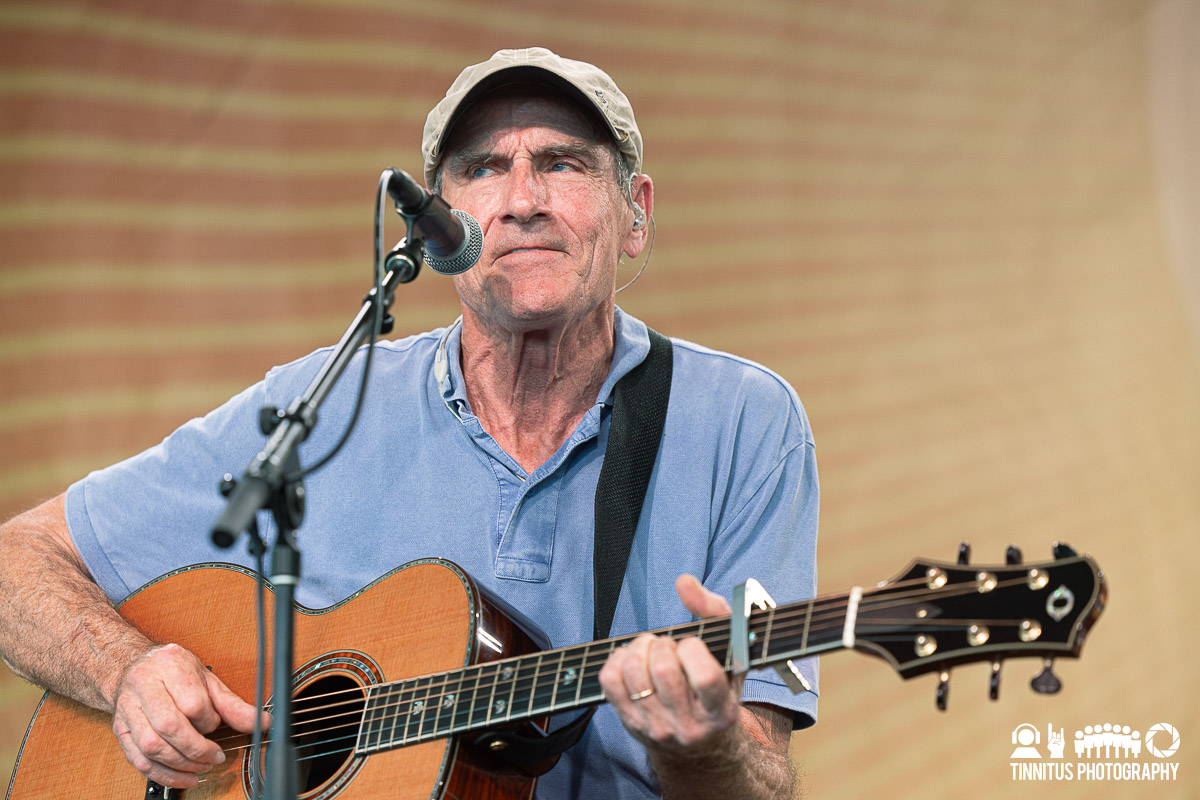 Del Water Gap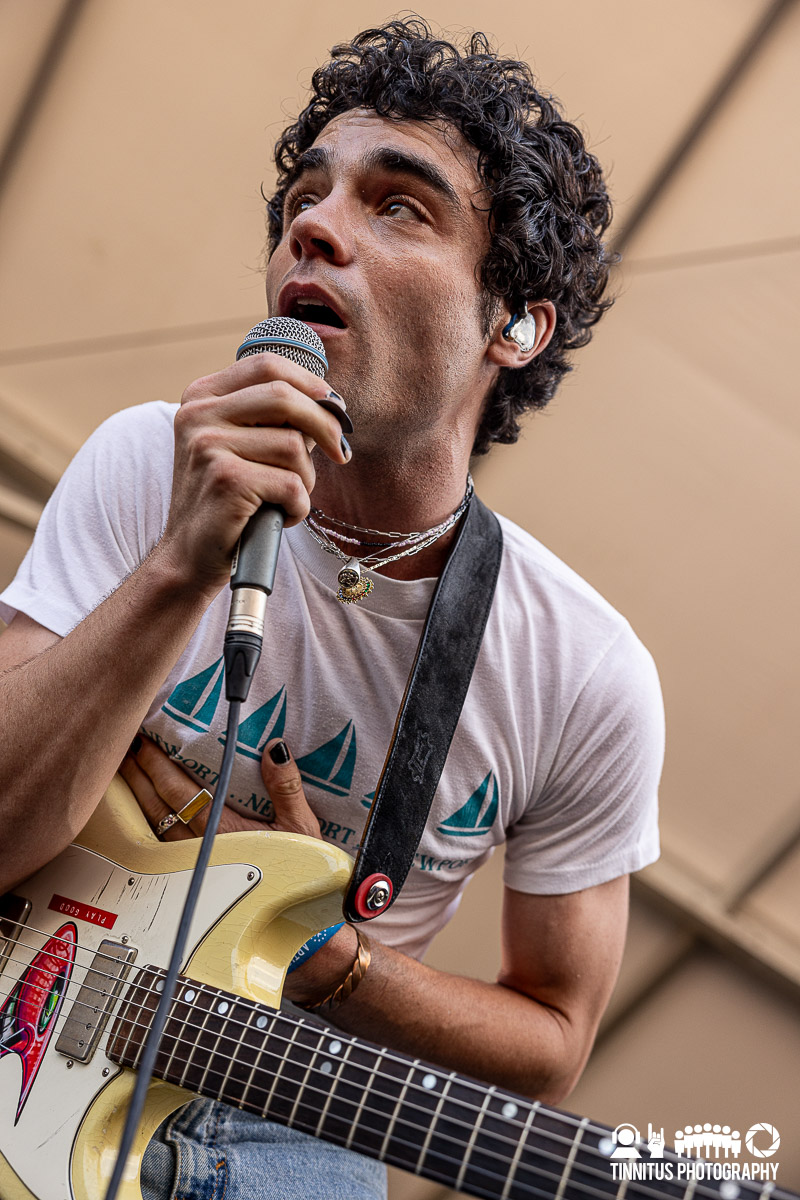 Ron Gallo and Chiara D'Anzieri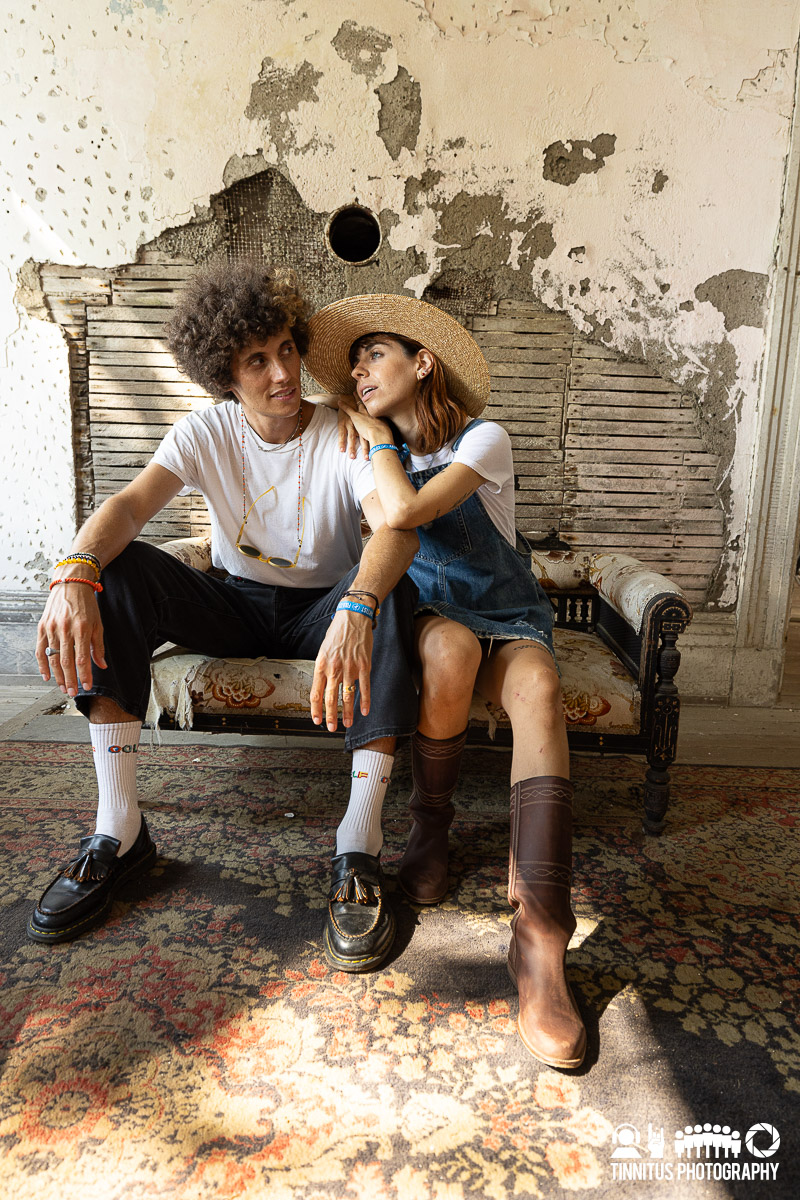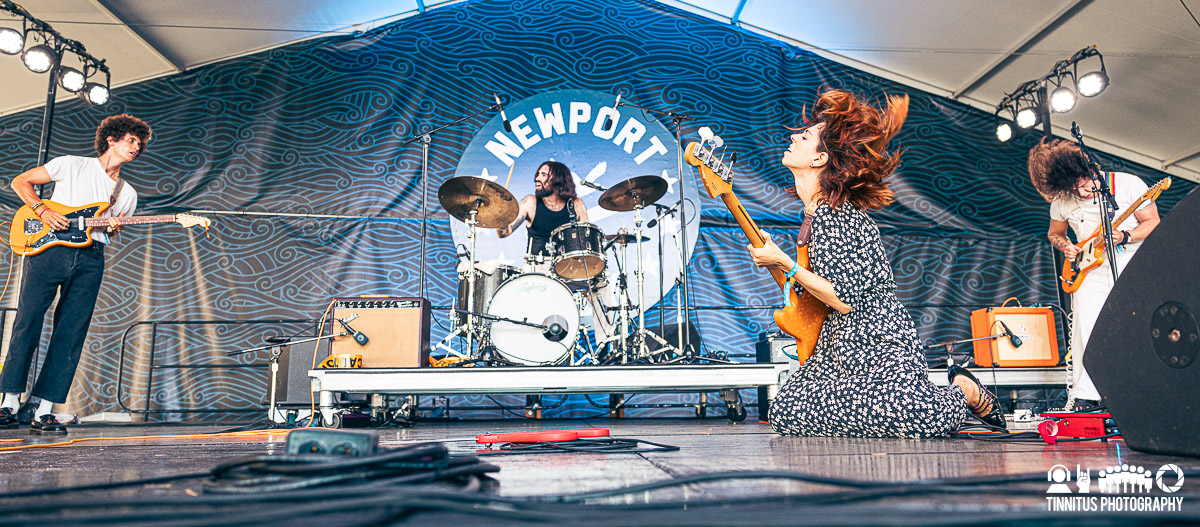 Slaughter Beach Dog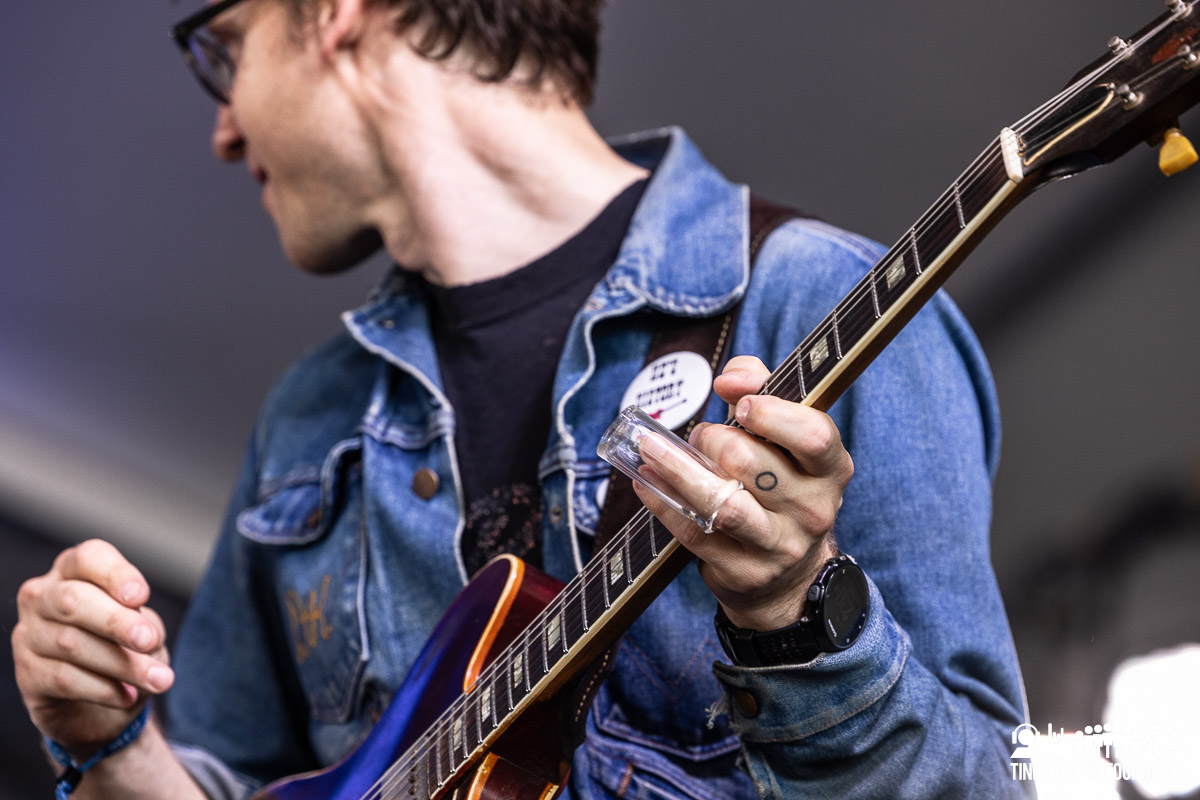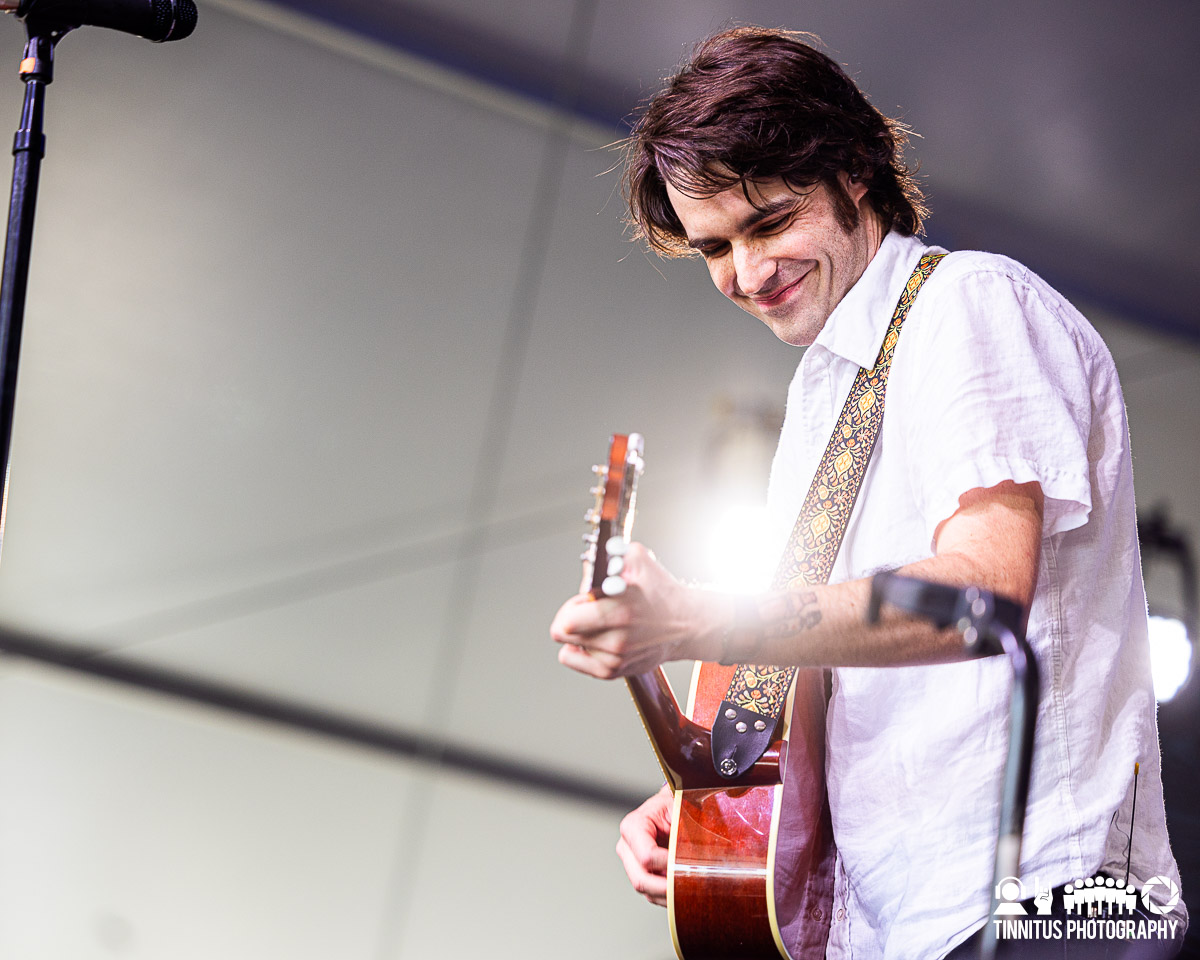 The Beths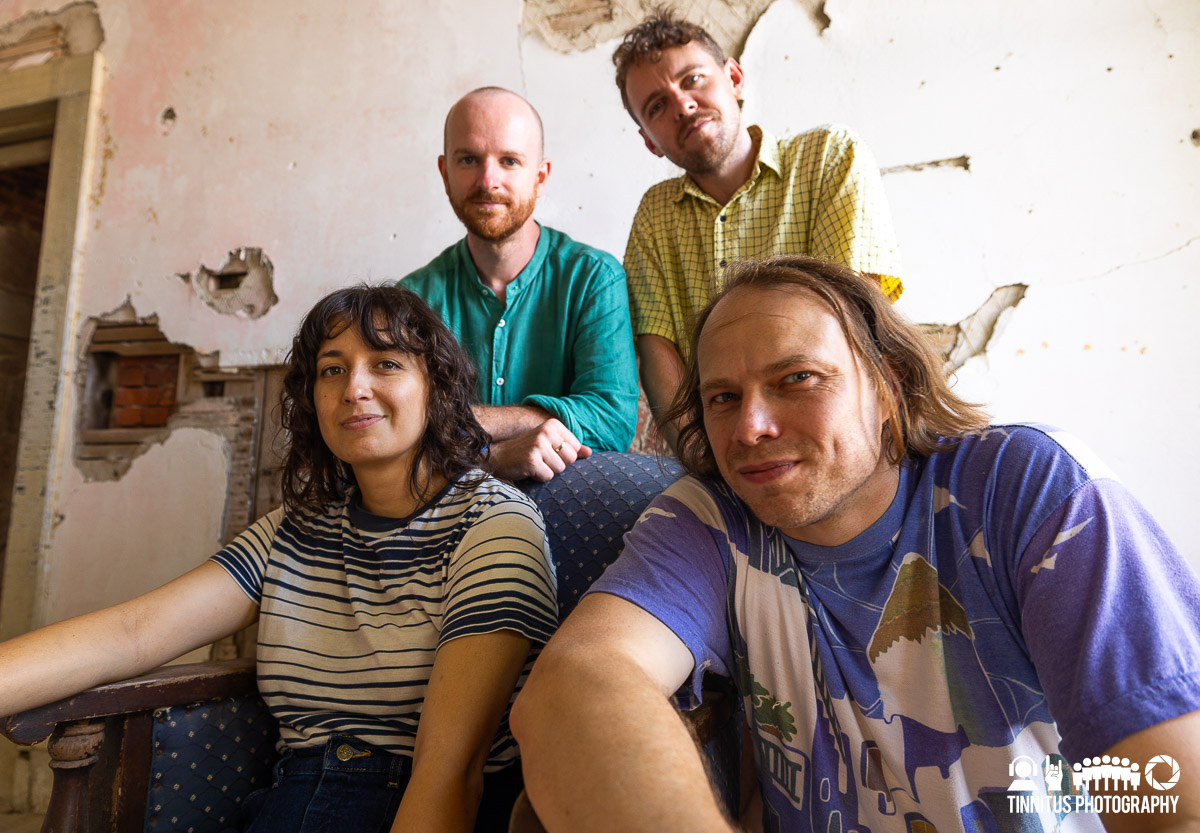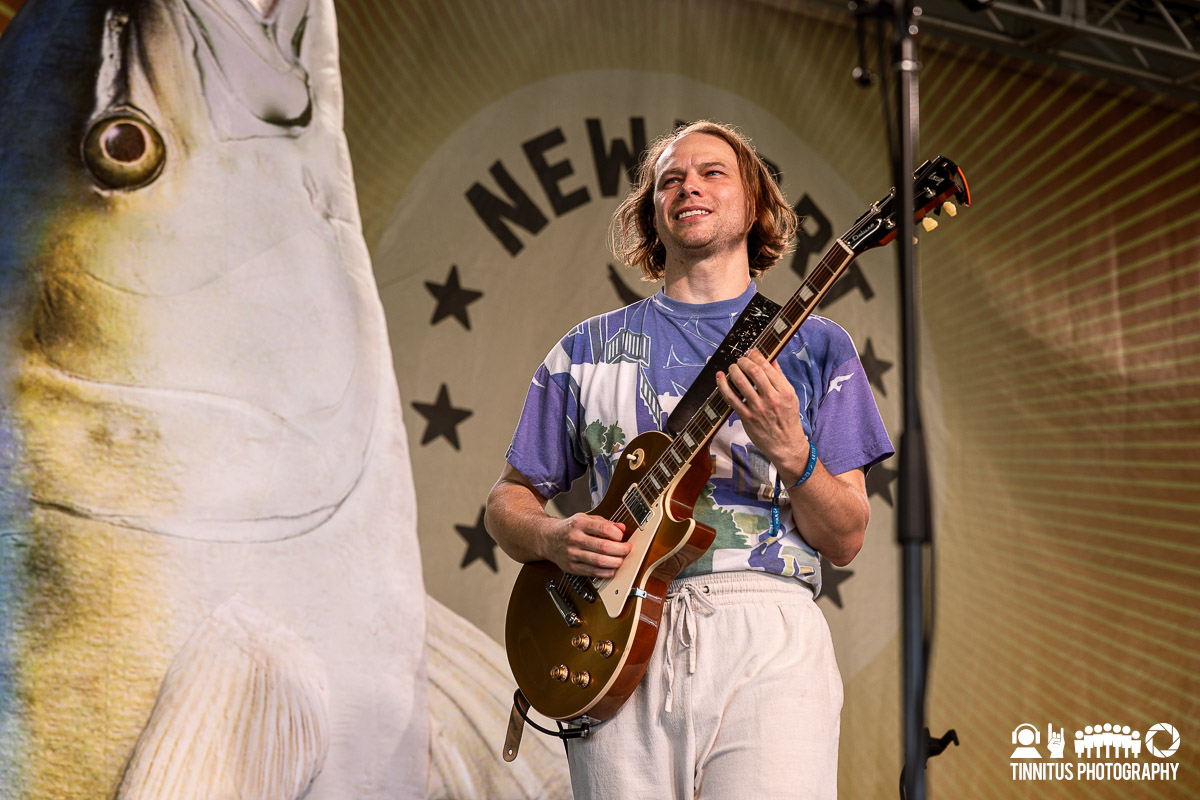 The Heavy Heavy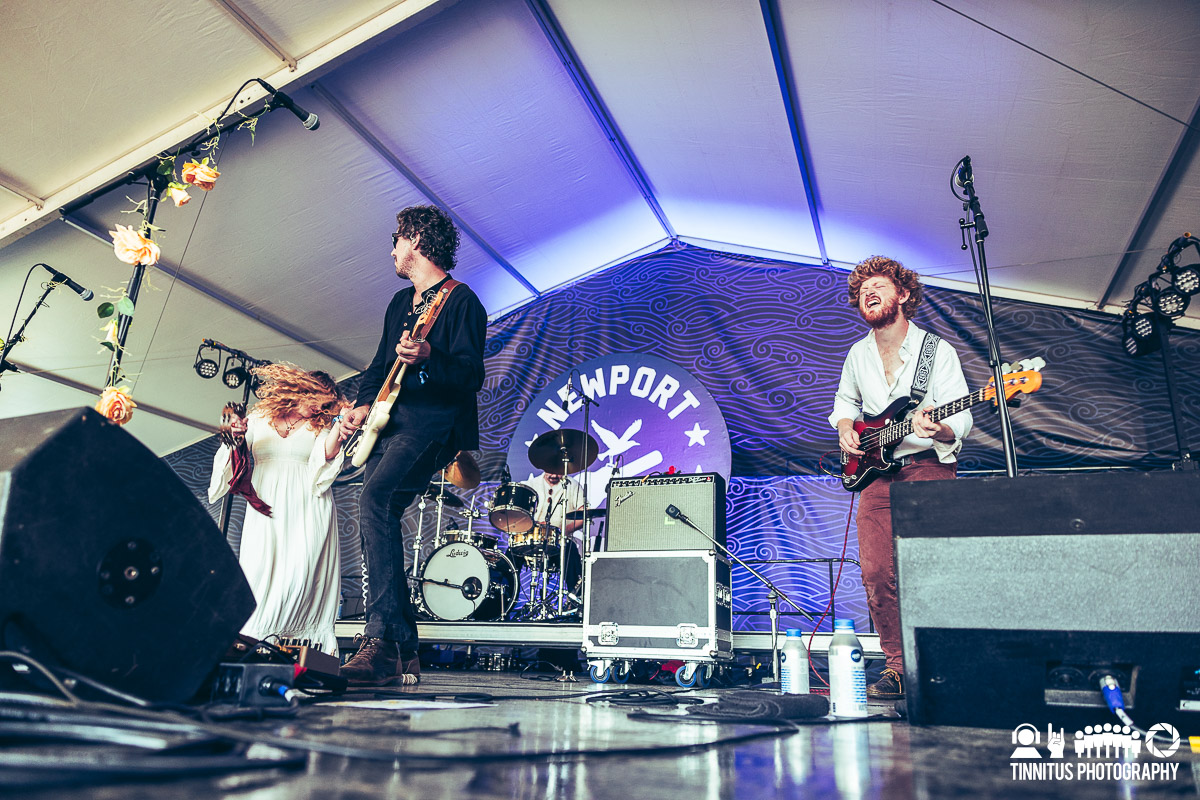 Thee Sacred Souls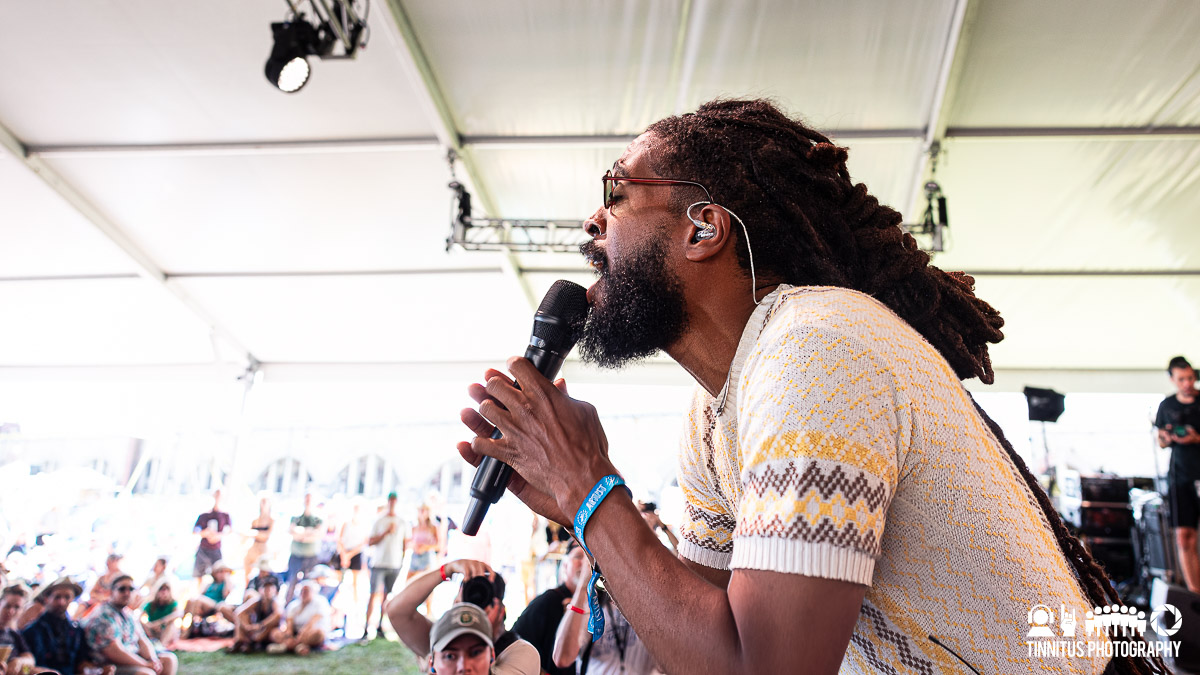 Aimee Mann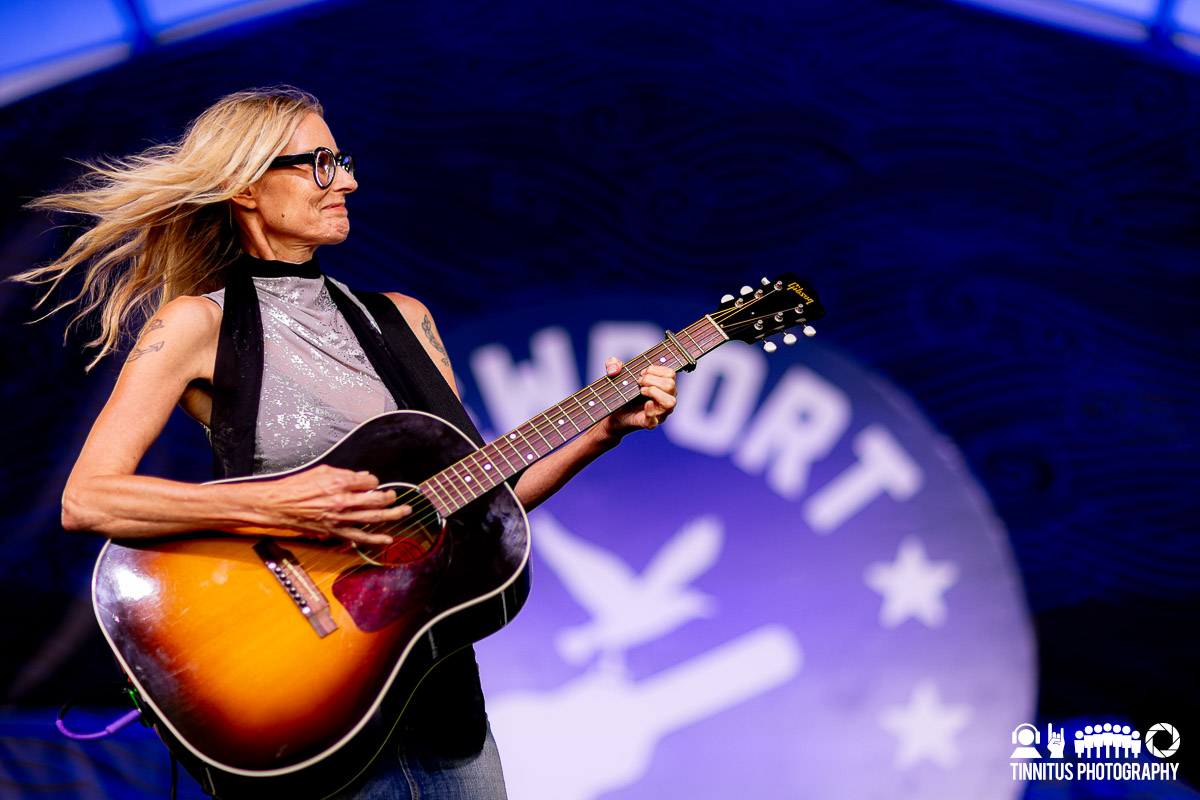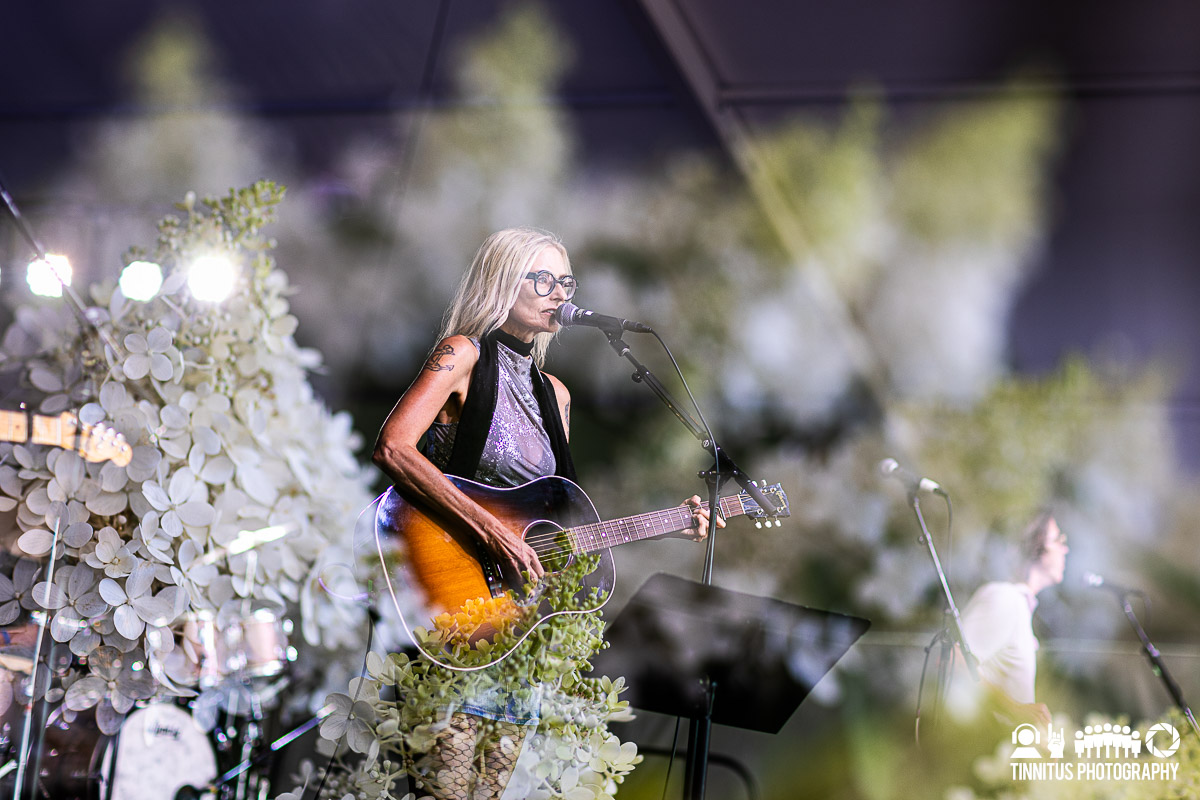 Bartees Strange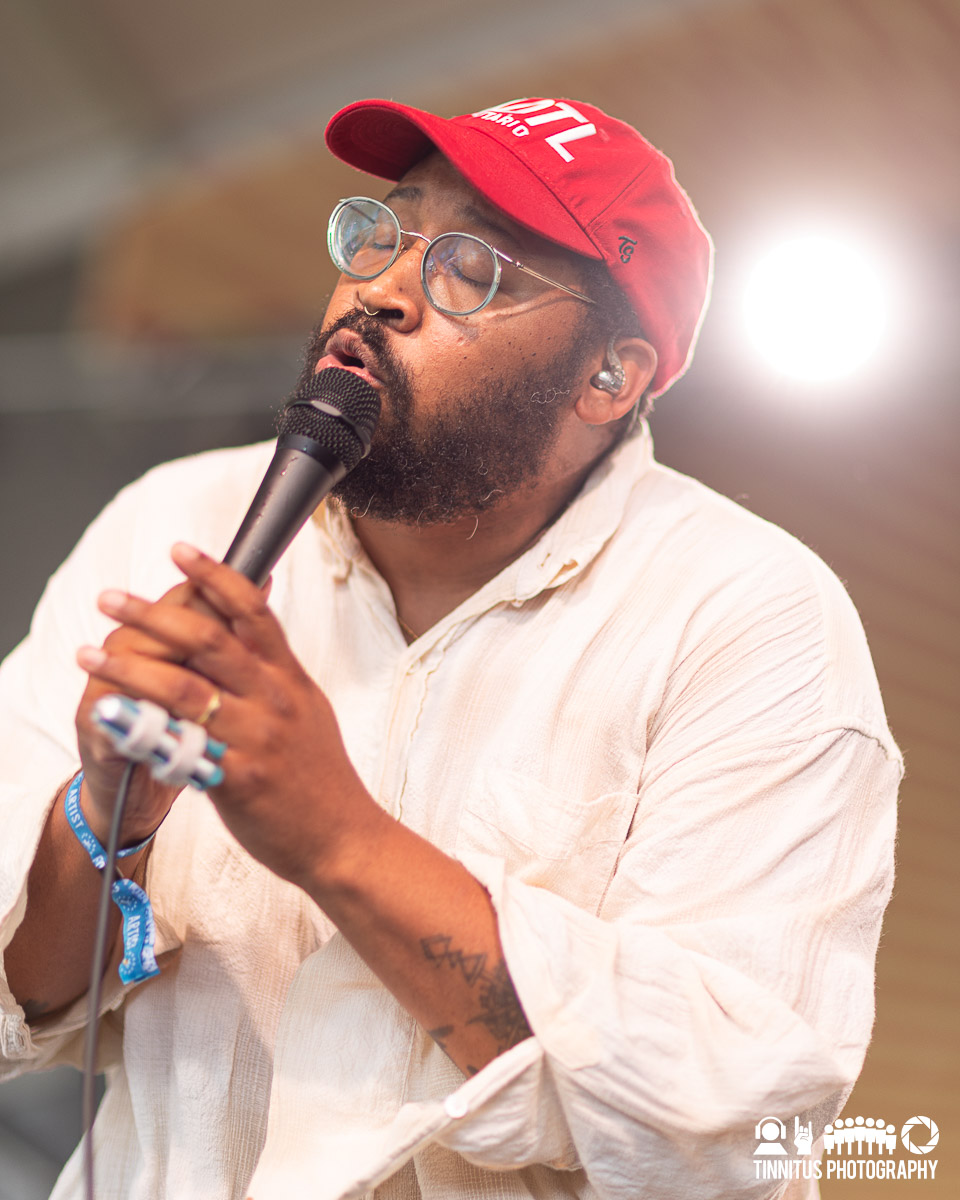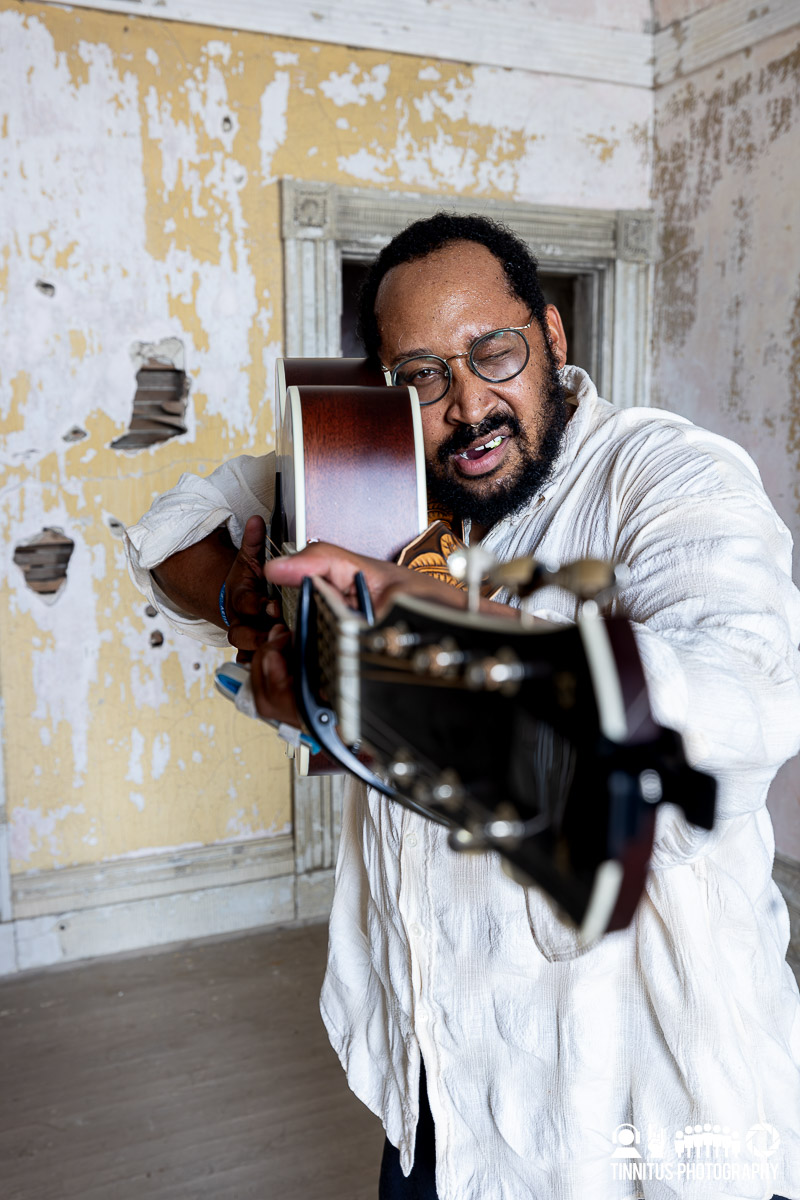 Indigo De Souza

Goose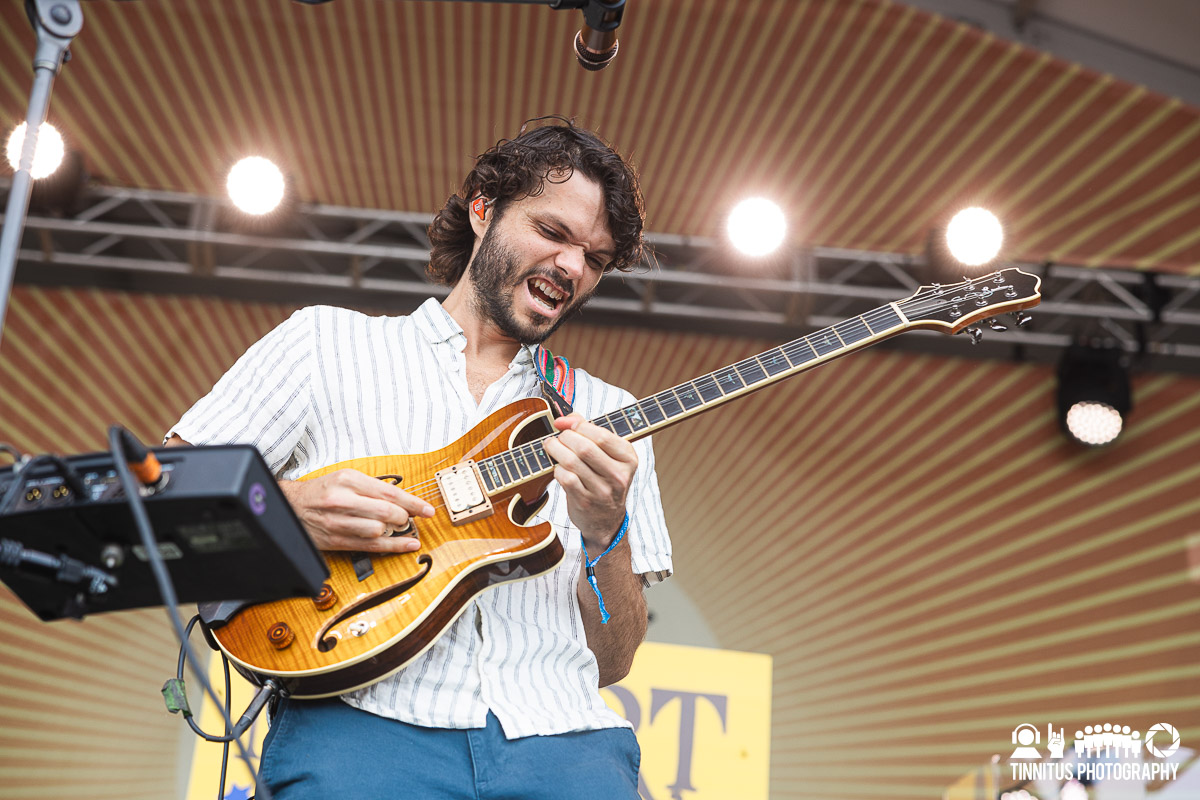 Jaime Wyatt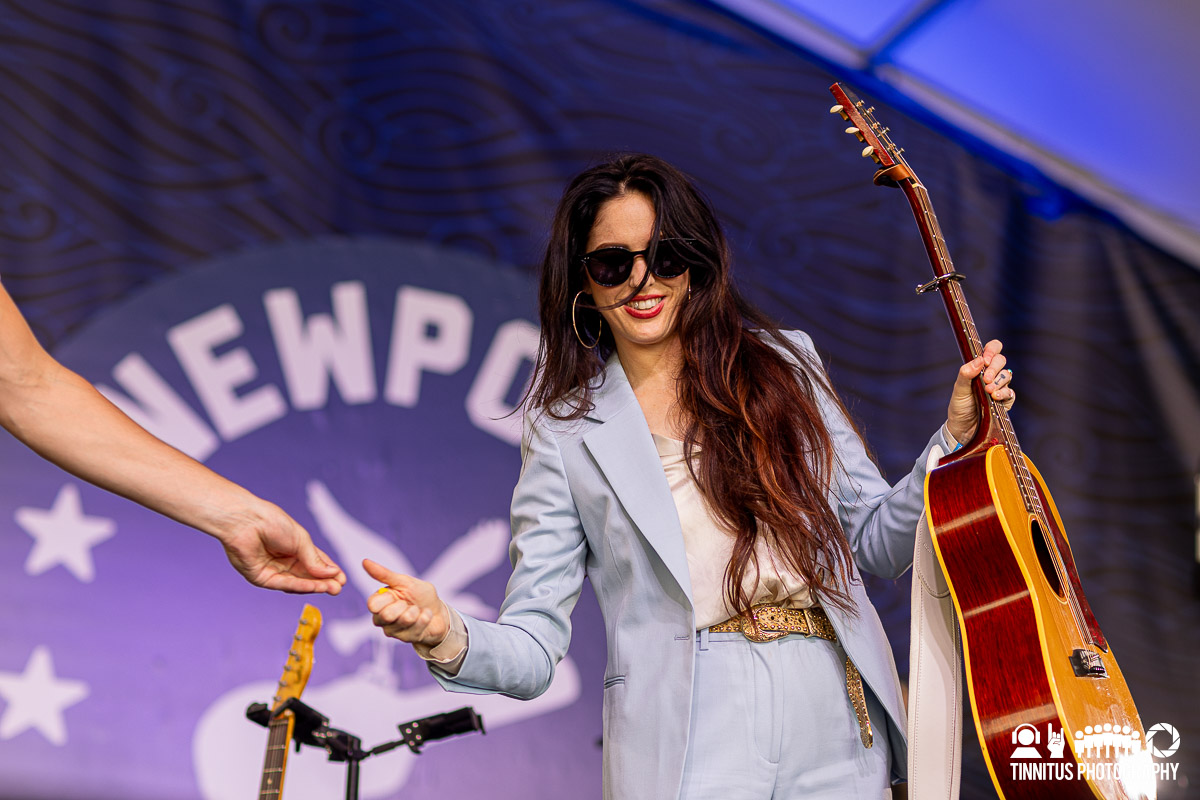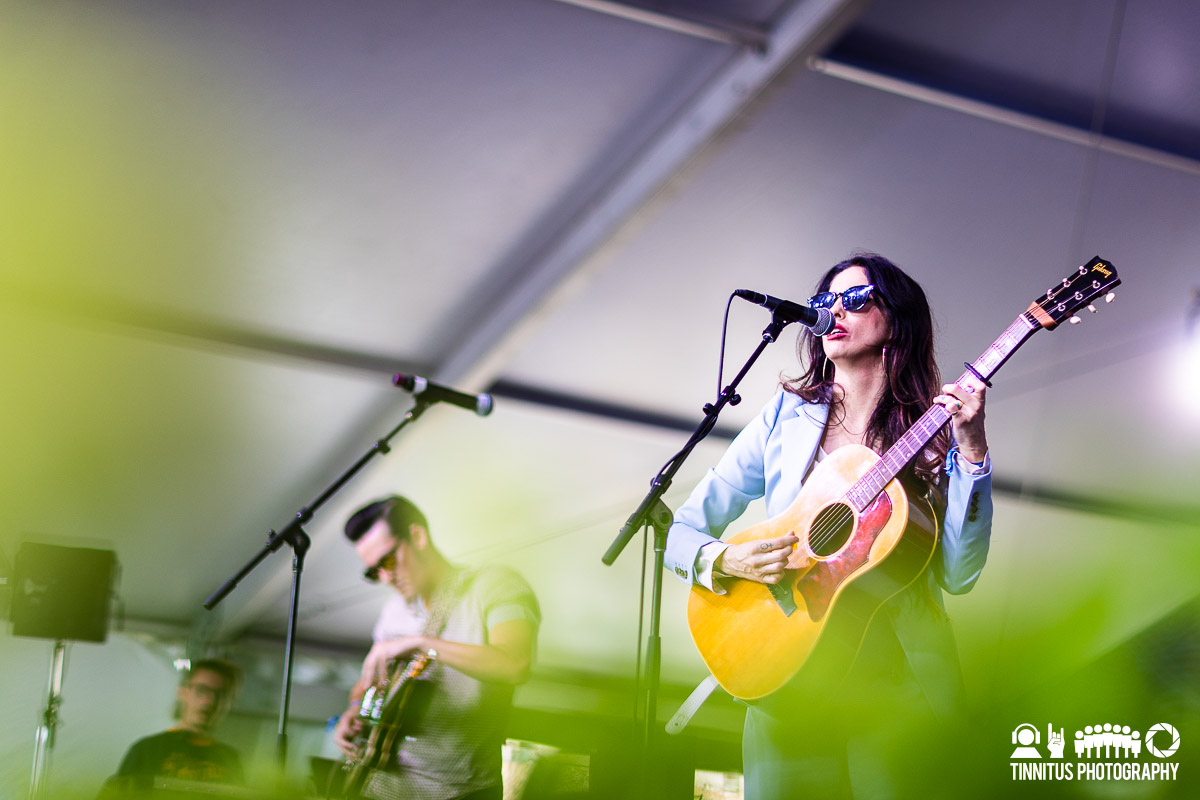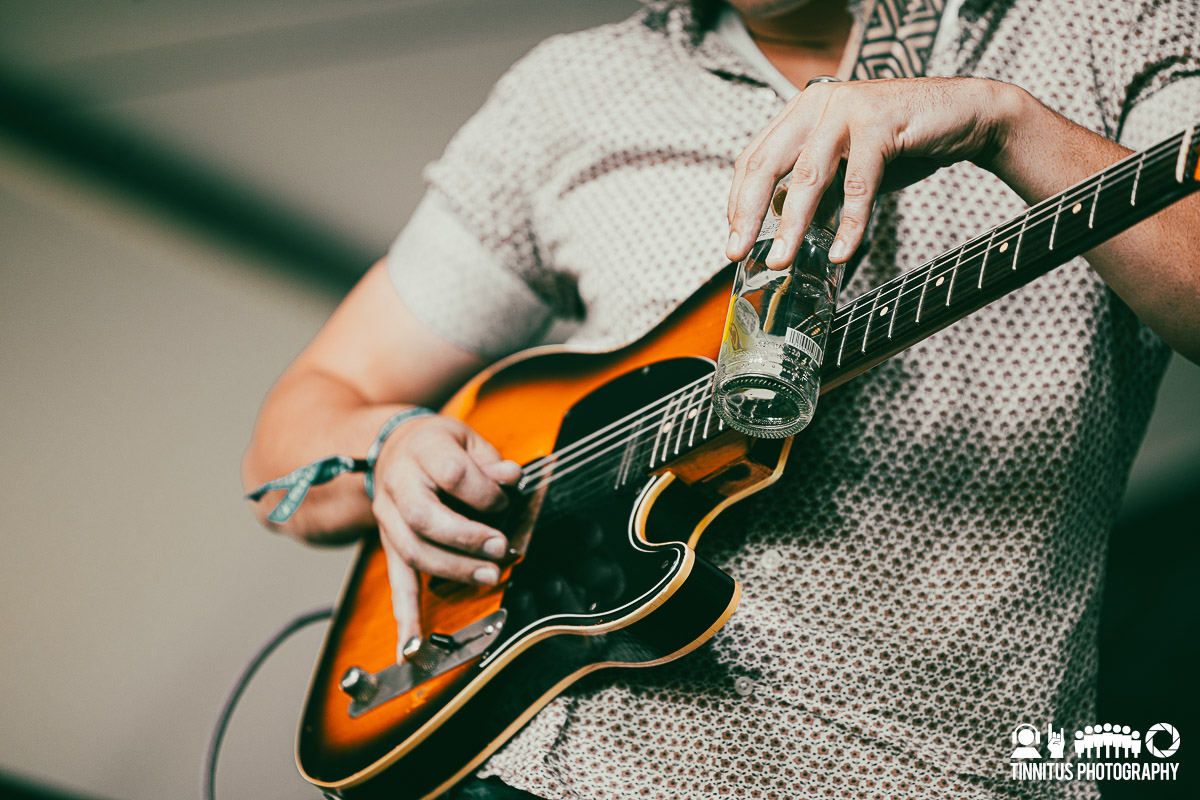 Orchestra Gold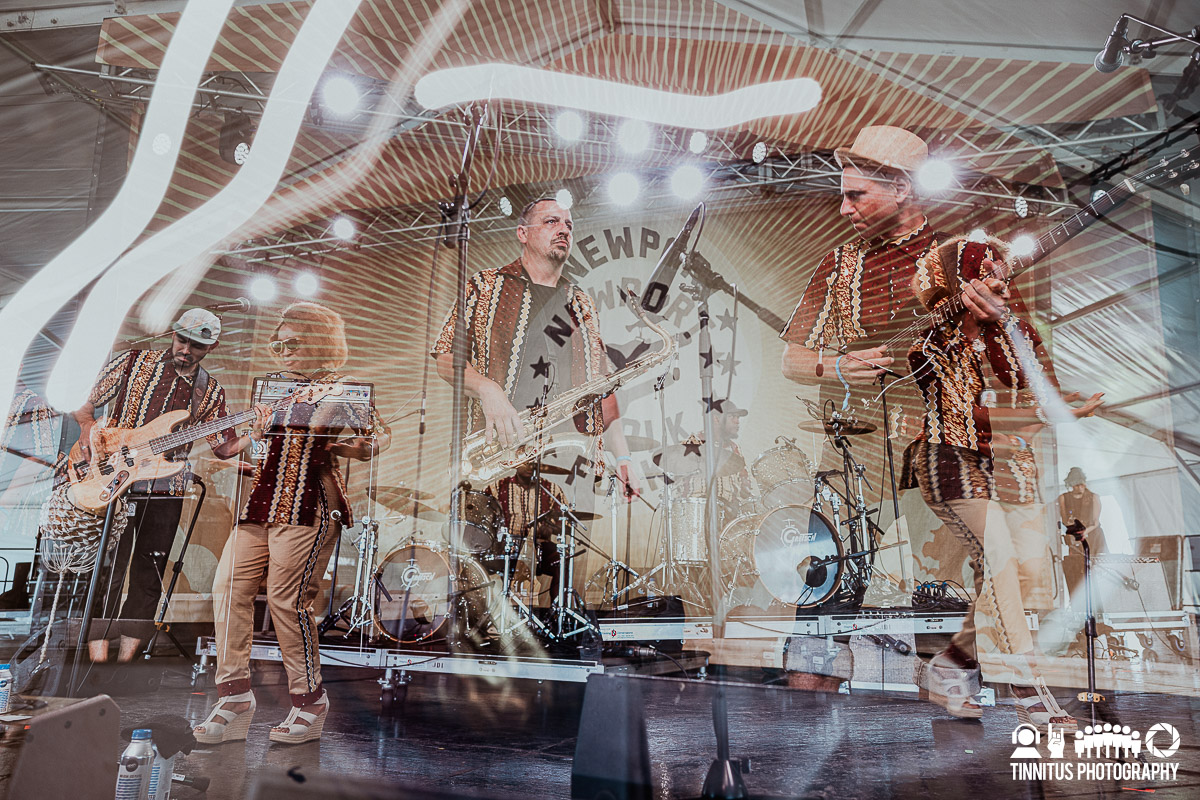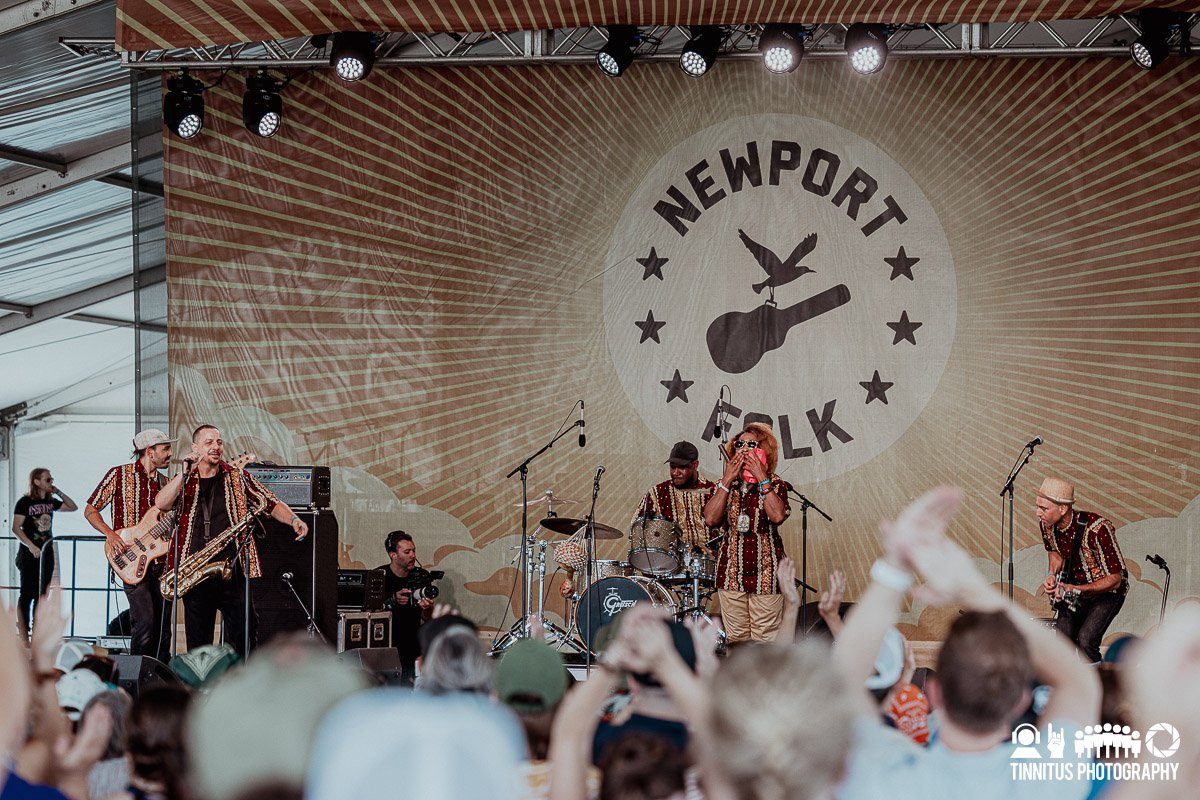 Jon Batiste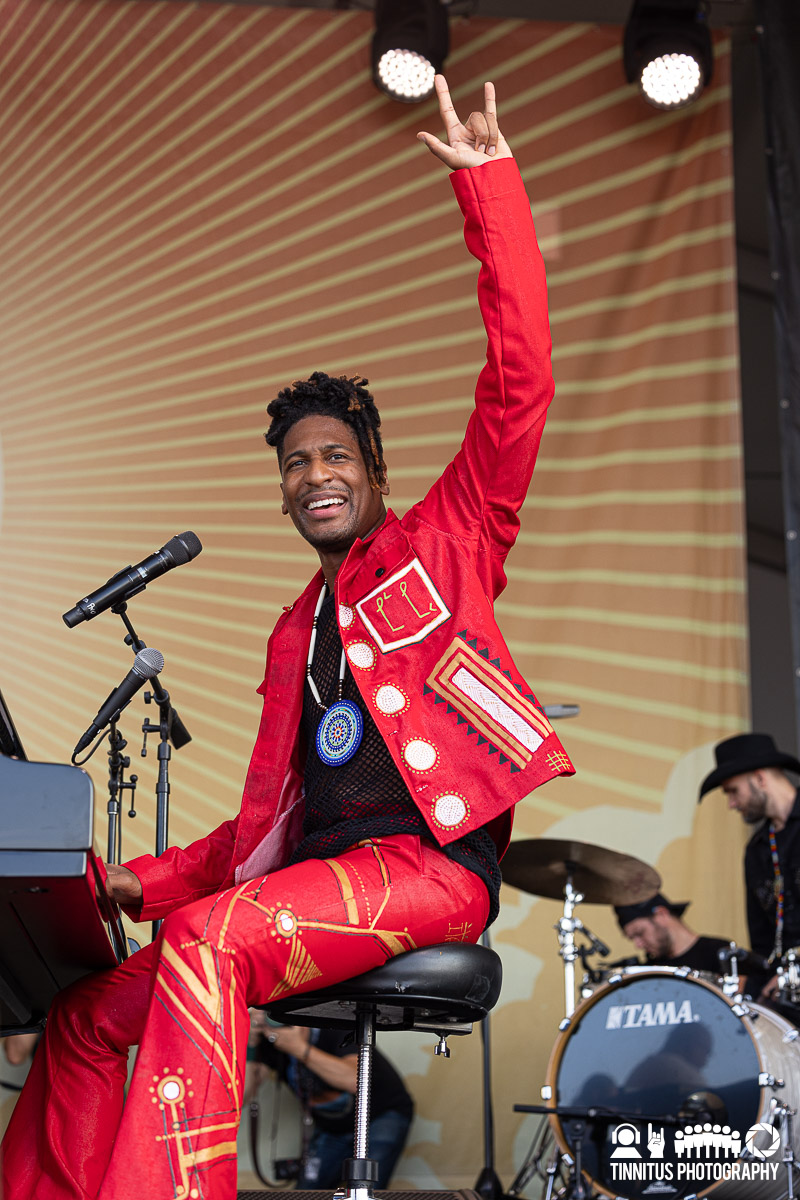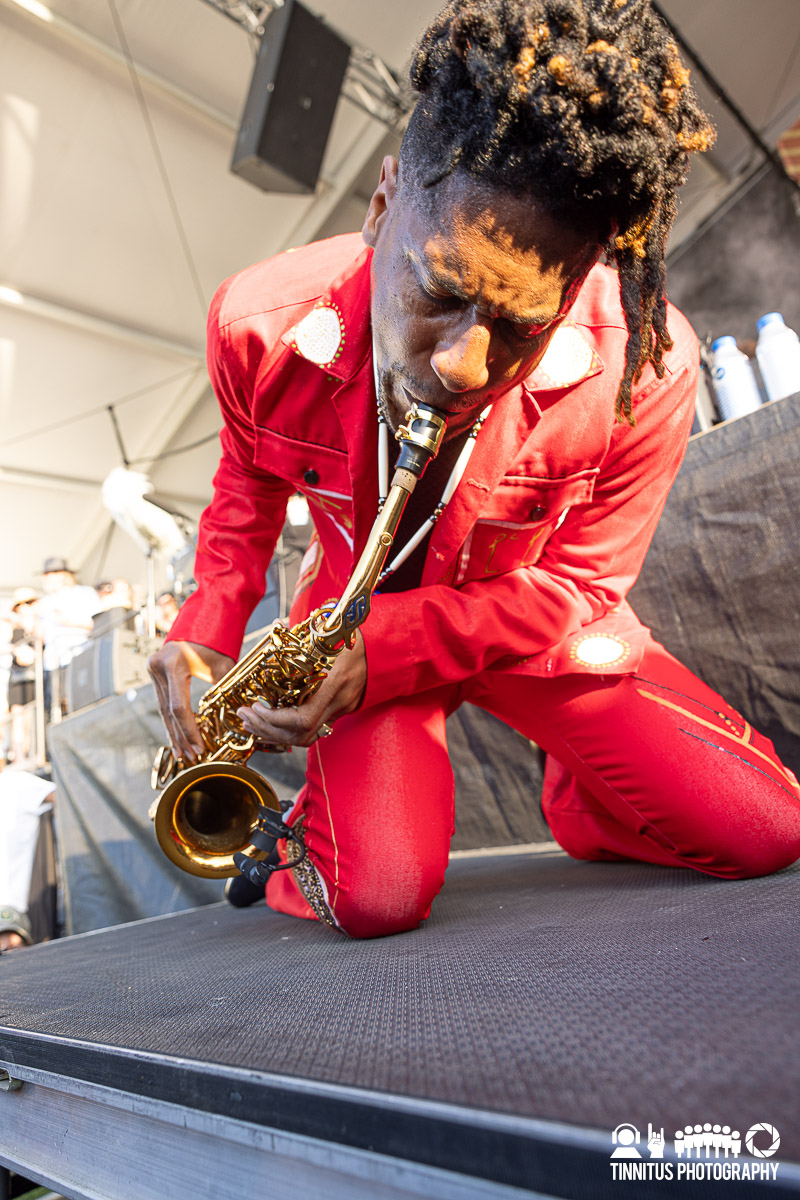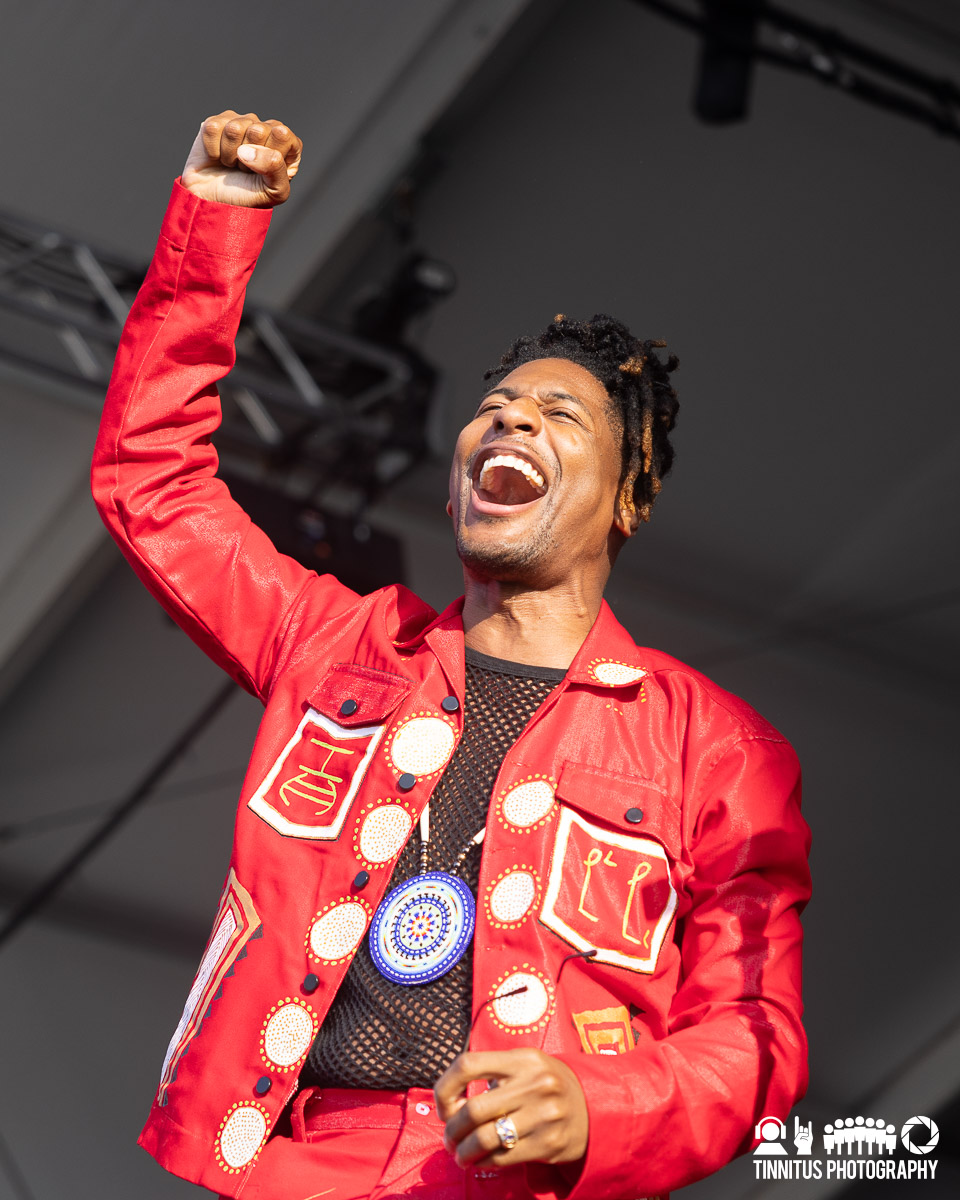 The Backseat Lovers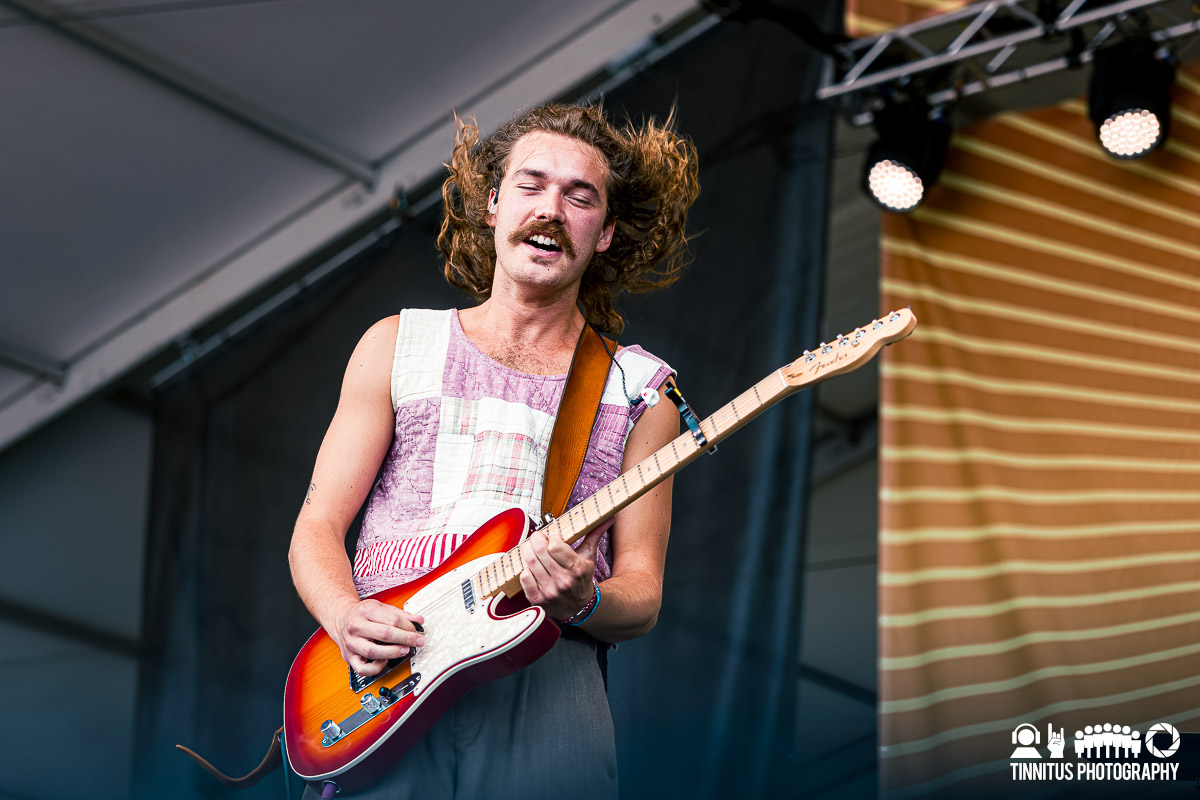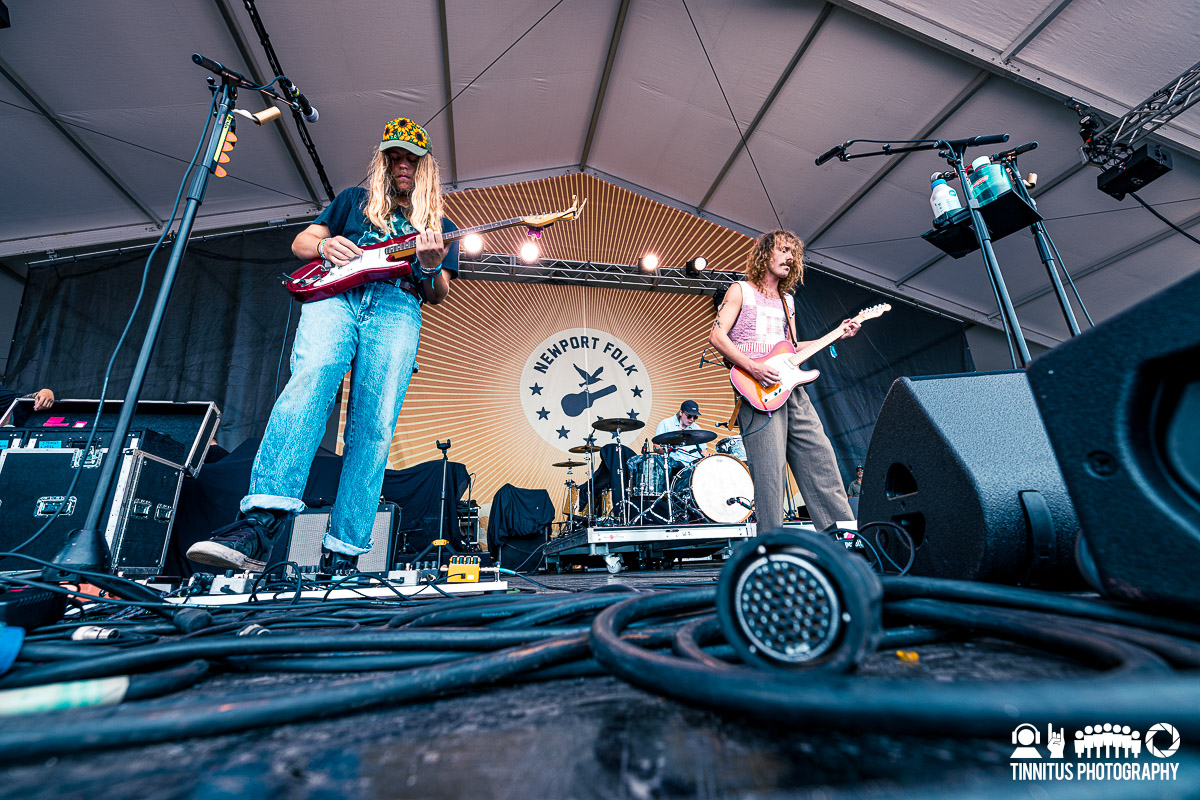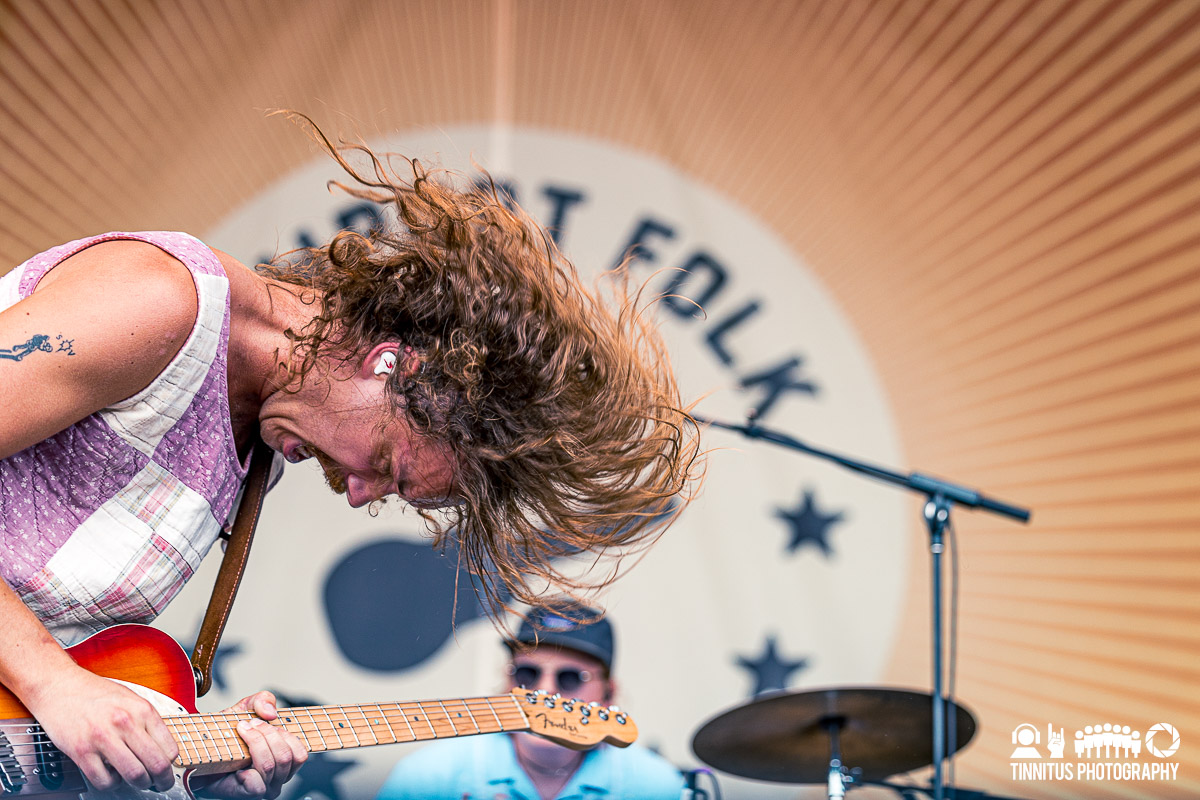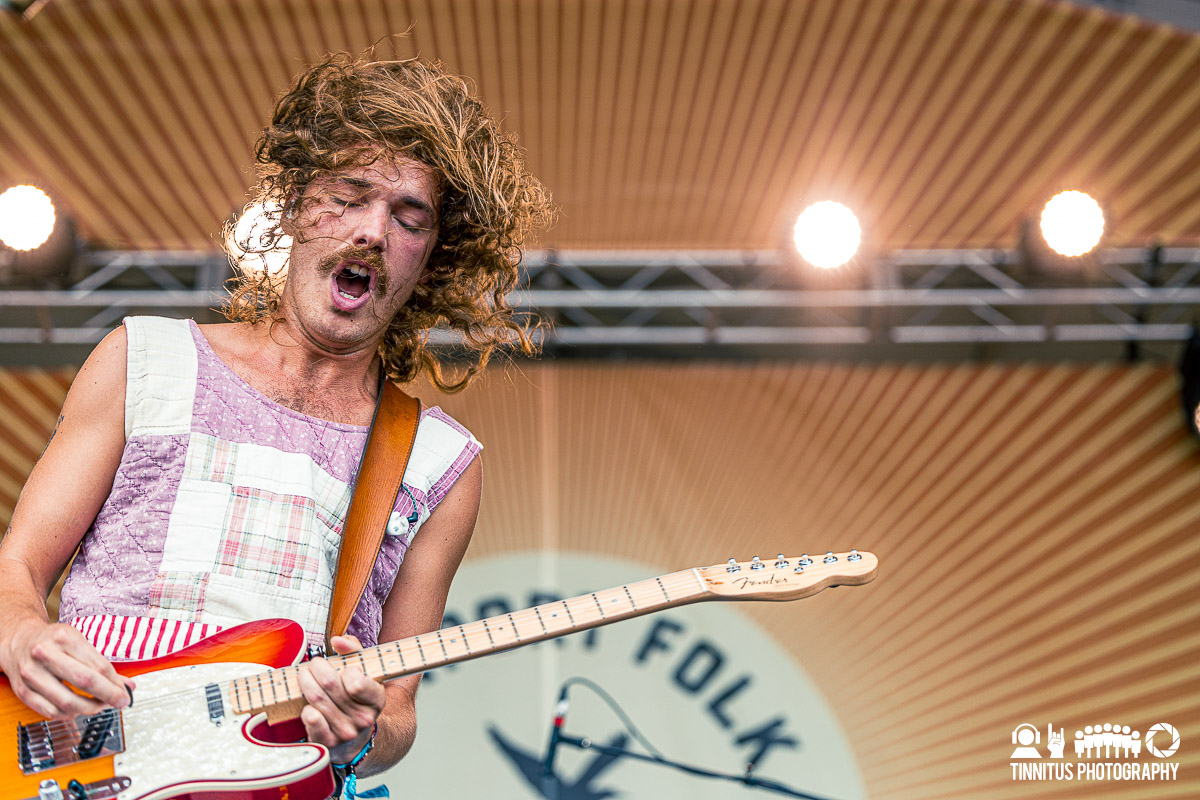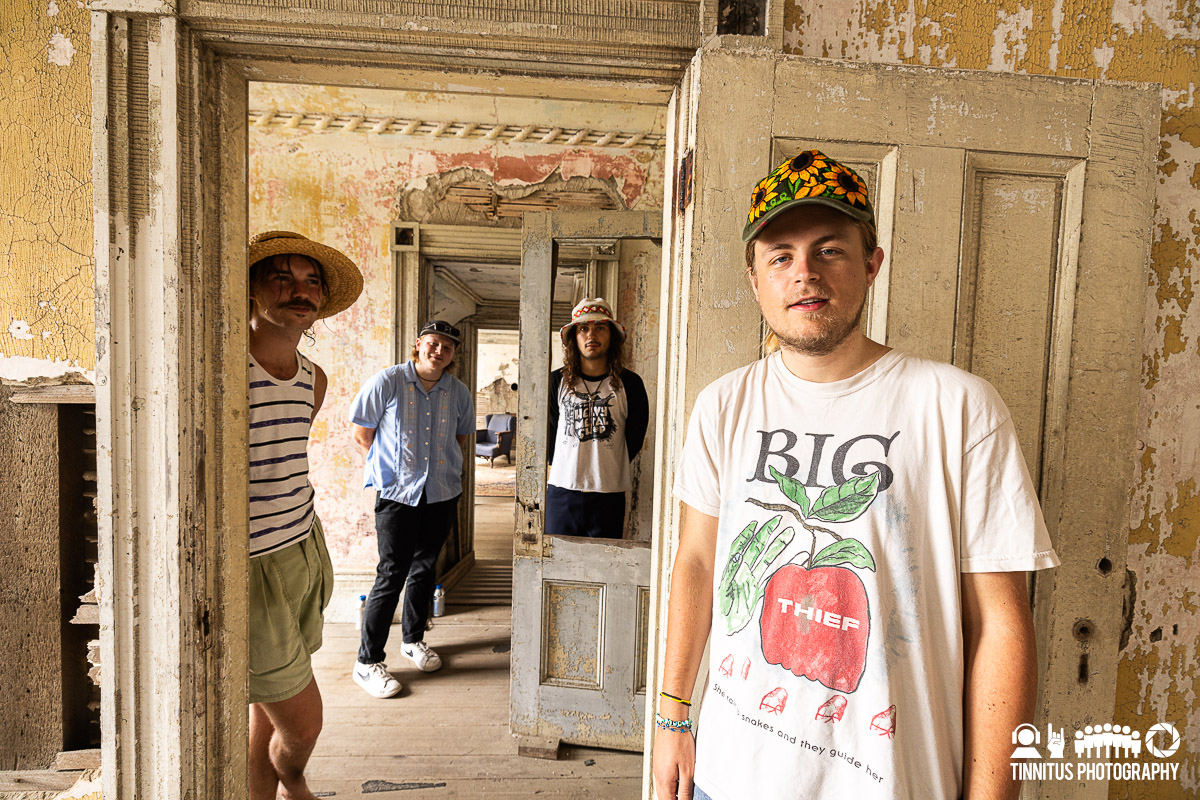 John Oates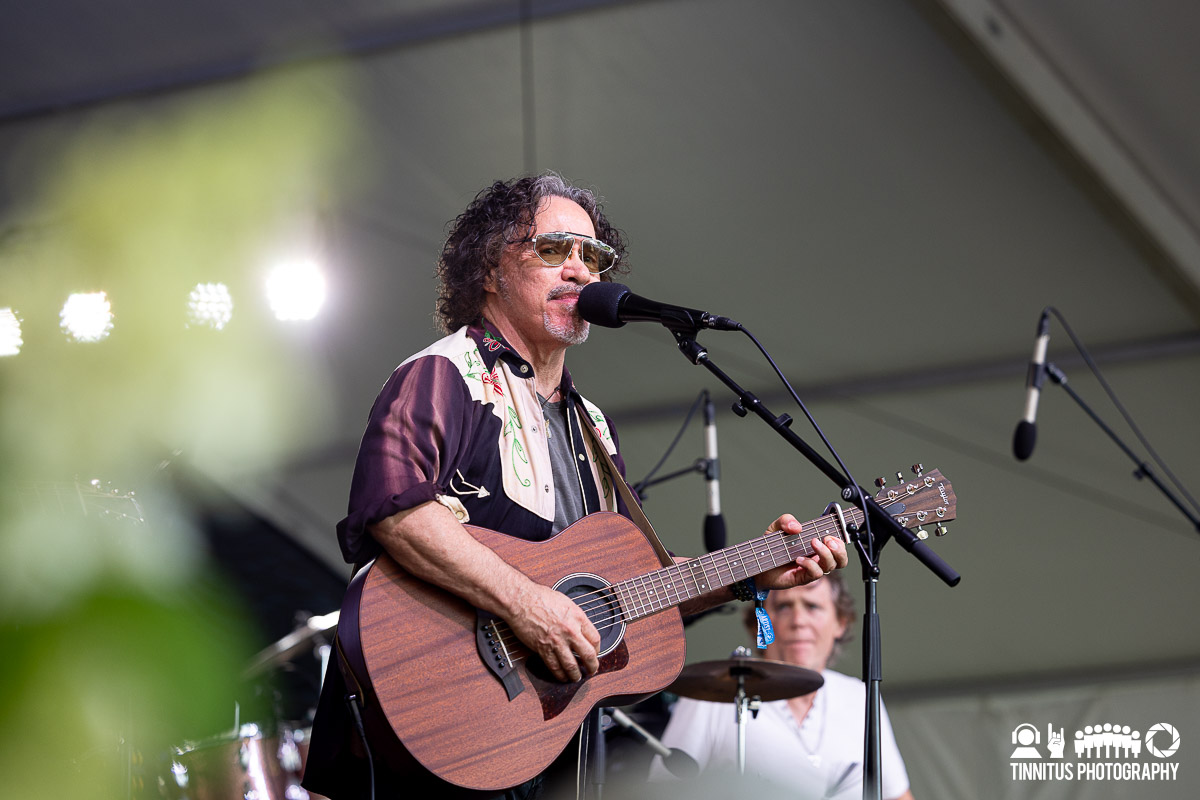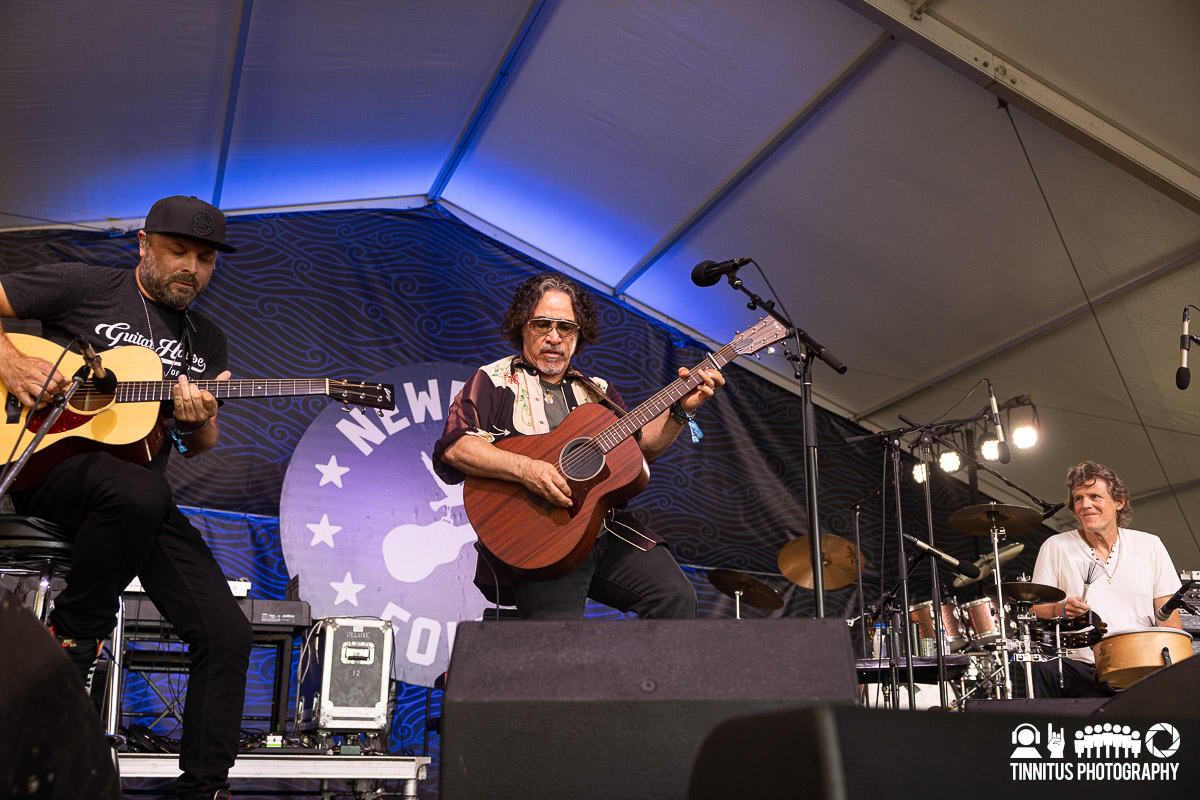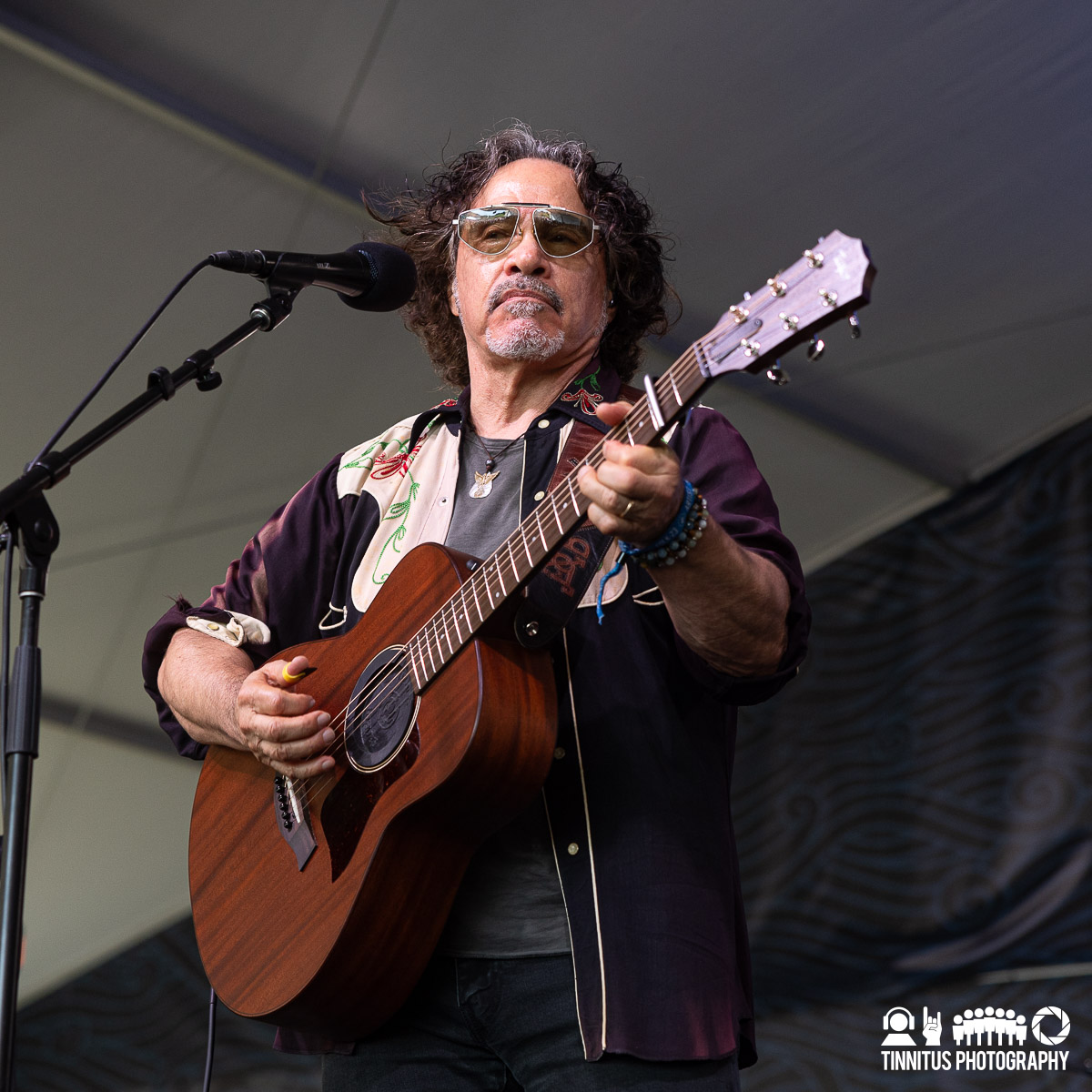 The Hold Steady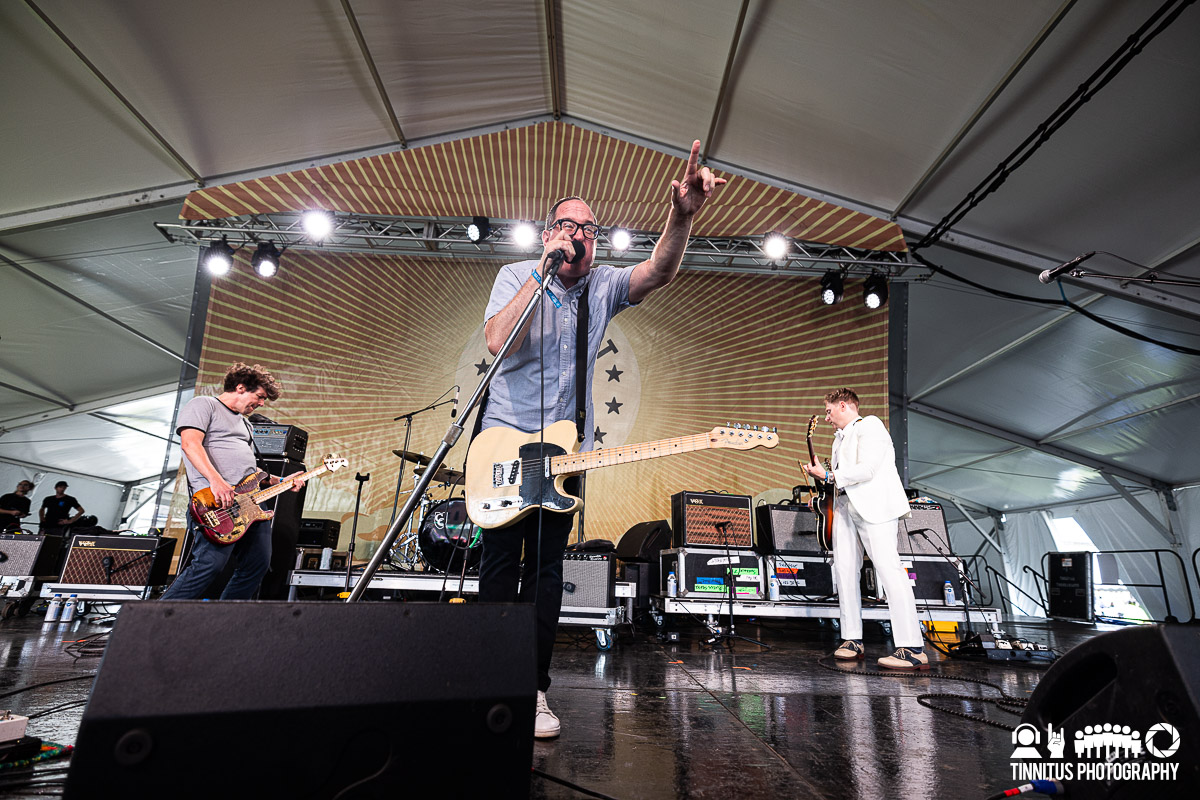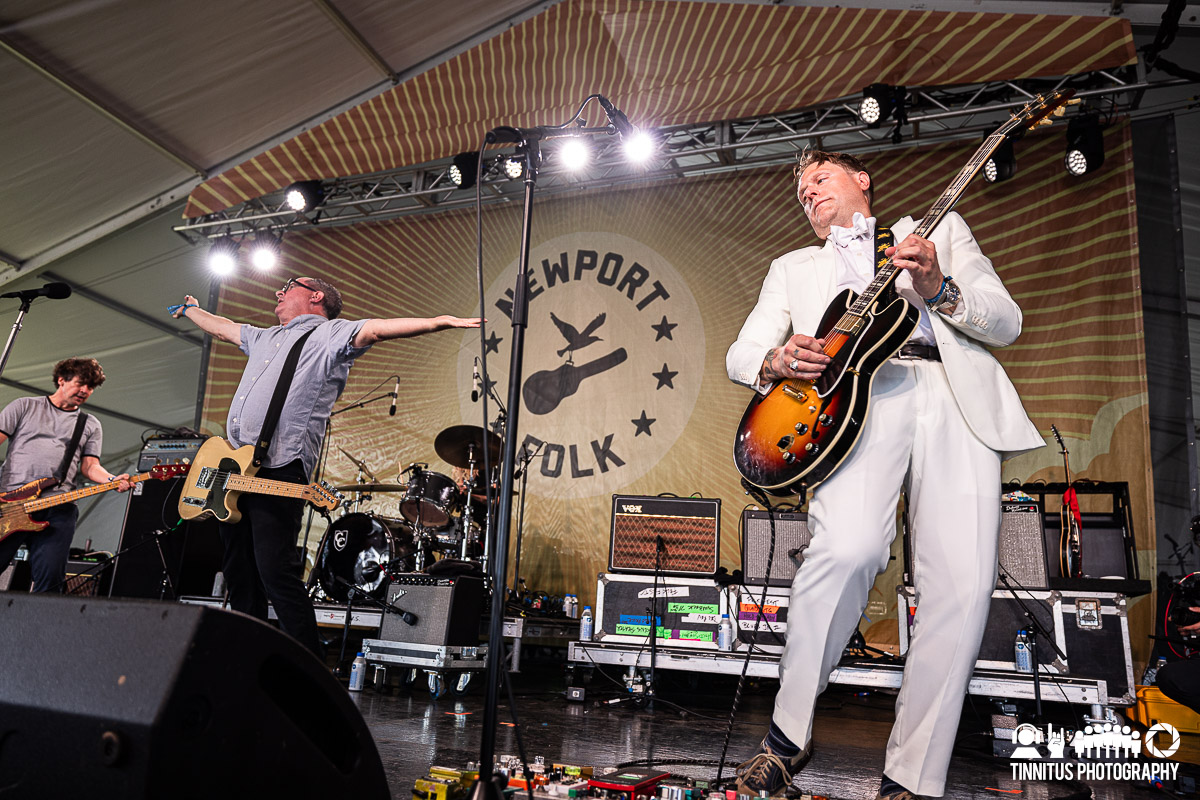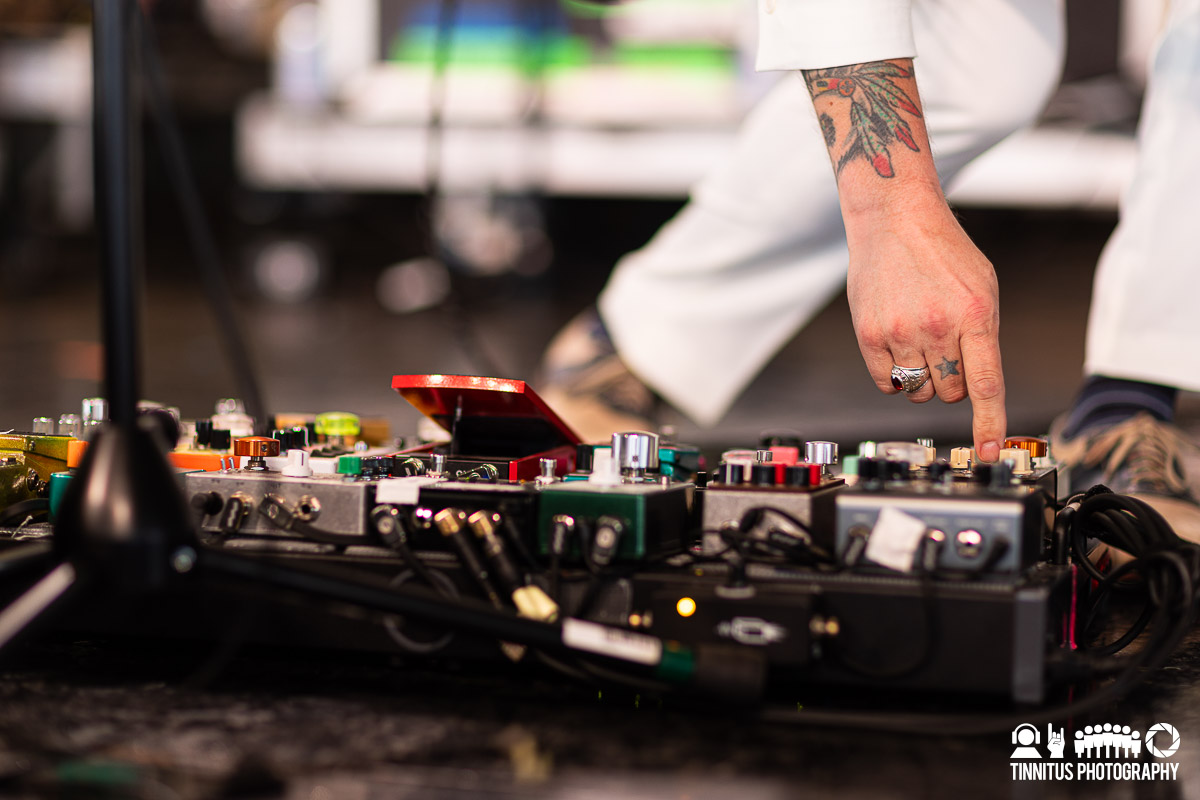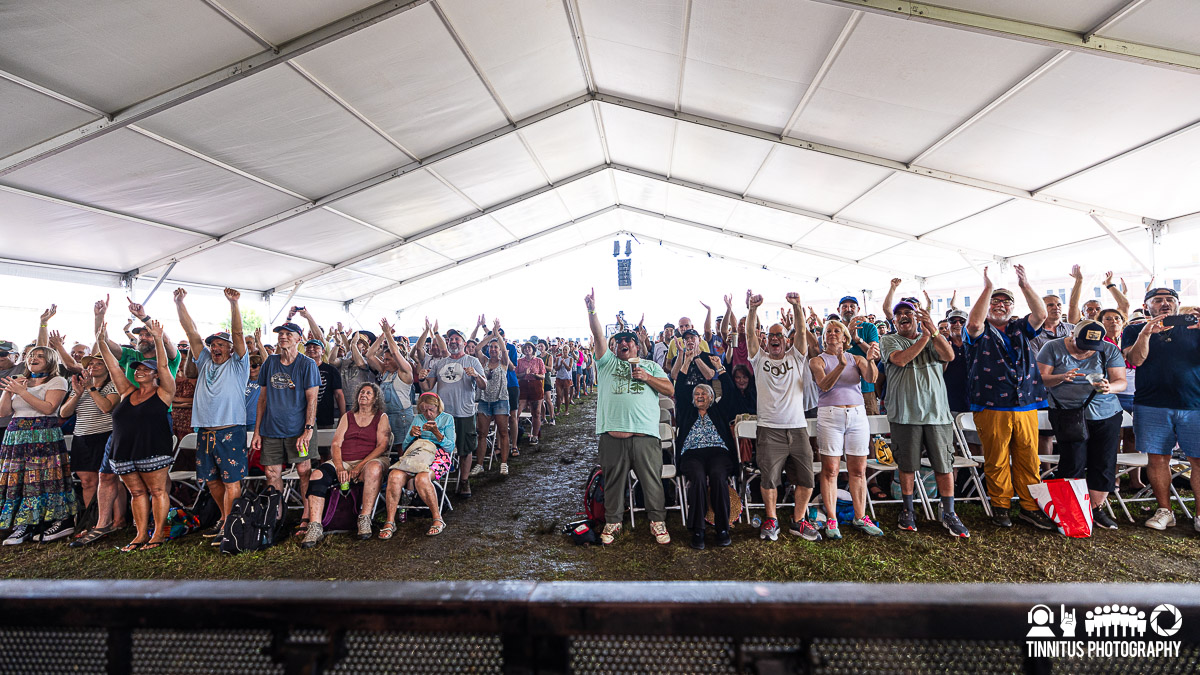 The Huntress and Holder of Hands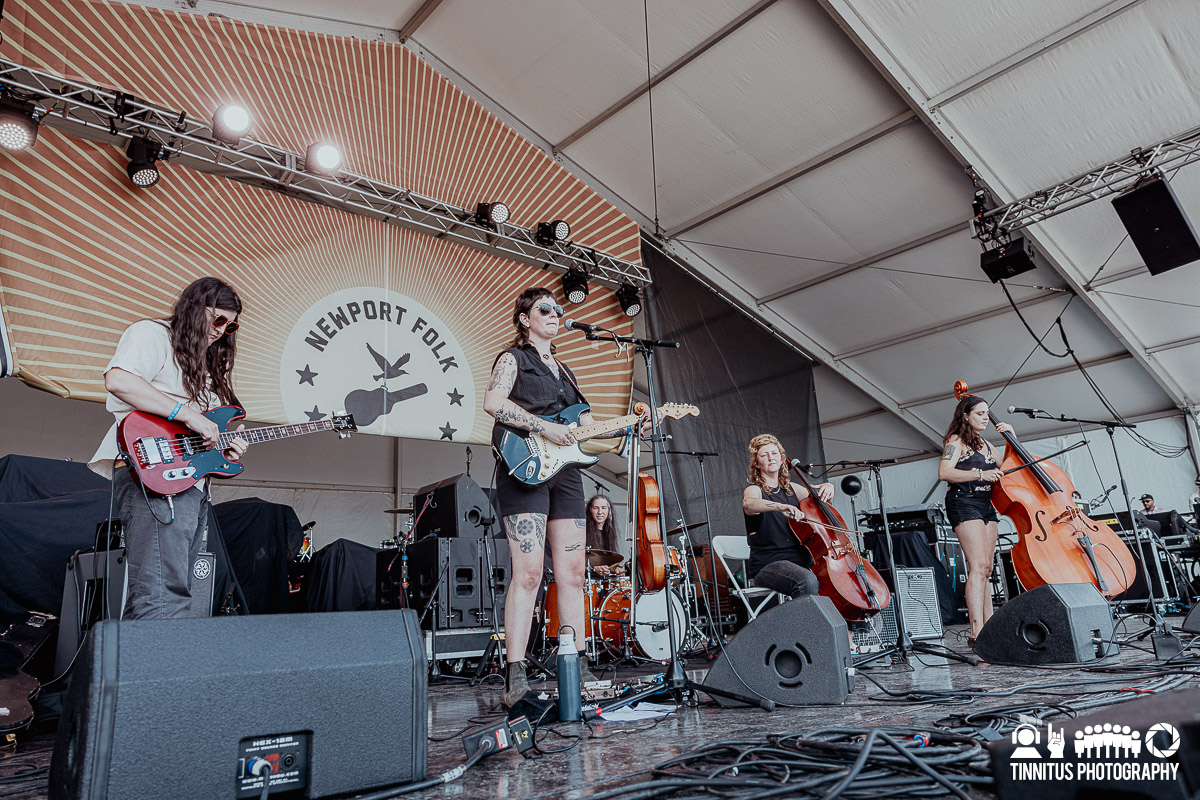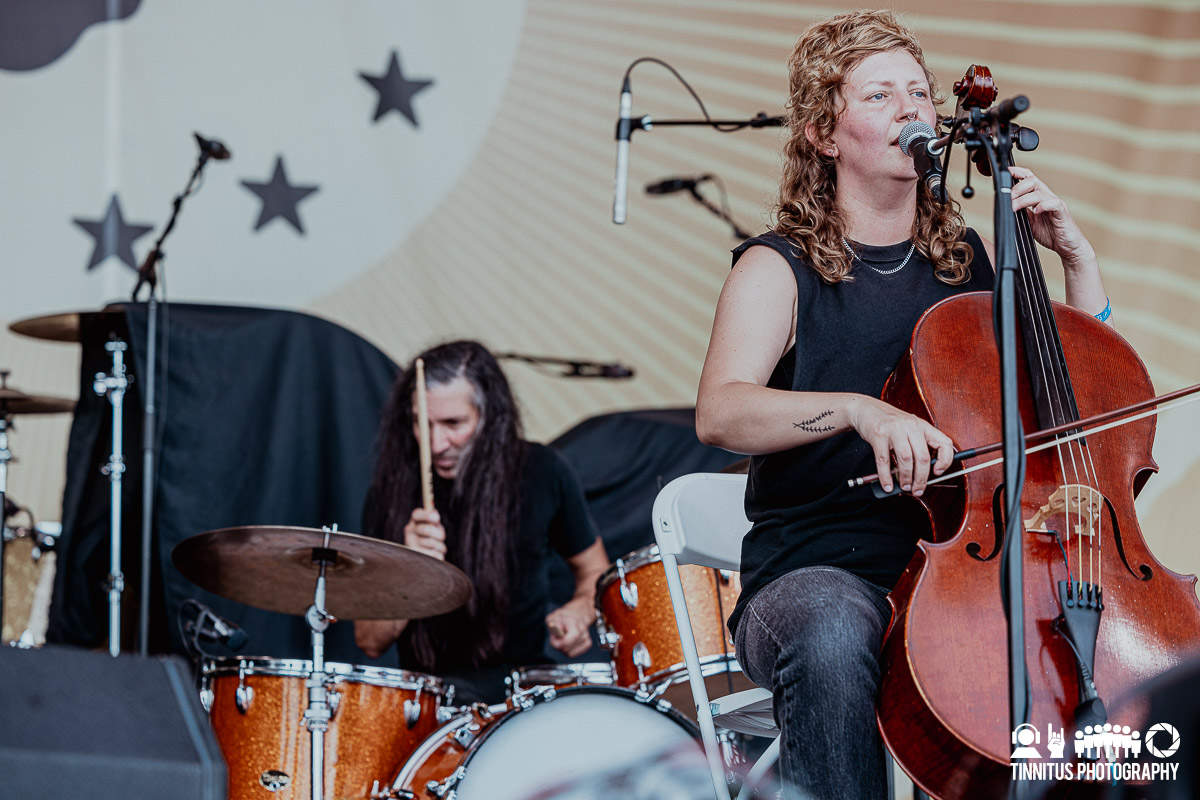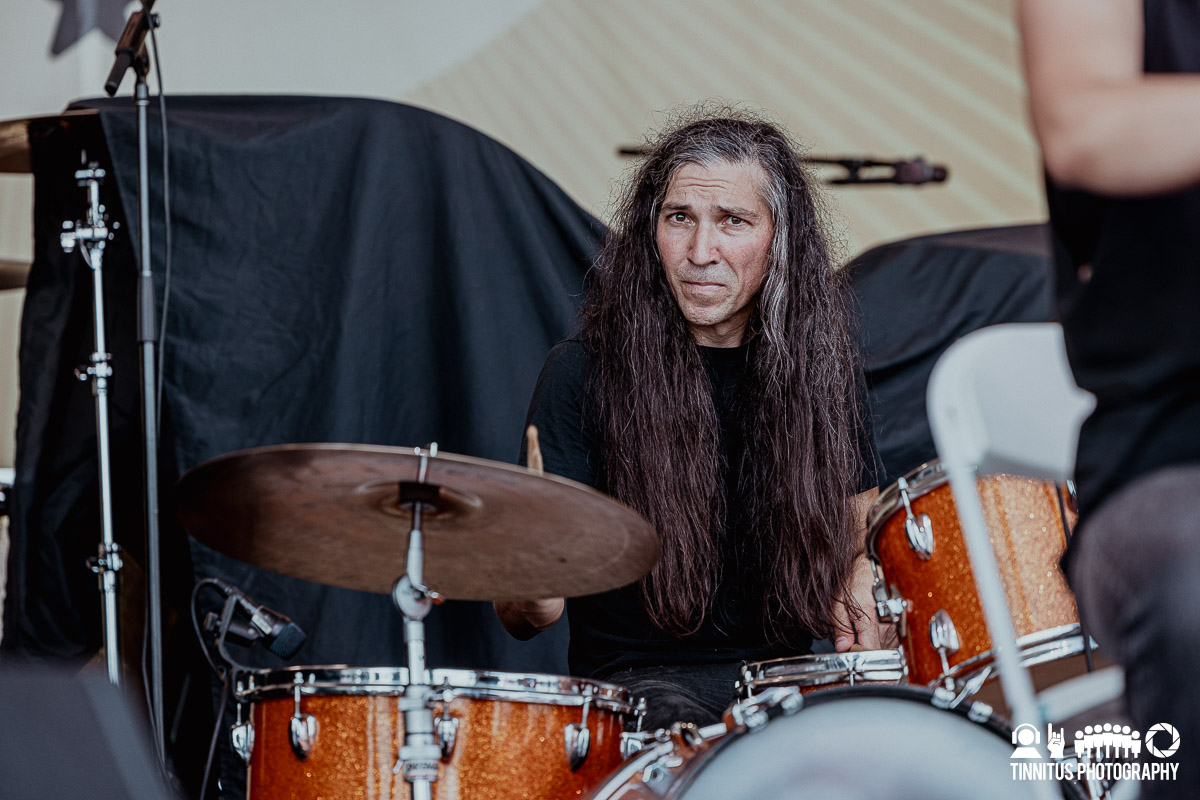 Dawn Landes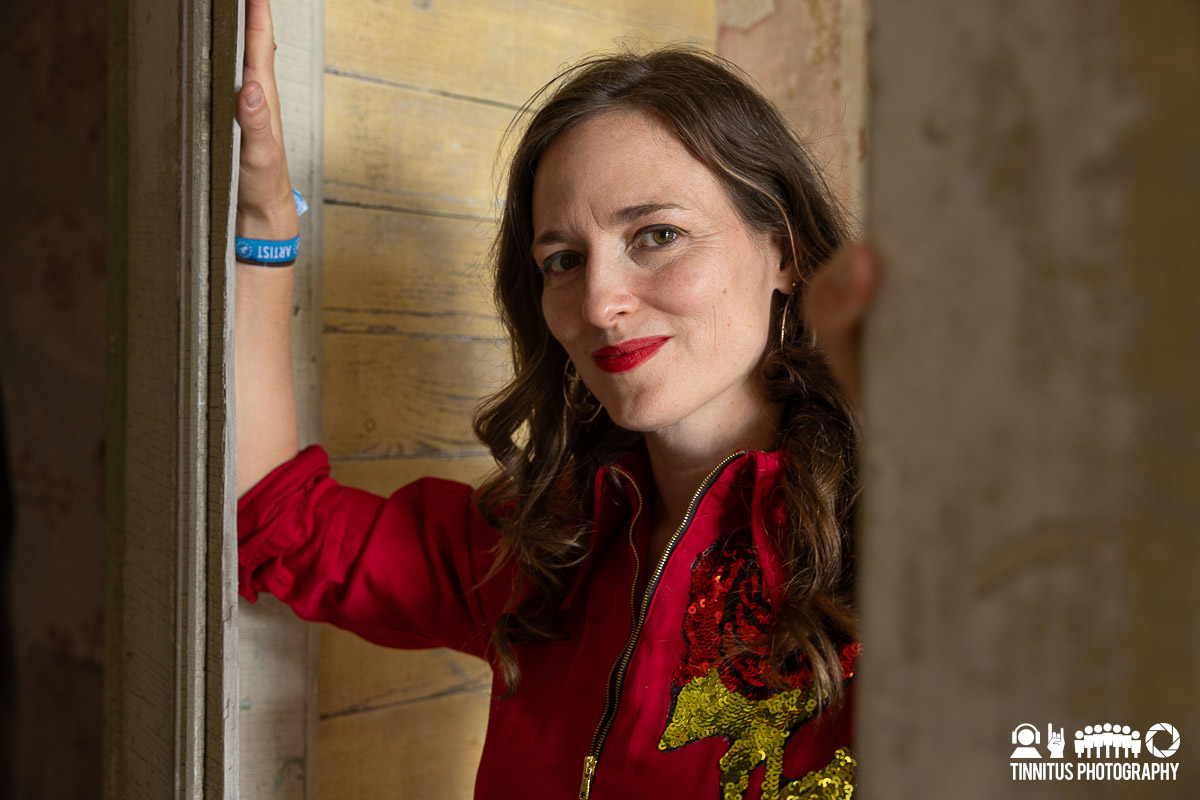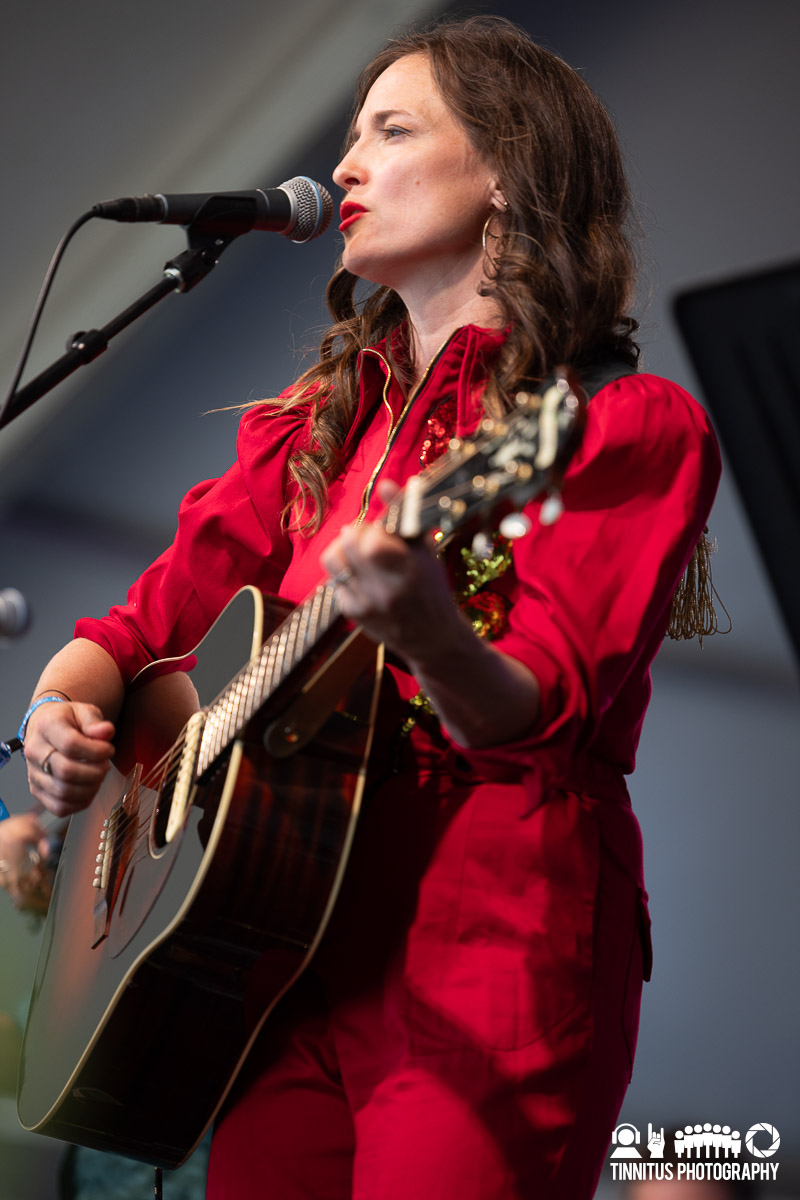 Black Opry Revue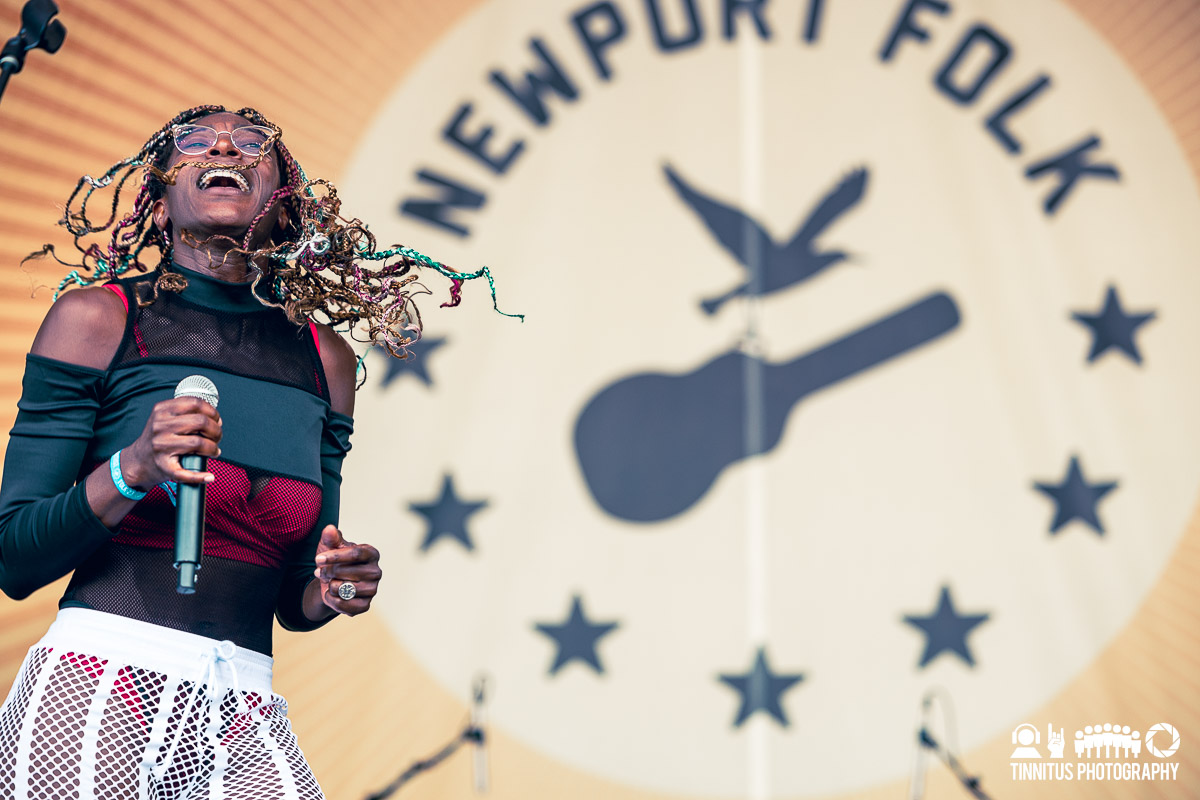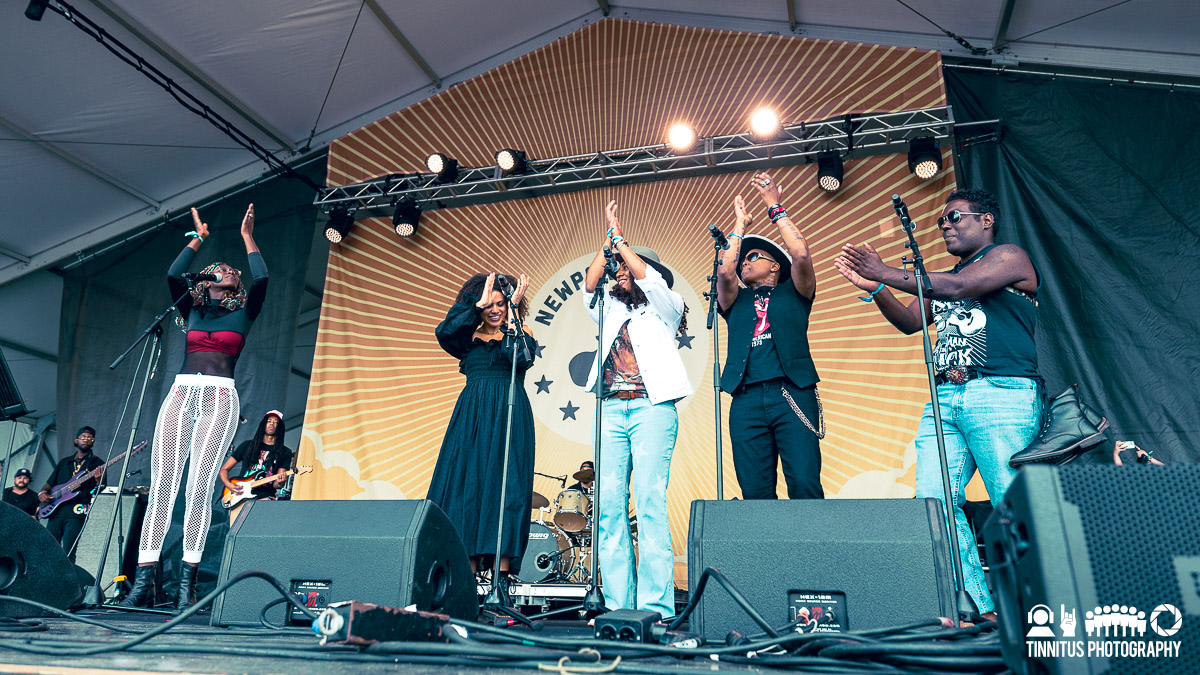 Abraham Alexander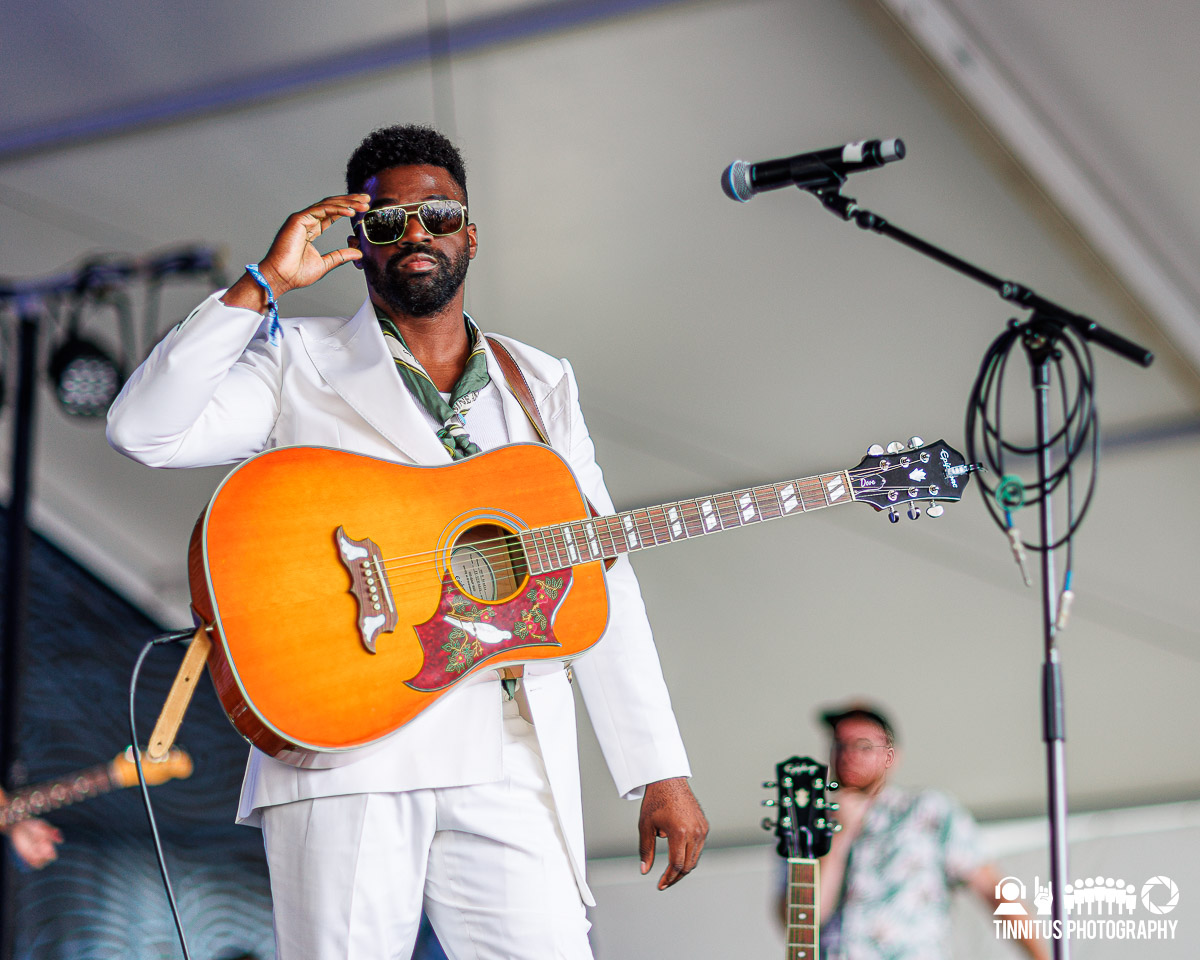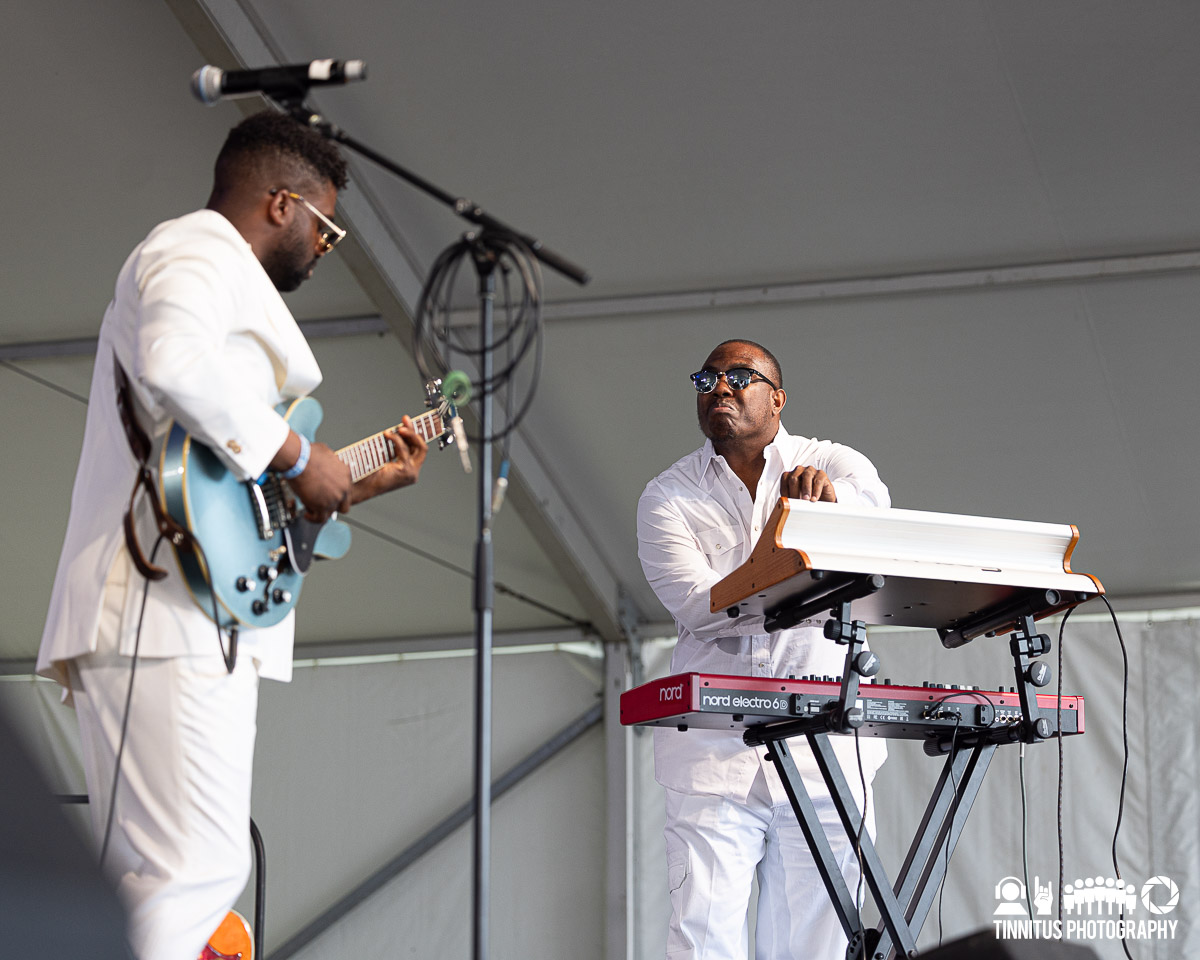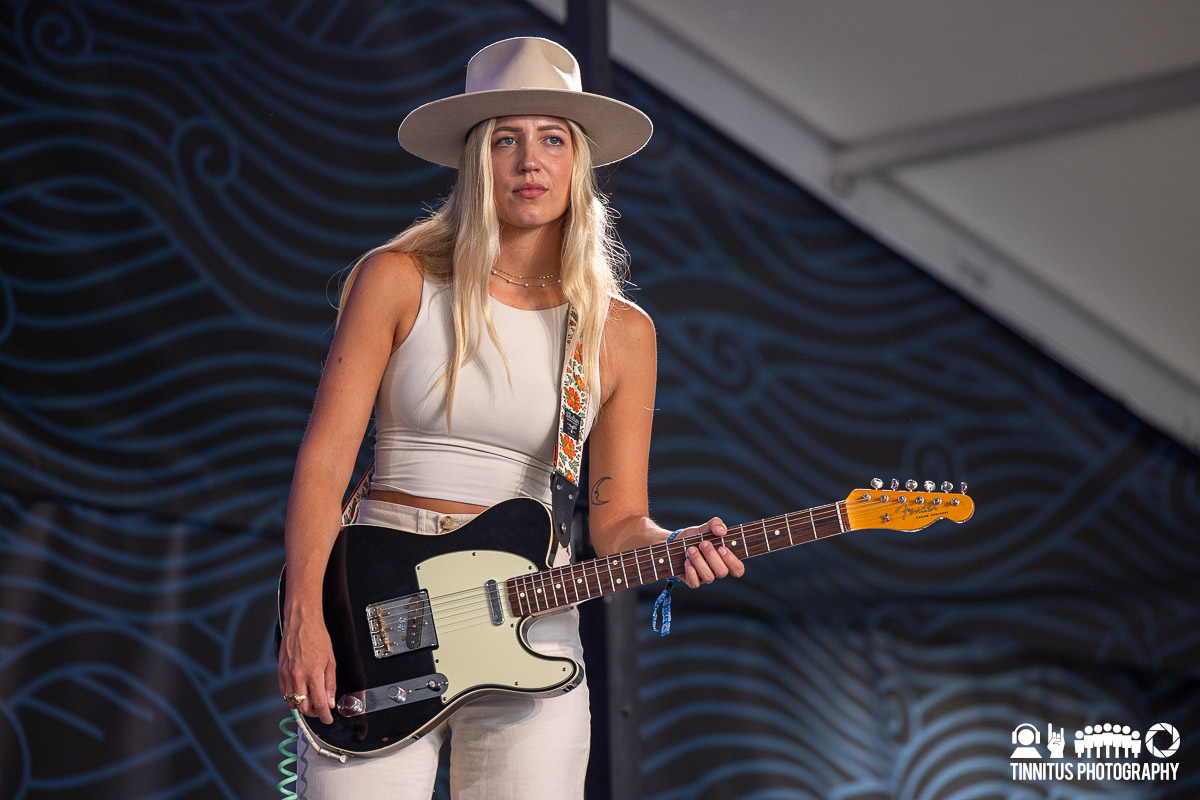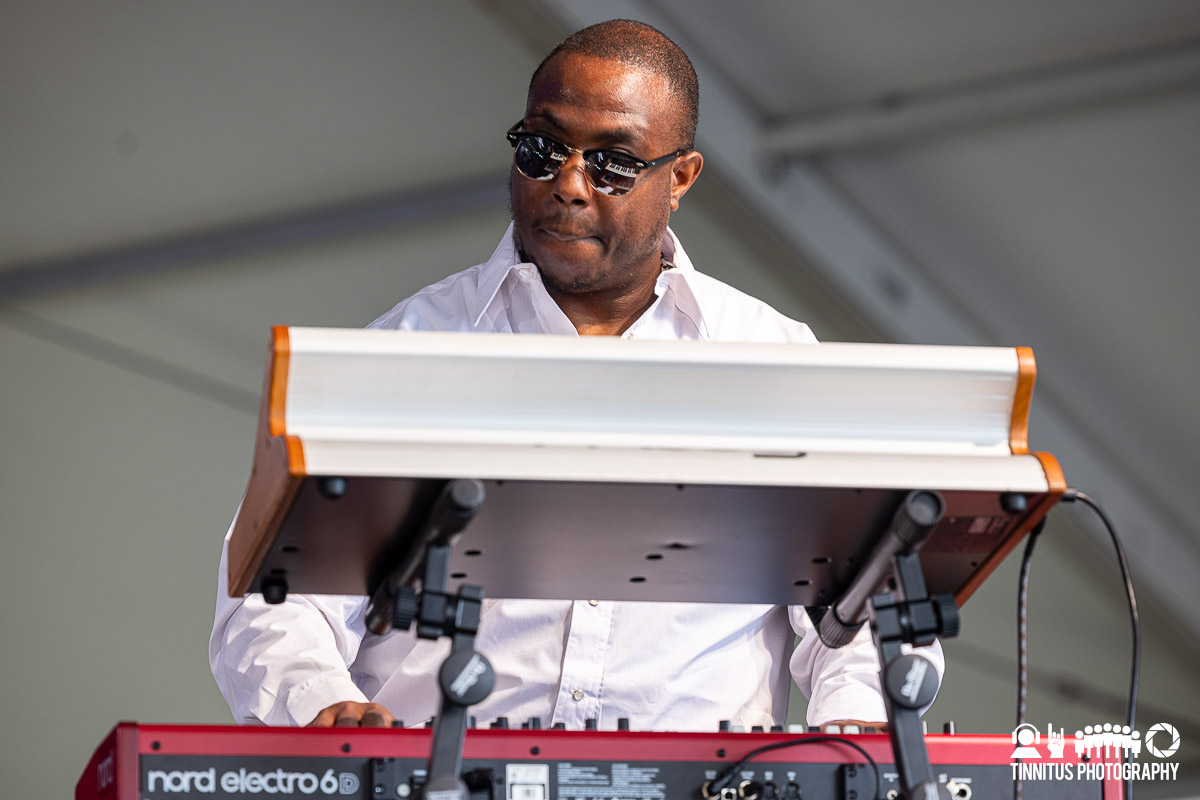 Gregory Alan Isakov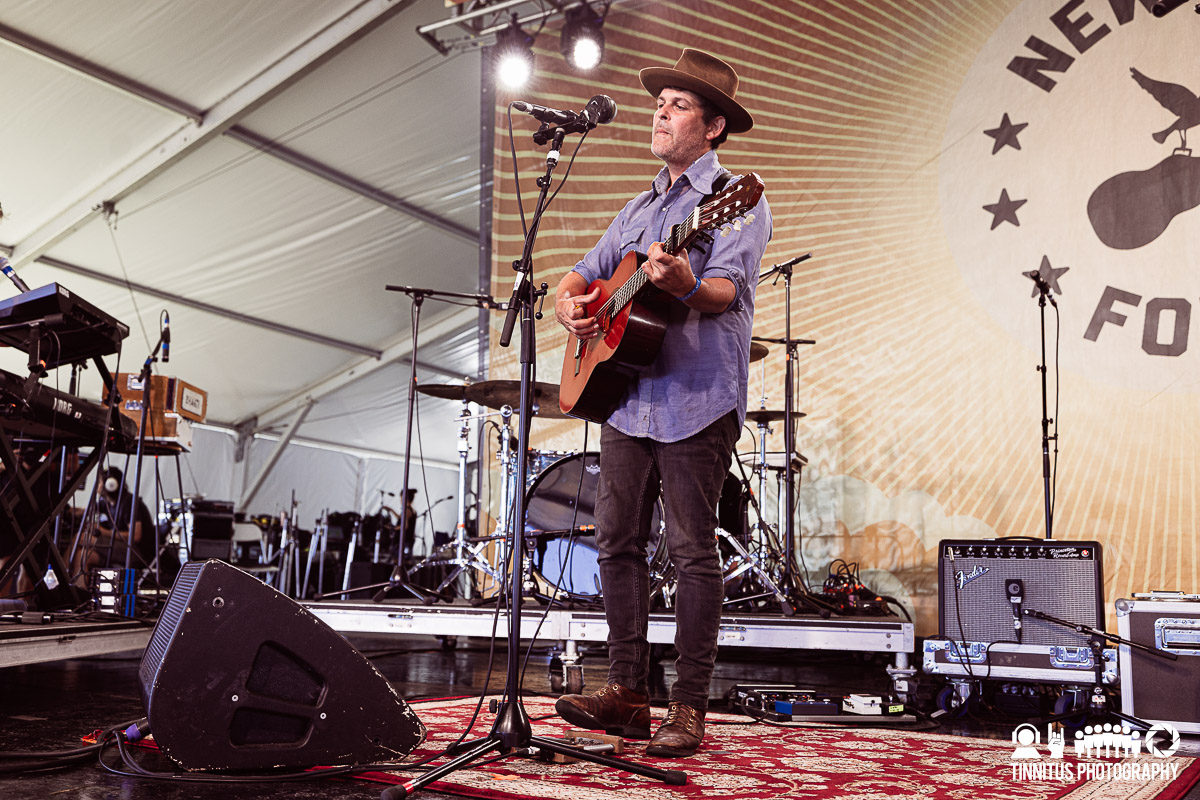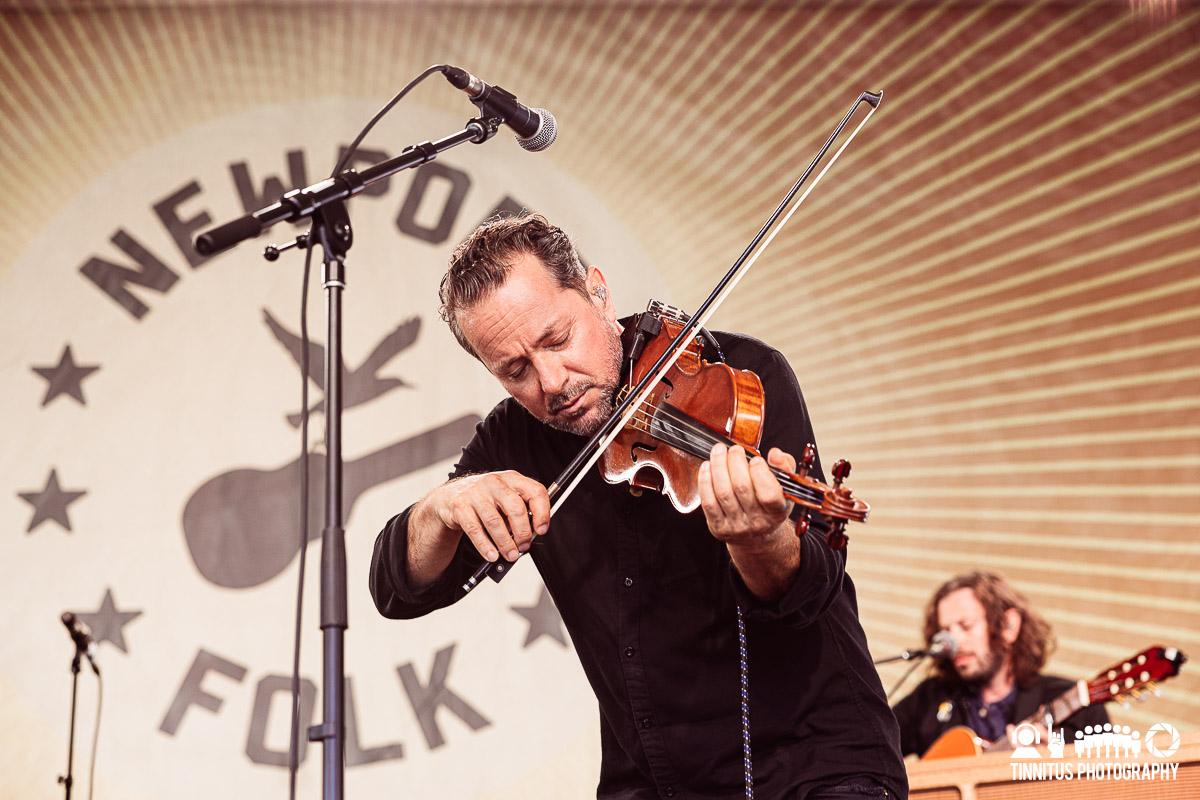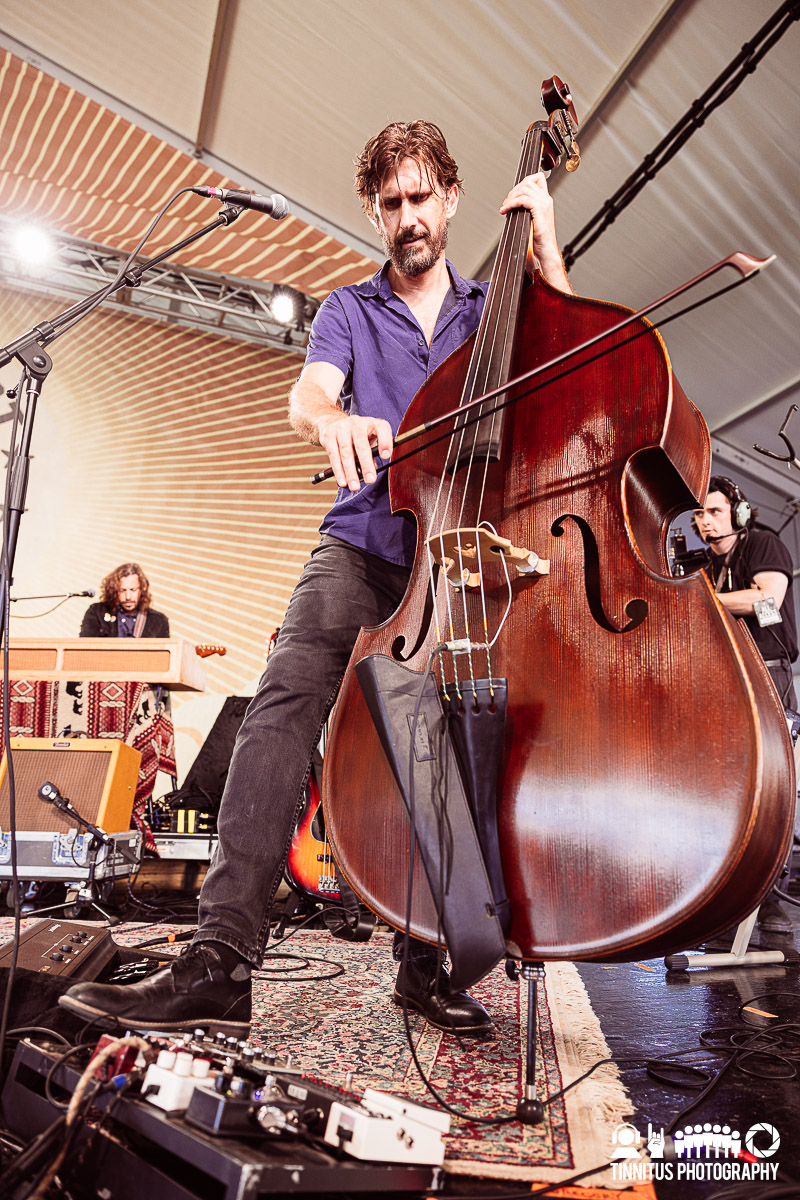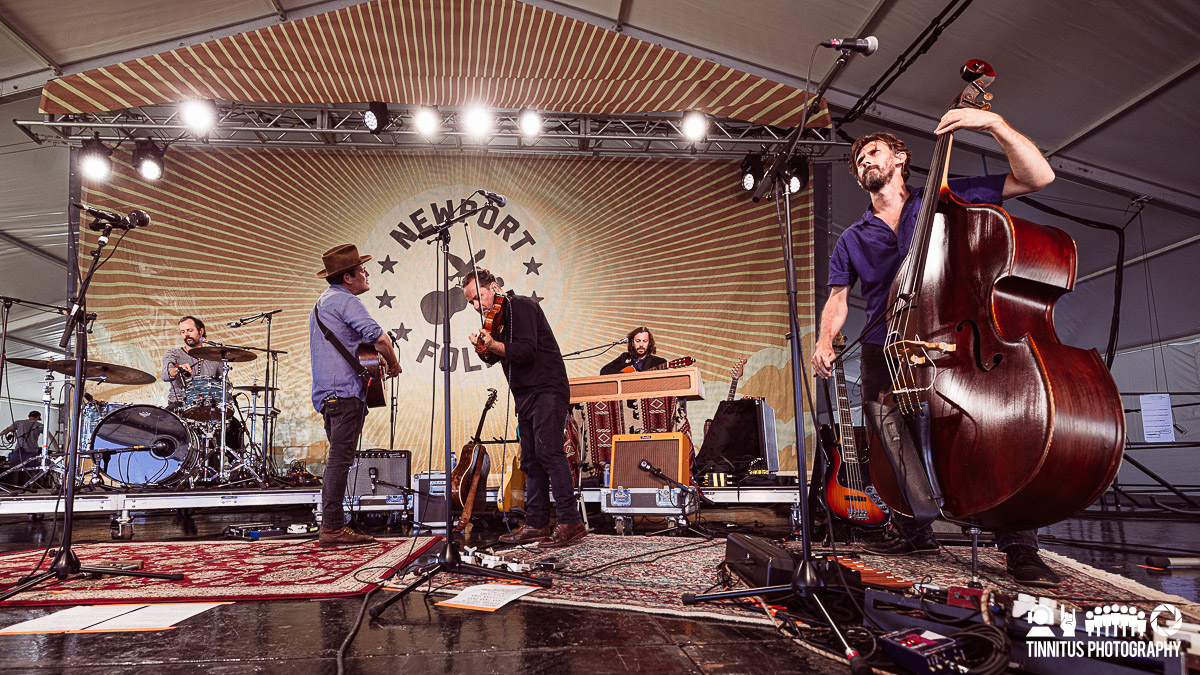 M Ward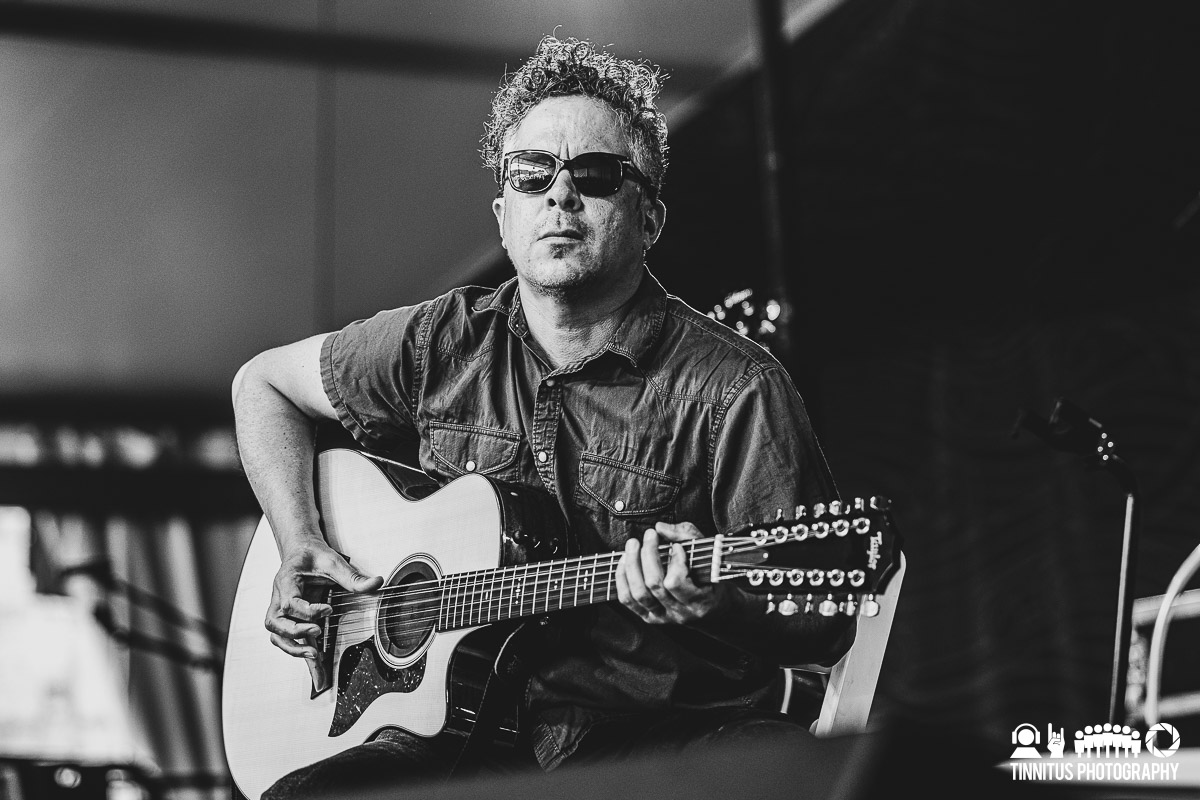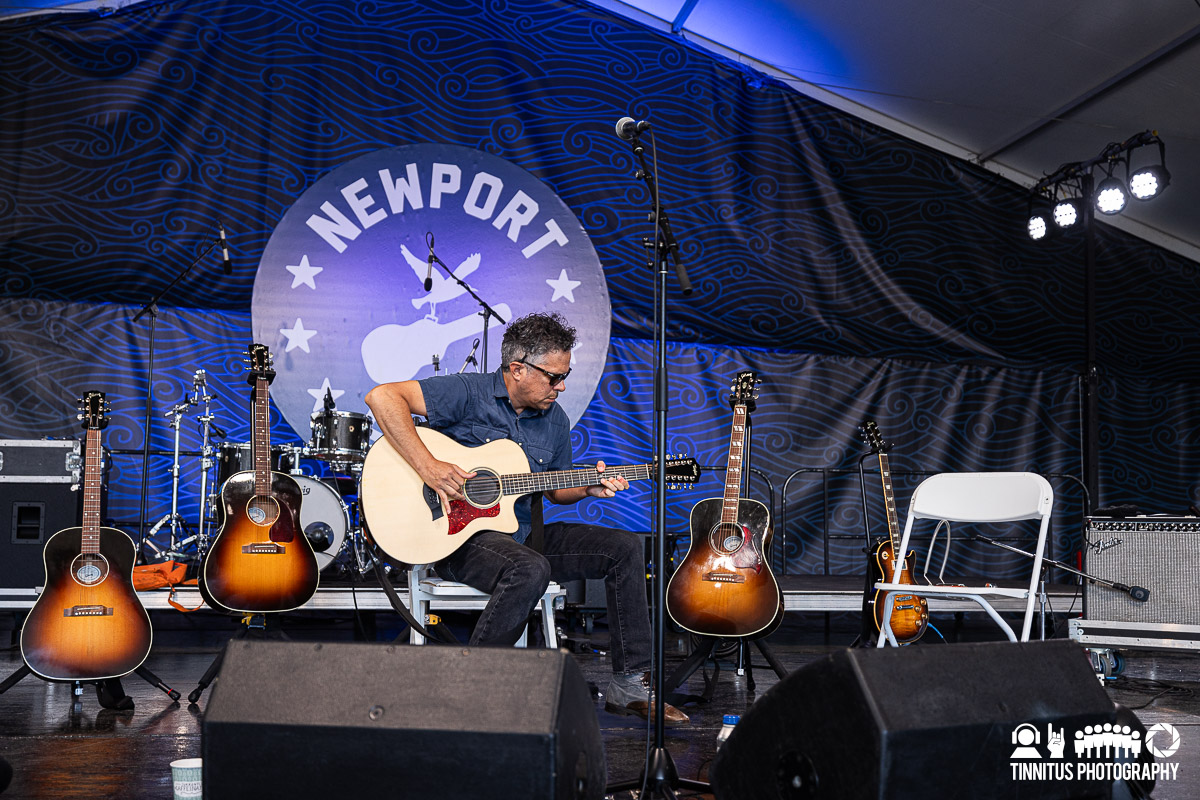 Sumbuck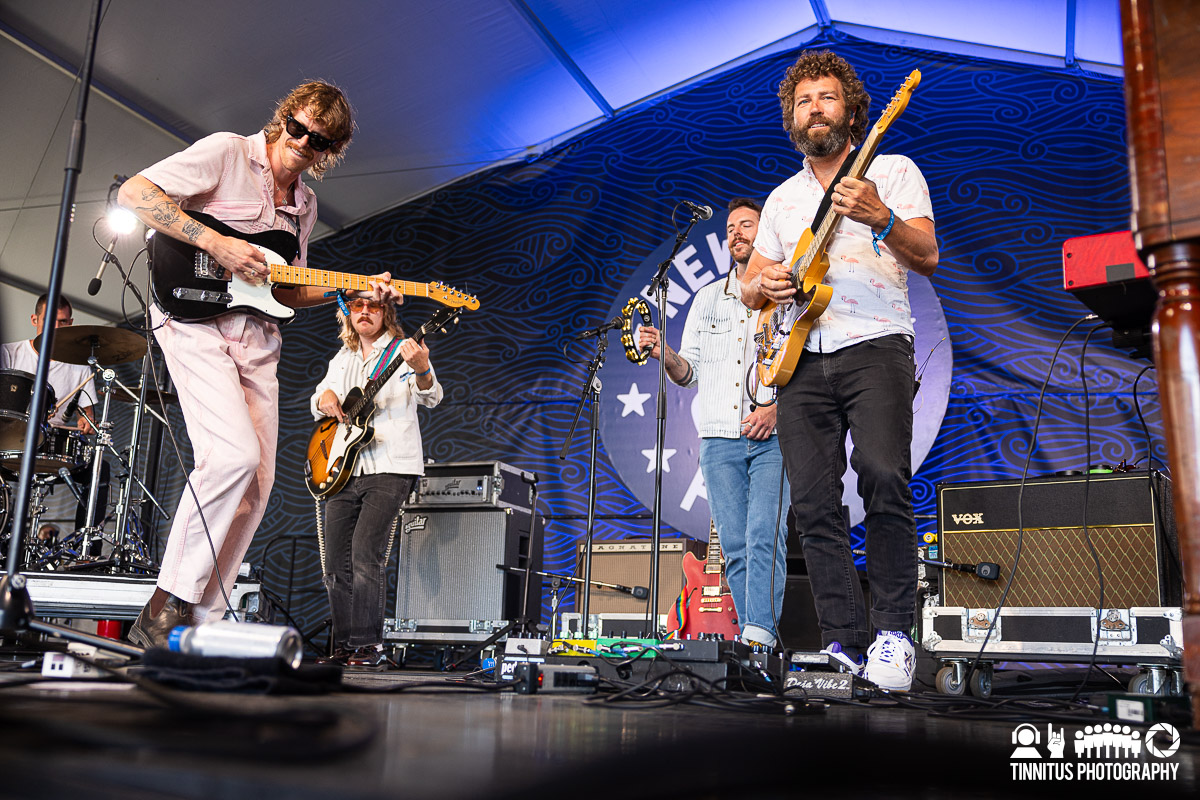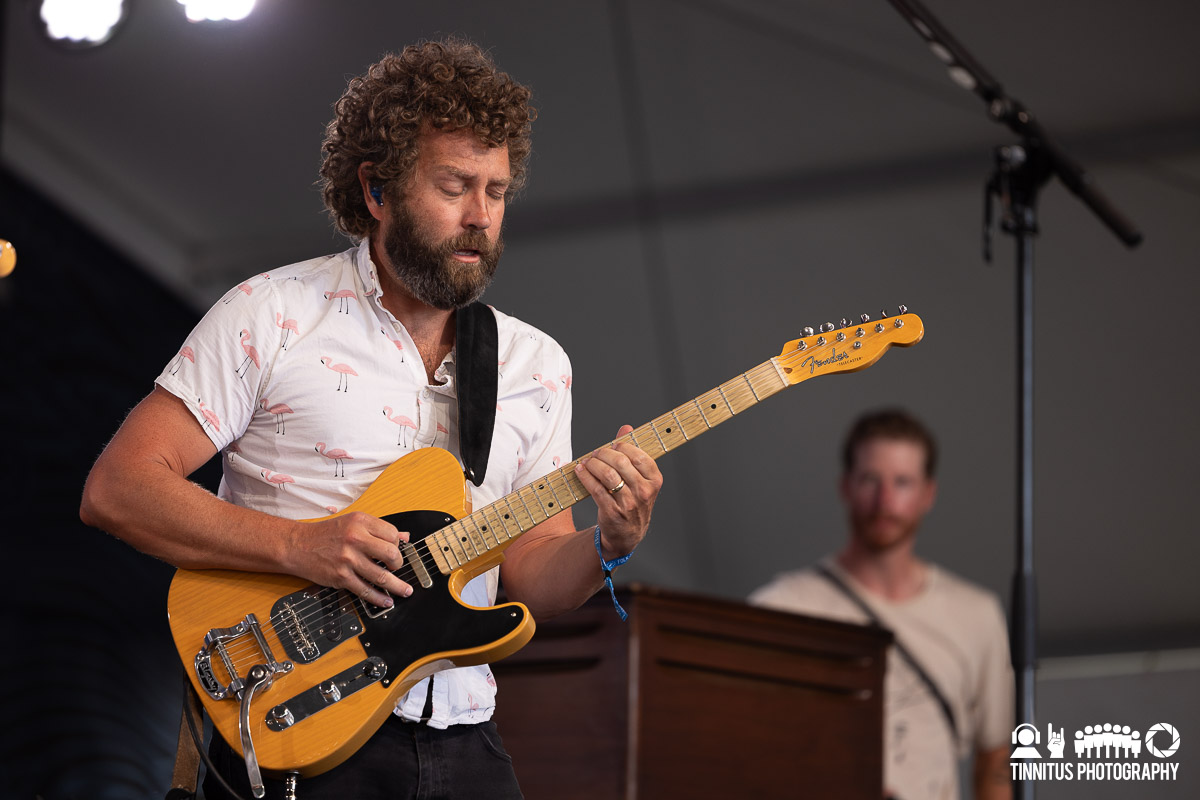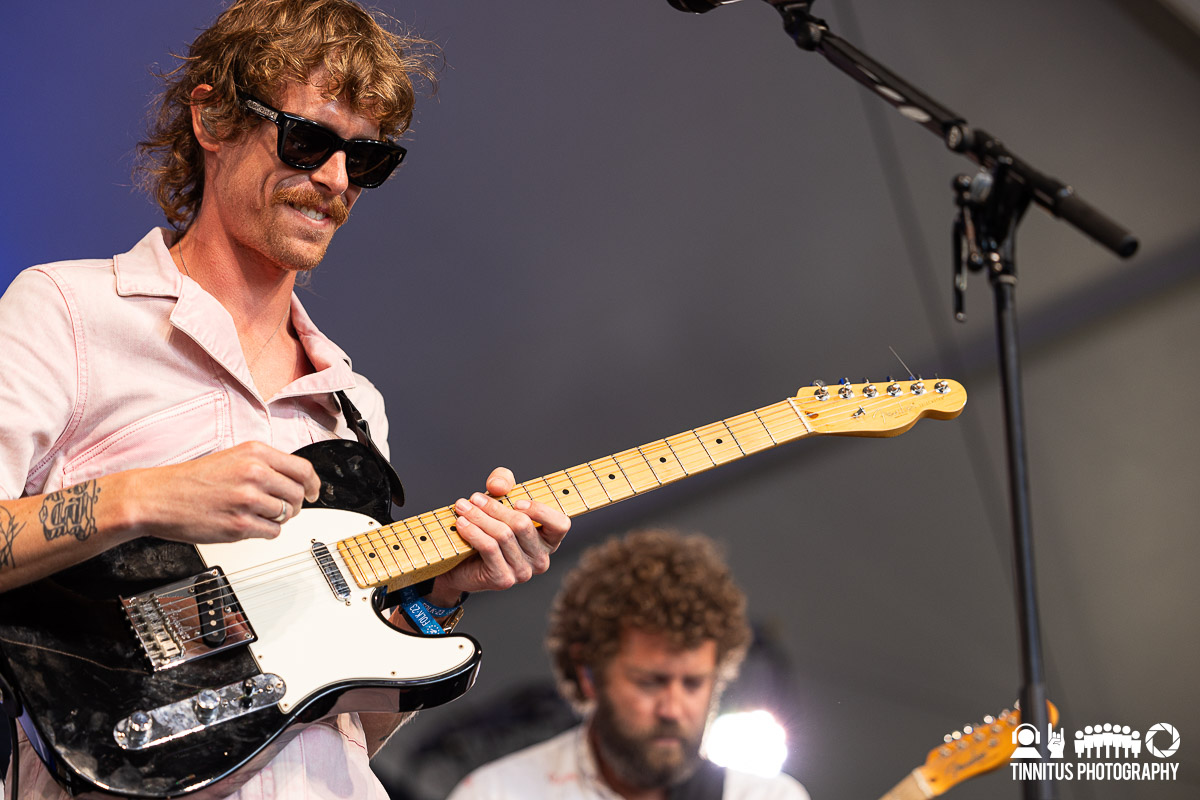 Fans at Newport Folk Fest