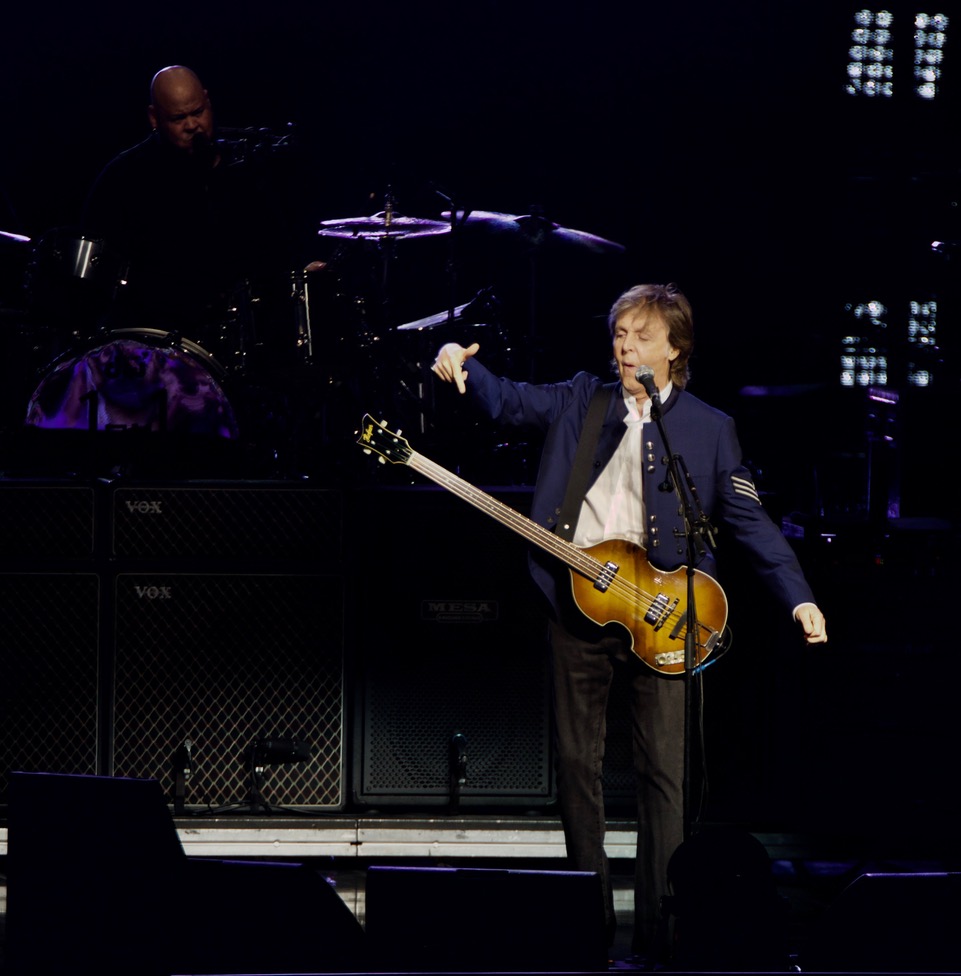 28 July 2017
Fair warning: This review deviates from my typical, third-person perspective to the personal. It describes my experience on Tuesday seeing Paul McCartney's One on One tour at Hollywood Casino Amphitheatre near Chicago. I was in excellent company, with a cub reporter in tow.
I received an interesting glimpse of the unconventional twists McCartney's career has taken through the eyes of my 11-year-old daughter Melody. For the bulk of rock and roll history, the main way into the hearts of the fans was through the radio. Today, it's a little bit different.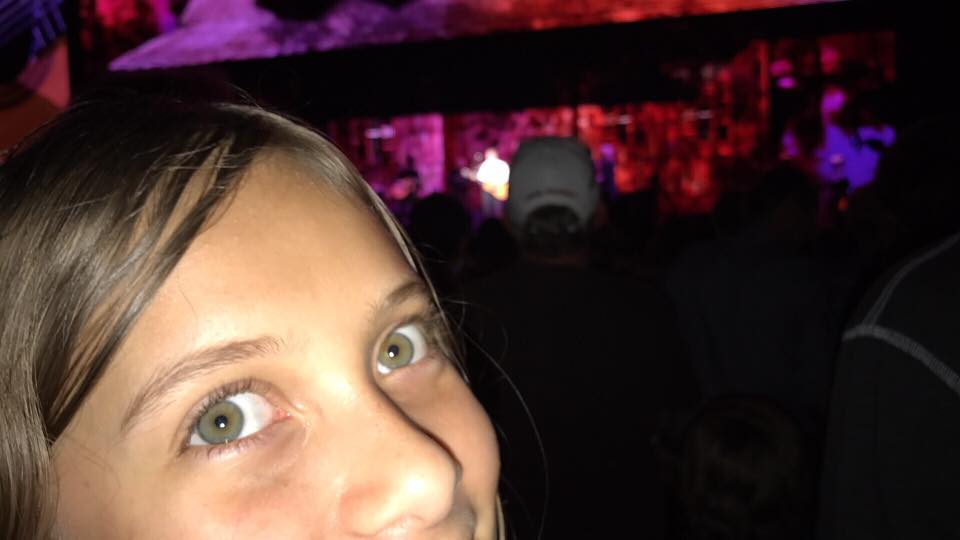 [Melody Elbel and Paul McCartney (the white blob is Paul with his Hofner bass). Photo by Dad.]
The former Beatle isn't fooling himself about what most people want, either. "We can tell what songs you like," he told the crowd. "If it's an old Beatles song, your phones light up. It's like a galaxy of stars at night. If it's one of the new ones, it's like a black hole."
He also made it clear who was in charge of the set list. "We're gonna do [the new stuff] anyway." And so he did. A handful of worthy tracks from 2013's New were featured among other recent work, and then there were the 34 remaining songs from the most celebrated catalog in popular music. There was never a moment when someone in the crowd wasn't singing every word along with the band, even for deeper cuts like Wings' "Letting Go" or McCartney's proto-electropop single "Temporary Secretary." Still, I wonder if even McCartney himself might be surprised at which songs got the strongest responses from certain fans.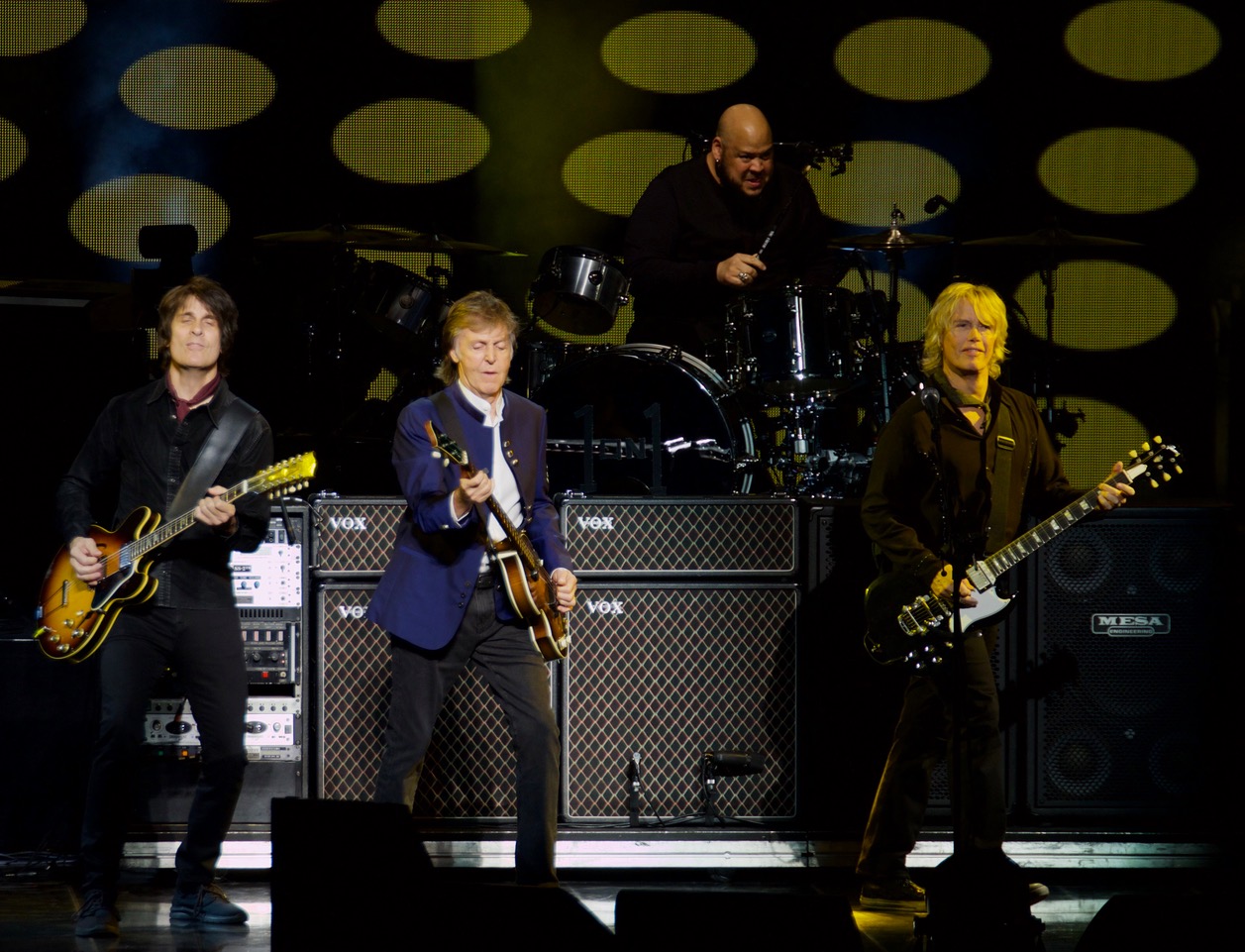 Melody was ready to sing along with the rest of the sold-out crowd to nearly all of the 24 Beatles songs performed. That wasn't because she stole my Fabs albums as a toddler. It was because she's spent countless hours playing Beatles Rock Band with her friends.
When McCartney made his devil-may-care remark about new songs, some made beer runs. But Melody was thrilled. As the band launched the summery bounce of New's title track, Melody lit up with more recognition than she had for Tug of War's tribute to John Lennon "Here Today" or even ode to Linda McCartney "Maybe I'm Amazed." "I know this one," she said. "It's from Cloudy with a Chance of Meatballs!" Similarly, the collaborative single with Rihanna and Kanye West "FourFiveSeconds" was familiar from another film soundtrack.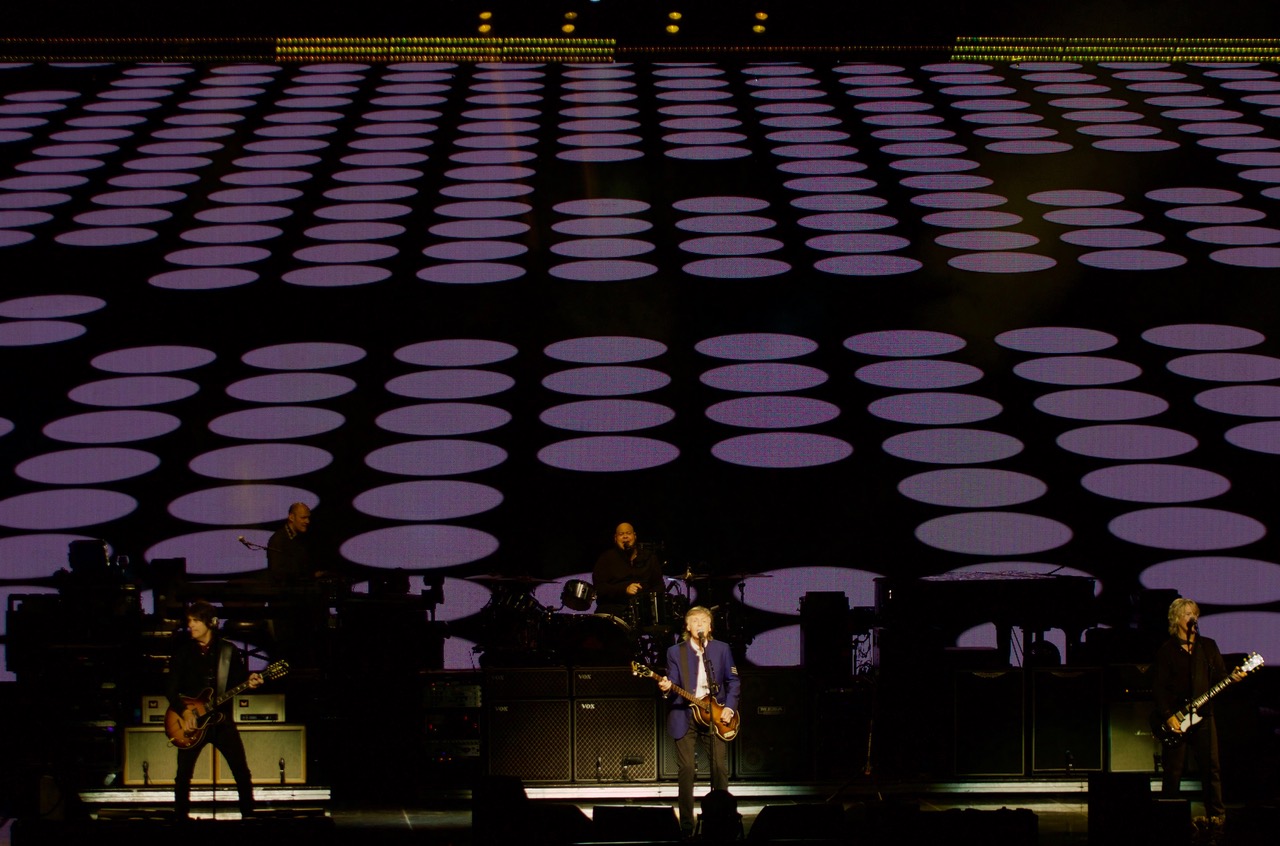 Then there was "My Valentine," a tender piano ballad for McCartney's wife Nancy from the 2012 standards album Kisses on the Bottom. Melody was captivated thanks to video monitors featuring synchronized sign language by silver screen heroes Queen Amidala (Natalie Portman) and Captain Jack Sparrow (Johnny Depp).
When you got down to the nitty gritty, though, Melody went for the classics. As McCartney began an elegant duet on acoustic guitar with keyboardist Paul "Wix" Wickens, Melody cited "Eleanor Rigby" as her favorite song – one that she'd heard echoing from her big sister's room. Her big sister was the one who actually had swiped my Fabs albums.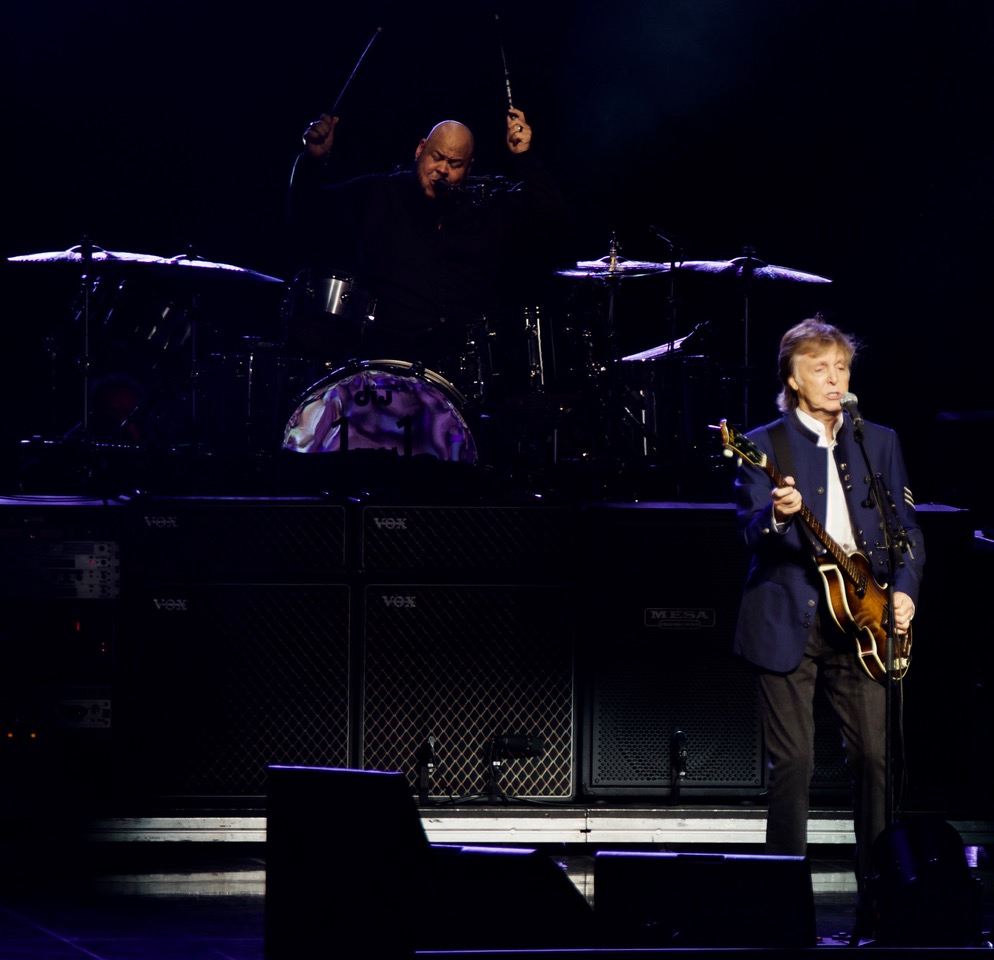 To my chagrin, Melody had never thrilled to Wings' "Live and Let Die." Her mom didn't want me screening James Bond films with her, so I'll put the blame there. Even though I agree. Anyhow, as of this writing, I've corrected the problem with an extended, fully-sanctioned loan of my copy of two-disc set Wingspan (coming clean: I'm no magnanimous saint. I have the LPs anyhow). I had initially enticed Melody to the concert by telling her there would be a great fireworks display near the end. Her stamina faded and she fell sleep after 10:30PM, appropriately enough, as McCartney sang a glorious lullaby of "Let it Be." Her golden slumbers were short-lived, however. The photo below shows the exact moment during the very next song that Melody rocketed back to consciousness: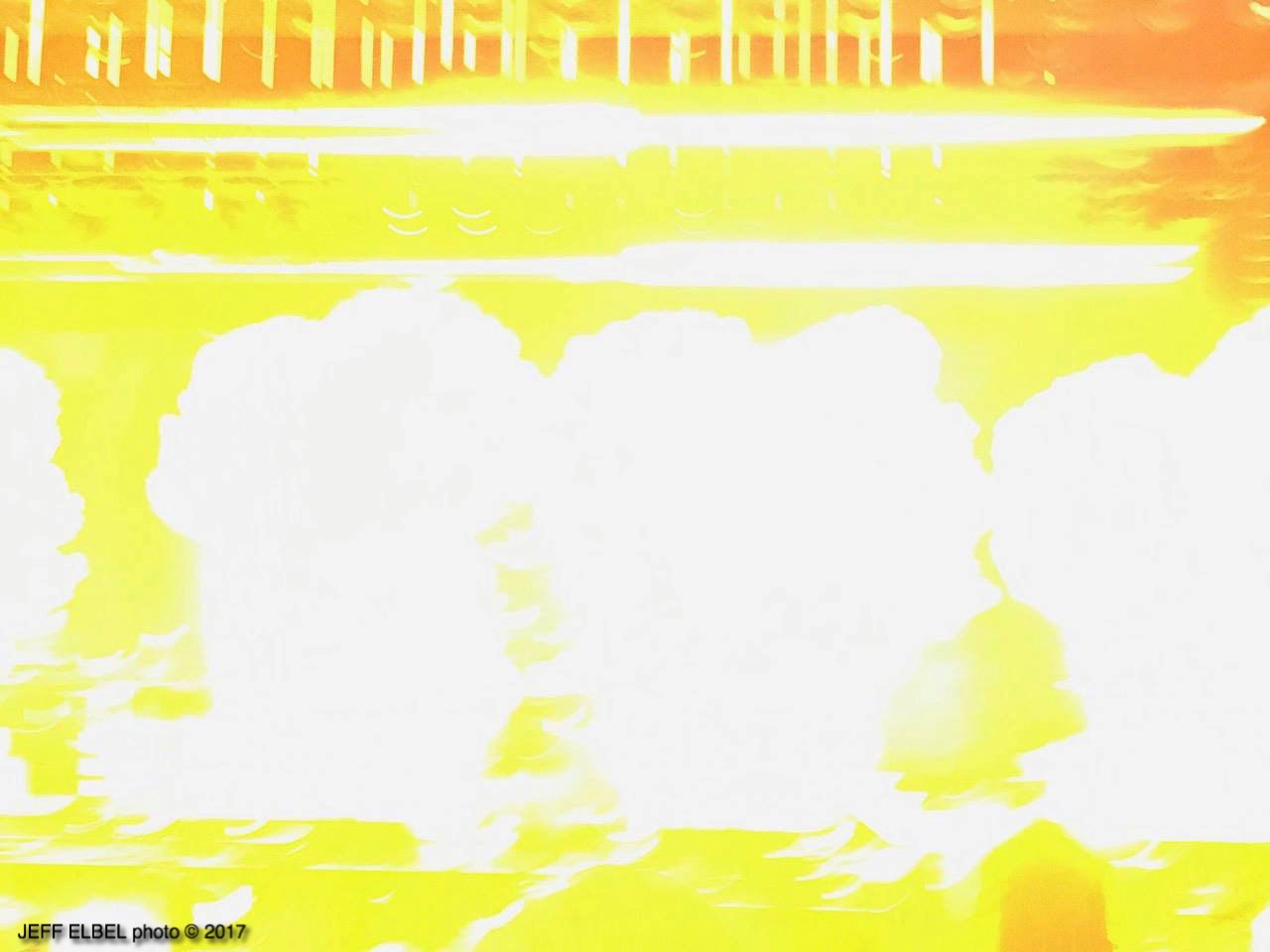 McCartney had played "Being for the Benefit of Mr. Kite!" with carnival atmosphere earlier, to Melody's delight. But here, my friends, was your "hogshead of real fire." With our great, lucky seats in row 11, we felt, heard, were jolted and were lightly toasted by "Live and Let Die." "You said there would be fireworks, but you didn't say they were going to light the whole stage on actual fire," Melody said.
Melody was alert through the remainder of the concert, concluding with "The End" from Abbey Road. Now I know what I have to do every morning at home, once school starts again in three weeks.
Despite accessing alternative channels to those of LP and radio, Melody's connection to McCartney's music was as real as it was for the grandparents singing along to "I Saw Her Standing There" and "Love Me Do." It was a great evening for father-daughter bonding, and I'm now more willing to give her control of the car stereo on road trips.
Photos by Curt Baran, except as noted.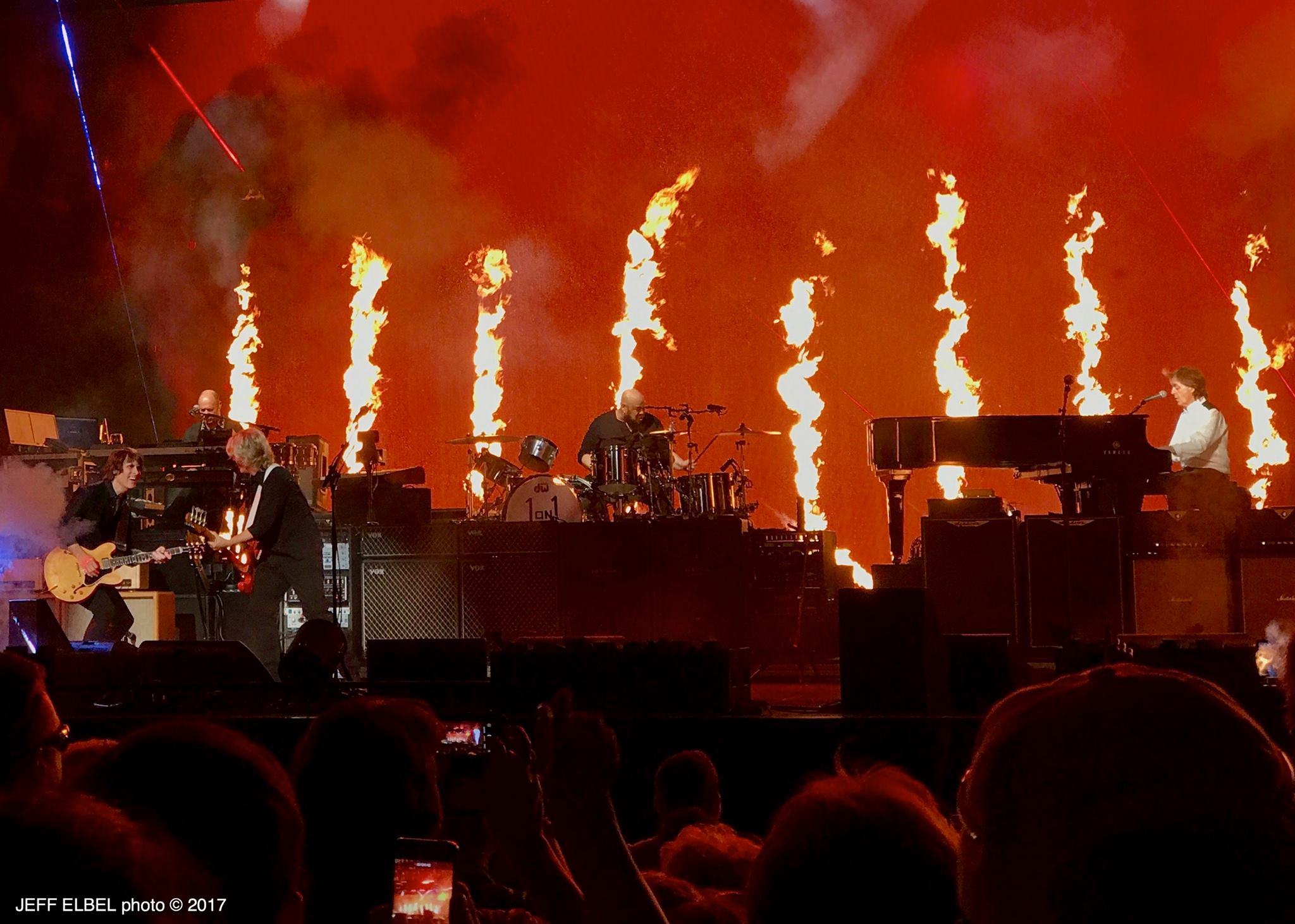 [L-R: Rusty Anderson, Paul "Wix" Wickens, Brian Ray, Abe Laboriel, Jr., Paul McCartney]
BONUS FACT: I like to collect concert programs. They're usually pricey at $30, but kudos to McCartney for making his top notch souvenir actually worth it. It's 72 pages long, loaded with interesting features and interviews, great photos, tour credits, and even has coloring pages for the kids. Melody claimed the sheet of stickers immediately. Best program ever.
SET

LIST

:

A Hard Day's Night
Save Us
Can't Buy Me Love
Letting Go
Temporary Secretary
Let Me Roll It
I've Got a Feeling
My Valentine
Nineteen Hundred and Eighty-Five
Maybe I'm Amazed
We Can Work It Out
In Spite of All the Danger
You Won't See Me
Love Me Do
And I Love Her
Blackbird
Here Today
Queenie Eye
New
The Fool on the Hill
Lady Madonna
FourFiveSeconds
Eleanor Rigby
I Wanna Be Your Man
Being for the Benefit of Mr. Kite!
Something
Ob-La-Di, Ob-La-Da
Band on the Run
Back in the U.S.S.R.
Let It Be
Live and Let Die
Hey Jude

Encore:

Yesterday
Sgt. Pepper's Lonely Hearts Club Band (Reprise)
Hi, Hi, Hi
Birthday
Golden Slumbers
Carry That Weight
The End