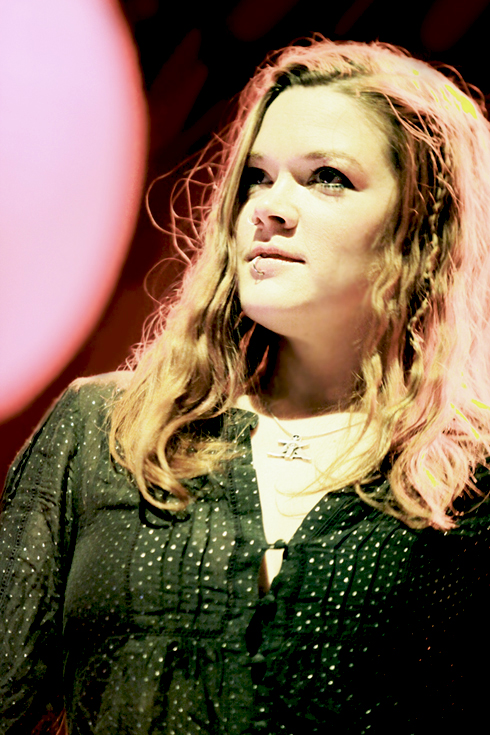 31 October 2010
If you're a fan of Viva Voce, you might be interested in the new side project of psychedelic darlings, husband and wife duo Kevin and Anita Robinson. The pair are showing more of a country influence with "Blue Giant": http://www.myspace.com/bluegiantland and have been collaborating with other well known talents such as members of Sleater-Kinney, "Quasi": http://www.myspace.com/theequasi, and The Decemberists. It's mainly the Robinsons that seem to command the most stage presence, however with both of them on guitar. At times, as in Viva Voce, they alternate singing and still further their voices will band together in a perfect harmonious union.
The most impressive aspect of their 45 minute long opening set was that they found a great balance in the dynamics of their instruments from the moody harmonica Kevin Robinson sometimes played, the psychedelic guitar rifts, accompanying drums and bass, and the prominent pedal steel. In fact, the pedal steel meshed in an enticing cascade during "Target Heart" especially. The end of their set was a bit of an exception, with the country overtones taking over quite a bit more during "Run Rabbit Run" Their ending song, "Blue Sunshine" contained an extended jam at the end which sounded like no other country rock freak out.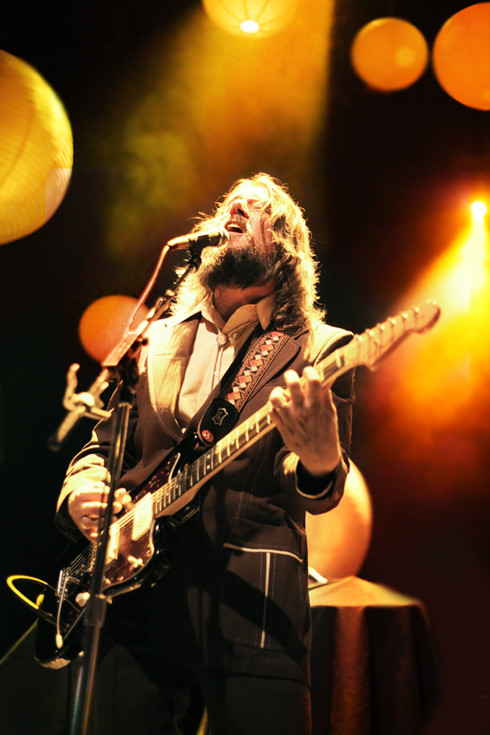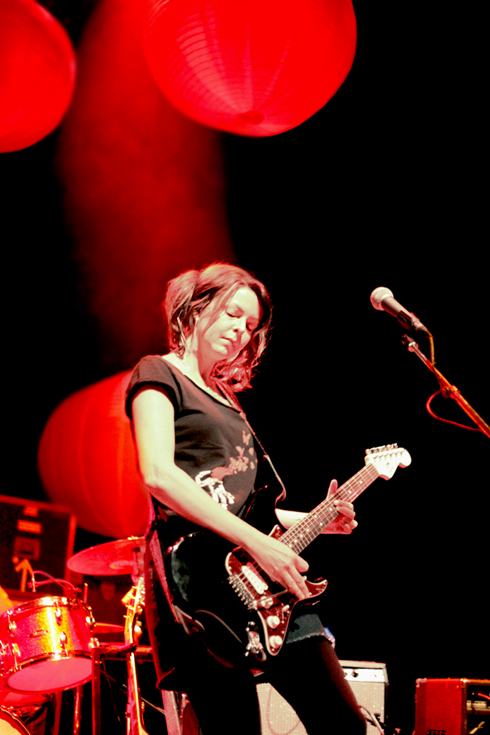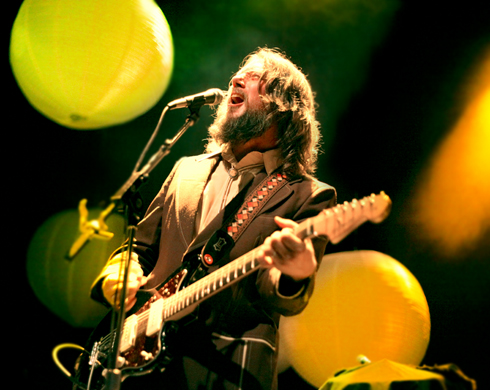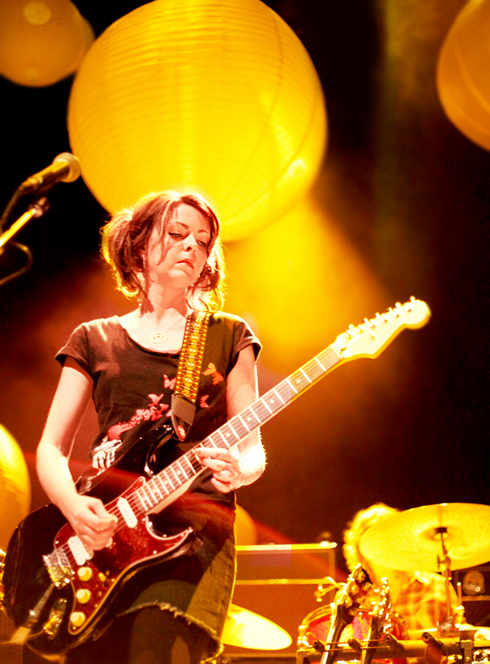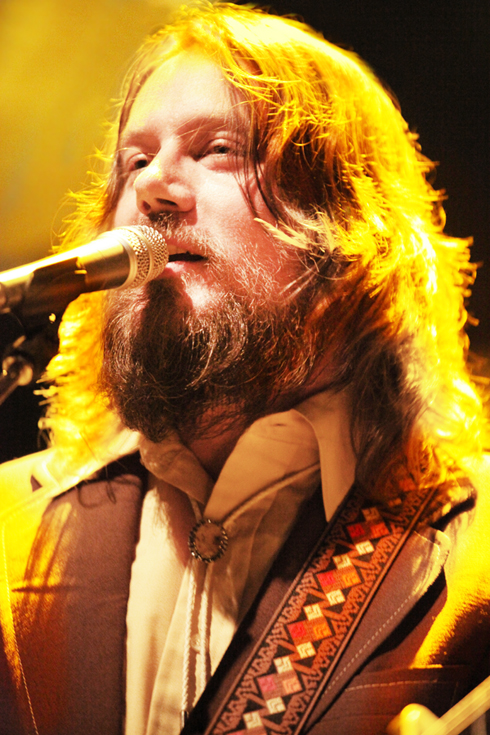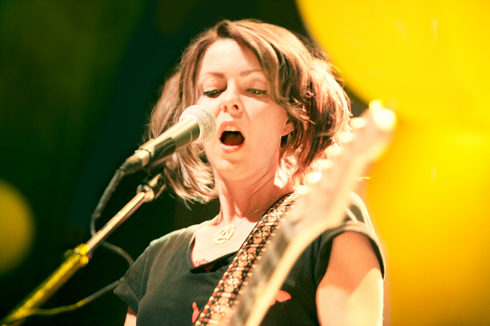 The main connection between Blue Giant and The Dandy Warhols is a geographical one in that they share the home base of Portland, Oregon. However, one could see more of the psychedelic tones to Dandy Warhols songs being brought out live later on in the night. The four-piece is touring on their most well known songs to celebrate their newest release, a collection of Capitol Year releases from 1995-2007. These are the songs that audience members knew easily by heart and couldn't wait to sing along to. They are also the tracks filled with catchy guitar rock with more distortion live, especially on Courtney Taylor-Taylor's vocals.
Over time, the band has been through a great deal together as evidenced by the documentary Dig! which focused on both them and Brian Jonestown Massacre. What becomes obvious to viewers of this film as well as to those who have seen both bands in real life (this writer included in that category) is that while Anton Newcombe of Brian Jonestown Massacre shows prolific tendencies and genuine brilliance, he doesn't have nearly the consistent ability to deliver his recorded songs in a live capacity.
One didn't have to worry about any breakdowns or baiting the audience whilst seeing The Dandy Warhols. In fact, Taylor was quick to bring up all of the great times he's had playing in Chicago as well as an old girlfriend he dated here who was almost seven feet tall. Taylor was nearly in a jovial mood at one point whilst joking about his twin guitars and joking, "I always thought fenders were only for cars." Though Taylor seemed comfortable providing most of the banter for the rest of the band in-between songs, it's worth mentioning that there was no sense of stage hogging or dominance either spatially (all four band mates set the same distance back from the edge of the stage and from each other) or instrumentation wise. Korg Keyboadist Zia McCabe couldn't stop happily dancing until the end of the set, when she played a solo lullaby "Daisy Song" singing in a silly fashion about a daisy on her toe and her feet loving each other after proclaiming how much she loved life. At one point, an audience member threw dapper black fedoras and a sombrero on stage and the band seemed both thankful and happy to wear them.
More than anything, their 2 hour set brought about a sense of rich perspective on the band's best works, which are definitely something to be proud of. "Not If You Were the Last Junkie on Earth" and "We Used to Be Friends" appeared quite early on and garnered a great camaraderie amongst Dandies fans. "I Love You" was ripe with a keener sense of lust and Taylor sang "Holiday" in its most stripped down form by himself after excusing the band and quipping that they all needed to take a break and use the restroom. "Boys Better," "Bohemian Like You," and "Get Off" came later and felt epically catchy. Another highlight, "Good Morning" provided such a rich melancholy that one couldn't help but close her/his eyes just to feel the pleasurable waves pass through the thick air hovering about.
The transition from "Good Morning" to "The New Road" was probably the quintessential moment of the set with a flawless moody harmonica piece by McCabe whereas "Horse Pills" was wonderfully as intense as it was catchy. "Solid," a track that both explains the band's live sound as well as a track title, proved quite fun with Taylor singing the melody lines that the horns would otherwise fulfill on the recorded track. Oddly, the crowd screamed the most emphatically when they heard the steady opening drones of "Godless" and Courtney Taylor-Taylor sang "Godless" as if he was cooler than any religious figure.
The fact that the band could play such a strong tracklist for two straight hours and still leave out some of their arguably best tracks ("Cool as Kim Deal" or "Minnesoter" for example) only serves as a further testament to both their longevity and quality as a band that so few others in the music industry are able to proffer. It also led to an unforgettable show. There were no fake encores at the end of their set, either. Instead, we were treated to a flawless and definitely planned Johnny Cash song called "Thanks a lot." While we drifted in awe down the aisles into the dark Halloween night, we took a little of that other rock god with us as he reassuringly serenaded, "No matter what you do, I'll always do love you."