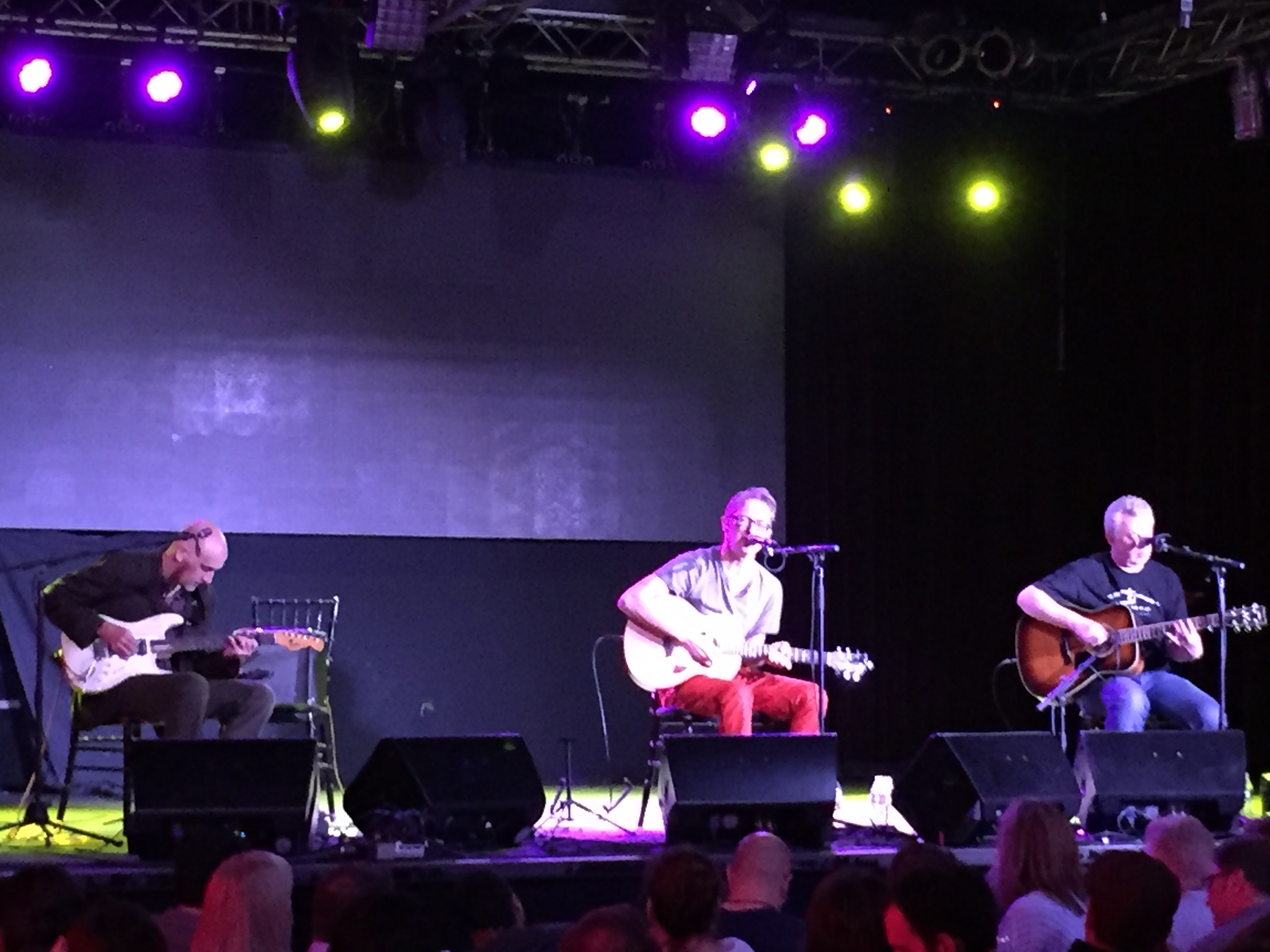 1 June 2018
Following a series of ambitious shows last year in which they attempted to play every song (including B-sides and one-off singles) in their considerable back catalog stretching back to their 1989 debut single "Obscurity Knocks", The Trashcan Sinatras came back to New York as part of a tour in which they are playing the entirety of their first 2 albums, 1990's Cake and 1993's I've Seen Everything. These are, at least in the U.S., by far their most known and loved works, though not their best. Still, I've Seen Everything in particular is exquisite and their first great Lp in a career full of them (though they don't make many, 2016's excellent Wild Pendulum being only the 6th album) and it was a great thrill to see it played from start to finish.
But first, the show started with some songs from 2004's incredible Weightlifting (their career peak). "Got Carried Away," the single "All the Dark Horses" and "Freetime" still thrill, evidence of this veteran band returning after an 8 year gap (their previous album was 1996's UK only, underrated A Happy Pocket) and putting out some of their very best work. And after "How Can I Apply?" (a single from the aforementioned A Happy Pocket), it was time for Cake to be played in full. While Cake is a good, at times great, album, it's an album that doesn't really showcase how great many of the songs are. And in these stripped-down versions (only singer Frank Reader and guitarists John Douglas and Paul Livingston were present, thus making it in essence a Trashcan Sinatras Unplugged performance), songs that suffered from questionable production choices (oddly, they used two of the greatest producers ever, Roger Bechirian and John Leckie, and yet it was far from either's best work) really shined, making songs that sound like whimpers on the original Lp like "Even the Odd" and closer "January's Little Joke" as powerful as the immortal singles such as the aforementioned "Obscurity Knocks" and "Only Tongue Can Tell."
After a short break, it was time for them to close with their 2nd Lp I've Seen Everything. Although many of the songs from these albums have been in their live sets for years, it was still nice to ensure that we'd hear every single song on this 14 song gem, including rarely performed and powerful numbers like "One at a Time" (possibly their heaviest moment, almost reaching Swervedriver-level guitar overdrive on the album version) and "Orange Fell" alongside staples like the great single "Hayfever" and fan favorite "Send for Henny."
Reader, as always, was in fantastic voice and the band seemed to be in good spirits. The venue, decked out with chairs, reminded of the old Bottom Line crossed with a much fancier nightclub, and its acoustics were perfect for the delicate, shimmering music being played on this Wednesday night.
After the I've Seen Everything set, they encored with a few more songs, finishing with their typical closer, the title track from the aforementioned Weightlifting album. A perfect end to a pretty perfect night.