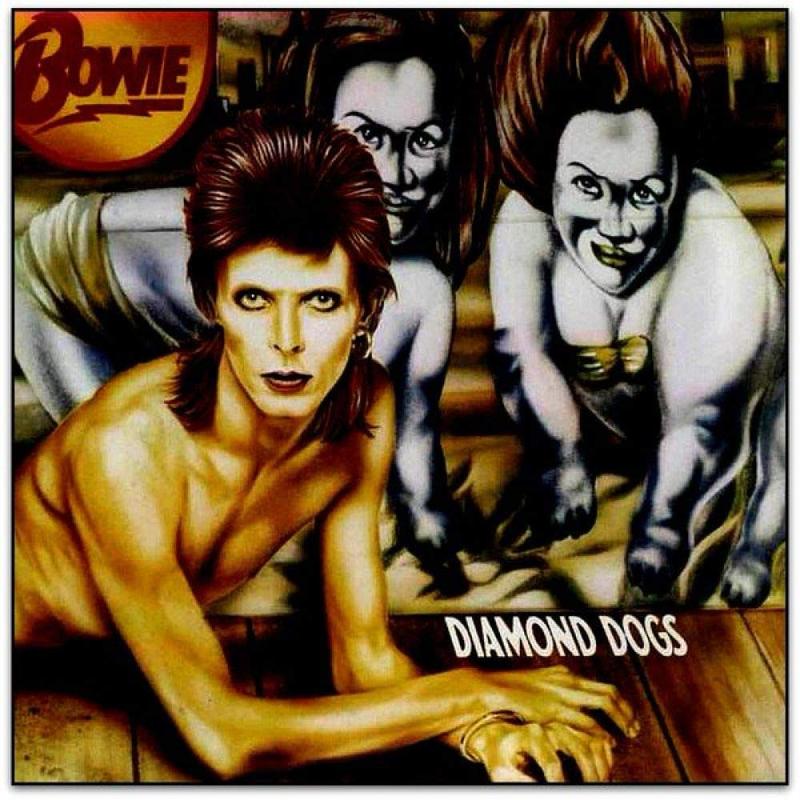 12 September 2020
After sixteen weeks spent in self-isolation, I returned to work in time to receive an instalment of what my company called Covid Pay. With this one-time lump sum, I purchased two seemingly unrelated items: a super pack of non-medical face masks and a vinyl pressing of David Bowie's classic 1974 album Diamond Dogs.
Needle down. Crackle and hiss. The songs were the same but something was different this time. It became clear that there was a connection between the two items that Bowie would have appreciated. Amidst a pandemic, political unrest, and economic distress, Diamond Dogs offers a new translation to a listener in 2020. David Bowie infused his talent for changing personas directly into the album itself as though he knew something that we did not. It is almost if he knew this was coming.
The anguished wail in the album's opening moments implies that the story has been going on long before the needle was set down. In years past, "Future Legend" was exactly that: a legend—mythical, far separated from real life. But to hear it after four months spent in lockdown watching Covid-19 cases rise and images of people digging mass graves to handle the sheer volume of the dead, the act of donning PPE to go pick up groceries renders the terrifying future described in the opening voiceover uncomfortably closer than ever before.
For a rollicking, fun, Stones-like stomper like the title track, its lyrics declare the opposite, describing a world filled with previously unimagined dangers and unexplained human mutations: "With your silicone hump / And your ten-inch stump / Dressed like a priest you was / Todd Browning's freak you was / Crawling down the alley on your hands and knee / I'm sure you're not protected for it's plain to see / The Diamond Dogs are poachers / And they hide behind trees / Hunt you to the ground they will / Mannequins with kill appeal". Bowie does not pull any punches—he states in the song's intro that "this ain't rock 'n' roll / this is genocide".
The fact that Halloween Jack lives in the Manhattan Chase Building, which has since been renamed—ironically, given the album's content—28 Liberty Street, suggests the total breakdown of both the economy and previously held social structures. For instance, in Canada during the first wave of the virus, eviction bans were in place to help those who lost income due to Covid-19. Although the virus and its resulting economic hardship is still very much with us, those bans are now being lifted and residential evictions have begun. Some who never imagined that they would be facing homelessness are now moving into tent cities. And all before a second wave of the virus. Similar situations are happening in a number of countries, including the United States. Manhattan Chase/28 Liberty Street may not be vacant yet, but our social structures are changing in ways that many of us have not seen in our lifetimes.
Next, the ominous "Sweet Thing" creeps in and descends upon the listener. It is a depiction of solitude and depression relatable for many, particularly early on in the first wave: "Like a portrait in flesh / Who trails on a leash / Will you see / That I'm scared and I'm lonely / So I'll break up my room and yawn and I / Run to the center of things". Bowie's guitar solo in the closing forty seconds of "Sweet Thing" captures perfectly the strangeness and aching dismay of emerging from quarantine and into a new world full of masked faces.
Diamond Dogs is also a deeply political album due to its central theme of societal decay under a tyrannical figure. 2020 will be remembered for not only a pandemic but also for a particularly important presidential election. In this light, "Candidate" is eerily prescient: "I'll make you a deal / Like any other candidate / We'll pretend we're walking home / Cause your future's at stake". The song also contains the most graphic depiction on the album of public protest in an age of paranoia and the politics of fear: "But we can't stop trying 'til we break up our minds / 'Til the sun drips blood on the seedy young knights / Who press you on the ground while shaking in fright".
Despite anxiety over public health and economic uncertainties, the pandemic brought with it an unexpected silver lining. The weeks spent in government-mandated lockdown provided many with extra time to spend with family, for artistic pursuits, and general rest and relaxation. Children who may have been bullied in school were suddenly at home, away from their aggressors, and free to be who they are. "Rebel, Rebel" remains as euphoric a celebration of individuality in 2020 as it was in 1974: "You've torn your dress / Your face is a mess / You can't get enough / But enough ain't the test". Many of the societal pressures to conform were blown away the moment we were all told to stay home.
Much of the "hot tramp" stuff is rendered practically meaningless in self-isolation, but the spirit of the song encourages its listener to reject arbitrary standards imposed upon them and to forge their own path: "They put you down / They say I'm wrong / You tacky thing / You put them on". It is a song about transition. The "Rebel" of 2020 has learned that the way we operated in the past may not be how we continue into the future. There are other ways go to work (over Zoom, for instance) and perhaps a traditional classroom setting is not as necessary as we have been led to believe. "Rebel, Rebel" transcends its glam rock roots and stands as a meaningful anthem for our time.
Personal focus shifted from the external to the internal for many in isolation. The issue of hope is threaded through the album, although it stays pretty much under the radar until we arrive at "Rock 'N' Roll With Me" and "We Are The Dead". The latter may be the most forthright of the two to simultaneously tackle both the desire for connection with other human beings and downright terror at an outward reality: "Now I'm hoping someone will care / Living on the breath of a hope to be shared / Trusting on the sons of our love / That someone will care / Someone will care". While some isolated with family, many isolated alone with only social media and other technology to provide the fellowship they need. As a result, mental health soon suffered and more looked outside themselves for hope.
People found new ways to step up and offer that hope. In England, for instance, citizens stood and applauded healthcare workers during their shift change every Thursday night at 8 p.m. in gratitude for their service. When the virus shut the doors of long-term care facilities, families and friends showed up for window visits with their loved ones. Some performed concerts for the elderly outside their homes, while others went grocery shopping for those who were in high-risk groups. The speaker in "We Are The Dead" whispers his private concerns while taking continual steps back to acknowledge the gravity of the larger situation at hand—a duality relatable to anyone after several weeks into the pandemic.
"1984" and "Big Brother" were conceived as part of a musical Bowie was planning based on George Orwell's novel 1984, but when Orwell's widow denied him the rights to the novel, the plan ended there. "1984" begins and ends with bells that bring to mind The Twilight Zone, but you will not find Rod Serling here. In "Big Brother", images of death among the living are discussed openly—as it must be in a world where one has no choice but to face it head on: "Don't talk of dust and roses / Or should we powder our noses?".
Despite taking its initial inspiration from Orwell's novel, Diamond Dogs bears an equally heavy resemblance in terms of thematic elements of urban decay, economic hardship, and the struggle against tyranny to the 1920 German Expressionist film The Cabinet of Dr. Caligari. Its influence is evident even in the slanted, off-kilter look of the buildings erected in the Hunger City set from his short-lived tour for Diamond Dogs. Given David Bowie's interest in German art and culture, it is likely that he would have known this.
Although later releases of Diamond Dogs ended with bonus tracks, the original vinyl album ends on a mock-up record skip at the end of "Chant of the Ever Circling Skeletal Family". The word "brother" is repeated—stalled—leaving the story forever inconclusive. With neither a clear beginning nor resolution, Diamond Dogs stands as less of a complete story and more as an episode, a piece of a larger saga. The ending is up to us.
Diamond Dogs has much to remind us about life under pressure and how to stay human during unprecedented change. It serves as yet another example of David Bowie's continued relevance in a new world that we did not expect to have to live in. Hunger City has only one advantage that our world does not. In an age of physical distancing, we may be able to jump into the river but we still cannot hold hands.