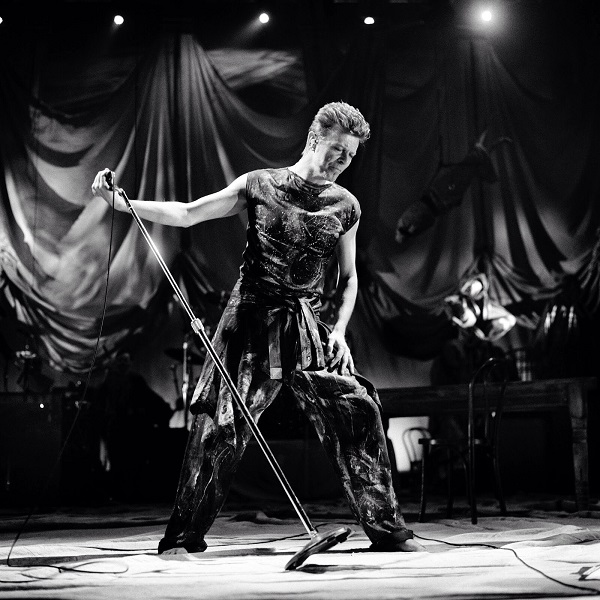 8 January 2020
"The music is outside, it's happening now".
Today, 73-years-ago, David Bowie was born. From his catalogue of albums, choosing one to celebrate his influence, and creativity is near impossible. However, one from the last quarter of his life stands out, a work that equals his earlier output in every which way, – 1. Outside.
Simple choice really, it's as important as any other of his releases. An album released at the height of the 90s Britpop era. Where bands such as Blur, Suede, Oasis, The Manic Street Preachers, Pulp, and countless others dominated. Ironically, all who had taken influence from Bowie's music. Now as their time had come David Bowie unleashed one of his most remarkable works since his seventies chameleon heyday. 
The eighties had been both kind and cruel, with the MTV success of his album Let's Dance which single-handedly had driven his career once more into the stratosphere. The albums that followed dragged it down again. A disappointing outcome for the man who had literally owned the seventies. It was not until the release of 1993's Black Tie,White Noise where Bowie found form again. Rejuvenated possibly through his Sound And Vision Tour along with the re-release and remaster of his earlier albums onto the compact disc format. But he had through this, and the bombastic Tin Machine find a new audience. And the timing was perfect, as Bowie found himself hungry to make a new musical statement.

The importance of this concept album lies in the reuniting of Bowie with
Brian Eno
. His musical collaborator on the
Berlin Trilogy
of experimental albums-
Low
,
Heroes
and
Lodger
. Here, Bowie took influence from the new wave electronic bands of the 70s, and sculptured his own electronic soundscapes to astonishing affect. Almost eighteen-years later the pair reunited for this adventure. This cyber-noir storyboard was slightly lost on some of the nineties generation, who wanted quick, guitar driven songs they could relate to. Although singles were released and where largely successful, -"The Hearts Filthy Lesson", "Strangers When We Meet" and the drum driven masterpiece "Hallo Spaceboy", on release given a
Pet Shop Boys
mix for maximum impact.
The album itself clocks in at nearly seventy-five minutes, making it Bowie's longest work. With forethought to the problems this may cause, the art over weighted the intent, and it was released as a whole. After all, this was the decade where Bowie could enjoy creating music as he was enjoying life and his marriage to the model Iman. However, here more so than on any other album is his talent documented, as David Bowie went to the studio without a song written, and instead decided to write during the warm up sessions beside the band. This is the true display David Bowie's actual genius, his ability to construct an album of worth from nothing.

The albums narrative lies in its subtitled name,
"The Nathan Adler Diaries: A Hyper-cycle"
. A sci-fi theme once again, but this was more 'Bladerunner' than
Ziggy
. Set against the backdrop of the futures dark landscape, on the eve of the 21st Century, a government agent called
Nathan Alder
, assigned to investigate a new crime phenomenon known as art crime. Where people are murdered, and their bodies mutilated. Alders job then is to decide the line between art and crime, this dystopian nightmare then becomes aligned with the murder of one fourteen year old girl. 
The range of characters Alder comes across drop in and out of the albums narrative. This, in-turn mirrored, as Bowie intended, the anxieties felt in society in the lead up to the new millennium. An interesting album, with an electrifying, deep concept. Brian Eno gave it that sci-fi, ambient feel to the extent where on listening to it, the album is ageless and could have been released today some twenty-four years later. 

1. Outside
was received poorly. The narrative was thought too heavy for listeners, that it may actually take away from the music itself. With its intrusive monologue, and over indulged characterizations, at times instead of adding to it acted as another intrusion into the album which was thought to be its downfall. But, as always, the lyrics were praised, and finally longtime fans had a release worthy of the David Bowie name. The first, experimental quality release since the
Scary Monsters
album before the eighties, money driven
Serious Moonlight
tour, and before the decline into self absorption.
As always, a revaluation of this dark, punk, dystopian tale, was given a full overview as times passed. The result being that 1. Outside is David Bowie's true masterpiece, some holding it in higher esteem above Station To Station, Diamond Dogs and even his final hurrah Blackstar. A bold statement, and one which will always split the fans, but there is no denying its longevity. How it has stood the test of time, sounding so fresh and accessible. As exciting as any other album he produced before or after. Maybe it was the relaxed atmosphere Bowie had found himself in -married, settled and happy. With absolutely no pressure from record companies to produce a hit. These reasons may have opened his senses up to create an album of this quality, an album that deserves to be revisited, and played at maximum volume.