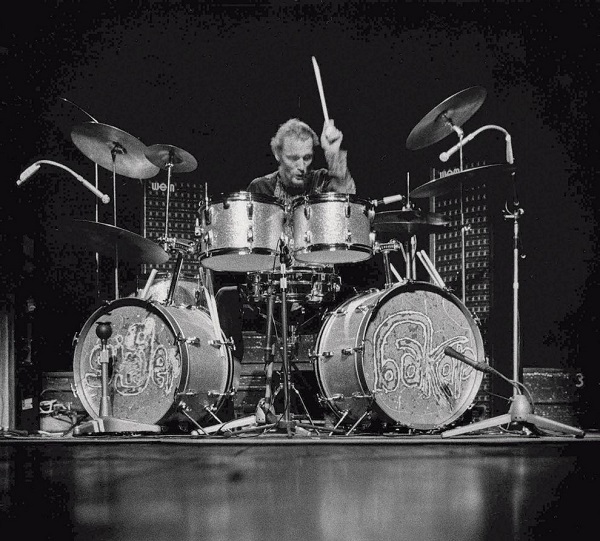 6 October 2019
"His playing was revolutionary – extrovert, primal and inventive." Neil Peart on Ginger Baker 
Something happened in the sixties music scene, apart from those advances through experimentation, members of bands became central figures through their own prowess. The drummer, the backbone of any band at the time began to take a more central role, investing and adding to the sound. At times making a name for themselves above the frontmen, and creating a legacy of influence which rattles through the floorboards of music venues. 
At the centre of all this was the animal Keith Moon drummer for The Who, his chaotic self-taught style created the classic sound of The Who as we know it. The sixties also gave rise to John Bohnam, the powerhouse and essential quarter of Led Zeppelin. In between both of these is another innovator, sometimes overshadowed by the cause of his influence, but an important part of the evolution of the drum sound, the late Ginger Baker. 
""If a plane went down and there was one survivor, it would be Ginger," Elizabeth Ann Baker 
Born Peter Edward Baker on August 19, 1939, Ginger Baker found fame in the early sixties with the Graham Bond Organisation. It was with this outfit that he would meet future Cream bandmate the late Jack Bruce. Forming Cream with the added technique of ex Yardbird Eric Clapton in turn cementing what would become a revolutionary outfit. Their blending of psychedelic rock and hard rock made them a standout of the sixties, although lasting only two-years they managed to release four albums of quality material. 

After the implosion of Cream Clapton went about forming a new supergroup, dubbed the first of its kind with Traffic frontman Steve Winwood and Family bassist Ric Grech. Retaining his Cream bandmate in Ginger, this outfit known as Blind Faith, lasted for only one album, but this self-titled outing hit the number one spot on both sides of the Atlantic. With all involved heading in different directions, Blind Faith only lasted a few months, along with an album the band done only one tour. By accounts from Clapton it was Bakers drug-use that ended the legend of Blind Faith, by the end of the US tour he was using heavily. 
As far as the music was concerned there was no hanging round for Ginger Baker, he returned with his own charge, a supergroup wrapped in jazz-fusion and blues rock, known simply as Ginger Baker's Air Force. Involved in this project was Denny Laine of Wings, again, Steve Winwood and Ric Grech, with Graham Bond and Chris Wood along with two further drummers with afro rock legend Remi Kabaka, and jazz purist Phil Seamen. The sound of Air Force hinged on beats, and the newfound importance of African rhythms within a rock format. Baker is regarded as the first rock musician to realize the potential of African music, not only that but to harness its sound and textures, but it was the death of Jimi Hendrix that prompted his first seclusion from the rock world. 
Widely reported is how in September 1970, Ginger sat on a toilet in the London airport injecting heroin into himself while the touring Sly Stone watched. From there hitting the town with Hendrix's drummer Mitch Mitchell, and armed with two bottles of cocaine, the pair decided to track Jimi down and get high. As Hendrix was nowhere to be found, and as they were out of heroin, Baker injected what was left of the cocaine into himself, suffering a near-fatal overdose, and not for the first or last time. Ginger Baker was lucky to survive that night, which was the night Jimi Hendrix died choking on his own vomit. At that moment a revaluation of his excess was needed, and a change of scenery.
After the episode Baker relocated to set up a recording studio in Lagos, the then capital of Nigeria. Here he soaked up the music, the sound and the culture with which to integrate into his music. When the studio opened in January 1973, it was here that Paul McCartney And Wings recorded their breakthrough album Band On The Run. However, by the following year Baker had formed Baker Gurvitz Army with brothers Paul and Adrian Gurvitz.  The first of three albums the outfit produced charted well, mixing hard-rock and at times jazz fused metal. The following two albums, Elysian Encounter and Hearts on Fire whilst critically praised however they did not make any impact on the charts. Eventually the outfit was dissolved and Ginger was a gun for hire once again. 
In 1980 Ginger joined Hawkwind. After playing on the Levitation album and touring, he departed the following year. After a reported 29 episodes of cold turkey between 1964 andl 1981, Ginger Baker finally got clean from heroin. After the failure of his Lagos studio, he relocated again to Italy, it was here he found the sobriety needed. The rest of the eighties was a quiet period in the world of Ginger Baker, except for the unusual session work on John Lydon's Public Image Limited Album. The nineties seen little activity from Ginger apart from appearances with session work, and short term band activity such as New York based Master Of Reality. A prog-metal outfit, fronted by Chris Goss recorded one album with Baker, 1992's Sunrise on the Sufferbus. 
Into the new millennium and a monumental standout with the Cream 2005 reunion, which seen a series of dates in London's Royal Albert Hall, and New York's Madison Square Garden.  While short-lived and at times a tense affair it did rejuvenate Ginger into action again, touring the Ginger Baker Jazz Confusion, a quartet comprising of Pee Wee Ellis, bassist Alec Dankworth, and percussionist Abass Dodoo. From this venture came the album Why? in 2014, his first solo effort in sixteen years and last before chronic obstructive pulmonary disease took hold. The years of excess had caught up with him. 
With a questionable character, and at times an imperfect lifestyle there is no denying the impact Ginger Baker has had on rock music. He was the most imitated drummer of the sixties, with his double bass drums he created the hard rock, fusion and heavy metal framework. Without him for inspiration, the force of the original metal bands would have lacked a certain power. Although he is responsible for creating the modern-day drum solo in rock, heard first on "Toad" from Cream's 1968 Wheels Of Fire. At the time drum solos existed in works by Art Blakey and Buddy Rich, but Ginger Baker lit the flames all rock drummers followed. His legacy is in the sound pounding from a double bass drum, and every fill that rattles like a machine gun. 
Peter Edward "Ginger" Baker (19 August 1939 – 6 October 2019)