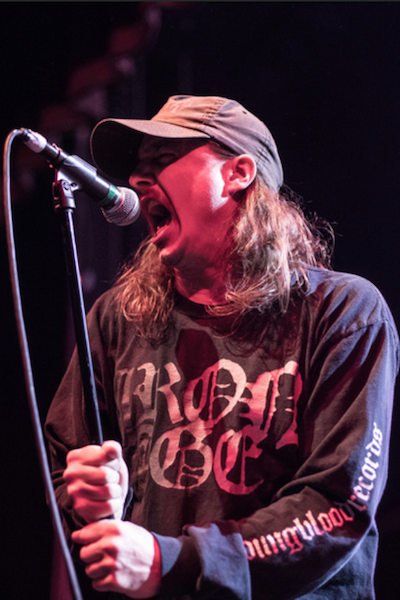 29 August 2020
Photo: Tim Bugbee
In March 2017, Power Trip played a house party in Boise that I was fortunate enough to attend. It was the third time I had seen them, after catching the Texas band on a festival bill in May 2014 and opening for Lamb of God, Anthrax and Deafheaven at Hollywood's famed Palladium in February 2016. (One of the better metal concert lineups assembled in recent memory, at least on paper.)
The Boise house party — also featuring Destruction Unit, Primal Rite and Ingrown — was in some dude's crappy basement, its ceilings low enough to accommodate only those with a modest height. About 50 sweaty, ugly Idahoans clad in black clothes crammed into it. I was in the very front, my arm propping up the lead guitarist's monitor so it wouldn't topple over. Power Trip's charismatic frontman, Riley Gale — who died this week at age 34 of yet-unknown causes — grew increasingly frustrated throughout the performance, distracted by the encroaching swell of frothing kids. Power Trip played about seven songs before they decided it was too much; the once-blurred line between crowd and band had dissolved completely, the musicians enveloped by attendees like trees in a forest fire.
The following November, Power Trip returned to Boise, opening for Cannibal Corpse at the Knitting Factory. It was there that we could see the band in all its splendor, with well-manicured acoustics, and an electric and energetic presence onstage untainted by audience interference. Riley referenced the house gig the band had played mere months before, chuckling at memories of it while clearly in awe over how high the band's star had risen since then.
I caught them for the fifth and last time at Psycho Las Vegas last year, when they played stagnantly but solidly on one of the more unlikely of venues: a raised stage in the middle of a pool above dizzied onlookers. I saw more people wearing their shirts than those of just about any other band at the festival.
Last year, I wrote a lengthy series of profiles previewing bands billed for Psycho and was lucky enough to interview the good-natured, good-humored frontman among them. Check out our conversation here.