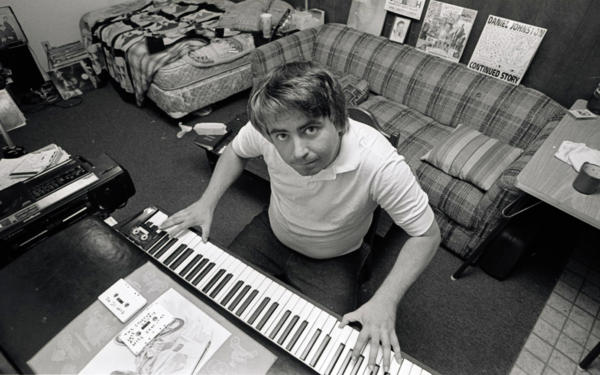 13 September 2019
"To understand and be understood is to be free". Daniel Johnston
Once upon a time Kurt Cobain was photographed wearing a T-shirt featuring the cover image of Daniel Johnston's album Hi, How Are You. This simple act showed both the reverence and respect that the lo-fi king Daniel Johnston had gained. The outsider artist who garnered the words cult status, and through no fault of his own lived his life as an anomaly in music. Though one thing is certain, as the man left this world due to an apparent heart attack at his home in Waller, Texas, on September 10, the lessons he has taught us will never be forgotten. His sound existed somewhere between Neil Young and Tom Waits, whilst his expressionism held an innocence matched by a realistic, graceful tone. The DIY ethic in terms of recording music set him apart but also made it a more personal statement, and now as his life is extinguished his impact will be endless. 

To understand Johnston, it is best to separate him from the typical rock star, not because he was any less appealing but because he is in a category which is completely askew to what we think an artist is or should be. The late troubadour was born in January 1961 in Sacramento, California, Johnston up in New Cumberland, West Virginia. His first recordings are traced back to his tenure at Kent State University, during which, he recorded
Songs of Pain
and
More Songs of Pain
. Though he first came to prominence after a move to Austin, Texas, it was here the legend of Daniel Johnston was born. His method of distributing cassette tapes of his recordings became legendary, throwing him into the spotlight. In the time, when musicians turned into businessmen, Johnston presented his music as the art it should be, free to be enjoyed. 
The 1983 release by Daniel,
Hi, How Are You
was the first to achieve attention. Five-year after that initial issue it became the primary album of Johnston's released on vinyl by
Homestead Records
. It was the first time that his cassettes reached z different medium. The album however was also a varied mix unlike his previous output. For a lo-fi release it was augmented by experimentation with ambient collages instead of the piano or organ foundations his material usually took. On a personal level, it was recorded at the time of an apparent nervous breakdown, his struggles with his bi-polar condition and varying degrees of mental health issues meant the struggles within his mind were channelled into the albums fifteen-tracks. Although subtitled as an 'Unfinished Album', the work stands out amongst his output, the purity of the lyrics renowned as some of his finest.   
Following from
Hi, How Are You
came
Retired Boxer
recorded in 1984 and released early '85. This set of nine tracks contained perhaps his most well-known song; "True Love Will Find You in the End". As
Respect
followed shortly after, as to did Johnston's recording with the
Texas Instruments
on the release
Continued Story with Texas Instruments
. His collaborations continued, and on '89s
It's Spooky
, this time Daniel collaborated with singer
Jad Fair
of the band
Half Japanese
. The twenty-five track release (cut back in length on vinyl), presented versions of the
Beatles
classic "Tomorrow Never Knows" and a
Phil Ochs
number "Chords Of Fame". Both representative of Johnstons taste and influences, often quoted as a Beatles collector.
At the start of the nineties, Daniel's health deteriorated, resulting in manic episodes leading to a stay at a mental institution. Around this time he came into the spotlight with the aforementioned T-shirt wearing Cobain, unawares a bidding war by major labels began, leading to him signing with
Atlantic Records
in 1994. The resulting release, 1996's
Fun
produced by
Butthole Surfers
guitarist
Paul Leary
, became a commercial failure and Johnston was dropped from the label in '98. The subject was examined on Daniel's 2001 acclaimed
Rejected Unknown
, however, between that recording and
Fun
were two live albums,
Frankenstein Love
and
Why Me?
. Both may not have caught the public's attention, but they remain a view into the artists mind, and his live prowess.
In his career since 1980, Daniel Johnston recorded and released approximately twenty albums of material, mainly on cassette. He had no hit albums or singles, no pretentious ego to be anything but the vulnerable, gifted man who thrived within  the most simplistic of creations. His artistic flair for comic books, similar to his music have become a treasured part of the Daniel Johnston's creativity. Adorning his album covers, the mark of folk patronage, the DIY ethic in every aspect. The 2004 double-CD release The Late Great Daniel Johnston: Discovered Covered contained a disc of his songs covered by artists including Tom Waits, Beck, Calvin Johnson, Death Cab for Cutie, Sparklehorse, Mercury Rev and The Flaming Lips. This move highlighted the scope of Johnston's influence along with introducing him to a new audience. In truth, the early recordings of Daniel Johnston hold the appeal, and unique qualities of the field recordings done by Alan Lomax. The cassette releases contain a raw form of beauty, with the hiss dissipating as the listener becomes interwoven within the lyrical web of Johnston's talent. 
"I've got something to live for, because I always wanted to be an artist; I always wanted to be famous."