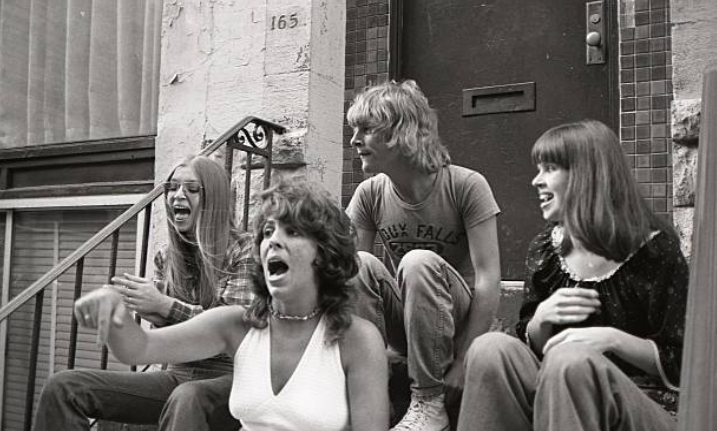 24 October 2019
Okay, stop me if you know this or if you have heard it before, but it is always worth asking the question- what is really going on? 
The Rock And Roll Hall Of Fame announced next years inductees- MC5, Thin Lizzy and so on. With the voting system which I personally feel is slightly unfair to the artists who miss out and instead why not induct them all. If they qualify, put the work in and devote their lives to making music that after twenty-five years is still relevant then yes, just give them the plaque in Cleveland. For one thing it should not be a competition of who is better than whom, as they all have a specific audience, as we all have specific tastes. There have been a lot of backlash again this year as to the lack of female nominations, rightly so, it should be an even split as we do live in a twenty-first century society of equality!
Of the sixteen acts nominated the female contingency consists of Rufus featuring Chaka Khan, the late Whitney Houston, Pat Benatar and….. well that's it. 
That is a slight bit light, and problematic. It is were me, and to even things out perhaps make things fairer there are a few acts of female prowess which have been disgustingly overlooked. One journalist stated perhaps it was the lack of albums by some of those female artists, to that I say MC5 released three albums in their lifetime, and the late The Notorious B.I.G. who is also nominated released two.
So, take, for example Tina Turner, she was inducted as a part of the double act Ike And Tina Turner now we all know the truth of that relationship as it is widely publicized. But like the name she fought to keep, and the battle to build a career as a solo artist, that very name and career has been regularly ignored. Given she has won twelve Grammy Awards, along with holding a Guinness World Record for concert attendance, she also sold enough albums to plug the hole in the ozone layer. 
Whatever the motivations are to include three female performers is, ultimately a question which can only be answered by the powers that be. For now, here are some of those women who deserve to be in there, but more so, deserve a justifiable explanation as to why they are not.
1.Shangri-Las
An all-female outfit from the sixties, who through influence paved the way for the all girl groups of the seventies and beyond. Though this group had a rebellious streak, and an edge of danger within their music with hits "Leader of the Pack", "Remember (Walking in the Sand)", and "Give Him a Great Big Kiss". They disbanded originally in 1966, but The New York Dolls, Blondie, The Jesus And Mary Chain, Amy Winehouse and even Belle and Sebastian cited them as an influence. Rightly they returned to the stage on the altar of CBGB's in the late seventies before calling it a day. This a no-brainer induction. 

2. Cher 
Yes Grammy Winner, Golden Globe Winner and Oscar Winner, along with icon who is currently touring the world has not been inducted. A versatile artist who has crossed genres from pop, soul, disco, folk, and rock over five decades. At this stage she of her career she has done it all, and perhaps may not give a second thought to an induction, but seriously a celebration of her talent should be top of the list beside Tina. 

3. Dolly Parton 
Dolly keeps it country but crosses over nicely to rock music. After all The White Stripes did cover her hit "Jolene". A song which has become as iconic as the lady herself. But, the fact she is within the country and western spectrum is not a downside as the Rock And Roll Hall of Fame have inducted jazz genre musicians such as Miles Davis, but not John Coltrane. 

4. Suzi Quatro 
In the days after the nominations this year, Suzi was quite vocal on her opinion of the whole fiasco, and she has a right to be. This girl from Detroit rose to overnight fame across Europe in the early seventies. A magnetic influence to girls everywhere to pick up a bass without fear and make some kick ass music. A point made in the documentary this year Suzi Q which lays out not only why she should be inducted as well as 'why isn't she?'

5. Fanny 
This is a travesty on a huge scale. An all female group who played some of the most incendiary music of the late sixties and seventies. They sweat rock and roll, pumping a sound which has sent vibrations through the music world long after their 1974 split. It is worthy to note that even David Bowie was a fan back in the day. Coincidentally the sister of the aforementioned Suzi Quatro, Patti Quatro played guitar on the last Fanny album Rock And Roll Survivors. Those Quatro sisters have got the raw deal of recognition so far. 

6. The Runaways
As a fan from back in the day, and watch as one member Joan Jett was inducted with The Blackhearts I could not help but wonder why?. The Runaways were the rebellious punk band the world needed in the seventies, the fact they were female was beside the point. They influenced so many others, but yet, the remainder of the band, Cherie Currie, Lita Ford, Jackie Fox, and the late drummer and powerhouse Sandy West have all been passed over for the outfit they were. 

7.The Go-Go's 
The Go-Go's are important, and influential. The first all-female band to write and record their own material which reached the top of the Billboard top-100. That was their debut Beauty and the Beat, which came to be the very definition of American new-wave. But they disbanded after three albums in 1985, though reconvening at different occasions across the decades. There is no denying the impact of that classic lineup of Caffey, Carlisle, Schock, Valentine and Wiedlin had on music in general along with the all important influence factors. 

8.Kate Bush 
This is where it really hits home. Kate Bush is not only a cult figure but one of the most influential and talented songwriters of our generation. There is not a single female, or male singer-songwriter in today's rock music landscape that has not been touched by her gothic magic. Though Kate's talent is intimidating, "Wuthering Heights" aside, at the age of a mere thirteen she wrote the shimmering classic "The Man With The Child In His Eyes", that is a scary amount of talent. 

9. Eurythmics 
They are a duo, but there is no denying that voice of Annie Lennox. Almost four decades after they came to prominence it is almost impossible to escape a day without hearing at least one of their songs played on the radio. Though another point is Annie released her solo album "Diva" in 1992, so, she qualifies as a solo artist. Winning an Oscar and a Golden Globe for her song "Into The West" (Lord Of The Rings movie), along with four Grammy Awards somehow doesn't guarantee entry in the RARHOF. 

10. PJ Harvey
What Polly Jean's thoughts may be on the concept of a nomination is besides the point, her contribution to music along with her presence is undeniable. Nine-albums since 1992, each one as brilliant as the next, eligible since 2017, passed over, so far. But, not a pop star but more a force of nature in the alternative scene. 

In reality, highlighting the subject may not make a difference, as the Rock And Roll Hall Of Fame is a Titanic, then again this is the tip of the monumental iceberg they will eventually collide with. And it really doesn't stop there, as the acts with a strong female presence are also a point of conjecture. These include- Kim Gordon of Sonic Youth, who seriously  should be there, as should Kim Deal with the Pixies. The B-52's with the duo of Kate Pierson and Cindy Wilson, and of course Kristin Hersh of Throwing Muses. It is not to say there are not Male, influential artists left out of the scenario such as cult figures Nick Drake, Gram Parsons, and Joy Division. That however is another days work.