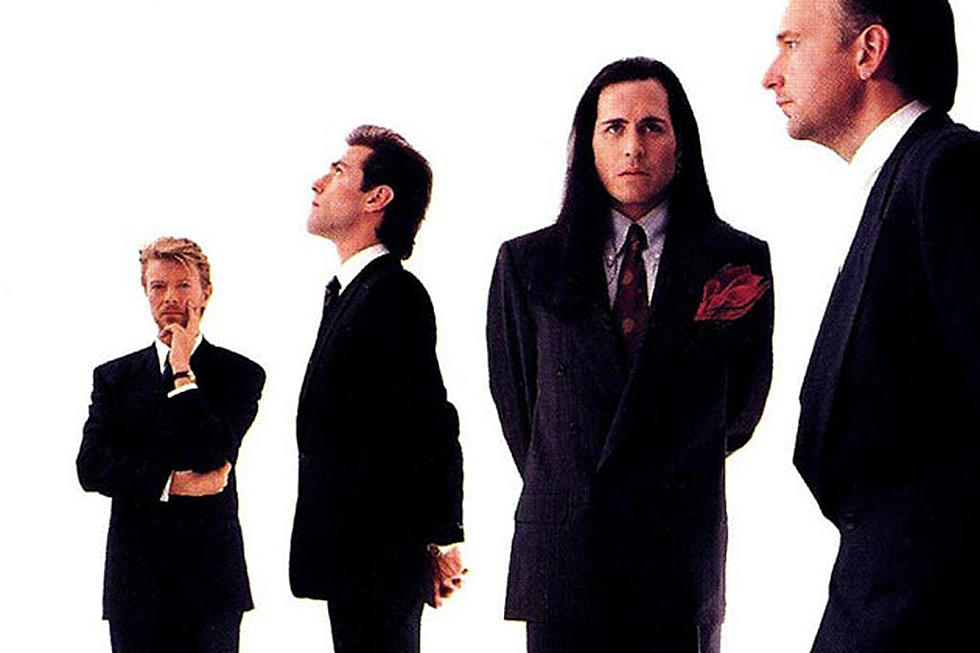 6 September 2019
".. I'm pretty good with collaborative thinking. I work well with other people." David Bowie 
On the 23rd of May 1989, David Bowie released what is considered one of the finest moments of his eighties career. This time he did not do it purely on his own, he did it as part of a band. A move, that may have sounded strange to see the artist who owned the seventies become a mere sideman. Apprehension subsided as this musical shift worked to spectacular effect, and so the incendiary, garage-rock of Tin Machine was born.
The drummer Hunt Sales and his bass playing brother Tony Fox-Sales are renowned as the most dangerous rhythm section in music. These American born brothers are legendary sidemen, for a perfect example of their work listen to Lust For Life by Iggy Pop, or the 1977 proto-punk album by Pop and James Williamson (The Stooges) Kill City. Their raw, deafening talent, oozes in every beat as the two work almost exclusively together.  They are two instruments connected through blood, working instinctively with an almost telepathic operation.
If you need impact on an album, these are the guns you hire. David Bowie had previously worked with both brothers when producing and co-writing Pop's 1977 album Lust For Life, he knew too well of their capabilities. Not since Bowie's work with Mick Ronson in The Spiders From Mars (Bowie's Backing Band 1970-1973), was he in need of a special ingredient within his sound.  After the positive sales of his last album, 1987's Never Let Me Down, the negative critical hammering by the press, and hardcore fans alike of both the album and the hugely extravagant Glass Spider Tour  had left him jaded. Reminiscent of the seventies he was again hungry for a change in his direction. Along with the Sales brothers a guitarist was chosen for this avant-garde, noise rock project, found, in future Cure guitarist Reeves Gabrels. And so in the summer of 1988, the Tin Machine was born, shirking off the pop-based image Bowie had submerged himself under in the earlier part of the decade.
The band relocated swiftly to work on their first studio album, even though demos were readied in Los Angeles, the recordings took place proper in three different studios, Switzerland, Montreal and Nassau. Used fully to their advantage in giving a different scope of sound across the album. In fact there is a clear lack of overdubs on the resulting, self-titled release. A raw explosion was what they wanted to capture, this was achieved by very little tinkering with mastertapes and the result of so many extended jams. At the behest of the band, there was very little rewriting of lyrics by Bowie, the natural state was thought to be the best direction, thus creating a Lou Reed style approach to songwriting, a delivery of honest, and raw themed art.
Pressure to release critical and fan pleasing material subsided as they started to piece the intense work together. The album known simply as Tin Machine is a much more free flowing, and enjoyable experience than Bowie's previous eighties efforts.  It is heard clearly in the music itself as the Sales brothers and Gabrels take centre stage frequently throughout the album. Working with a band as a unit, similar to his work with the Spiders From Mars, Bowie was not just a singer with a backing band, this was a launch pad helping to fire David Bowie back to his creative edge once more.  
The song subjects themselves seem to hark back to the glory days of Diamond Dogs with a more modernised approach. Themes of urban decay, drugs, poverty, politics with an anti-racism message running throughout the majority of songs, including the albums first single "Under The God". An unusual step was taken to release the self-titled album before its lead single, which may have resulted in its poor performance on the UK singles chart, not breaking the top 50.
Tin Machine erupts with the funk-grunge of "Heavens In Here", a walking, riff-heavy track, bluesy with a slice of The Doors influencing the mix.  Further along are other delights, such as an almost unrecognisable cover of John Lennon's "Working Class Hero", whereas, the song "Crack City" is simply a self-portrait of Bowie's addiction in the seventies.  Of course all this was reinforced by the anthemic "Tin Machine", the call to arms, portraying the very essence of the band. The album released three decades ago in 1989 was met with critical praise, an almost return to form with a stylish but brutal aggression displayed throughout. Performing well in the charts, reaching number three, in contrast short term sales may not have been positive, though today it has gained an almost cult-like status. 
Bowie himself stated in interviews that he was reinvigorated by the band, this was not just a return to form as he publicly started to disregard his previous three albums, acting like this was the true follow-up to 1980's Scary Monsters. Everything about Tin Machine, both the band, and the album was the opposite to the Never Let Me Down experience, low sales versus critical acclaim, exactly what Bowie wanted to achieve in his rejuvenating mission statement.
A low key tour began with smaller venues, again launched to both critical and fan praise. With some criticism directed towards Bowie's role as a sideman in a band, basically not being the theatrical, flamboyant star of past tours.  At this time however, in 1989, Bowie's past catalogue was going through a remaster overhaul by EMI. This prompted a break from Tin Machine in favor of a greatest hits tour, the well-received Sound And Vision Tour which took up almost the whole of 1990. A split from EMI resulted at the record companies dismay at the thoughts of a Tin Machine follow-up album. With the lack of hit singles to consider and a lack of long-term sales, there were very few in favour of Bowie's future project. Although a new record company beckoned in Victory, a subsidiary of JVC, and they were quick to welcome any new David Bowie material, even if it was a collaborative effort.
Work commenced shortly after on Tin Machine 2, dogged by Hunt Sales spiraling drug addiction, which began slowly hammering nails into the Tin Machine coffin. Tin Machine 2 released in September 1991, again to outstanding critical acclaim, followed with a mammoth tour titled Its My Life. This culled a live album released in 1992 Tin Machine Live: Oy Vey, Baby, met again with poor sales, and talk of breaking up of the band.  Hunt Sales health and the albums poor performance prompted an end to Tin Machine.
In later years, the fact remained that David Bowie was again ahead of the game in his work with Tin Machine. This was shown as what happened within the nineties' music scene, with the arrival of grunge and Britpop.  Artists and bands became more guitar based, less reliant on drum machines and synthesisers as was the standard in the eighties. Ironically, the man who engineered and produced both Tin Machine albums- Tim Palmer, would go on to mix albums such as Pearl Jam's breakthrough Ten along with other decade defining albums by Porcupine Tree and Faith Hill. 
Bowie may not have influenced the genre, but he certainly foretold it when he hit a career low, and a punk-roots band helped reignite his creativity. This led to some of the best music of his career starting with 1993's number one album Black Tie, White Noise and continuing right up to his final breath of genius 2016's Blackstar released to the public two days before his untimely passing.