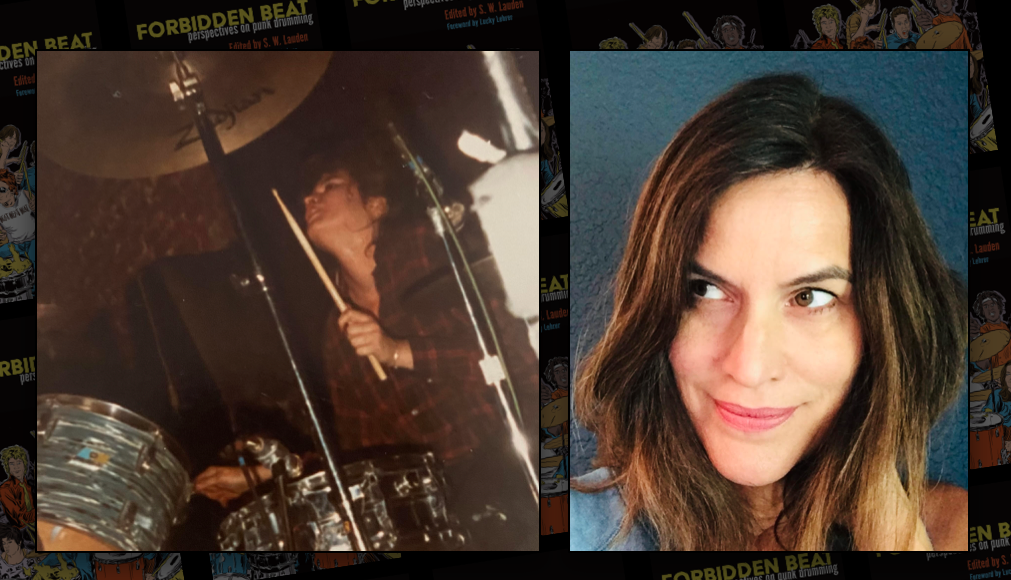 8 February 2022
Exclusive essay excerpt from Forbidden Beat: Perspectives on Punk Drumming.

Lynn Perko-Truell is a founding member of and currently plays with Imperial Teen. She was a founding member and drummer of Sister Double Happiness, drummer for the (SF) Dicks, and all-girl hardcore band The Wrecks.

"You're Pretty Good For A Girl"
(
Forbidden Beat
chapter excerpt)
By Lynn Perko-Truell
I moved to San Francisco at the end of 1982, and in 1983 I met
Gary Floyd
through a mutual friend. His band, the Dicks, formed in Texas but he wanted to reform it in San Francisco. He asked me to try out. I heard there were three other guys trying out too, so I knew I had to come in strong, confident, and prepared. At some point, the challenge to be better than guys at playing drums crept in and greatly inspired me.
At the time I was practicing at the Vats, an infamous punk live/work/practice place in San Francisco that was once a brewery. There was a guy there, likely a speed freak, but he was also a drummer. He knew I was going to try out for the Dicks and asked if he could watch me practice some songs. This fellow ended up having a huge impact on my playing style. After watching a couple of songs, he said, "Don't care about how you look or if your mascara is running." (Or maybe he told me my mascara was running—I can't exactly remember, but there was something about mascara.) "Sit in the music and play. Just do whatever you gotta do to get through it." Those were powerful words from a stranger, and I credit him for my abandon while playing drums.
In 1984, I went on my first American tour with the (SF) Dicks. We toured the Midwest and east coast with
D.O.A.
We played a few actual nightclubs, like the Metro in Chicago—and the legendary punk clubs the Satyricon in Portland, Oregon, and City Gardens in Trenton, New Jersey—but mostly we played a lot of garage-type places with low-hanging ceilings (Gary called them "fire traps"), spending nights on living room floors of promoters and fans across the country. We traveled in a van with the Tile Man logo on it because we bought it cheap from a floor-tile installer. I drove in the smaller towns and over the US/ Canadian borders because we always got pulled over. Being an eclectic bunch of misfits, we felt a female driver would create less problems with police and locals.
On tour, I realized how bouncers and other band roadies increased my determination to prove myself. I was often regarded as a groupie and many times had to talk my way backstage or send the doorman off to find another band member to let me backstage. Stagehands and roadies sometimes ignored me or snickered at me, so most nights I could hardly wait for sound check or stage time to get my revenge upon them by dominating the drum set. All their doubting gazes gave me determination, strength, and power, mentally and physically. After a while, I heard more and more "you're pretty good for a girl." A few years ago, I got a DM on social media from a man who told me that he was in the opening band for us in a basement in Brooklyn, New York, and he had said to me at the time, "You are the most exciting female drummer I've ever seen," to which I responded, "I just want to be the best drummer you've ever seen." He said my response never left him and "had an effect on the way (he) raised his daughters."
The members of the Dicks were not close, but I bonded deeply with Gary Floyd. He encouraged me to try out for the Dicks, chose me, and defended me out on the road from the occasionally aggressive and verbally abusive punk boys, and yeah, even a few girls. At a headlining show at the Berkeley Square, I was jumped in a bathroom by the
DMR
girls—a feminist punk gang in Berkeley— who thought I didn't look punk enough to be at a Dicks show. I made it out of the bathroom, but not before they pushed me around and ripped the shirt off my back as I ran out the door.
The Dicks released a three-song single on R Radical Records, run by
Dave Dictor
of
MDC
. We had the infamous
Spot
from
SST
Records at the board as the final mixer/producer, recording live performances with no overdubs. It was a party event when a band went to record back then. Many
MDC
and Dicks friends were hanging at the studio and are included in the ending chorus of "No Fuckin' War," a serious and somber song that was one of the more popular anthems of the time. It was included as the soundtrack to a Thrasher Magazine skate video.
In 1984, the Dicks played a Rock Against Reagan show in the parking lot of what was then the Moscone Convention Center in San Francisco where the Democratic National Convention was being held. During "No Fuckin' War" the stage became overcrowded with people grabbing mics to sing the chorus, roaming, and stagediving. It was an exciting time, but the memory of a strong skinhead presence still makes me cringe. We as a band were peaceful people, using art to express our views, but our hardcore sound attracted an aggressive crowd.
In 1985, we recorded the album
These People
with
Klaus Flouride
from the
Dead Kennedys
as producer. We did some touring but mostly stuck to shows in SF and LA, including two at the Olympic Auditorium. The first Olympic show was with
MDC
,
Social Distortion
, and the headliners,
Discharge
. Gary was concerned about the rumored intense audience, so he gave himself a mohawk the day we left for LA hoping to fit in and lessen the degree of spit and verbal abuse. Inexplicably, we ran out of gas on the way down to LA and missed our spot in the lineup. The promoter said we could play after Discharge, which we did, probably suffering even more animosity from the crowd because of it. In watching videos of that show, I note two things: how fast I could play, and the number of punks from the audience pacing and jumping from the stage. The second time at the Olympic was with
Fishbone
and Dead Kennedys, which, unbeknownst to us, would be our last show. Due to the aggressive and sometimes violent factions of the scene—skinheads, Nazi-punks, and drunks—our fun and passion was replaced with fear and discomfort.
There was no point for the Dicks to carry on.
That was the end of me playing hardcore punk….
• • •
About Forbidden Beat: Perspectives on Punk Drumming:
"Whether they're self-taught bashers or technical wizards, drummers are the thrashing, crashing heart of our favorite punk bands. In
Forbidden Beat
, some of today's most respected writers and musicians explore the history of punk percussion with personal essays, interviews and lists featuring their favorite players and biggest influences. From '60s garage rock and proto-punk to '70s New York and London, '80s hardcore and D-beat to '90s pop punk and beyond,
Forbidden Beat
is an uptempo ode to six decades of punk rock drumming."