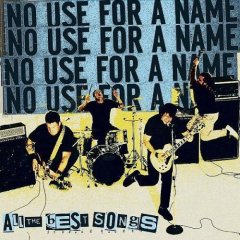 3 September 2007
So what is in a name?
Musicians are constantly told they need to have a great band name. Ideally, something distinct, catchy and memorable that conveys what the music is about.
But historically, safe, establishment friendly names that are devoid of dissonance and negative connotations have arguably done better.
To help make my case, I could point out that the following obscure groups have highly unorthodox names:
WHEN PEOPLE WERE SHORTER AND LIVED NEAR WATER

BAD MUTHA GOOSE AND THE BROTHERS GRIMM

SCREAMING BROCCOLI

PSYCHOTIC PINEAPPLE

CAP'N CRUNCH AND THE CEREAL KILLERS

HARD-DRINKIN' HOUSEWIVES

HARRY PALMS AND THE GYM TOWELS

I LOVE MY SHIH-TZU

TRAILER PARK CASANOVAS

ULTIMATE SPINACH

But I won't for the simple reason that commercial success is the exception and not the rule. A better approach is to look at the exceptions—music's most popular acts.

Freed Bird

Sitting high in the clouds on its own rarified perch with the best selling record in U.S. history is….drum roll….EAGLES with Their Greatest Hits 1971-1975.

The eagle is also America's national bird and the Eagles are Philadelphia's football team. If ever a name was safe that appealed to an enormous cross-section of the population then Eagles is it. WINGS, THE ORIOLES and the excellent BYRDS and DOVES have sold well too.

In the City

American cities and states have done pretty well. But these safe names lack originality, wit, edge and a message. It's little surprise then that the music performed by the most popular of these groups—ALABAMA, CHICAGO, BOSTON, KANSAS – is also safe, lacking in originality, wit, edge and message.

Color Me Impressed

Colors have done well commercially and at least are more interesting.
WHITE STRIPES

PINK FLOYD

MOODY BLUES

BLUE OYSTER CULT

DEEP PURPLE

BLACK SABBATH

GREEN DAY

YELLOWCARD

Don't Worry, Be Happy

Another good bet has been to embrace the positive with names like YES and HAPPY MONDAYS. Although punk rock was in full swing in the 1970s it took about fifteen years before a group with an oh so wholesome name helped make what was widely considered to be a dangerous genre palatable to the masses. Granted, "Smells Like Teen Spirit" was a genuine shot of adrenaline but did NIRVANA's uber-positive name play at least a modest role in the band finding stardom?

At a minimum, Nirvana's benign name certainly didn't hinder the group from garnering mass exposure from advertising supported MTV and radio, which helped it plow a path straight into America's heartland. Had the DEAD KENNEDYS been responsible for "Teen Spirit" it's questionable that they would have been as big.

The Times They Are a-Changin'

The safe, bland names that worked in the past, however, may not work so well anymore. For one thing, the Internet has really changed everything about the music business and that includes people Googling band names.

Just as many new parents obsess over giving their newborn babies original names so they can successfully be Googled, bands should avoid highly generic names like ALL that could get lost in search results.

Break on Through

Secondly, with the Internet, hundreds of cable channels and super slick video games galore, communication theorist MARSHALL MCLUHAN's global village is fully upon us. People are increasingly being exposed to more ideas, information and stimuli at an ever-faster rate.

Because we live in a media drenched environment where a seemingly infinite amount of corporations, marketers and musicians are fiercely vying for your precious attention, they will increasingly push the envelope to reach you.

This means that bands will likely adopt more unorthodox names to distinguish themselves in a cluttered media landscape where getting noticed is critical.

Future Shock

And let's not forget the shock factor. From ELVIS PRESLEY to the ROLLING STONES to the SEX PISTOLS it has taken increasingly more to truly shock. And shock is one sure-fire way to get attention (something not lost upon newspaper tabloids, which love to run the headline "SHOCKER!" on the front page).

There's also a fundamental reason why unorthodox names will continue to grow. Like Internet domain names, the most elementary band names have long been taken. Think THE SMITHS, THE CURE, THE CLASH, THE WHO, etc.

Lastly, people are more aware of the names that have already been claimed. With the Internet, it's far harder to plead ignorance about not knowing that such and such group existed. This will inevitably lead people to sniff out ever more obscure names.