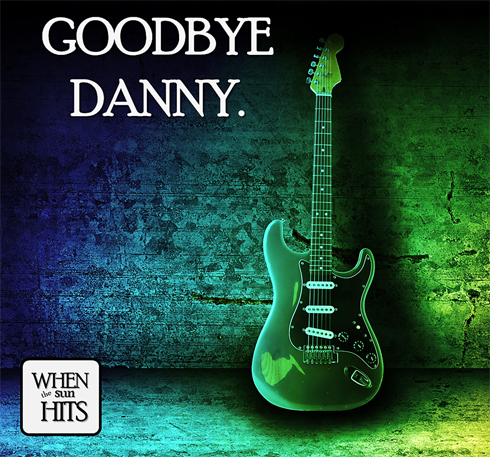 5 February 2013
I am posting this essay on behalf of Amber Crain, co-founder of When The Sun Hits blog. She and Danny were two peas in a pod, loving shoegaze and dream pop and writing from the heart. I discovered the blog last summer, after Danny had stepped back to focus on his health. Everything I have heard about Danny makes me positive I would have liked him immediately. His enthusiasm and positive spirit just poured from the replay of the blog's radio show last week on Strangeways Radio. The world has lost a special guy, and Amber is probably the best person to expound on what Danny meant to her and the gazer community.
______
On January 28th, 2013 at 3:00am, the world lost an incredible person. Danny Lackey, co-creator of When The Sun Hit's blog, the musician behind Deepfieldview, and the kindest person I've ever met, succumbed to cancer after a lengthy battle with it. With his beloved wife at his side, he drifted peacefully away from this place, headphones on, listening to his favorite records.
Danny was an amazing person; everyone who met him loved him immediately. He had the ability to touch the hearts of people all over the world, simply by being himself. He loved deeply both beauty and music; his passion was experiencing both of those simultaneously, whether he was making the music or listening to it. Danny was always on a conscious search to find the beauty in all things, but most of all, in music.
Danny was the heart of When The Sun Hits. After being close friends for quite a while and having innumerable conversations about the music we loved, especially shoegaze music, we thought it might be cool to start a blog about it. If nothing else, we figured it would be a great forum for us to geek out about the subject, since that's essentially what we were doing constantly, anyway. When The Sun Hits is truly the result of two passionate nerds. We never thought it would turn into anything much; that was the summer of 2010. 2.5 years later, and WTSH has become internationally known, we've interviewed some of our idols, helped many new bands get the exposure and recognition they deserve, released 3 compilations (for free), done radio, written articles and essentially worn our love for shoegaze and dream pop proudly on our sleeves (even when, especially when, it wasn't cool) – and we've had fun doing it, too. Danny will be missed so much, by so many people. When The Sun Hits wouldn't exist without Danny, and even though he's no longer here with us, he'll always be the heart of this project.
____
Check out When the Sun Hits
The Deepfieldview project Danny was part of includes members of Her Vanished Grace, Cardinal, and Drowner.
Check them out on Facebook and on Soundcloud
Finally, quite a number of musicians from the shoegaze community have contributed tracks for a dollar to help Danny's family pay for medical expenses. Hop on over to their Bandcamp site to help out