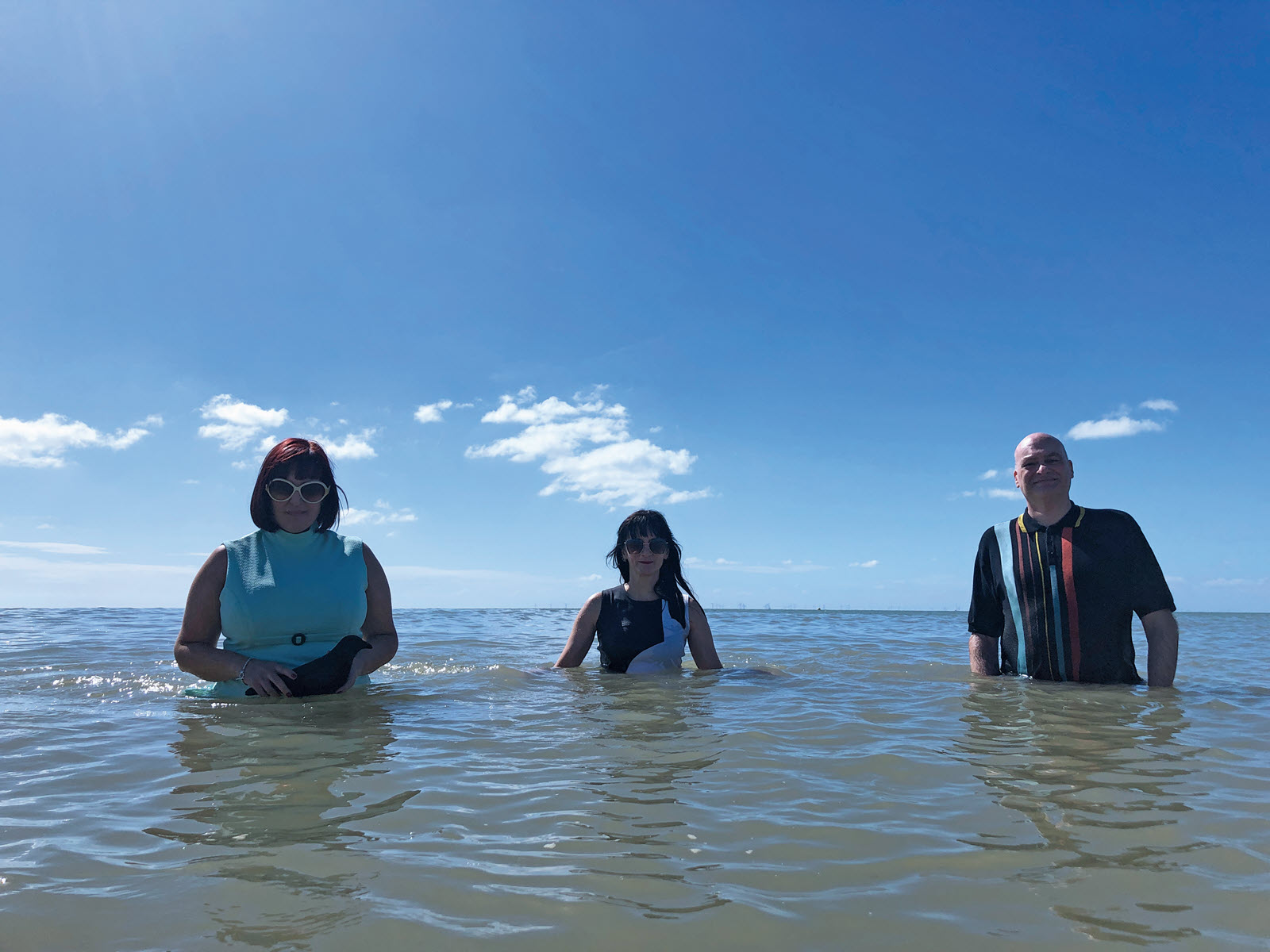 5 July 2022
Photo by Chris Tomsett
Beth Arzy is well known for her sweet vocal work in Aberdeen/Trembling Blue Stars/The Luxembourg Signal, Lightning in a Twilight Hour, and now the excellent UK band Jetstream Pony. They first drew my attention with their cover of 2020's "Yellow Pills", followed by the cool "I Close My Eyes" (a ringer for Veronica Falls). Beth records with guitarist/songwriter Shaun Charman (Popguns, Wedding Present, The Fireworks), Kerry Boettcher on bass, and Hannes Müller (BVs) on drums. This is the full interview that was condensed to 500 words in Issue 90 of Big Takeover. Thanks again to Beth Arzy for putting up with my questions.
****
EK: Please talk about your early years. How did you find your way to being a musician? What were your biggest influences that drew you to music? Any siblings with great record collections, or even an influential parent?
BA: I had 3 older cousins who I grew up with and although I was the youngest, they let me hang out with them and used to give me all their hand-me-down records. When I was about 4 they gave me The Monkees, More of The Monkees, and Headquarters and that pretty much set me off. I knew then I wanted to sing and play maracas and tambourine. As a child I really loved the bubble-gum pop bands like The Monkees, The Bugaloos, The Wombles, and The Banana Splits.
EK: Do any of you have formal training, or did you learn by ear as so many do?
BA: I don't have formal training; no. I muddle through playing bass by ear when I have to, but as Deadpool says… "minimum effort".
EK: How did you guys meet and form Jetstream Pony?
BA: I was a fan of The Fireworks who Shaun played drums with and they asked me to join the band as one of the singers when Emma left. I only recorded one single with them but really liked the songs Shaun played me that he'd written and demoed at home. When he asked if I wanted to have a go singing on them, it all kind of fell into place.
EK: Tell us about all the great bands you have been in or are currently sidelining in. You are a supergroup of sorts! Do you think of yourselves that way?
BA: I think I've always just gotten super lucky to be honest! I was a bit like a deer in the headlights when I walked into the Trembling Blue Stars rehearsal room all those years ago (2000?). I saw Bobby from The Field Mice/Northern Picture Library, Harvey from Another Sunny Day, Keris from Brighter and I damn near did a runner. With Jetstream Pony, it's really Shaun who puts the super in the group. The Wedding Present, The Popguns, The Fireworks. All winners. Kerry and Shaun used to be in a cool band together many moons ago called Turbocat. They did a Peel session. I've never done a Peel session. sad face
EK: Do your other bands ever get in the way of creating Jetstream Pony tunes?
BA: No. I recorded with Bobby Wratten's Lightning in a Twilight Hour Project on Elefant Records, and with The Luxembourg Signal in California, but the three bands are so different. There's no way my Jetstream Pony lyrics could be used for either of the other bands. Bobby writes all his own lyrics and The Luxembourg Signal write 99.9% of theirs, so all my crapping on about Billy Childish or Kurt Russell is strictly for Jetstream Pony. Lucky them. Shaun and Kerry also write some of the lyrics so it's not all me.
EK: What is the furthest away you have played from home? Do you have any favorite clubs or locations that have the most fans?
BA: We've released records with Kleine Untergrund Schallplatten in Augsburg, Germany, so we have been fortunate enough to play some shows in Augsburg, Hamburg, Berlin and Kassel. Shaun speaks German really well and loves football (as do I), so I have very fond memories of JP in Germany, going to see St, Pauli, and playing shows. All the venues there were super and the people there really make it. The loveliest hosts and fans. I loved Astra-Stube in Hamburg where I first saw/met the lovely BVs. I think the place holds 100 at most, and that's with people packed in like sardines. I think it's about 60 standing comfortably. It's a micro-club. The loo is super close to the stage as well so while Shaun is tuning up, I can go for a wee and come back before anyone notices I'm gone.
EK: Please tell us about your new EP. How was it different in its creation/production than your full length? Did you all record remotely and send files over the Internet, or were you able to gather together?
BA: We were hoping it would be seen as a mini-LP, but it ended up on more EP end of year lists to be honest. I think we just didn't have enough songs for a full LP, but wanted to release what we had as the six songs sounded good together. We recorded with Tony Bryant (another ex-Popguns drummer) engineering and mixing in Sunny Studio Brighton/Hove, with Hannes sending over his drums from Soundapartment studio in Germany. Tony also helps us out on drums when Hannes (BV's) can't make a gig, and also creates/produces videos, engineers songs, records songs, and mixes songs. He's a renaissance man! We were super safe and only one person was allowed in the studio with Tony at once, but it all seemed to go quickly and easily. Things generally fall into place and there's not a lot of drama with Jetstream Pony, unless Kerry is feeling impish on stage dropping bombs like 'Beth's had the runs all day'.
EK: How do you approach songwriting? Who writes what?
BA: 95% of the time, Shaun writes the music and I send him "fag packets" of my scribbles and ideas. Phrases stolen here and there. We've had others writing lyrics too like Carol, (Shaun's partner), and Kerry, who writes much more intelligent lyrics than I do. Mainly because…she's a writer!
EK: What influences your lyrics?
BA: Anything that inspires me! The tattoo on Billy Childish's arse, Kurt Russell looking hot on a motorbike with an eyepatch, phrases from science programmes, friends who don't give me enough attention, ghost stories… the usual.
EK: What are your favorite tunes on the latest EP and from your past material?
BA: To be honest I really love all of the new mini-LP. The one Kerry sings, "Behind The Eyes", is super fun to play live as I can hand over to her to sing and play bass so I can shake maracas like Davy Jones. I really love "Strood McD F.C." as well. As for the older ones, I think "It Takes More Than a Friday" and "Trapped In Amber" might be recent faves. For really old ones, "Had Enough" might be my favourite as I slipped in a few football references; thinking I was clever. Not like Trashcan Sinatras clever, but clever for a dimwit like me!
EK: How was radio support been for the new EP? Both Jack Rabid and I placed your EP in our best releases of 2021!
BA: That is SO awesome to hear; thank you! Support/response in general has been really good. Lee from our label, Spinout Nuggets pretty much does everything and has done the work of 5 people at a small label getting the word out, releasing the record, letting radio know, and so forth. There are bigger labels out there who do a lot less with full teams!
EK: How hard was it to create new material during lockdown?
BA: It's harder to STOP Shaun from writing too many songs and overwhelming me. I'm easily overwhelmed, and he's a lean, mean, songwriting machine!
EK: What instruments do you all play? Do you ever switch instruments a la Sloan?
BA: There are 2 songs that Kerry wrote lyrics for and sings. Live, she sings and I play bass for those two and for "Behind The Eyes", she plays bass and sings. That's all the swapping that can happen as due to fibromyalgia, I can't play guitar. My hands can't make the shapes so I have to leave it to the youngsters.
EK: I wanted to ask about your collaboration with Bob Collins of The Dentists. They are one of my favorite 80s bands and I have enjoyed Bob and Mark's latest group too._
BA: I've been a massive fan of The Dentists since the early 90s and met them, (very drunken night out after the gig), in LA in 1994. I reconnected with Mark Matthews, (songwriter/bassist), on Myspace years ago and we bonded over a shared love of lower-league football and I'm proud to call them friends now. The Treasures of Mexico, (Bob and Mark's current band), are also on Spinout Nuggets and I feel so in love with their music that it was such an honour to be asked to do backing vocals on a few songs. Really beautiful songs.
EK: Did you know you have quite a following here in the US? Have you ever played here? We would love to see you someday.
BA: I did not know that! We have a smattering of fans all over the globe but not enough in one place to fill a large room! The US is my home, so I would love to play there with JP someday. Especially L.A.
EK: What do you guys do when you are not playing music, like for work and for fun?
BA: We all work. Grown up, stressful, 'I'm freaking shattered' jobs. For fun: Shaun is a season ticket holder for Brighton & Hove Albion and hangs out with his partner Carol and their two artist kids. Kerry writes/camps/goes to gigs. I support AFC Croydon Athletic but have shockingly only made one match this season. I also like to go watch Lee Grimshaw (Spinout Nuggets) and his brother Dave spinning Northern Soul tracks at gigs and moddy dos around the UK, having a dance, shopping for vintage dresses that don't fit, and binge watching horror films.
EK: What is your favorite music of the moment? And overall favorite bands?
BA: I listen to a lot of soul and reggae as it keeps my mood lifted and if I'm driving, I listen to jazz (Blue Note) as it keeps me from panicking. Favourite bands of all time: The Monkees, The Wombles, Oingo Boingo, The Jam, The Style Council, The Jesus & Mary Chain, The Dentists, Bauhaus, Pale Saints, The Wonder Stuff, Billy Childish, Shoestrings, The Hit Parade, Loop, BJ Nilsen, The Jasmine Minks, The Orchids, The Close Lobsters, The Field Mice, Heavenly, Biff Bang Pow, The Pastels, Teenage Fanclub, Blueboy, The Fall, and many more. Fairly recent (past 10 years) favourites: Chorusgirl, The BVs, Chronixx, Durand Jones & The Indications, Massage, The Umbrellas, The Reds, Pinks and Purples, Chime School, Ela Orleans, Soft Science, The Veras, The Hurricanes, The Shop Window Hadda Be, Swansea Sound, The Catenary Wires… I'll have to stop as I could keep going…
EK: Are you working on new material?
BA: Shaun mentioned at our last practice that he has some new songs so I guess we will be!
EK: What question have you always wanted to be asked in an interview that nobody ever asks you? It can be anything. As can your answer.
BA: What is the meaning of life, the universe and everything? Ans: 42. 42 tacos.
EK: What can fans look forward to in 2022?
BA: A lot more gigs; despite me saying at the start that I'd only do it if we didn't play often and maybe like 6 gigs a year…and hopefully new music!