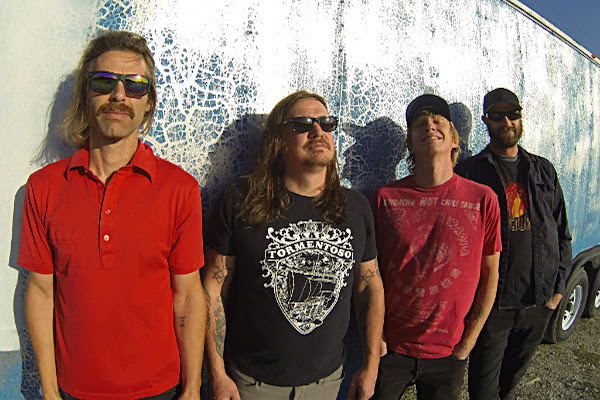 13 June 2019
Photo by Red Lead Media & PR
Little-known fact: Hard-rock foursome ASG is the only band among the 70 or so playing at Psycho Las Vegas whose name is (well, was) an acronym. Now, with that completely esoteric detail out of the way, let's talk about what makes this North Carolina band so special.
Established in 2002, the gang led by singer/guitarist Jason Shi originally went by the now-discarded moniker All Systems Go. ASG also issued a few forgettable releases (2007's excellent Win Us Over exempted) through Volcom Entertainment — but redeemed themselves by releasing a split album with Black Tusk in 2009 and signing to Relapse in late 2011.
That deal proved to be a game-changer, resulting in a Matt Hyde-produced album, Blood Drive, that was heralded as one of 2013's best heavy releases. (It landed at #2 on my list of top 10 albums for the Village Voice.) Front to finish, the record reminded mourners of Kyuss just how fresh and hooky stoner rock could sound.
Five years later, ASG teamed with Hyde and Relapse again for Survive Sunrise, an album that found the band effortlessly reaching even more melodic heights and infectious riffage.
The band will lean heavily on Sunrise — and sprinkle in some Blood, no doubt — when it plays Psycho Las Vegas' August 15 pool party pre-show at Daylight Beach Club. (The official program runs from August 16 to 18 at the Mandalay Bay Resort and Casino.)
In fierce anticipation of the show, the Big Takeover spoke with ASG's Shi and drummer Scott Key about killing it at the blackjack table, remembering (and not remembering) Alice Cooper's set from Psycho Las Vegas 2016, and transcending into psychotic states of mind.
Why are you particularly excited to play Psycho? What makes the festival special — both from a performance perspective and as a personal experience?
SHI: Psycho is just as fun as it looks on paper — tons of rad bands playing in a resort in the middle of the desert. Sign us up! We essentially go as fans and get to watch a lot of our favorite bands, so getting to perform ourselves is just icing on the cake.
KEY: Just for the opportunity to play with so many killer bands! Of course it's exciting for us to travel and play, but to be able to hang and see all these other great bands is what I'm psyched about.
What memories do you have of playing Psycho in 2016?
SHI: A favorite memory of our prior Psycho performance would have to be watching Alice Cooper close out one of the nights [Sunday, August 28]. Not sure why I was so impressed or surprised at how great he was, but it was a killer show — full-blown spectacle. It was awesome.
KEY: I remember the whole hotel/venue smelled like cigs. Not hatin'! Just brought me back to the days of my youth, like when it was OK to smoke on a plane, haha! But seriously, I remember Uncle Acid and Sleep's sets were as good as it gets. I would like to say I remember Alice Cooper and others from the next night, but I just don't … I had transcended into a psychotic state by then.
Do you have any surprises planned for your Psycho set, whether they be songs you wouldn't normally play, added stage elements, etc.?
SHI: We'll just have to see where the breeze takes us!
KEY: Well, if I told you, it wouldn't be a surprise, would it?
Do you prefer playing in the heat or in the cold? Indoors or outdoors? What are the advantages and disadvantages of playing at the time and on the stage where you're scheduled to perform?
SHI: Playing outside in Nevada in August sounds a little intriguing, but I'm sure there is a hospital nearby.
KEY: Somewhere around 75 degrees Fahrenheit. Indoors or outdoors are both cool. The advantage of playing earlier is that you get to party sooner!
Tell me something that happened to you in Vegas that was supposed to stay in Vegas.
SHI: Well, my money was supposed to stay in Vegas, but I crushed it playing blackjack so it came home with me.
KEY: I bought drugs from a 16-year-old driving a neon-green Lamborghini. Shh, don't tell the cops.
What other bands are you most excited to see perform at Psycho?
SHI: We're hyped to see Black Mountain, Beach House, High on Fire. … Uncle Acid is always fun. Too many to name — we're stoked!
KEY: All of 'em, bro.
What friends of yours are also playing at the festival? Who are you planning or hoping to hang with in your downtime?
SHI: Always good to see our fellow Carolinians in Corrosion of Conformity. Looking forward to hanging with the Royal Thunder gang and Howling Giant team as well — and hopefully make some new friends in the pool!
KEY: Royal Thunder, Graveyard, Howling Giant, CoC!!!
What can fans and newcomers expect from your performance(s) at the festival?
SHI: Hopefully four dudes playing the same song at the same time … but it is Vegas.
KEY: A high dose of zero fucks given and just having fun!!!!
For previous installments of the Big Takeover's Psycho Las Vegas preview series, check out our interviews with:
• Colin H. Van Eeckhout, vocalist of Belgian post-metal purveyors Amenra
• Zack Simmons, drummer of blackened death-metal demigods Goatwhore
• Emil Amos, drummer of experimental post-rock band Grails
• Julien Chanut, guitarist of French sludge-doom band Hangman's Chair
• Tony Campos, guitarist and founder of thrash revivalists Hell Fire
• Nashville cosmic-riff connoisseurs Howling Giant
• Thomas Eriksen, centrifugal force behind true Norwegian black-metallers Mork
• Tobias Grave, frontman of shimmering post-rock trio Soft Kill
• Derrick Vella, guitarist of death-metal arsonists Tomb Mold
• Niklas Källgren, guitarist of Swedish fuzz fanatics Truckfighters
• Bruce Lamont, frontman of experimental heavy-jazz project Yakuza and Led Zeppelin tribute band Led Zeppelin 2