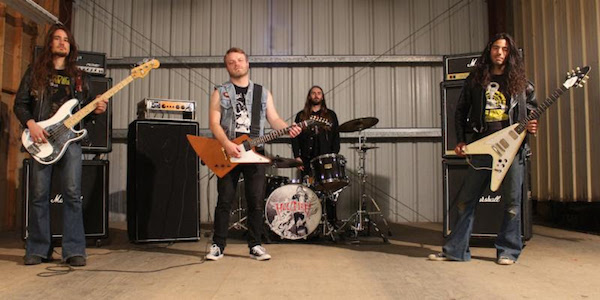 12 June 2019
Photo by RidingEasy Records
Ask anyone familiar with Psycho Las Vegas' 2019 lineup, and they'll tell you it is the festival's most diverse assembly to date, at least from a genre standpoint (fuzzy and psycho rock, extreme and classic metal, electronic artists, indie-rock icons, etc.). But, continuing a tradition from previous years, Psycho is also again embracing veteran trailblazers, like thrashers Megadeth, post-rockers Mogwai and doom-sters the Obsessed — as well as the younger bands that carry the torches for them.
Case in point is Hell Fire, which issued its debut in 2016 and just returned in March with Mania. The quartet has irrefutable thrash cred, as they hail from the Bay Area, but it's the scintillating songs on their new record that enshrine Hell Fire's love of '80s speed metal and '70s NWOBHM. These guys school kids on what old-school metal is all about.
Hell Fire's Sunday set on the closing day of Psycho, August 18, will be a refreshment for seekers of cutting-edge and throwback bands alike. It is also a very big deal for a band that only has three other concerts announced for the rest of 2019.
The Big Takeover recently caught up with guitarist and founder Tony Campos, who gave kudos to Psycho for helping the heavy-metal heroes behind Hell Fire unite from across the globe. Campos also shared a long list of bands he's eager to see perform at Psycho, how he expects to lose his hearing there and his band's plans to "burn the festival to the ground."
Why are you particularly excited to play Psycho? What makes the festival special — both from a performance perspective and as a personal experience?
CAMPOS: It's one of, if not the, biggest rock 'n' roll/heavy-metal festivals in the U.S. Just seeing our name on the bill gets us pumped up. The lineup for this year's Psycho is legendary, and we're beyond excited to be a part of it. So many people travel from all parts of the world to Psycho Las Vegas. It really gives us a chance to play for people that have never been able to see Hell Fire.
What are your expectations for playing Psycho?
CAMPOS: This will be our first year playing the festival. We really don't know what to expect besides having a good time, haha. It'll be a blast to be at [the Mandalay Bay Resort and Casino] hanging for the weekend and seeing everyone play. I think that'll get us even more excited for our set on Sunday.
Do you have any surprises planned for your Psycho set, whether they be songs you wouldn't normally play, added stage elements, etc.?
CAMPOS: We haven't planned out that far ahead yet, but I'm sure we'll have some surprises in our set.
Do you prefer playing in the heat or in the cold? Indoors or outdoors? What are the advantages and disadvantages of playing at the time and on the stage where you're scheduled to perform?
CAMPOS: I definitely prefer heat over cold. Getting your fingers warmed up before a set in the cold weather when everything is stiff is the worst. I love both indoor and outdoor stages. Sometimes sound can be a little more challenging on outdoor stages but as long as the energy with the crowd is there, it's all right.
Tell me something that happened to you in Vegas that was supposed to stay in Vegas.
CAMPOS: Our Vegas trips have been pretty well-behaved so far. We usually end up touring through there towards the end of a longer tour. I'm sure that's going to change after this. Hopefully we can stay out of enough trouble before we have to hit the stage!
What other bands are you most excited to see perform at Psycho?
CAMPOS: Don't even know where to begin … some major ones are Triumph of Death, Vio-Lence, Lucifer, Carcass, Megadeth, High on Fire, Power Trip, Opeth basically everyone. Excited to see additions like the Faint, Bad Religion and more to make the fest more diverse it's going to be great.
What friends of yours are also playing at the festival? Who are you planning or hoping to hang with in your downtime?
CAMPOS: Looking forward to seeing our friends in Idle Hands play the pool party note: Idle Hands' Big Takeover interview is coming soon!. Kim (a.k.a. DJ Painkiller) DJ'ing that night will be awesome. There are bands coming from the Bay Area, like High on Fire and Vio-Lence, plus so many friends that are traveling to the festival. I know literally dozens going from the Bay Area, and of course the rest of the kickass Vegas headbangers that are always out there supporting anytime we come through.
What can fans and newcomers expect from your performance(s) at the festival?
CAMPOS: A serious hangover and loss of hearing. We can't wait to hit the stage on the last day of the festival and burn it to the ground.
For previous installments of the Big Takeover's Psycho Las Vegas preview series, check out our interviews with:
• Colin H. Van Eeckhout, vocalist of Belgian post-metal purveyors Amenra
• Zack Simmons, drummer of blackened death-metal demigods Goatwhore
• Emil Amos, drummer of experimental post-rock band Grails
• Julien Chanut, guitarist of French sludge-doom band Hangman's Chair
• Nashville cosmic-riff connoisseurs Howling Giant
• Thomas Eriksen, centrifugal force behind true Norwegian black-metallers Mork
• Tobias Grave, frontman of shimmering post-rock trio Soft Kill
• Derrick Vella, guitarist of death-metal arsonists Tomb Mold
• Niklas Källgren, guitarist of Swedish fuzz fanatics Truckfighters
• Bruce Lamont, frontman of experimental heavy-jazz project Yakuza and Led Zeppelin tribute band Led Zeppelin 2