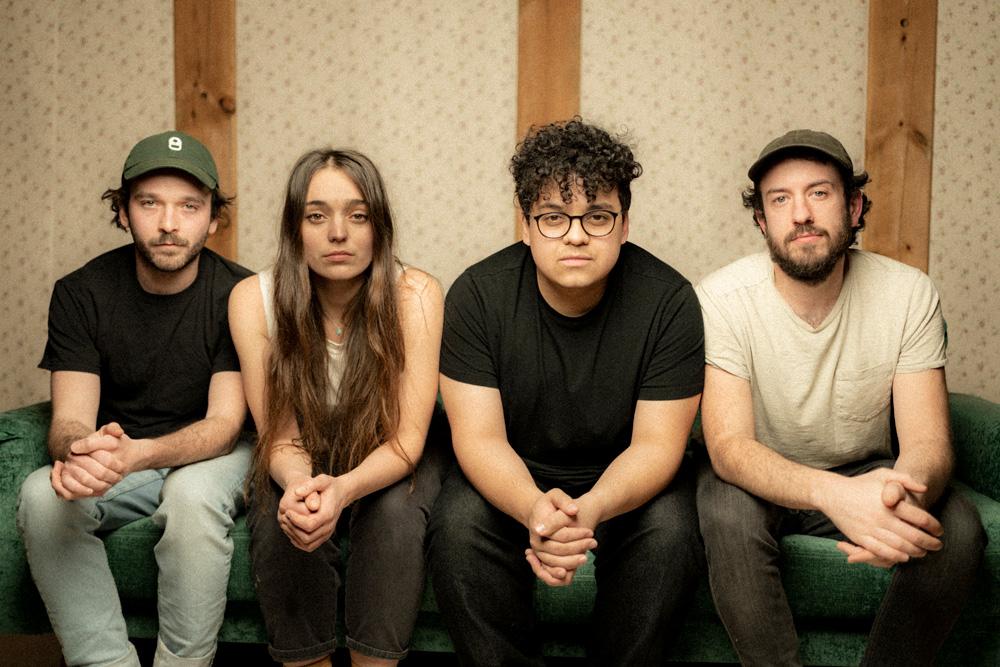 30 June 2021
Can we start with a bit of background. How did the band come together and what musical paths have you all followed to get you to that point?
Carly: The band started in a corporate office, surprisingly. Myself and Manuel met working for Stop & Shop HQ's in Quincy, MA. Our boss at the time really enjoyed music and wanted the office to be musical so he bought a few guitars and keyboards for the office. I didn't play any instruments at the time, but Manuel and I started doing covers of fun 70s songs like The Eagles, Etta James & Fleetwood Mac where he would play guitar and I would sing. One of our coworkers was roommates with Justin (our now lead guitarist) and he played in a few bands around Boston and encouraged us to start writing our own music. Manuel and Justin both started teaching me how to play guitar and I wrote a few songs with their help and that was basically our first EP. Our drummer Kevin had already been playing shows with Justin during their time in Boston so he introduced us and then we were a band!
Listening to Like We Used To, there is a perfect blend of old-school rock vibes and modern, forward-thinking pop. What music has influenced you and what artists, or other icons, have been important in shaping that sound?
Carly: It's interesting you ask this because this song was a little more free form and flowy when I wrote it. The melodies and chords stayed the same, but the music changed drastically. So in that original demo – I was listening to a lot of Etta James and Nina Simone and pictured the song a little more raw and soulful. But then the second we got into the studio – it quickly became a groove with driving guitar and lots of counter-melodies with synths and that's what gives it that modern twist.
Quarter Life Crisis seemed to be, in part at least, talking about the panic brought on by aging. Are there any particular themes running through the new album, Fieldcrest?
Carly: In a way, Fieldcrest is the positive aftermath of 'Quarter Life Crisis'. The EP was about me coming into my life as a musician, starting a little "late" and exactly how you described it, mostly feelings of panic. Fieldcrest is much more reflective and insightful, it highlights all these moments in my adulthood where I've had to let things go and move on. The record references my childhood though, Fieldcrest is the street I grew up on. So I haven't fully let go of this idea of time but here it's more a reflection of nostalgia and moving on from all the things that no longer serve me.
Is there a particular way that your songs come together, does one person of the band normally instigate a song, do they start with lyrics or music, are they jammed out in the rehearsal room or do they arrive in a more complete state?
Carly: Most of the song ideas start with me and I will bring an idea to workshop with the band. Usually, I will have a couple of verses and a chorus with chords and vocal melodies. When the band gets together, we will just loop a verse and chorus until we find a groove that we think works. Usually, bridges and outros are more collaborative with the group, Justin writes a lot of the chords for the bridges and a lot of the intros/outros change a lot once we go in the studio. Things did change a bit as a group during quarantine, we wrote a lot of the songs as demos virtually since we weren't able to be in the same room, and that kind of led to a lot of exploration individually, which was also really interesting for us.
How was navigating lockdown for you as a band. Was staying creative hard for you and how difficult was it not being able to get up on stage, play music, and connect with an audience?
Carly: Staying creative was really hard for me personally, I am one of those people that draws inspiration from being out and going to shows all the time. I didn't really want to play my instrument, but I did get inspired by a new hobby. I bought a 50-year-old sewing machine for $15 at a garage sale – and started sewing a bunch of merch. I would make tie-dye shirts, crop tops, and sew patches on everything. It was amazing to keep the project afloat with our online merch store – a really exciting and engaging way to stay connected to our fans while also funding our recording project.
Is there anything that you have learned as individuals and as a band through lockdown which will have an impact on the way you face the future both creatively and as people?
Carly: The band talks a lot about how creating this album during quarantine has really allowed us to be more experimental with our sound. There were only a couple of songs on the record that we've played for an audience. Those songs in particular had been evolving with every show we played and we had a pretty precise idea of how we wanted the recording to sound. The even more interesting part is that all the songs we haven't played to an audience allowed us to visualize the song in a more free and less structured way. As we were recording it, we were hearing all these new parts and sounds throughout which really allowed us to expand and grow with each song.
And where next for Coral Moons as a band and for you all as individuals?
Carly: Well! We have a few shows supporting the band Ripe this summer, a festival in Boston called Levitate with headliners like Grace Potter and Billy Strings. We are going on a tour this August to support our new album set to drop on August 6th. Lots of exciting things on our end now that music is returning! We are very excited.
Thank you for your time and best of luck for the future.
For more information on the band head to coralmoons.com