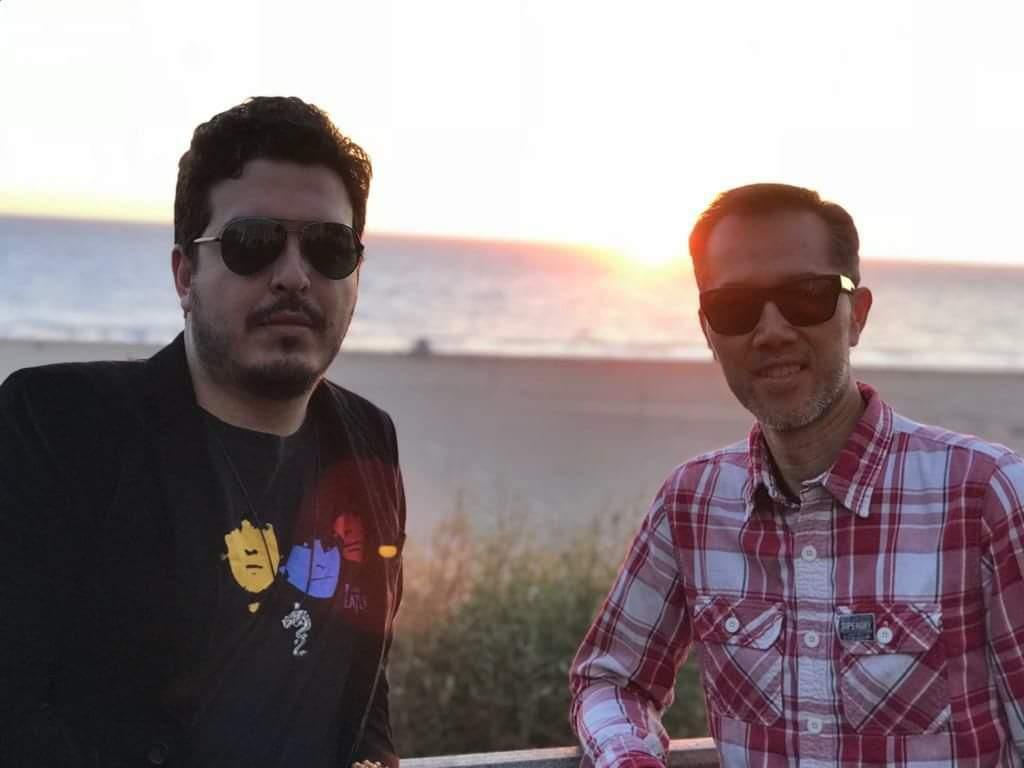 5 February 2021
With a base of both Los Angeles and Bogotá, how much do you think South American sounds and West Coast vibes inform your music, or have we truly gone beyond geography being an influence on music in the modern age?
Juan: Hello, how are you doing? I believe we have gone beyond. For me, as a composer, I have always tried to mix various music genres, styles and techniques from all over the world. All the planet has so much music richness that it's a delight to apply all these sounds to the music we create. I believe When Planets Align is the true combination of planetary music collaboration.
Mark: I think geography and culture still influence music, as our upbringing and where we live or travel to can shape our sound. Los Angeles has a mystical vibe which has drawn so many creative types over the decades and was the inspiration for Lovers and Angels. For some songs on The Death of Us, there are specific references to a happy New Year's celebration in Paris or a sad reunion at the historic Casa Del Mar in Santa Monica. Those places and their grandeur add a romantic or nostalgic context to the songs, which I experienced firsthand and wanted to convey those emotions.
Can you tell us a little about how the two of you came to work together and what keeps the When Planets Align journey interesting and enjoyable?
Juan: We met each other at UCLA's music business extension program. At first, Mark wanted guitar classes and I became his guitar teacher. After a while Mark showed me a song lyric called "Hey Gwen" and I decided to create a composition for it. Then I showed some of my tunes and after some thinking, we planned and conceived not only our first EP, Radio Silence, but Planet LA Records and all the next steps for this thrilling project.
Mark: Ever since we met at UCLA in 2009, we realized we had musical chemistry and could complement each other with Juan's natural talent in composing music and my abilities as a storyteller with lyrics.
The journey has taken us on many unexpected and exciting paths from playing as a band after the release of the first album Radio Silence in 2009, to bringing on singers from many different genres including Jacqueline Van Bierk originally from Germany who was my vocal coach around the time Juan became my guitar instructor. None of us had any idea we would form a band. It happened so organically and continues to be enjoyable as we have collaborated with so many talented artists globally and cosmic things have happened "when planets align!"
The Death of Us seems lyrically concerned with love, loss, grief and transformation. How much of this is a response to the challenges of the last year?
Juan: The first idea was devoted to Mark's last relationship and how he lived all these emotions, but during the creative process this terrible calamity called Covid and all these other pandemics, including the loss of loved ones and the loss of long term relationships happened. Then we found that this wasn't only a one composer declaration of his own grief and path, but a declaration that no matter what humanity is going through, we all have similar experiences and through them, we can connect to overcome anything. That's the power of music.
Mark: Yes, the lyrics are about the sad end of my last relationship which felt so sure and solid, but ended suddenly and we are no longer in touch since. As the song came into being with the background of the pandemic, it seemed to take on a more universal sentiment of losing "what we had and knew" – which most of us experienced since 2020. It seems that anyone can relate, who feels they have lost their sense of reality and stability. When things fall apart in life, our only hope for survival and growth is to be transformed.
Previous album, _Lovers and Angels_has been described, by yourselves, as a rock opera. Do you think more in terms of overarching storylines on your albums or do the songs seem to write the story for you?
Juan: That's a great question. For Lovers and Angels we did a big story creation, full of musical and lyrical innuendos, connections and main project storylines which intertwine with each other. The Death of Us was created in a more straightforward simple theme, which is break up and redemption, but as we developed the project we discovered that even though it is a simple story, it can become a large and global element due to its relatability to emotions, especially in these dark times.
Mark: That's right, Lovers and Angels had an over-arching storyline as it was a tribute to the city of Los Angeles and the dreamers like us who have been drawn to this mecca of creativity. Each of the songs has references to L.A. which are characters in themselves like the commanding views of Beachwood Canyon in Hollywood, the romantic cliffs of Paradise Cove in Malibu, the dusty and hip hills of Silverlake and the faded glory of the buildings in downtown.
The Death of Us is far more specific and based on a real tale of my own heartbreak and the most honest expression of my soul, ever. Those songs wrote themselves quickly in the sleepless and dreadful days and nights after the relationship fell apart. Although I can be proud of the art that was extracted from the sorrow, I would rather not have to endure a painful experience like that again to write an album. Still, it was transformational.
The Death of Us is full of wonderful contributions from other vocalists. Can you tell us about how you found the various people to sing on the album?
Juan: Gabe Kubana has been a longtime friend who used to be part of a band called Letters Burning then launched a successful solo career. We have always admired his tone and pop feel to his music and he was a great choice for the title song. He is on the solo version and duet.
Shalini Varghese sang not only in this record but on Lovers and Angels on many of the songs. She is a wonderful soprano and can sing all ranges of genres and styles. She is wonderful and a true friend and muse.
Diego Garcia was a recommendation from my friend Sejo Navas from 4th Street Recording studios at Santa Monica. Diego has a very deep, almost poetic baritone tone. His vocals on "Stepping Stone" were heartfelt and catchy and perfect for the country vibe of the song.
Last but not least, Boogiewhip is simply great. He is so authentic, gay and flamboyant and expressed the attitude and vulnerability that the songs like "Validation" and "Redemption" needed. He has this rocky vibe with high pitch runs and nice melismas. He is also a very versatile singer which can adapt to many genres.
It is going to be odd for musicians releasing albums in a world where they are now limited in how they go about finding an audience and playing the music live. What plans have you got moving forward to stay creative and engage with your fans?
Juan: It isn't odd at all. I believe there is a great opportunity for music to be heard right now and for creativity to explode. Musicians should be better paid, that is true, and we need to fight for our rights, but that's another issue. Through the digital age, we can show our music to everyone in the world and we should engage through this large variety of channels with all the public we can. It's all about digital presence and connection.
Mark: Musicians and all content creators need to be more adaptable and creative than ever to find their audience. There is so much music out there which is easy to make, and our best hope is that our songs and stories will find their audience somehow if not performed live, whether social media or streaming sites, TikTok dance challenges, placement in Film/TV shows or the latest apps.
And what does the longer-term future look like for you as individuals, as songwriters and as When Planets Align?
Juan: As individuals, music forever. I will be putting out a lot of music this year from When Planets Align and from my solo project @juanlizh which includes Latin rock and other surprises. Hopefully, as songwriters, we never stop writing and we also want to collaborate with other artists and why not become writers for a lot of projects. When Planets Align is coming to rock. See you soon. Thanks.
Mark: As long as we continue to pursue our passion, that makes us more creative and content. I'm sure Juan and I will collaborate on many other songs featuring more singers that can help express our music and lyrics. I am also finishing the final song "Love is Love" that resulted from the breakup, which is a gay-themed ballad and is not quite a fit for this album. Also, my company Planet LA Records which has released all our albums since Radio Silence in 2009 is supporting many other artists through partnerships with brands that love music. Thank you for the opportunity!
Great talking with you guys and good luck with the release of this album and everything else that 2021 brings.