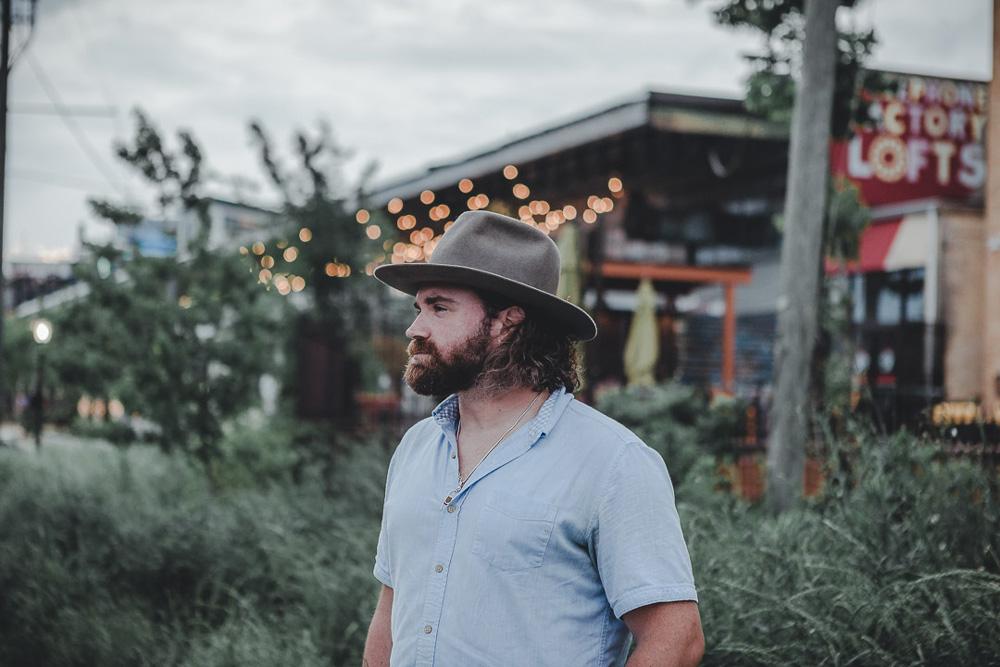 9 July 2020
The new album, Things I Don't See, encompasses a wide range of very American sounds and styles, which in turn suggests an interesting musical back story, can you tell us a little about your musical journey which gets you here?
Kevin Daniel: I have been a musician my entire life, and like most musicians, I have dabbled in a lot of genres. I actually spent the first 15 years of my life pretty much just playing classical saxophone. I sang every chance I could, but never in a band. It wasn't until I got my first guitar in high school I realized I could sing AND play music at the same time. Soon I was playing sax in blues and jazz, writing rock music, singing a capella, and even playing in a ska band. Once I headed to NYC after college, I formed a bluegrass band and got super into very old country music. I finally released my first album in 2013 and have been forming my sound ever since, embracing my southern roots more every day.
It also feels like an album which could only have been made by someone who has put a lot of hours into honing his craft. Do you think the young Kevin Daniel would be surprised to hear what he would eventually achieve, or was this an album which was always in you somewhere?
Kevin Daniel: That is a really interesting question, because young Kevin would not have said he liked country or Americana music, even though he was listening to Tom Petty and Elvis all the time. I think young Kevin would definitely be surprised by this sound, but as an adult, it feels very me. I feel like with each album I'm getting closer to what my true sound is. I'm still searching but I think that's part of the journey. 
Are there any important things that you have learned along the way making this album, sonically and personally?
Kevin Daniel: I learn something new every time I record. With this album I worked with a new producer, and thus realized that every producer is different. My first two albums were made with Ben Rice of Degraw Sound in Brooklyn, and while Ben also worked on this album, Kenny Siegel also stepped in. He's worked with Langhorne Slim who is one of my favorite artists. Kenny was more hands off than I was used to so I definitely had to learn to be confident in my sonic decisions. I'm not sure any artist finishes an album thinking it's perfect, because you'll always want to make changes after it's done, but that's part of recording. You have to be like, this is what the sound is now in this moment, and that's good. 
Is there a message in your songs and if so, what are you trying to say?
Kevin Daniel: Every song on "Things I Don't See" has a slightly different message but I do think the central theme is to live now. Be in these moments. Life is short and you don't get a second shot. Stop worrying about the future and fretting about the past. Life is happening now and I think for the most part people don't stop to smell the roses often enough. Also, death. Haha, most of my songs mention death in some way.
With the recent lockdown keeping musicians away from their place of work, studios and live gigs, how have you kept creative, safe and sane?
Kevin Daniel: Well I'm not sure I have been keeping totally sane to be honest. Me and my girlfriend of eight years broke up in January and then Corona hit. I went from being on the road, making music with a huge summer ahead of me and a partner by my side, to being totally alone and confined to my home. This was VERY hard at first. For me, it was all about schedule. I woke up early, meditated, worked out, did a little bit of music admin stuff, and then wrote a new song every day. Most of them sucked, but I still wrote them.
Also, if I wanted to surf, or hike, or bike, I just did it. Any time I wanted to go outside and do something physical, I would just drop what I was doing and do it. I also live-streamed every day for an entire month, which is actually a lot harder than it sounds.
Is there anything that you learned about yourself and your music making during lockdown which will perhaps affect or inform the way that you do things once normality is resumed?
Kevin Daniel: I think I've been learning that I'm way more social than I thought. Of course, I travel a lot and meet people all the time, but I don't spend that much time in NYC. This has been the first time in a while I've been in Williamsburg for an extended period of time but I couldn't actually see anyone. I think this has really upped my recording skills. I spent a lot of time alone learning best practices for recording demos at home. I never used to record demos before a session, and now I'm not sure I'll ever NOT have a demo ready before I step into the studio.
And what's next for Kevin Daniel musically and otherwise?
Honestly, it's hard to tell right now. I had tours planned for 2020 but I just don't know if they're going to happen. I've already had shows for 2021 cancelled. I think live music as we have known it is a long way off, possibly another year. I think I will be turning my focus to songwriting and composition until things come back. Writing for myself, for others, and for commercial use. My goal is to be a musician for my whole life, so if that means pivoting a bit to make that happen, I'm ok with that. I'm actually headed to a Williamsburg studio in two weeks to record three singles, so I'm very excited about that!
Thank you very much for your time and good luck with everything for the future.