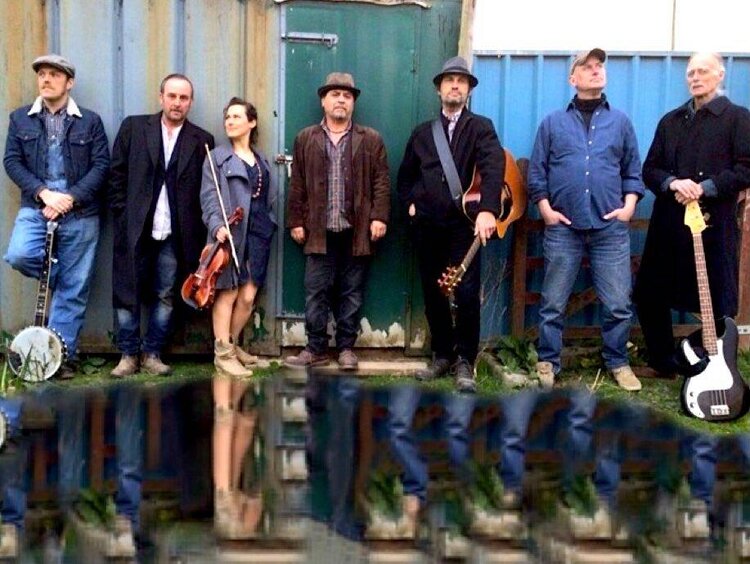 22 April 2021
Let's start with a bit of background, how did The Two Man Travelling Medicine Show come about, and what paths brought you together?
Mark Lyons: We all meet in the sleepy village Witchampton in NE Dorset, England. There are not many people living there anyway so to find 7 like-minded musicians was definitely fate. There are three people involved with the writing process (Jamie Lynch, Steve Wareham, and myself). Jamie is a neighbor and, after a drunken dare, started writing lyrics for me. I then, by pure accident, slowly met the rest and we started really concentrating on turning the demos into an actual album. That was five years ago and we're still writing like mad. That's what keeps it going. The fact that we've never stopped being creative. Dorset is an inspiring place anyway and where we are you can't fail to get the urge to sing.
And although there it is clear that there are plenty of folk and roots vibes running through the music that you make, what other influences help drive the sound, and what bands do you look to for inspiration?
Mark Lyons: I love the simplistic beauty of Elliott Smith. I love any music that's good. I'm currently going through The Cure's back catalog. I'm influenced by all decent songs. I could spend all day listing artists and bands that inspire the writing. Last night's playlist had everything on it from Plastic Bertrand to Be Good Tanyas and that was just me and Steve trying to get inspired. We've got an incredible space here where we can make as much sound as we like and that's probably been the biggest creative influence.
It's quite a busy year for the band, you have several singles and a full album planned, can you tell us more about those?
Mark Lyons: We wrote and recorded the whole album through lockdown here. We've never recorded separately before but, as it was necessary, that's how the new album was recorded. It had different challenges than the conventional way (writing and rehearsing together, gigging the songs then recording them). We've only actually played the album together once last week. We sounded surprising 'tight' considering. The new recording method eliminated any real arguments as we weren't all together but it was much harder and there were fewer minds to bounce off of. Lockdown made me focus on recording methods as well which has been a great help. We finished the album at Oak Studios here in Dorset but the main chunk of the album was recorded in the cowshed in Witchampton. Having a brilliant engineer (Dave Styles) around for the finishing touches made a huge difference to this album compared with the other stuff we've done as he really gets the band. It's the closest to how I'd always imagine we should sound.
Being a band with quite a lot of players, does it limit your gigging options? I should imagine that the festival stage is where you prefer to be?
Mark Lyons: Weirdly we've managed to squeeze into some tiny areas. Makes for really intimate and sweaty nights and writing that has made me realize how much I've missed it the past year due to lockdown. Festivals are my favorite though but I'm happy playing anywhere. I'm an extrovert and love showing off. Helps when you're backed with outstanding musicians too.
How hard has it been staying creative and making music with the limitations of lockdowns, especially whilst working on new material?
Mark Lyons: Writing during lockdown was great as suddenly there was more time. It was very important to me that, although I think we captured the lockdown atmosphere with this album, I didn't want it to be too obviously about that period. Naturally, I feel we're always trying to put the darkest lyrics to the most uplifting melodies and I love that as an aim with the writing. The best example of that on the new album is 'We're all born in the grave'. We tried to get The Muppets sing Joy Division vibe going …
I would say that as a band there is plenty of humor and a quintessential Englishness at work, is this planned, or is it just how things naturally evolve?
Mark Lyons: Having fun making music and being creative is a really important part of the process for me so it's inevitable that some humor comes out in the songs. It can certainly be a challenging time working with others musically when you're a control freak like me. As I said above it's often that dark humor that makes a song sound sad. Music is an emotion you can hear I suppose?
And so, where next for the band?
Mark Lyons: Start promoting the single and play some gigs and fests. We've already started writing the next album and have two finished songs ready to record. I'd love to do a solo recording with just me and a guitar. I'd like to do a solo album with Alison Jay singing. Got a great name for that one Alison and The Jays! And another Two Man album. Life is too short to mess about. I want to leave a musical legacy. Don't care if no one listens to it. Just as long as we like it.
Thanks for taking the time for a great conversation and good luck with everything going forward.
Facebook
PR contact
Musical Bear Records