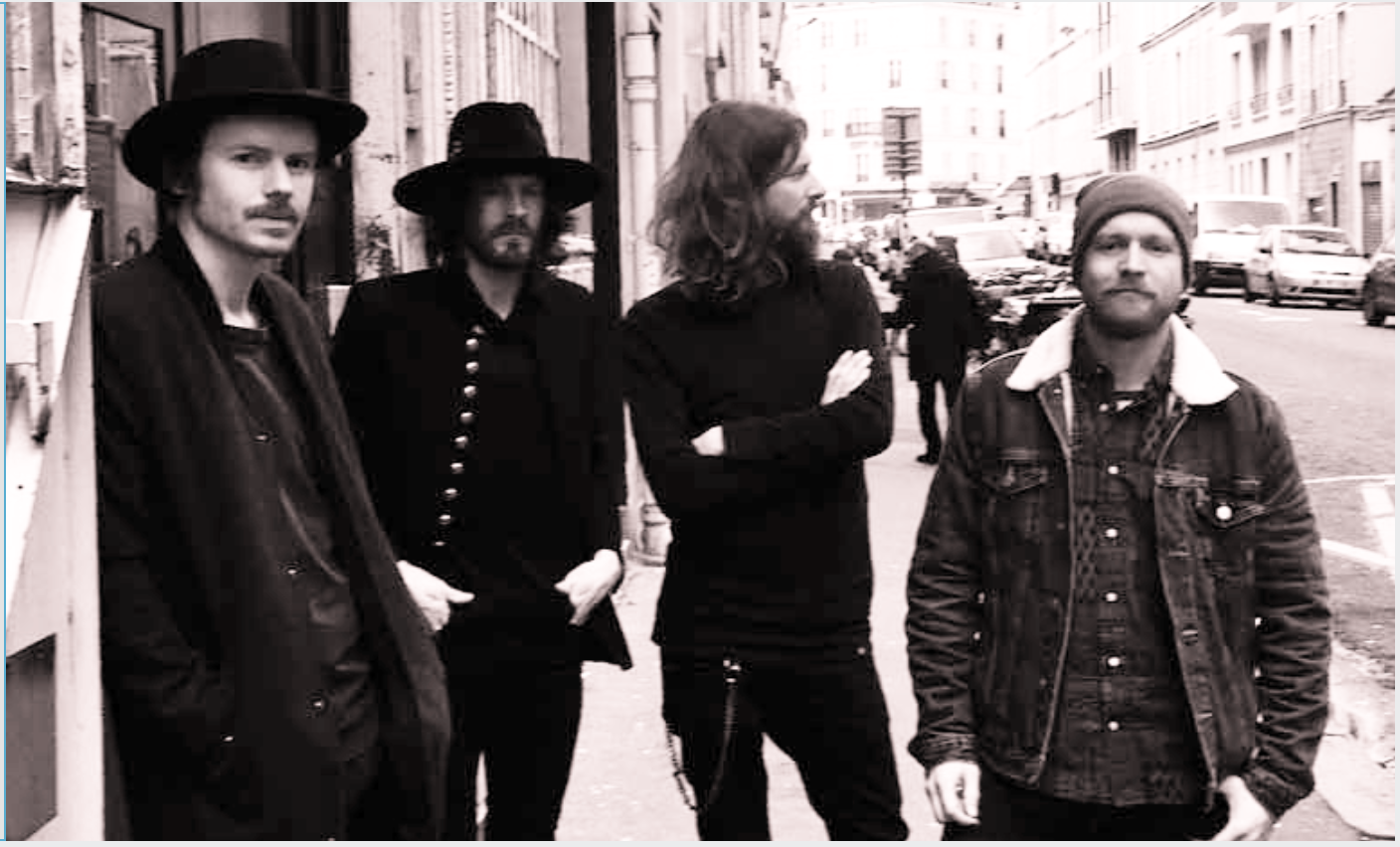 27 March 2020
With "Prepared For A Nightmare" about to drop, the time felt right to sit down with Mayflower Madame and discuss the album, what influences their sound, generic labels, touring on both sides of the Atlantic and everything in between.
Post-punk seems like an archaic term but do you think it is applicable to the music you make or are we in need of a more up-to-date term? (Or does it not really matter?)
Mayflower Madame: If it were possible, I think we would have preferred to avoid genre-terms when it comes to describing our music. After a while all genres and terms seems to become so widely used that they start to get washed out and lose their meaning. However, we understand that they're necessary to some extent to give people an introduction and an idea of how a band sounds. We totally accept that we have some similarities to the wave of British bands from the late 70's/early 80's known as post-punk and we generally have no problem with that term. However, we don't think it's adequate to describe our music alone – there's more to it than that. For example, speaking in genres I think there are almost equally large amounts of shoegazey sounds and dark psychedelic vibes. I have started using the term 'psych-noir' which I guess fits quite well, but that hardly covers it all either – we prefer that people have a listen to our music and make up their own minds about what to call it.
That said, there are some obvious references and sonic signposts to be found in your music, are there any bands or artists in particular which inspire you most?
Mayflower Madame: I always find it hard to pinpoint direct influences, I guess it's a combination of a lot of bands and I'm not aware of it while making music. However, I can of course mention some bands that I've really liked over the years and probably you can find some similarities between them and our music. The first that comes to mind are Syd Barret /early Pink Floyd, The Velvet Underground, Bauhaus, Joy Division and some newer acts like Clinic, Crystal Stilts, DIIV and Psychic Ills.
Your debut album Observed in a Dream is four years old now, has much changed in the way you write or work as a band since then?
Mayflower Madame: Hmm, not really, I still usually write the basic parts of our songs before we adjust and finish them together as a band, but a couple of them have also been conceived during some of our "rehearsal jams". The most significant change is that the new album has been recorded as a trio (I've been playing bass in addition to guitars and vocals) and that several tracks where written during the recording sessions whereas the debut album was done as a four-piece and all the songs had already been played live before. We had enough tracks for a new album already in 2018, but then selected 4 of them for an EP ("Premonition", released May 2018 in conjunction with a US tour) and scrapped the rest as we thought they were too similar to Observed in a Dream. We really wanted to evolve and create a somewhat new sound in the upcoming follow-up Prepared for a Nightmare.
You have spent plenty of time on the Europe touring circuit as well as North America, do you find that your music is better received on one side of the Atlantic or the other or is everybody embracing it equally?
Mayflower Madame: Well, we certainly enjoy playing on both continents and we feel that our music has been equally well received on either side. One difference is that we are a bit better known in Europe and there seem to be more promoters specialized on our kind of music while in the US it's mostly regular venues that book the shows so it can be harder to reach the right crowd. In other words, you're more dependent on promotion and perhaps also playing with good, fitting local bands. On the other hand, another difference is that many Americans seem to find it exotic that we're from Norway (which is not really the case in Europe, haha) and seem to be extra supportive just because of that. To sum it up, we have been feeling very welcome and love touring on both sides of the Atlantic.
Music often soaks up something of the environment it is made in, to you think the chill of Norway helps you create your cool and cavernous sound?
Mayflower Madame: Haha, hard to tell, but I suppose it could have an impact. I always like to think that the way you create and express yourself is a result of your whole being and everything that affects you on a daily level, but your internal life is probably of more importance than external factors. Also it's not really as cold as people might think in Norway anymore (I blame global warning) and other bands from here don't have a particularly "cold sound" – it actually seems like it's more common with a "cold and/or dark sound" among bands in Florida than in Norway. So it's probably more down to one's personal temperament and inspirations than the location. That being said, I don't rule out that it's had an effect in our case, at least I personally believe that my surroundings are of importance for what I create.
And where next for Mayflower Madame, new places to tour, new sounds to explore?
We just had to cancel our upcoming album tour in the US because of the corona-virus pandemic which we are deeply sorry about, but of course it's most important to take whatever actions necessary to deal with this in the best possible way. It was also a big economic blow for us as the money invested is lost and we won't get any of the expected income. I also guess our plans for European shows in May/June could be in danger. So everything is a bit uncertain at the moment, but hopefully the situation will be better and clear enough to plan new tours soon. We have mostly toured in northern, western and central Europe as well as North America so far and while we're looking forward to go back to those areas we would also love do some more shows in southern and eastern Europe. For example South America, Australia and Japan would be amazing as well, but a bit more difficult to finance. Let's see what happens! As for new sounds I encourage everyone to check out our upcoming album "Prepared For A Nightmare". I have to admit that the album title fits even better for these times than I had imagined and we don't know yet where we're going from there, but we'll certainly keep on exploring in the foreseeable future. Stay safe everyone and we hope to see you soon!
Thank you for talking the time to talk to us and stay safe yourselves