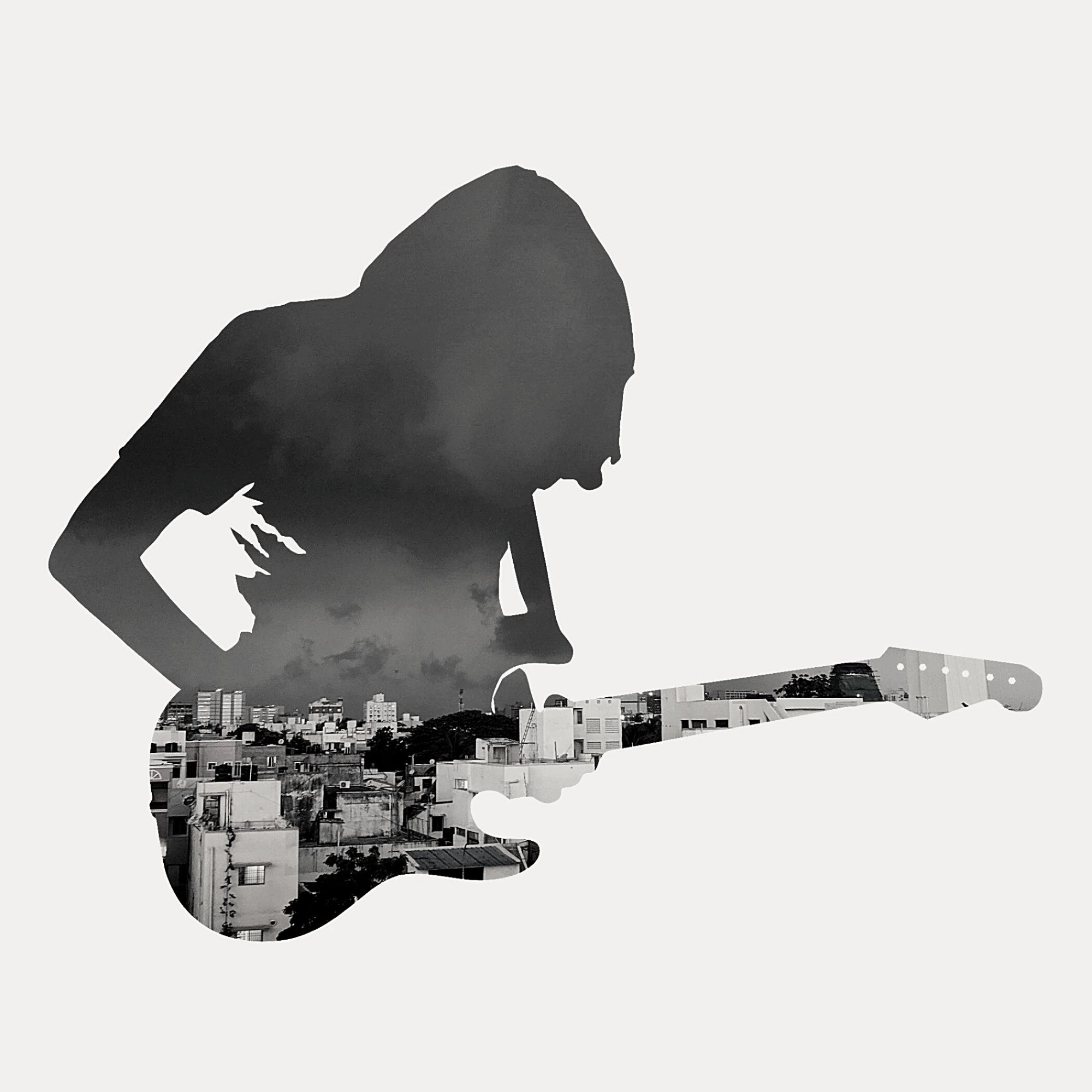 27 May 2021
I always like to start with a bit of background, so can you tell me a bit about your musical journey from your earliest days to where you are today?
Sugar Loaf Walker: I grew up in Chennai, a city in southern India. One of my earliest musical memories was listening to 20 Golden Greats by The Shadows from my father's modest record collection. I still love that record and did a version of Wonderful Land in 2009. My parents wanted me to learn a musical instrument, so I chose the guitar and took a few lessons. Even though I was fascinated by the instrument I was not interested in the songs the teacher was making me learn, so the lessons ended abruptly. Later when my musical tastes evolved, I picked up the guitar again and tried to teach myself the songs I enjoyed listening to. I discovered blues through Jimi Hendrix and Stevie Ray Vaughan, jazz through Miles Davis and John Coltrane, and rock through Led Zeppelin, Deep Purple and Pink Floyd to name a few. I also learnt Indian classical (Carnatic) music on the violin for a year which has a lot of similarities with jazz in terms of melodic structure and improvisation. I started forming bands with my schoolmates and friends, taking part in local College Band competitions. I moved to London in 2004 and spent my first earnings on a proper electric guitar, a Fender Stratocaster, which I purchased in New York en route to visiting my brother Arjun who had moved to the US by then. That's the Strat you see on the cover of Benign Penny. I joined a rock band called Tallahassee Jacknives, touring the London Pub circuit, and then played in a rockabilly band in Bangkok before moving to Amman.
The roots of the Sugar Loaf Walker persona and the Benign Penny album have connections all around the world from London to Amman to the US, can you talk us through the process of collaboration and relocations which have driven the project?
Sugar Loaf Walker: It started in the spring of 2009 when I was living in Bethnal Green, London. I was looking to create an instrumental guitar sound inspired by my life in England. I started writing and recording the melodies at home. My brother Arjun, an amazing bass player, was studying in the US. I convinced him to get involved and got him to compose and record the bass parts for the songs. I did not know any drummers at the time, so I programmed some basic drum parts, completed the songs, but soon forgot about it and moved on to other things. Fast forward to 2020, now living in Amman, I rediscovered the demos during the pandemic lockdowns and wanted to finish them. By coincidence at the very same time, I found Vinay, an excellent session drummer based in my hometown of Chennai. Luckily, he had a recording setup at home and was available to track drums for all my tunes. I got them mixed by Kevin Carafa, a sound engineer based out of Portland, US and the album finally came together. I'm glad I finally finished it, twelve years after it started.
And the album title, Benign Penny, and its deeper meaning and connections is a fantastic and heartfelt story, can you expand on that a little?
Sugar Loaf Walker: The album is named after my original demo which was inspired by my mother-in-law Penny's car license plate B9 PNY. We used to visit their Pink House in North Yorkshire quite often when we were living in London. She sadly passed away in 2010. However, my daughter was born in 2015, and we gave her the name Penny, keeping her grandmother's spirit with her. The album cover is the photo I took of my daughter Penny in Bangkok where she was born. When I found that photograph, I knew it had to be called Benign Penny. The record is dedicated to both my mother-in-law and my daughter.
The album is one of only instrumental tracks, was this a deliberate decision or just the way things fell into place?
Sugar Loaf Walker: It was deliberate. I listened to a lot of Jazz growing up which was mostly instrumental. India has a rich heritage of classical music. My parents used to take me to concerts during December/January when there was a yearly music festival in the city (Chennai). A lot of concerts were completely instrumental featuring a violin, veena, mandolin or flute as the lead instrument. I was also into bands like Mahavishnu Orchestra and guitar players like Jeff Beck who have all put out incredible instrumental albums. So instrumental music was very much a part of my musical DNA.
There are a couple of references to more spacey concerns, particularly The Roswell Incident and Douglas Adams fantastic book The Hitchhikers Guide to The Galaxy. It made me wonder if there is a theme to the album as a whole?
Sugar Loaf Walker: I did not have a conceptual theme when writing the music, but at the end when I was sequencing the tracks together, I found I could distinguish the album into two sides and one side had a sci-fi theme and feel to it. Hitchhiking and Return to Magrathea are both references to the classic Douglas Adams story which I was quite obsessed with at the time. I remember managing to get hold of the original radio broadcasts and listening to them and watching the TV series with the Journey of the Sorcerer song playing at the start (another great instrumental). I was also watching a lot of classic Sci-Fi films and reading about the Rendlesham Forest and Roswell incidents.
Do you think that instrumental albums are a difficult sell to the modern music-buying public, and do you even think in those terms?
Sugar Loaf Walker: Outside of jazz, classical or music for film yes, I guess it is. The only currently successful band I can think of is Khruangbin whom I love. Instrumental Rock albums are usually reserved for musical virtuosos, which I am certainly not. The publishing company asked me to name two famous artists that were similar to my music. I couldn't think of any. I wasn't thinking of how it would sell when writing the music.
Do you find that the more fluid and less direct communication of music, rather than lyrics, gives you more freedom to express yourself?
Sugar Loaf Walker: Yes, absolutely. There is something unique and magical about a great piece of instrumental music that communicates more to the listener than words can do in a song.
And where next for you musically, either with Sugar Loaf Walker, or with other projects, and where next for you as a person away from the music world too?
Sugar Loaf Walker: I have a couple of Sugar Loaf Walker tracks that did not fit the album. I plan to put them out as singles. I am also in an Amman based, three-piece, psychedelic rock band called The Triplet Code and we are near completing our debut album. It should be out this summer. I have surprisingly been busier musically during the last two years than ever before, though I do miss playing live and going to gigs.
It's been an absolute pleasure talking to you, thanks for taking the time and good luck with everything you are working on.
Check out Benign Penny HERE