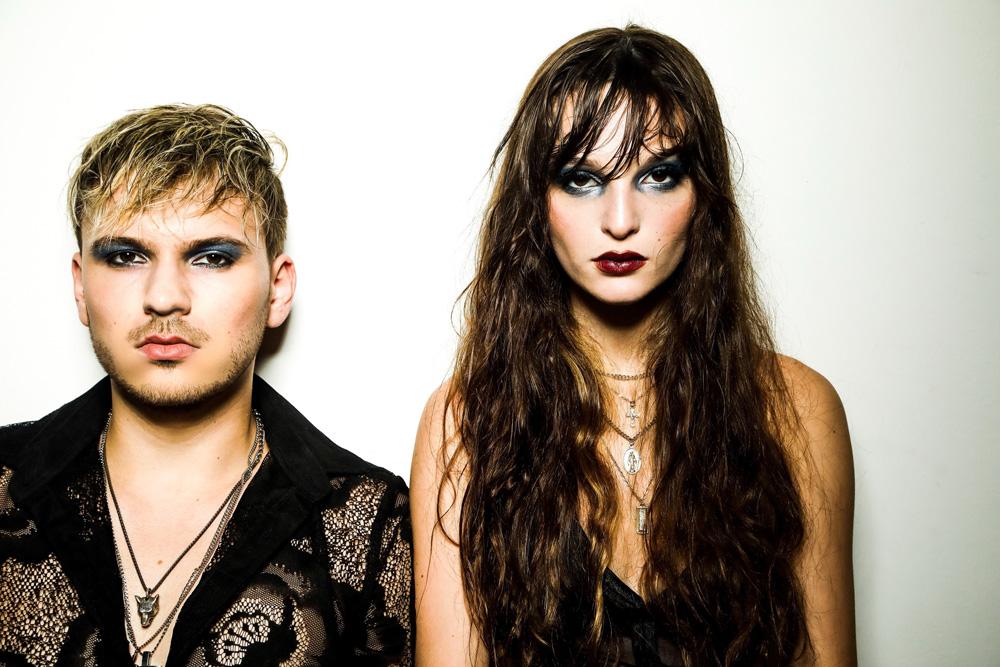 1 August 2020
I'm sure that you get asked this a lot but what is it like being siblings in a band? What are the plus points and what problems, if any, does such a relationship come with?
The Haunt: It's definitely a lot less complicated than people think. The biggest plus of being siblings in a band is that no matter what the issue is, there's always going to be a resolution. Like, even if she's a pain in the ass, she's my little sister and I love her. We know that whatever problems come up, they'll always get resolved, right now we live in the same house, so we know we're not going to just keep killing each other forever.
Style wise, I think it is safe to say that there is a lot going on in your music but it does somehow seem to draw on the best of rock energy and pop accessibility? What would you say your main influences are, musical or otherwise?
The Haunt: Hmmm, I think our influences change a little from album to album, but a few of the staples that kind of define who we are as a band would be, Jack White, Royal Blood, always some room for some Pop-Punk-*Paramore* vibes, but as a rule, most of our music is centered around powerful, bluesy, soulful vocals. My sister is really inspired by Amy Winehouse, Florence Welch, Nina Simone, Billie Holiday. She always incorporates those little touches into our style.
You have both been performing from a very young age, has music and creativity always been the path that you knew you would be drawn down? Was there a moment when you said to yourself…"Right, I'm a musician, this is my life now?"
The Haunt: It never felt like there was a turning point where we decided this is it. It was more like we knew from a very young age that this was our path and we were meant to go down it full speed, whatever the turn out lol. It was only when people started really enjoying the music that we thought, "Wow, we can really do this."
Although still young, your music and lyrics seem to express timeless themes and universal thoughts. Is there a particular message or connection that you are trying to share with your audience?
The Haunt: Since our very first release, we have been actively against bullying of every kind. Our platform has always been standing with victims of bullying, being there for the kids that couldn't fit in, and all of the shit that comes with that. I hope our music is supporting anyone suffering from any type of emotional trauma. We want our music to create a safe space for everyone and an escape from the real world (where everything is a bit more complicated). We're hoping to accomplish that with every piece of content we release and every single show we play.
There is quite a contrast in Anastasia's off-stage personality and the performer that the audience experience's live, what changes when you step out in front of a crowd?
The Haunt: The stage has always been where I feel most comfortable I guess. I can connect with people in a different way from up there. A bigger way. It's always felt as though I become my best self when I'm singing. All the things that I tend to keep inside are allowed to come out when I perform. It takes quite a bit more time for me to open up to people that way in real life hahaha.
What has it been like being a musician during lockdown? How have you stayed motivated and creative and is there anything that you have learned which will affect the way you operate as a band or an individual in the future?
The Haunt: Strangely, we've been really motivated through quarantine. The first month or so was the absolute Twilight Zone. But as soon as we realized that this was gonna be the way life was for a while, we just adjusted as much as we could and started writing and recording demos. Learning new ways to connect with our fans. Our little Haunt squad is small but mighty… lol. These people literally keep us going, keep loving us and supporting us even without being able to play for them. It's the craziest thing, idk if I've ever been more grateful.
I mean it's been awful, not be able to perform in front of people, but it has given us the opportunity to write, record demos, and get prepared for all the new music that we're about ready to drop on you… I guess, a lot of musicians isolate themselves for creative purposes so this was just kind of an imposed version of that.
Thanks for your time and good luck for the future.