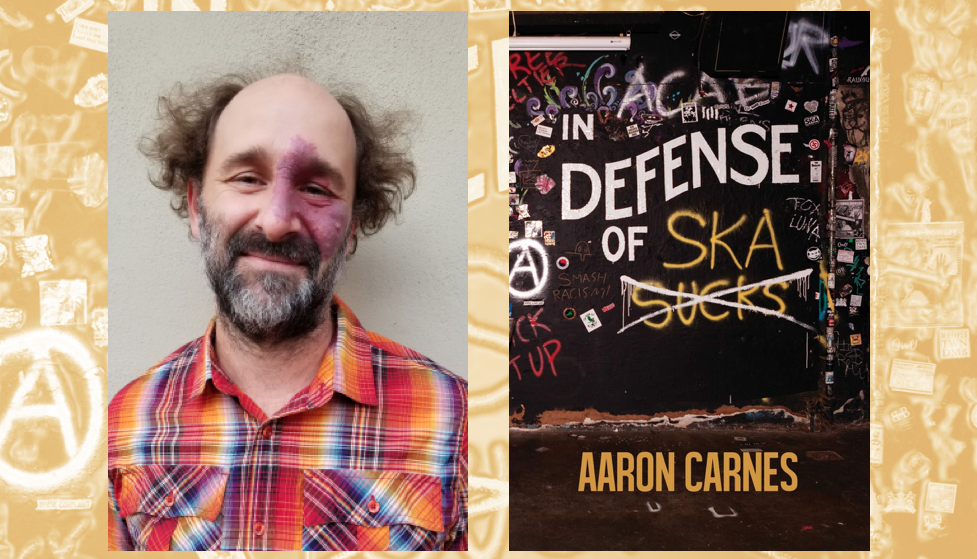 10 February 2022
Playing Favorites is an interview series where creative people pick a topic and tell us their five favorite things about it. Opinions expressed in this series are those of the interviewees and do not reflect the opinions of S.W. Lauden or The Big Takeover.
Aaron Carnes is a music journalist and the author of In Defense of Ska, a book that tells the history of ska while defending the genre's right "to stand alongside alt-rock, punk, hip-hop, R&B, and metal." He also co-hosts the IDOS podcast with Adam Davis. Carnes' is the the music editor at Good Times weekly newspaper in Santa Cruz, CA, and his writing has appeared in Playboy, Salon, Noisey, Sun Magazine and many other publications. I asked Carnes to share his five favorite '90s ska songs.
AARON

CARNES

'

TOP

5

FAVORITE

'90S

SKA

SONGS
5. "Bleed" by Animal Chin
Animal Chin was a three-piece ska-punk band from Minneapolis that rebelled against every '90s ska stereotype at the time. They had no horns, wrote serious songs about animal rights, penned songs with subtle chord progressions. They were even a big influence on
Fall Out Boy's Patrick Stump
. Both
All The Kids Agree
and
20 Minutes From Right Now
are amazing, underappreciated '90s albums, but I'll have to do with "Bleed" as the group's best track. I really like the melody and the shifting musical styles in the song.
4. "Big World" by The Chinkees
In the '90s,
Skankin' Pickle
was my all-time favorite band. But where they shined was at their off-the-wall, theatrical, chaotic concerts. They hopped from style to style with ska being the glue holding it all together. After the band broke up, singer/saxophonist
Mike Park
started the all Asian-American ska-punk band The Chinkees and wrote some of his best songs. A young
Steve Choi *(who would go on to play in *RX Bandits
) played in the group as well. "Big World" is one song of many that showcases Park's brilliant, thoughtful pop songwriting.
3. "Neighbor" by MU330
I am such a huge MU330 advocate that when I was offered a chance to go on
NPR
and proclaim a "should have been classic" ska record, I chose MU330's
Crab Rangoon
. With influences like
Weezer
and
Superchunk
, the album fell into this weird grey area of being too indie-rock for the ska crowd and too ska for the indie crowd. But
Crab Rangoon
, which is a heart-on-the-sleeve breakup album, still holds up—better than a lot of ska records that were more popular at the time. Listen to jealousy personified on the bouncy track "Neighbor."
2. "Can't Wait" by Hepcat
Hepcat often gets discussed as though they were rehashing '60s ska for a modern audience. While it's true that punk is not a component in their music, calling it traditional ska is an over-simplification. There are elements of modern soul, jazz, R&B, and pop in the mix, backed by authentic ska, rocksteady, and reggae beats. Their penchant for cool, danceable grooves and the delightful twin vocal harmonies of
Alex Desert
and
Greg Lee
are perfectly highlighted in their song "Can't Wait." Why this song wasn't a pop hit—released during the ska-boom—is something I will never understand.
1. "Unyielding Conditioning" by Fishbone
Fishbone is the greatest American band of all time, regardless of genre. And not only did their 1985 self-titled debut EP hugely influence the hyper-kinetic version of ska that would explode in the US in the '90s, but they also played the genre better than anyone else. Fishbone's greatest ska song was "Unyielding Conditioning," taken from their otherwise ska-free 1993 record,
Give a Monkey a Brain and He'll Swear He's the Center of the Universe
. The song is soulful with deep, meaningful lyrics and a killer sax solo. Imagine how amazing the '90s ska-boom would have been if this song was its blueprint.
Previously on Playing Favorites:
Curt Weiss' Top 5 Favorite New York Dolls Songs
Carolina Hidalgo's Top 5 Favorite Funny Punk Musicians
Mo Troper's Top 5 Favorite Portland Albums