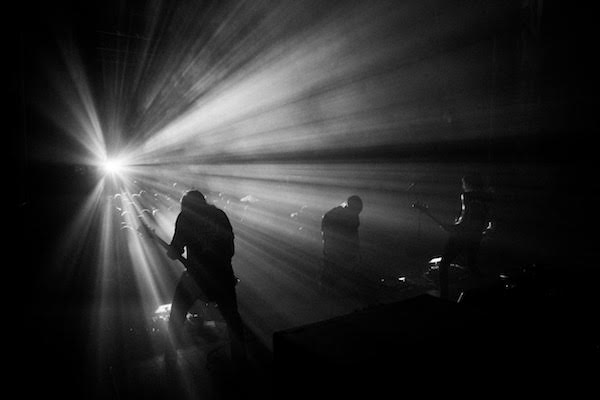 30 May 2019
Amenra: Psycho Las Vegas Preview
Photo by Bjorn Comhaire
Belgium's Amenra have played virtually every metal festival in Europe since forming in 1999, from Roadburn to Motocultor to Hellfest. Surprisingly, however, the post-metal purveyors — who have toured in the U.S. extensively as well — haven't performed at this country's most critically acclaimed celebration of heavy rock: Psycho Las Vegas. That will finally change come August 18, when Amenra play on the final day of 2019's installment of the three-day bacchanal (four days counting Thursday's pre-party).
Incidentally, Amenra — led by singer Colin H. Van Eeckhout — did perform earlier this year at the Psycho Entertainment-helmed Psycho Smokeout. Held April 20 (obv), the collective par-toke in the event with Monolord, Uada, Cloak and other past Psycho Las Vegas participants.
As for this year's installment of the Psycho Las Vegas, taking place at the Mandalay Bay Resort and Casino, Amenra will rub shoulders with metal legends like Opeth and Carcass, indie-rock icons Beach House and Mark Lanegan, post-rock powerhouses Mogwai and Godspeed! You Black Emperor, and punk-rock immortals Glassjaw and Bad Religion.
Amenra's latest album, Mass VI, dropped in 2017 on Neurot, the *Neurosis*-run label to which they signed in 2011. They are also gearing up for the summer release of the self-explanatorily titled Amenra XX Documentary. Those projects aside, the Big Takeover recently caught up with Eeckhout solely to geek out about Psycho Las Vegas. Here's what the (in?)famously enigmatic vocalist had to say:
Why are you particularly excited to play Psycho? From your point of view, what makes the festival special — both from a performance perspective and as a personal experience?
Eeckhout: I am especially fond of the idea that I will be traveling again with my best friends and bandmates. I am sure we'll have a great time. We always do.
From a performance perspective, I hope we'll be able to do what we want, light and visual-wise. Sound-wise. And get time enough to prepare ourselves so we can bring a set that will wipe the smiles off peoples faces.
If you've played the festival before, what memories do you have of it? If you haven't played it before, what are your expectations?
Eeckhout: We haven't; first time. Chaos.
Do you have any surprises planned for your Psycho set, whether they be songs you wouldn't normally play, added stage elements, etc.?
Eeckhout: We will try to come as close to we can to our European standard of live shows.
Do you prefer playing in the heat or in the cold? Indoors or outdoors? What are the advantages and disadvantages of playing at the time and on the stage where you're scheduled to perform?
Eeckhout: Indoor heat. The more sweat there is, the more instinctive and animal-esque it gets.
I have no idea when we are scheduled to play.
Tell me something that happened to you in Vegas that was supposed to stay in Vegas.
Eeckhout: I was in Vegas only once. And I was bored out of my skull.
What other bands are you most excited to see perform at Psycho?
Eeckhout: Yob, Black Angels, Mark Lanegan …
What friends of yours are also playing at the festival? Who are you planning or hoping to hang with in your downtime?
Eeckhout: Yob. Our drummers are planning to get married.
What can fans and newcomers expect from your performance(s) at the festival?
Eeckhout: Our aim is to break you.
For previous installments of the Big Takeover's Psycho Las Vegas preview series, read our interviews with:
• Zack Simmons, drummer of blackened death-metal demigods Goatwhore;
• Julien Chanut, guitarist of French sludge-doom band Hangman's Chair;
• Thomas Eriksen, centrifugal force behind true Norwegian black-metallers Mork;
• Tobias Grave, frontman of shimmering post-rock trio Soft Kill; and
• Niklas Källgren, guitarist of Swedish fuzz fanatics Truckfighters.