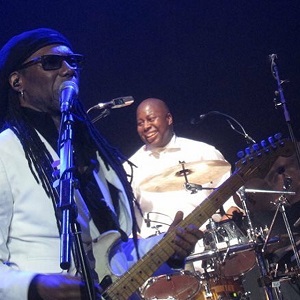 29 May 2019
The power of most bands may not always be the people front and center on stage, most times in fact it is those who are on the back seat driving the rhythm from a drum stool.
One of the most remarkable drummers on the current music scene, is the relentless dynamo that is Ralph Rolle. He is both a gentleman and modest when it comes to his impressive body of work. Over his forty-year career, the powerhouse from The Bronx, New York, has played with the cream of music royalty, from Sting to Slash, the late Aretha Franklin to the even later Biggie Smalls. One of his most prolific times was backing Lady Gaga doing her spectacular tribute to David Bowie at the 2016 Grammy Awards. However, Ralph is permanently the whirlwind, gentleman of beats behind Chic and Nile Rodgers.
In-between supporting Cher on her 'Here We Go Again' tour of North America and starting the summer tour across Europe, Ralph took some time out to speak exclusively to Kevin Burke about his career, the people he's worked with, and all things drums.
My favorite drummers are probably Elvin Jones from John Coltrane's band and mister funky-drummer the late Clyde Stubblefield, both I prefer over Ginger Baker or even Keith Moon, do you feel that when it comes to a drum kit that technical ability wins over huge kits and like most things in life, size doesn't matter?
Ralph: Ha! Elvin Jones was and is still the barometer for all drummers to measure up to, which is impossible. Drummers changed their approach to drums after hearing Mr. Elvin Jones. Passion and freedom are the two words that encompass his canvas… his depth of field. He's absolutely one of the worlds greatest.
I choose my kit based on the music, not my personal and individual choice. I'll study the repertoire and who I'm playing for and pick and tune my kit based on what the music is asking for. That may mean using a different shell, different textures of cymbals, the type of beater for the kick, etc. Those choices are extremely important to the overall sound.
Who influenced you to drum? Was there a moment as a kid when you thought -"yeah this is what I wanna do" ?
Ralph: There were a few drummers that influenced me. My brother, Howie, was the first. I wanted to be just like him. My brother would let me get on the drums usually when I wanted to. The kit sat right in the middle of our 8 × 10 bedroom, which made it impossible to walk around the room but I was absolutely fine with that. I was about 9 years old at that time.
The day I saw
Ringo Starr
on the
Ed Sullivan Show
is when I started thinking about drumming in a whole new way. Ringo looked as if he was having the best time of his life. Next was
Max Roach
. I was amazed as to how smooth he played and how cool he looked.
Buddy Rich
was next. In my neighborhood, there was a guy named
Ricky Williams
. He is 6'5" and blind. His main instrument was the organ but his drumming was off the chain! No one grooved like Ricky. I was the only person that he'd let in to watch him play. I'd stand behind Ricky and put my hands on his shoulders…close my eyes, so that I could feel what he was feeling. See what he wasn't seeing, realizing, there was so much more to experience when you close your eyes. all of your other senses become so much more sensitive. Hearing mainly. Touch and dynamics were also heightened. People have asked me over the years where did I learn to groove the way I groove. All props go to Ricky Williams. He's now living in Florida and gigging most nights playing piano.
As a talented drummer you are constantly busy, a man who obviously loves what he does and is passionate about it, is that why you do the Drum Clinic Masterclass to instill that passion and inspire a new generation of drummers?
Ralph: I am lucky and extremely fortunate and humbled as to what's happen in my life. When I was in my teens, the musicians that were in my circle were amazing players and extremely knowledgeable on many subjects and genres of music at a very young age. That mental and musical stimulation kept me in the mindset to learn more. I was exposed to Drum Corps in my mid teens. The first instructor that impacted me and in a very big way was Bobby Craig. His style and approach to teaching was like watching Alvin Ailey, Picasso and Yoda all mixed into one. I was amazed and always excited to go to practice because of him. He explained drumming and the application of rudiments in such a beautiful way that you immediately wanted to explore more of the aspects of each and every rudiment and how to apply it.
The next person was
Rickey Mangum
. He really was the one who mentored me, let me spend nights at his house, showing me more complex rudiments and allowing me to instruct with him. I really honed in on my ability to teach when Rickey asked me to instruct alongside him and write with him for the New York Lancers from the Bronx, New York. I used so many of Bobby Craigs techniques. I was still of age to march. The brother and sisterhood of the corps members was contagious. I couldn't stand on the sidelines any longer so I became a marching instructor. After my Drum Corps teaching ended, I continued to teach individuals. I got a gig at the world famous Apollo Theater that ended up lasting for 17 years. I taught any drummer that walked through the door that had the passion to stay the course and I did it for free. I was very fortunate and this was my way of giving back to kids that couldn't afford lessons as I couldn't.
Now, I'm teaching internationally. It's great to be able to share the knowledge and experiences to hopefully inspire a new generation or drummers. The topic of my masterclass is, 'HOW TO GET AND KEEP A GIG', where I focus on the necessary tools that are needed to sustain a career in the music business. The 5 P's is a very integral part of my class. You have to come to my class to learn about that. It's too much to explain. Ha.
Do you hit the gym and work out? Keeping yourself in shape or do you get a solid workout behind the kit?
Ralph: I used to work out a lot until I pulled a groin muscle. That really hurts. On top of that, I run other businesses which keeps me running constantly. Drumming gets in a great cardio but I need to get back into working out again. It's needed and very necessary.
You started your career at the start of the eighties, at a stage when bands and the style of the time meant a lot of electronic drums being used, did this mean you had to work that extra bit harder to get noticed?
Ralph: Not really because I was fortunate enough to start playing when electronics had just hit. If used properly, you can add a bit of the items that are needed for a song. Actually, it was the late seventies when I started. I now use the Roland SPD-SX for my clap and percussions sounds with Nile Rodgers and Chic. The first time I heard a digital keyboard was the Yamaha DX7. I nearly threw up. I hated everything about it. Although it became a classic, it sounded thin and unreal to me, but everybody had to have it. I appreciated the early analog synths much more than the digital keyboards that came after. The Oberheim DMX drum machine was very cool. It had its limitations though. I was all into learning about other drum machines. When some of my drummer buddies were hating the drum machines I knew electronics weren't going anywhere so I started buying them. Next, I picked up the TR 808 then the MPC 60. It widened the spectrum for application in such a big way and they were fun to mess around with.
You are one of the most versatile drummers in music, is it difficult to change styles from say drumming funk and disco for Nile, to backing Slash for example?
Ralph: It all depends on what you're exposed to and what you're passionate about wanting to play and be good at. I wanted to play everything but I loved playing and listening everything. R&B, Soul, Funk, Fusion, Disco, Big Band Jazz, Pop, Rock Hip Hop and Drum Corps. I loved it all. When you come up in an era where there were so many styles of music to be heard, it opens you up to so many possibilities. I always loved to experiment and explore. I also came up playing in bands that played so many different styles of music.
I have said it many times. I was born in best generation ever. The 'Baby Boomers' and on the back end of that era. The sensibilities of those like me who were born in the later years of the 'Boomers' caught the end of the Blues, Jazz and Big Band era and the beginnings of Rock and Roll, Pop, Soul, R&B, Funk, Fusion, Disco and then Hip Hop. How lucky was I and so many others to be born when we were born. Good Times for real! I have to say, because of my exposure to so many genres of music, it isn't very difficult to change styles.
Having drummed with so many greats, was there a time you were overwhelmed with a star?
Ralph: There are so many times I've been overwhelmed but you just can't show it. . When I played with Chaka Khan, I couldn't look her straight in the eye. I thought my heart was going to beat right out of my chest when Sting walked into rehearsal. Little Steven threw me for a loop when he made me family and gave me a nickname that I cannot divulge. Jennifer Holliday came to me and handed me the piece of drumstick that broke, flew and nearly hit her in the back of her head. She said, "I think this belongs to you…now autograph it for me since you almost killed me with it!" I thought she was going to hit me with it. Pharrell (Williams), I love so much. When he spoke to me, I literally didn't know what to say.
And
Vanessa Williams
, who I loved forever, has become a person who has shown me so much love, it's crazy. Thanks to her band members (who are all very close friends of mine) told her about my cookie business in Tokyo. She came out to my store for an interview. She's shown me so much love and support that I couldn't believe it.
Bono
and
The Edge
..two of the nicest people you'll ever meet, come to our Chic gigs and hang out with Nile and the band and on many occasions.
"Just act normal Ralph!"
. I have to keep telling myself that when they are around. I am a fan of many. I understand who I am and what I do but I am still a fan.
Is there a song during a Chic show that you look forward to? A track you love drumming to and can't wait to get your teeth into?
Ralph: That's easy. "I Want Your Love". The song is a combination of a great R&B and Soul song with so much dynamic range and emotion that the level and the amount of passion and depth of field that is needed to play that song makes it number one for me. But, the main reason, the big ticket item is Kimberly Davis' vocal performance. She knocks me dead every single time she sings that song. OH MY GOODNESS! The band is laying the bed, the foundation for the amazing vocal performance that she delivers night after freakin' night. She's truly from another planet. Her raw talent and energy brings out the best in each and every one of us. I love her personality and her passion. She's truly one of the best vocalists of our generation. She's up there, in my opinion, with the Aretha's, the Chaka's, the Whitney's and the Lailah's.
Congratulations to you and the rest of your Chic family on the recent Brit Award nomination for best international group, is it the justification of the workaholic drive of Nile Rodgers and Chic? And how the band remains relevant in the current musical spectrum?
Ralph: Let me tell you what you're hearing when you hear Nile Rodgers and Chic. You're hearing a group of people that really and truly love and respect each other. You're hearing a creative bunch of individuals and look forward to playing together. You're hearing people who are still in touch with each other when we're not on the road. That is Nile's doing. It starts from the top. If Nile wasn't the personality that he is, you wouldn't see or hear what you're seeing and hearing because when it come to live music, people know when the truth is being told. The synergy on stage reverberates outward and back on the stage and outward and back on stage for the entire show. It's a sharing of emotions so much so that we are now sitting in the audience and the audience is now on stage. The lines become blurred between who's doing the entertaining. That's when it becomes magic and memorable and unforgettable. I wouldn't trade that for anything in the world.
Let's not forget our AMAZING technical crew. They are the backbone and the unseen band members because without their impeccable skills, we wouldn't be able to do what we do. We trust them and they trust us.
So…to sum it all up…this is one big happy family and we're having the best time of our lives. WE ARE FAMILY!
Thank you again Ralph and I'm sure both myself and legions of fans are looking forward to seeing you and Chic perform again this summer, always the hottest ticket in town.
Ralph: Thank you. We are looking forward to another amazing summer. And, thank you to everyone for your love, many years of support and dedication. We owe all of this to you.
Chic And Nile Rodgers 2019 Tour Dates:
Jun 2 Nile Rodgers & CHIC St Anne's Park Dublin, Ireland
Jun 4 Nile Rodgers & CHIC Waterfront Belfast, Northern Ireland
Jun 5 Nile Rodgers & CHIC Waterfront Belfast, Northern Ireland
Jun 8 Nile Rodgers & CHIC Newmarket Racecourse Newmarket, UK
Jun 9 Nile Rodgers & CHIC Gloucester Kingsholm Stadium Gloucester, UK
Jun 14 Nile Rodgers & CHIC Hampton Court Palace Hampton Court, UK
Jun 15 Nile Rodgers & CHIC Hampton Court Palace Hampton Court, UK
Jun 21 Nile Rodgers & CHIC Eden Sessions The Eden Project, Cornwall, UK
Jun 22 Nile Rodgers & CHIC Haydock Park Racecourse Newton-le-Willows, UK
Jun 23 Nile Rodgers & CHIC Eden Sessions The Eden Project, Cornwall, UK
Jun 26 Nile Rodgers & CHIC Support: Phil Collins – PGE Narodowy Warsaw, Poland
Jun 28 Nile Rodgers & CHIC Concert At Sea Festival Ouddorp, NL
June 29 Nile Rodgers & CHIC Parkpop Festival Zuiderpark – 'S – Gravenage, NL
Jun 30 Nile Rodgers & CHIC Franklin's Gardens Northampton, UK
Jul 02 Nile Rodgers & CHIC Hollywood Bowl Los Angeles, CA
Jul 03 Nile Rodgers & CHIC Hollywood Bowl Los Angeles, CA
Jul 04 Nile Rodgers & CHIC Hollywood Bowl Los Angeles, CA
Jul 12 Nile Rodgers & CHIC Cardiff Castle Cardiff, Wales
Jul 13 Nile Rodgers & CHIC Cap Roig Festival Girona, Spain
Jul 14 Nile Rodgers & CHIC Bospop Festival Weert, NL
Jul 16 Nile Rodgers & CHIC Nice Jazz Festival Nice, France
Jul 18 Nile Rodgers & CHIC Les Vielles Charrues Festival Carhaix, France
Jul 21 Nile Rodgers & CHIC Tramlines Festival Sheffield, UK
Jul 26 Nile Rodgers & CHIC Kendal Calling Festival Kendal, UK
Jul 27 Nile Rodgers & CHIC Camp Bestival Lulworth Castle, Lulworth, UK
Jul 28 Nile Rodgers & CHIC Standon Calling Festival Standon, UK
Jul 29 Nile Rodgers & CHIC Standon Calling Festival Standon, UK
Aug 3 Nile Rodgers & CHIC Meltdown Festival London, UK TICKETS
Aug 29 Nile Rodgers & CHIC Fallsview Casino Resort Niagara Falls, ON
Aug 30 Nile Rodgers & CHIC Fallsview Casino Resort Niagara Falls, ON
Oct 3 Rock in Rio feat. Nile Rodgers & CHIC Barra Olympic Park Rio de Janeiro, BR