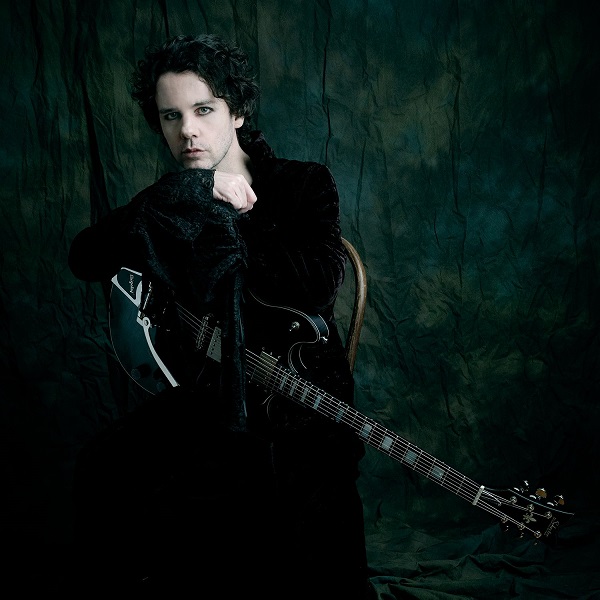 18 July 2019
Photo by Todd Davis
One part Nick Cave, one part Siouxsie Sioux, and oozing with an aura of originality, the baritone darkness of Ashton Nyte has electrified the ether for almost twenty-five years.
Either solo, part of his band The Awakening, or collaboration projects such Gemini Nyte, Ashton retains a dramatic intensity which is at the core of his delivery, a much sought after aspect of his talent.
Following on from last years acclaimed, and romantically compelling Chasm by The Awakening, Ashton has kept his momentum rolling energetically. Between solo acoustic shows, and more recently as a part of Michael Ciravolo's Beauty In Chaos mass project. Which features Ashton prominently on the band's second outing Beauty Re-Envisioned , in particular the video release "Storm", pointing to a more reflective, stripped back sound.
This week however, sees the release of more new material by The Awakening, in the form of the personal "About You" video release (Included below) from that latest long-player Chasm. Before Ashton's schedule becomes hectic again, he took time out to answer the questions I put to him regarding his past, the present, and what the future holds for both his solo work and The Awakening.
Thank you Ashton, for taking time out to talk to us at The Big Takeover, it is both an honor, and a privilege. Just to look at your background, growing up as a teenager in Johannesburg, what was the music scene like there?
Ashton: Thank you for your kind words Kevin, it is my pleasure to chat to you! Yes, I think we had a pretty fabulous music scene in South Africa back when The Awakening started. There was something of a renewed interest in live rock music happening at the time, which certainly helped our cause. We also had a healthy club scene going, which again fed The Awakening's popularity as we did what we could to feed the popularity of the genres we found ourselves in. But most of all, there was more than one location for me to sport a pair of leggings and 'doc martens' without the threat of imminent death, so things were definitely improving.
For you, was there an immediate embracing of the early eighties new wave or indie movements such as Joy Division? Or were you inspired by a collection of different genres?
Ashton: All of the above. I am a fan of so many genres and styles. If something resonates with me, it has value to me and inspires me. My music love affair started with Elvis around the age of 5. He made me want to sing. A few years later David Bowie made me want to be an artist, Kate Bush inspired me to be a magician, Lou Reed showed me how to strip it down, and the list goes on and on.
You are, without a doubt an expert on so many instruments, but what was the first you fell in love with?
Ashton: Thank you but in honesty I just play well enough to create the songs I want to create. I am first and foremost a singer and songwriter, so the voice is the first instrument that I fell in love with. I only started playing guitar in my late teens and Lord knows I'm still learning.
The Awakenings stunning hit, the Simon And Garfunkel number "The Sound Of Silence" points to a wider influence of music in your life, did you grow up in a musical household?
Ashton: I grew up in a household of music lovers. Although I am the only one who could be loosely termed a "musician" I definitely inherited the passion, dare I say music obsession, from my family, with my father being the most fervent disciple. I think being a devoted music fan with a broad taste in this particular drug of choice, does make for a passionate being and a passionate artist. At least I keep telling myself that to justify the CD and record buying habit which I don't seem to grow tired of.
The gothic persona, the image, the delivery, the themes, was it something you had an interest in from a young age through movies and art?
Ashton: Yes, movies, art and Ziggy Stardust. I remember dressing as Ziggy, complete with dyed red hair for a party when I was 14 or 15. I borrowed my mom's leggings to compliment my chelsea boots and never looked back. As a fan of glam rock, and camp musicals like Rocky Horror, it was all a natural evolution for me.
You are a musical dynamo, constantly busy, every few months there is something new, either a project or album, where does that drive come from?
Ashton: I used to say caffeine addiction, but I think it is just the way I am. I am honestly blessed with what feels like an endless vault of music and lyrics looking for ways to manifest themselves. As I said, I enjoy so many styles of music and likewise enjoy creating a myriad of styles and genres. I've tried support groups, or simply leaving the studio but end up singing demo ideas to my iPhone or our cats. I'm sure it is painfully annoying to be around.
Do you feel your solo material is a more personal statement, than say what is recorded with The Awakening?
Ashton: Not as a rule but, I agree that it often feels that way and does often end up that way. Much of my solo work tends to be more stripped down than what I release as The Awakening, which does make for writing more intimate songs. Sometimes the lines are blurred though. Sometimes that is intentional.
The album Chasm is a work of beauty, I recently heard the two-powerful and emotional versions of the opening track "Other Ghosts" on your website, is the track a coming to terms in a way with your past?
Ashton: Thank you. In a sense I think it is. I wrote that song very quickly – a stream of consciousness of sorts, and just let it take me where it wanted to go. The song is quite a departure in style for The Awakening but felt like the right way to open the album. It was actually intended to be the title track of a new solo album I had / have in the works but at the eleventh hour I felt it had to be the opener for Chasm.
Chasm aside, there is such a hive of activity over the last year with regard to The Awakening. With the releasing of the complete back catalogue to fans in the UK and Europe, from Risen (1997) onwards, but more importantly the rare The Second Verse Of Zeen Ep from 2000, is there more gems of rarity like that to come?
Ashton: Yes, it has been a delightfully busy time! And yes, there is a lot more to come, as far as previously unreleased works and other oddities go.
Are The Awakening taking a hiatus for the moment?
Ashton: Not at all. In an unplanned series of events I needed to put my energies elsewhere not long after the release of Chasm. I worked on a film score with composer Ethan Gold and then continued work with Beauty In Chaos, as well as dealing with a few life and health issues. The Awakening has just released the first of a number of music videos from Chasm, if somewhat belatedly. The first is for the song "About You" which is one of the most personal songs on the album. It really feels good to finally have these songs and now these videos out in the world. It has been a very long time coming.
You seem to flourish in collaborations, was your creativity rejuvenated for Chasm after your recent work with Michael Ciravolo and his Beauty In Chaos project?
Ashton; Chasm was actually written before I started working with Michael on Beauty In Chaos. I just wanted to give both projects the space and energy they deserved. I do think that creativity feeds creativity and working with Michael has been an inspiring and enjoyable process.
The three tracks you co-wrote with Michael on the album Finding Beauty In Chaos are personally my favorite three, the title track, "Bloodless and Fragile" and especially "Storm", do you feel there will be further writing collaborations with Michael in the future?
Ashton: Thank you most kindly! Yes, Michael is a lovely human and a very dear friend. Thankfully he is also a talented musician and songwriter and very easy to work with, so yes, I do see future collaborations.
You seem to be enjoying your acoustic shows, an organic way of showcasing your work with The Awakening, and your solo projects, will there be an acoustic-based album on the horizon or what can fans expect?
Ashton: I have always loved acoustic music and acoustic performances. It does feel like the most organic way to present my songs. I also thoroughly enjoy the magical intimacy of the smaller acoustic shows, both as a fan and as a performer. And yes, I am dabbling with more acoustic-focussed recordings even as we speak.
Granted you have so much more to offer, but looking back to when Ashton Nyte was that teenager in Johannesburg, did you ever think your life would be as exciting as it is?
Ashton: I certainly hoped it would be but yes, I've been blessed to work with amazing people and have had such wonderful opportunities and experiences both back in South Africa and the rest of the world. I still have much to do though…
Thank you once again and I look forward to hearing more music from you.
Ashton: Thank you very much and I'm sure we'll chat again.
For more on Ashton Nyte solo;
Facebook
Website
For more on The Awakening;
Facebook
Website
The Awakening "About You";

Ashton Nyte "Dressing Like You";

Beauty In Chaos "Storm";