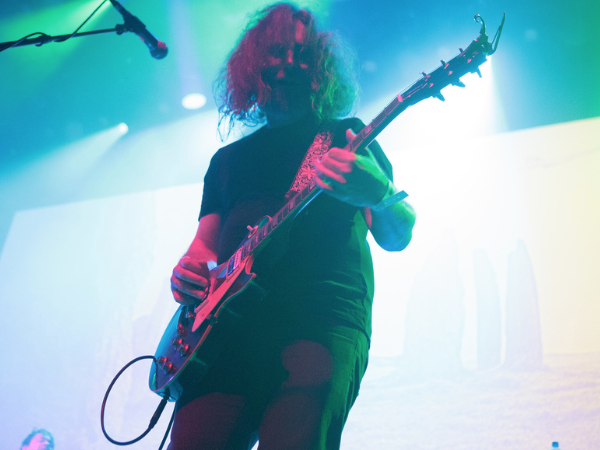 30 June 2019
Photo: Tim Bugbee
Black Mountain will carry a distinguished honor to Psycho Las Vegas in August: The band was the first to ever headline the festival, in its inaugural year of 2013. Back then, the four-stage event was called Psycho de Mayo; took place in Santa Ana, California; and featured 35 artists. The upcoming Psycho festival will take place in Sin City for the fourth year in a row and at the Mandalay Bay Resort and Casino for the first time, and feature roughly 70 acts.
As a testament to the festival's growth, perhaps, Black Mountain are billed 10th on the focal day they're performing: August 17. That said, performing alongside Carcass, Oranssi Pazuzu, Mark Lanegan and others is hardly a blow to the ego for the veteran psychedelic project from Vancouver and now based in Los Angeles.
(The band's recently revealed itinerary for its Horns Arising Tour lists Black Mountain as playing Psycho on August 16 as well, although organizers haven't announced the time and place of that purported show just yet.)
Black Mountain also played Psycho in 2016, placing the troupe led by Stephen McBean in rare company, as all-stars three-peating at the festival. This time around, as he recently told the Big Takeover in a phone interview, the band will tap heavily into its fifth studio album, Destroyer (Jagjaguwar), released in late May. We also talked with the singer/guitarist about Carcass, playing the kids' slot machine, his favorite Psycho memories and more.
What do you remember about the previous times you played Psycho Las Vegas?
MCBEAN: I love those dudes [who organize the event]. It's always interesting because they'll have the hard rock or metal, epic headliner — the first year was Alice Cooper, the year after was King Diamond, last year was Danzig — so you have that. And then some weirder acts, like Magma, Coven and prog stuff that maybe is seminal in [the Psycho] environment.
What do you make of the 2019 lineup?
This year, the oddball element is more based on Bad Religion and the Faint and stuff. I personally prefer Magma to Bad Religion, but it's throwing people some curveballs. I get excited about being in a band when I can play a festival where I give a shit about anyone who's playing, like Ace Frehley, Carcass, Tinariwen and Magma.
Do you liken Psycho Las Vegas to any other festivals?
MCBEAN: It's similar to Roadburn in the Netherlands. That's maybe a little bit on the super-brutal or noisy side. But it's cool. Everyone [at Psycho] is friendly. I saw Voivod [play while I was] in the pool, that was great. Saw Midnight at the pool. Everyone's having a good time and not getting in too much trouble.
What's it like backstage?
MCBEAN: The thing with a lot of hard rock and metal is some of us are getting a little older, so the party's not quite what it used to be. But it's a nice family reunion that has bands that you've toured with or played a show with before. At the Hard Rock [the festival's previous setting], the Center Bar was a meeting point where you'd figure out who you want to see.
Is it challenging to perform when so many of your friends and fellow musicians are watching?
MCBEAN: Sometimes it's a weird trip where someone is on the side of the stage, but by the time we're playing, I'm not aware of any of the audience. The hardest is when you're playing to your close friends. Sometimes I see a guitar hero who might give you a kick in the butt.
When you're not performing or hanging with friends, what will you be doing? Are you much of a gambler?
MCBEAN: I'll play the kids' slot machine, but I've never really gotten the gambling bug. I'll put in $10 or win $20 and play it till it lasts.
Who are you most excited to see perform at this year's installment?
MCBEAN: Carcass played two years ago; I saw them then and in '90 or '91 with Napalm Death, Brutal Truth and Cathedral on the Grindcrusher tour. Other than maybe Morbid Angel, [Carcass] was the sickest stuff out there.
I've never seen Vio-lence. I had one of their tapes. They're one of those bands that's maybe not quite legendary but loved by the thrash [fans].
What do you have in store for your set list?
MCBEAN: We usually just do whatever. It's always fun if we play a more indie-rock festival to be a heavy band, whereas at Roadburn we'll be the pussy band. It's fun that way. I'm not sure if we're playing indoors or outdoors. We'll be focused more on the new record and maybe move the gear around a bit. We'll probably [devote] the whole set toward the new record.
It sounds like you're pretty amped for Psycho. What do you think will be the highlight for you?
MCBEAN: I'm excited to eat food with my buddy Brook and watch some concerts. Electric Wizard is playing too, I'll be excited for that.
Who is Brook?
MCBEAN: Brook makes my guitar straps and leather straps. He's a leather scientist.
For previous installments of the Big Takeover's Psycho Las Vegas preview series, check out our interviews with:
• Colin H. Van Eeckhout, vocalist of Belgian post-metal purveyors Amenra
• Jason Shi and Scott Key, singer/guitarist and drummer, respectively, for melodic hard-rock masters ASG
• Greg Meleney, vocalist/guitarist for Portland psych-rock mainstays Danava
• George Clarke, vocalist for shoegaze/black-metal powerhouses Deafheaven
• Victor Vicart of Scottish progressive-metal quintet Dvne
• Zack Simmons, drummer of blackened death-metal demigods Goatwhore
• Emil Amos, drummer of experimental post-rock band Grails
• Julien Chanut, guitarist of French sludge-doom band Hangman's Chair
• Tony Campos, guitarist and founder of thrash revivalists Hell Fire
• Nashville cosmic-riff connoisseurs Howling Giant
• Stuart Braithwaite, founding guitarist/vocalist of beloved post-rock legends Mogwai
• Thomas Eriksen, centrifugal force behind true Norwegian black-metallers Mork
• All-female Motörhead tribute band Motorbabe
• Tobias Grave, frontman of shimmering post-rock trio Soft Kill
• Derrick Vella, guitarist of death-metal arsonists Tomb Mold
• Niklas Källgren, guitarist of Swedish fuzz fanatics Truckfighters
• Los Angeles Satanic doo-wop duo Twin Temple
• Bruce Lamont, frontman of experimental heavy-jazz project Yakuza and Led Zeppelin tribute band Led Zeppelin 2
• Aaron Rieseberg, bassist of Oregon doom-metal dealers Yob
Also, don't miss our special feature in which Deafheaven's Clarke and Mogwai's Braithwaite discuss their mutual affection for each other's bands, whether Deafheaven should play their Mogwai cover at Psycho Las Vegas — and the possibility of a collaboration between the two projects.