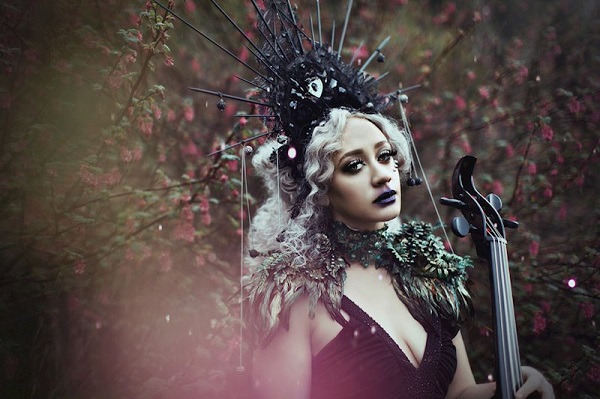 29 June 2019
Photo by Temira Decay
Post-classical artist Cellista, is the North Star for the inquisitive listener, those who seek out new and exciting sounds. Not an artist hinged in a genre, or succumbing to categorization. Cellista invents her own universe, gently welcoming audiences into a soundscape of adventure, as if a siren of solace she invites participants to take part in her fusion of beauty.
Having just released her latest album, an avant-garde, conceptual milestone known as Transfigurations. Not simply a straightforward recording, it instead is an artistic statement steeped in genres, social commentary and fueled by the conscious imagery that surrounds us all. The blending of ambient noise with slices of hip hop, classical music, and alternative pop is breathtaking to the senses.
This precision-based execution of hybrid-music is summoned from the blissful sound of the cello. The weapon of choice for Cellista, and haunting presence which forms the backdrop of her work. Before her schedule becomes dense with touring, Cellista took time out to give a deeper view into her creativity, and what fuels one of the most adventurous artists of our era.
Hi Cellista and thank you for taking time out to let The Big Takeover audience into your creative world. Can I start by asking what age were you, and what originally inspired you to pick up the cello?
Cellista: The Spring before I entered middle school in Longmont, CO a string quartet came to my school to do an outreach concert. I remember being in the classroom, sitting on the floor next to the cellist. They performed a movement from a late Beethoven string quartet. I could feel the vibrations of the cello especially, and fell in love with the low timbre. Also, the cellist was possibly the coolest cellist I have ever encountered in my life. He must have been 6'4" with an afro and eye patch. I was captivated. Sometimes I think I have been living my professional life just trying to attain the level of cool that cellist had.
When I entered middle school I signed up for orchestra and picked the cello as my instrument. I knew it was going to be my life partner, even at 11.
Growing up, were you the rebellious type who would play the cello but also listen to other forms of music say The Beastie Boys?
Cellista: Growing up I listened to a pretty wide array of music. Most classical musicians do. My early musical world was shaped by Bach, Vivaldi, Thelonious Monk, and I had a cassette tape of Tony! Toni! Toné! that I used to play on my Fisher Price cassette player and carry around with me. Weirdly, I recently backed them at a concert in San Francisco! That was a trip.
I think during adolescence, the music that really shaped me was hearing Tori Amos' Boys for Pele. It was one of the first times I had heard classical instruments and writing used well in rock. Harpsichord, a choir, gorgeous brass arrangements. It changed my life. In highschool, I was dating a punk rock boy in a band. I used to follow him from show to show secretly wishing I was the one on stage but not even realizing that was a possibility. From him I fell in love with the Ramones (Joey was always my favorite Ramone, he seemed so gentle), Minor Threat, and from there Fugazi. But honestly, punk never compelled me or moved me the way other genres like hip hop and post punk have.
College was this time when I really discovered my true musical loves. I was doing a double major in Political Science and Cello Performance at Metro State College in Denver and taking some chamber music classes when I was introduced to Portishead by a moody pianist I was dating. My heart swelled after my first listen of Dummy. Then after dropping out of music school to move to France with my now husband, I fell hard for Joy Division, unbelievably hard. I used to wander the small French town I lived in, homesick for the States, listening to Decade on repeat.
Your previous album Finding San Jose has a nostalgic and emotional feel to it, an ode to your hometown. Was it an album that you felt you had to get out as a thank you?
Cellista: Finding San Jose is my love letter to the first place I ever called home. San Jose has been foundational to my creative development. The album is an earnest reflection of a place that used to be orchards and a place struggling to withstand the tides of development. It is my thank you to the creatives of the city who helped shaped my identity and my hope that they may remain here despite the rampant gentrification and unchecked development. It is a bittersweet love but a true love.
What was San Jose like musically to grow up in?
Cellista: I moved to San Jose from France in 2010. When I moved here I found my creative voice after a very long hiatus from playing my cello. I think San Jose has a very rich visual arts scene which embraced me. So when I returned to the States and landed here, I decided to resume performing after my four or five years off. The town provided the perfect platform for me to re-learn my instrument in an untraditional manner. I began collaborating with the visual artists around me. This lead to the beginning of my career directing multimedia productions. I had a lot more space to be myself and break down some barriers that my former, exclusively classical life bound me to.
When it came to writing Transfigurations did you have the initial idea of the concept already prepared and wrote the music around it?
Cellista: Yes. In general I develop my projects in a way that is more akin to writing a novel. I come up with a narrative and spend a lot of time conceptualizing through writing.
Was there any event which inspired the new album? Similar to Finding San Jose
Cellista: Transfigurations began as a one-movement sound collage entitled Wants that I conceived of, as a responsive political performance art piece. It was created as a backlash against the Trump presidency and the rapid gentrification of my home of San Jose and the Bay Area at large. Wants was created with dance performance in mind and was choreographed by the dancer Lilith Ransom. We performed the piece in 2017, with both Lilith and me in movement while I provided the soundtrack of found sounds that told stories of the Bay area.
Additionally, Transfigurations developed out of my fascination with the French composer Olivier Messiaen's Quartet for the end of Time. Messiaen wrote that seminal chamber piece in a Nazi P.O.W. camp in 1941. He designed the Quartet as a responsive piece and created a spectacular equalizing force in its very first performance in front of both captives and their captors in the actual camp. Transfigurations is conceptually aligned with the Quartet and the circumstances in which it was created.
In 2016 I shared a dual exhibition at Anno Domini art gallery in San Jose with the renowned artist Barron Storey. Our exhibition honored the 75th anniversary of the Quartet's premiere. It was conjoined with my own varied concerns in Wants.
Do you consider Transfigurations a concept first and an album second? Where the recording is simply an extension of the actual art? For example it is an album similar to a print of a painting
Cellista: Wants was the catalyst for Transfigurations. It quickly metamorphosed into the current project and creates a meeting point for all the various thematic strands I am concerned with — the stories of the Bay Area, my indignation toward Trump, and concern with the negative effects of gentrification. It is a multimedia project: a full-length book, a film, a theater piece, and an album. Each component is of equal importance. However, when situated next to each other, the juxtaposed elements enhance one another. Each facet of Transfigurations is an extension of a concept and an expression of it.
With reference to the inclusion of Donald Trump (Rupture II), and the fact that the social commentary within the album is prevalent from the outset, ("Rupture I"), was this your partial aim to inject the realism of how the world has not moved on or even moved backwards since the days of The Black Panther movement?
Cellista: My aim was to demonstrate the endless repetitions of history and the heavy weight of those repetitions on each generation. It's about risking remembrance within an amnesiac culture.
Your recent shows to launch Transfigurations used visual settings, creating an actual installation of Transfigurations, was your intent clearly to make the album exist separately without the visual aesthetic?
Cellista: Transfigurations is a multimedia project that consists of a book, an album, dance, theater, and a full-length film. Each component is fundamental to the whole. Each segment contains the work of a precious collaborator, which was created under a common unifying vision. For instance, the film that accompanies the live performance of Transfigurations was created by my longtime collaborator Jennifer Gigantino, who worked from the treatment I wrote, and some of the imagery I supplied and suggested, to create her own film that contains her own fingerprint. That film uses my music and concept as a blueprint, but exists as Jenn's creation. Her work enhances my own.
The choreography within the live performance and film was created by another set of longtime collaborators: Lilith Ransom, Mojo DeVille, and Lauren Baines. Again, following the same method as the film, they came up with their own story to tell while creating under the common vision I supplied. It is as much their work as mine. The book I wrote with my father also tells the same tale of collaborative work. I believe in creating separately under a common vision. I rarely met with any of my collaborators until they had finished their work on the project. If the vision is strong enough there is no need to dictate anything to collaborators.
All these elements (book, album, dance, film) can live in their own world, just like individuals within a community; however when placed at a meeting point, a whole new environment can emerge that allows the community of audience and performer to regard each other in a new light.
How important was your dad, philosopher Frank Seeburger in the process of creating Transfigurations?
Cellista: My father was the most important part of conceptualizing Transfigurations. He helped provide the intellectual framework for me to build the structure of the project. I feel like you can sense the presence of Heidegger within this project; the philosopher my father devoted his whole life to studying. Many of our conversations reminded me of when I was little and I would sit in on my father's graduate philosophy seminars at the University of Denver where he taught for 42 years before retiring. It was a process of allowing me to come into the light of my own thoughts; a sort of feeling of illumination. Transfigurations is conceptually the most difficult project I have ever worked on. I frequently was unable to see the individual trees in front of me within the thick of the forest. I am grateful for my father's light.
What do you feel separates an artist of your caliber from a straightforward, album releasing musician? Or is there a difference?
Cellista: I guess at this point in my life I don't actually think of myself as a cellist or musician anymore. I never really fit the mold of the standard classical player. I never fit in completely with rock, or punk, or metal. For the longest time, I really identified as a session player. A hired gun who sat in on other people's projects and did a pretty damn good job of backing acts or recording for them. I have had the good fortune to perform with some legendary acts and some brilliant emerging bands spanning all genres. Through that work, I learned about a world outside of classical music and began to embrace all genres.
But the truth is that where I've felt truly welcomed and understood is within the world of visual art, dance, and theater. That's where I've felt the least need for translation in what I do and how I live in the world. These are the creators who see me and understand my vision. These are the disciplines that best articulate the stories I want to tell.
With the variety of themes and even the injection of different styles into Transfigurations, what do you actually listen to outside of the classic field?
Cellista: Right now noise is a huge part of my life. It inspires me compositionally and it stretches me as a performer. I think, as a composer, that it lets me sculpt with sound and allows me to examine the spaces and silences between shapes. Noise, in my opinion, is very visual, very tactile. Noise shows are a place to see some of the most radical performance art around. My first experience performing as a noise artist was at the St. Pete Noise Show in Florida, an event organized by Todd Novosak. The experience was transformative and led me to the NorCal Noisefest in Sacramento last year where I met a huge collective of noise artists who embraced me with open arms.
Besides that I listen to a lot of phenomenal Bay Area artists many of which are featured on my album. All the collaborators on my album are colleagues that I love and admire. I am so fortunate to have access to some of the best artists in the world here in the Bay Area. I love the lyrics of my favorite rapper DEM ONE. I consider him a librettist. I have never heard anyone better at creating truthful lyrics that feel raw and real. My mixing engineer Nahuel Bronzini, is a brilliant arranger and classical guitarist in his own right. Maryam Qudus, who engineered a majority of the album is a talented songwriter whom I met as a session player, accompanying her project Doe Eye. My co-composer on "Look Homeward, Angel" Peter Colclasure is a phenomenal minimalist composer. I was lucky to perform cello on his solo projects. So many of the session players on Transfigurations have their own amazing projects that I am in love with. That's the beauty of being a working musician. The depth, range, and vastness of our networks reaches far.
What do you consider your goal in life?
Cellista: To continually trust the process.
Easier said than done.
What is next for Cellista in terms of your musical journey?
Cellista: I will tour Transfigurations nationally as a multimedia installation. I hope with the momentum of this release to begin receiving more composition commissions and more opportunities to present my multidisciplinary installations in galleries and theaters. I simply want to continue doing the work I am doing now; building new platforms for community voices to be seen and heard.
Thank you very much for taking time out to give readers an extra insight into your work and creative process, personally I can't wait for the next release.
For more about Cellista;
Facebook
Website