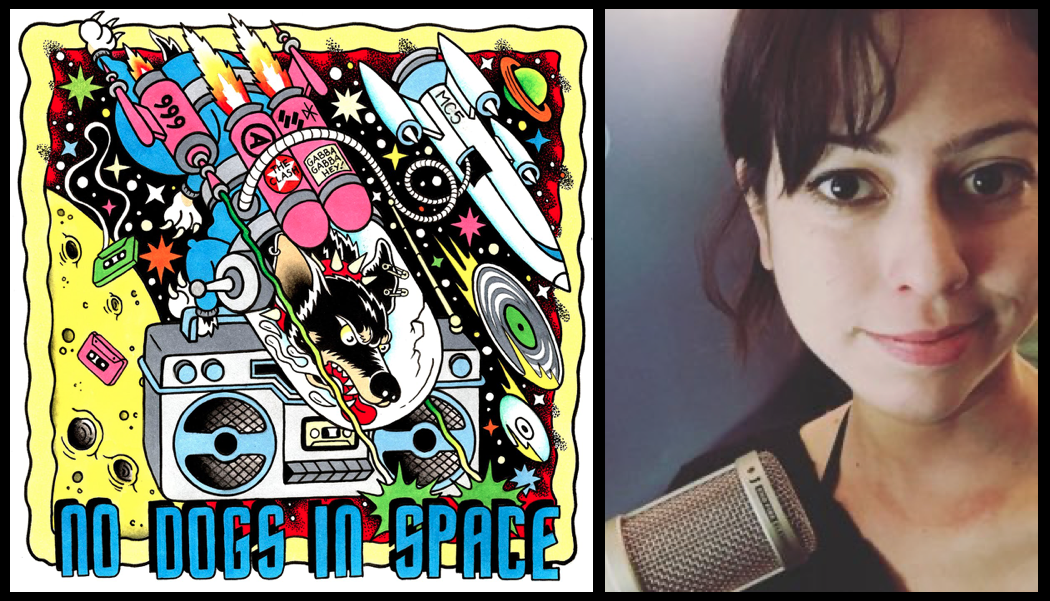 27 January 2022
Playing Favorites is an interview series where creative people pick a topic and tell us their five favorite things about it. Opinions expressed in this series are those of the interviewees and do not reflect the opinions of S.W. Lauden or The Big Takeover.
Carolina Hidalgo is a comedian, actress and podcaster. She currently co-hosts the No Dogs in Space music history podcast with her husband Marcus Parks. Season one of NDIS featured in-depth and entertaining multi-episode deep dives on The Damned, Dead Kennedys, The Slits and Ramones, among others—all meticulously researched by Hidalgo. Season two focused on six episodes about The Beastie Boys, and five episodes about The Velvet Underground. Hidalgo is a passionate music fan with a wicked sense of humor, so I asked her to tell us about her favorite funny punk musicians.

CAROLINA

HIDALGO

'S

TOP

5

FAVORITE

FUNNY

PUNK

MUSICIANS
According to me of course!
5. Captain Sensible of The Damned
Captain Sensible is literally a punk clown. He makes the fun! He got his name from refusing to wash his hair that had dried up egg left in it from when fellow Damned member
Rat Scabies
broke it on his head the night before back in 1976. Now, he usually covers his head with a red beret that goes nicely with his okapi coats, tutus, or his bare ass while he rocks ass on guitar and keyboards. He takes a risk every time and I love him for it.
4. Stephen Morris of Joy Division
When his bandmate
Ian Curtis
died by suicide and the band decided to keep going with a new name, drummer Stephen Morris playfully suggested Stevie and the JDs! before they eventually went with
New Order
. His dark sense of humor is what drew me to his book
Record Play Pause
(which I also had to read for research) and it ended up being my favorite book in years. Stephen describes his teen years of narrowly escaping the Children of God cult and then later, while on tour with Joy Division, coming close to a paranoid psychotic breakdown due to accidentally ingesting five tabs of acid at once.
That sounds incredibly frightening, but it's hysterical when you read it in his words.
Now that's a funny guy!
3. Jello Biafra of Dead Kennedys
What happens when a theater major from Colorado finds himself as a major instigator of the early west coast hardcore scene? You run for office! It's all theatrics anyways!
Jello's antics can exhaust some people, but I personally loved hearing about his run for Mayor of San Francisco in 1979. He campaigned for all downtown business men to come to work dressed as clowns and he proposed a Board of Bribery because
why hide behind the facade
? He can be facetious and satirical, but I'm pretty sure he means what he says and I love a dose of comedy with my politics. Plus, he's a fantastic songwriter to boot.
2. Peter Hook of Joy Division/New Order
So, I know I'm bringing up another member of Joy Division/New Order, but they truly are one of the funniest bands I've ever read about, which is a surprise when you consider their music. Peter is known to tell tall tales and maybe exaggerates just a little bit, but it's all for a laugh. His books are hilarious at every page especially when he describes how he initially tried to write songs after frontman Ian Curtis passed away. With working song titles like "Idea No. 1," "Idea No. 2," "Guitary One," etc., it just makes him more relatable. He admits he's tone deaf, but my god he writes the best melodies.
1. Henry Rollins of Black Flag/Rollins Band
Henry Rollins is always going to be on the top of my list of funniest people in punk or really anywhere. He's got an insane work ethic where if he's going to do something, he's going to give it his all; a leading figure in the early DC hardcore scene, author, actor, then finally, stand up comedian. And he blows me away every time I check out a Henry Rollins show. He's hilarious (see "Henry Rollins vs.
Iggy Pop
" above!), honest, humble, and a lot of times, the voice of reason in punk. Or at least to me anyway.
Previously on Playing Favorites:
Mo Troper's Top 5 Favorite Portland Albums
Alison Braun's Top 5 Favorite Punk Bands To Photograph
Jenn Alva's Top 5 Favorite Punk Singers
Brian Walsby's Top 5 Favorite Punk Drummers