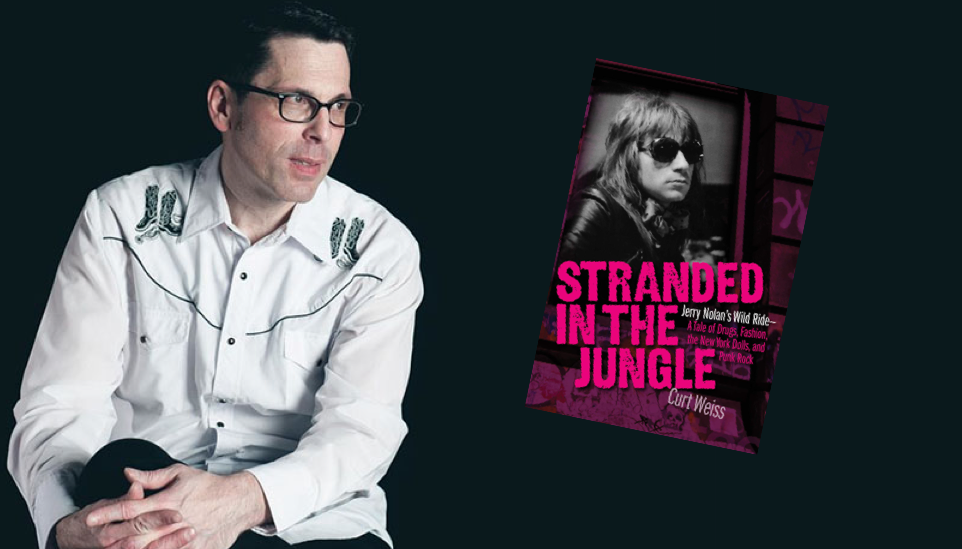 2 February 2022
Playing Favorites is an interview series where creative people pick a topic and tell us their five favorite things about it. Opinions expressed in this series are those of the interviewees and do not reflect the opinions of S.W. Lauden or The Big Takeover.
Curt Weiss is the author of Stranded In The Jungle: Jerry Nolan's Wild Ride, the definitive biography about the legendary proto-punk drummer for The New York Dolls and Johnny Thunders and the Heartbreakers. Louder Than War's Joe Whyte described the book as "one of the best accounts of the era of punk rock and the preceding years and aftermath." Weiss also contributed the essay "Maximize The Minimal & Let It Swing," a companion piece to Stranded in the Jungle about Jerry Nolan's highly-influential drumming, to my new collection, Forbidden Beat. So, he knows a thing or two about The New York Dolls, which is why I asked him to share his five favorite songs.
CURT

WEISS

'

TOP

5

FAVORITE

NEW

YORK

DOLLS

SONGS
5. "Red Patent Leather" (Red Patent Leather)
Call me a heretic, but I love the much maligned,
Malcolm McLaren
infused
Red Patent Leather
record. Yes, the sound is even worse than
LAMF
, and you can barely hear the usual roar you'd expect from
Johnny Thunders
, but the makings of a great third Dolls album are all there. "On Fire," "Girls,' "Teenage News," "Pirate Love," "Down, Down Downtown," and "Daddy Rollin' Stone," would all appear on future band member releases. But my fave is the opening title track. Is it about a sexual kink or Marxist politics? Who knows and who cares? Its multi-faceted rock and roll, touching on Stax/Volt,
Chuck Berry
and
Humble Pie
. A lot more exciting than
Bad Company
could ever hope to be.
4. "(There's Gonna Be A) Showdown" (Too Much Too Soon)
The covers a band chooses tells you much about their influences. But what was also great about the songs the Dolls chose to cover was how out of the ordinary they would play them. They covered Blues icon
Sonny Boy Williamson
's "Don't Start Me Talking" sans its shuffle rhythm, and chose
Bo Diddley
's "Pills", a song from his catalogue without the rhythm commonly associated with his name. What they did do to covers was fill them with their own character. Such is the beauty of their version of
Archie Bell and the Drells'
"(There's Gonna Be A) Showdown". The Dolls play the verses with a southern soul "Four on the floor" Stax/Volt rhythm, even though the original is written and produced by Philly soul masters
Gamble and Huff
. There are
David Johansen's
and
Sylvain Sylvain's
girl group inspired background vocals, the locomotive drive of
Jerry Nolan
on drums, and the unmistakable leads of Johnny Thunders peppered throughout. Most spine tingling is the double chorus outro after Johansen does his countdown where Thunders scorched earth lead picks up the second half, and Jerry adds a simple yet dramatic drum flourish before the final hook. So what if the bass is out of tune? Give a listen to "Suffragette City" and tell me it matters.
3. "Subway Train" (New York Dolls)
As one of the grandaddy's of punk rock, you'd be mistaken if you thought the Dolls just kept to one rhythm and tempo for a whole song. "Subway Train" shows you how untrue that is. More importantly though, on "Subway Train" they re-invent the blues and sound nothing like
Cream
,
Led Zeppelin
or the chief rivals for their manager's affections,
Aerosmith
. They use the tried-and-true locomotive metaphor that so many who'd come before them had, making it modern and urban. Unrequited love, sex, loneliness. It's all in there. Another example of Thunders just dropping in notes that sear a permanent channel into your brain pan. He had yet to live out Johansen's opening lyric ("I can't ever understand, why my life's been, cursed, poisoned, condemned"), but it had to have influenced what he played. But are they "filling up his car" or "feeling up his car"? I still don't know but I'm still listening for clues.
2. "Trash" (New York Dolls)
Even before the
Ramones
, there were bands doing a lot with a little. Just a hand full of chords, some repeated words and a few simple melodies, and bang! You've got a song. "Trash" leads the way in this storied category. Right off the bat there's Jerry, laying down some
Gene Krupa
like no other rocker could, until he switches to a twist beat. Nobody else was doing this in 1973. Is it an anthem to hope ("Don't throw your life away") or survival ("Don't take my life away")? Like so many other great songs, ambiguity is our friend. Regardless, the singer wants to "take a lover's leap with you." As Jerry would say a few years later "Take a chance with me." And how do you call your lover boy? Well, if his name is Trash, you sing to him and tell him "You're the one." Throw in some doo-wop falsettos, and you've got a classic.
1. "Jet Boy" (New York Dolls)
The perfect capper to an album that Syl himself called "The Gold Standard": the one all others get compared to. First there's the riff. If you watch Thunders playing it, all you see are a few open chords. But this ain't some "Sister Goldenhair" strum-a-thon. Using his Thunders magic, he conjures up some "Rebel Rebel" meets "You Really Got Me" level shit. Each verse builds from the previous one, with the second proving to be a highlight with Jerry's stutter step fills building the tension that's released in the chorus. Finally, in the last set of choruses, he joins Johnny's dive-bombing airplane assault with his own machine gun delivery. By the end of the song, you feel as if you've spent a night club hopping in New York listening to the best party band since
the Rolling Stones
. In a word, "Jet Boy" is exhilarating.
Previously on Playing Favorites:
Carolina Hidalgo's Top 5 Favorite Funny Punk Musicians
Mo Troper's Top 5 Favorite Portland Albums
Brian Walsby's Top 5 Favorite Punk Drummers