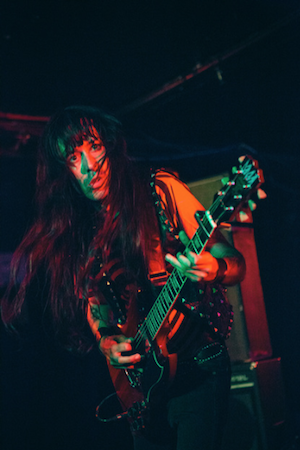 26 June 2019
Photo: Tim Bugbee
While much has been said about the musical diversity featured in this year's installment of Psycho Las Vegas — which is embracing everything from dream pop to black metal to electronic music — the litany of bands well-suited for the festival's traditional focus on psychedelic heavy rock shouldn't be overlooked.
One of the ensembles at the top of that card is Portland's Danava, which helped repopularize the stoner-friendly sound along with other Psycho 2019 participants like Dead Meadow and Spindrift in the early 2000s. [Check back next month for interviews with those two bands.]
While Danava played Psycho's inaugural Vegas edition three years ago, it both is and isn't a surprise that they haven't returned since then: After all, the only material they released between 2011 and now was the single "At Midnight You Die" in 2016.
Nonetheless, the esteemed quartet led by vocalist/guitarist Greg Meleney will be one of the main attractions at the all-day pre-party to be held August 15, before the three-day festival kicks off at the Mandalay Bay Resort and Casino.
We caught up with Meleney via email to discuss why he refuses to watch YouTube clips of Danava's first Psycho show, why he loves playing in the heat and why bands shouldn't use set lists when they perform.
Why are you particularly excited to play Psycho? From your point of view, what makes the festival special — both from a performance perspective and as a personal experience?
MELENEY: For us, I think it's just how bizarre it is that music of this sort is tossed into the weird world of Vegas. As far as we go, we're in the streets. Like rats. We don't belong in Mandalay Bay whatsoever. But guess what? We'll be there. It's also a rare chance to catch up with quite a lot of friends from around the world and misbehave and do our thing with all of 'em.
What are you favorite memories of playing the festival in 2016?
MELENEY: Same as above essentially, except I was exhausted from life at that time and took myself to the edge with rippin' a major fuckin' strip the entire time. So my memories aren't clear, and YouTube isn't a place I'll ever go to catch a glimpse.
Do you have any surprises planned for your Psycho set, whether they be songs you wouldn't normally play, added stage elements, etc.?
MELENEY: If we did, it wouldn't be something we'd divulge. Haha! 
Do you prefer playing in the heat or in the cold? Indoors or outdoors? What are the advantages and disadvantages of playing at the time and on the stage where you're scheduled to perform?

MELENEY: My body prefers warmth and sweatin' 'er out for a show, but my cheap gear hates the heat. I'm not sure of anything [in terms of scheduling,] except it's great that we've been asked to play. We played Mandalay once with Down a decade ago, but inside. I'm sure the pool party will rip!

Tell me something that happened to you in Vegas that was supposed to stay in Vegas.
MELENEY: No can do. Them's is the rules, and it's rare I follow any rules, but that one works. And it has a touch of class in its legend.

What other bands are you most excited to see perform at Psycho?
MELENEY: Too many to mention, so I'll keep it to Vio-lence.
What friends of yours are also playing at the festival? Who are you planning or hoping to hang with in your downtime?
MELENEY: Uncle Acid, Graveyard, High on Fire … again, too many. 
What can fans and newcomers expect from your performance(s) at the festival?
MELENEY: I have zero idea. The shows go as they must, and the one thing we try to maintain is that these songs are in our blood — but hell, we don't even write set lists. The show goes where it must. For better or worse. That's how all shows should be, if you ask me.
For previous installments of the Big Takeover's Psycho Las Vegas preview series, check out our interviews with:
• Colin H. Van Eeckhout, vocalist of Belgian post-metal purveyors Amenra
• Jason Shi and Scott Key, singer/guitarist and drummer, respectively, for melodic hard-rock masters ASG
• George Clarke, vocalist for shoegaze/black-metal powerhouses Deafheaven
• Victor Vicart of Scottish progressive-metal quintet Dvne
• Zack Simmons, drummer of blackened death-metal demigods Goatwhore
• Emil Amos, drummer of experimental post-rock band Grails
• Julien Chanut, guitarist of French sludge-doom band Hangman's Chair
• Tony Campos, guitarist and founder of thrash revivalists Hell Fire
• Nashville cosmic-riff connoisseurs Howling Giant
• Stuart Braithwaite, founding guitarist/vocalist of beloved post-rock legends Mogwai
• Thomas Eriksen, centrifugal force behind true Norwegian black-metallers Mork
• Tobias Grave, frontman of shimmering post-rock trio Soft Kill
• Derrick Vella, guitarist of death-metal arsonists Tomb Mold
• Niklas Källgren, guitarist of Swedish fuzz fanatics Truckfighters
• Los Angeles Satanic doo-wop duo Twin Temple
• Bruce Lamont, frontman of experimental heavy-jazz project Yakuza and Led Zeppelin tribute band Led Zeppelin 2
• Aaron Rieseberg, bassist of Oregon doom-metal dealers Yob
Also, don't miss our special feature in which Deafheaven's Clarke and Mogwai's Braithwaite discuss their mutual affection for each other's bands, whether Deafheaven should play their Mogwai cover at Psycho Las Vegas — and the possibility of a collaboration between the two projects.