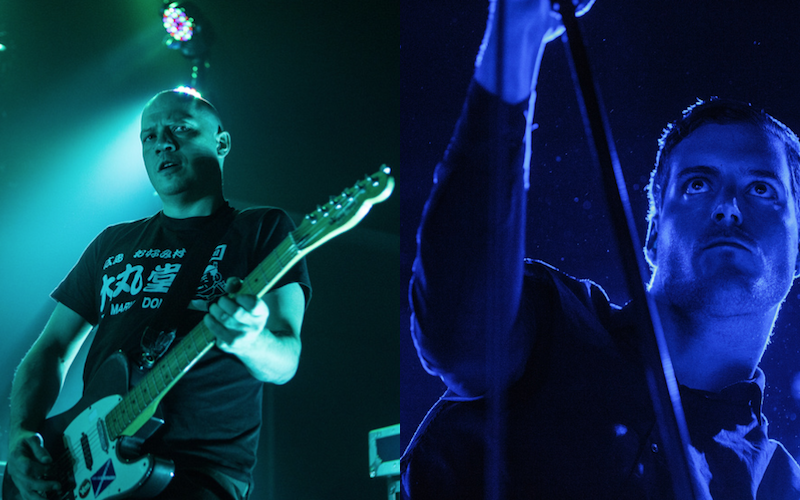 25 June 2019
Photo: Tim Bugbee
In 2012, the year before Deafheaven unleashed the groundbreaking cauldron of shoegaze and black metal that was Sunbather, the quintet slipped out an EP with fellow San Francisco black-gaze band Bosse-de-Nage. Deafheaven's contribution to the split release was a blended cover of "Punk Rock" and "Cody" by indie-rock icons Mogwai, making it clear that Deafheaven hadn't confined themselves strictly to the heavy-metal genre.
On August 18, the post-rock and post-metal bands will be two of the biggest draws at Psycho Las Vegas 2019, when they play separately at the Mandalay Bay Resort and Casino. Mogwai and Deafheaven have shared festival bills before, but in recent interviews with the Big Takeover, the frontmen for both bands made clear that they have an ongoing affection for each other's project.
About 15 years separate Mogwai's and Deafheaven's origin dates, cementing the fact that the bands are of different generations. Their ages do the same: Stuart Braithwaite, founding guitarist/vocalist for the former band, is 43; George Clarke, vocalist for the latter, is 30.
One could argue Mogwai has passed the torch to Deafheaven — except they'd be wrong. The Scots are more prolific than ever, having sandwiched a new studio album between the release of soundtracks in 2016 and 2018. Meanwhile, Deafheaven continue to break new ground, most recently releasing "Black Brick," a B-side from 2018's Ordinary Corrupt Human Love that stands as their heaviest song to date.
With both bands busily building their oeuvres, Braithwaite and Clarke took some time to discuss what they admire most about Deafheaven and Mogwai, respectively.
Have you guys seen each other in concert before?
CLARKE: I've seen Mogwai a few times. The first time, I was 16. It was at the first Curiosa, when Robert [Smith of the Cure] had a solo tour. Mogwai did the whole thing. I went to San Francisco and did not know who they were, and it was the loudest thing I'd heard at this time. I was like, "What is this?" We had the opportunity to play Sasquatch with them in 2014 in Washington, and we got to meet Stuart. Also, [Deafheaven guitarist] Kerry [McCoy] got to talk to him for a bit in L.A. at El Rey.
BRAITHWAITE: I have seen [Deafheaven] live. A few summers ago, we were playing a lot of the same festivals. And yeah, we hung out with them a bunch of times. It's been a while. It'll be good to see them again.
So you haven't toured together yet?
CLARKE: No, we haven't. I would love to.
Do you get sick of hearing the comparisons people make between Deafheaven and Mogwai?
CLARKE: We don't get too many comparisons, really. Maybe at the time when we put the cover out, but I never get asked about Mogwai. Kerry might, because he's our primary songwriter.
BRAITHWAITE: Deafheaven is sort of like an extreme version of us. Mogwai 2.0. We probably share the same influences: My Bloody Valentine, Slint, et cetera.
George, who suggested the cover?
CLARKE: Kerry. I love those songs, but also, it was one we felt we could execute in a cool way. There's enough space to add their own textures in there. Kerry listened to that song and was inspired to play with it.
Stuart, when did you first hear Deafheaven's "Punk Rock/Cody" cover?
BRAITHWAITE: I think when they did that cover, a bunch of people who knew and listen to heavier music told me to listen to it. I really liked it, and after that, I've listened to their music quite a lot. I like what they do. It's intense.
What's your favorite Deafheaven song or the one you'd most like to hear them play at Psycho?
BRAITHWAITE: The record I listen to the most is Sunbather. I will check out their new one before the festival.
George, what's your favorite Mogwai song or the one you'd most like to hear them play at Psycho?
CLARKE: I never really get to hear a lot of stuff off [2006's] Mr Beast. That was the record that I got into them on, after I had seen that concert, sometime that year.
Stuart, would you tap extra heavily into Mr Beast based on George's reverence for that record?
BRAITHWAITE: We're pretty easily persuaded as far as our setlist goes. Sometimes we let our friends write the setlist!
George, would it be awkward to pull out your Mogwai cover at the festival?
CLARKE: I don't think that we would. We haven't played it in a long time. It'd be goofy to bust it out because they were there.
Stuart?
BRAITHWAITE: No, that would be rad. I would love to hear them play it live.
Have you talked about a collaboration or split record?
CLARKE: For something like that, the ball would be in their court. But yeah, if the opportunity presented itself, we would.
BRAITHWAITE: That would be fun, to collaborate or play a split EP.
For previous installments of the Big Takeover's Psycho Las Vegas preview series, check out our interviews with:
• Colin H. Van Eeckhout, vocalist of Belgian post-metal purveyors Amenra
• Jason Shi and Scott Key, singer/guitarist and drummer, respectively, for melodic hard-rock masters ASG
• George Clarke, vocalist for shoegaze/black-metal powerhouses Deafheaven
• Victor Vicart of Scottish progressive-metal quintet Dvne
• Zack Simmons, drummer of blackened death-metal demigods Goatwhore
• Emil Amos, drummer of experimental post-rock band Grails
• Julien Chanut, guitarist of French sludge-doom band Hangman's Chair
• Tony Campos, guitarist and founder of thrash revivalists Hell Fire
• Nashville cosmic-riff connoisseurs Howling Giant
• Stuart Braithwaite, founding guitarist/vocalist of beloved post-rock legends Mogwai
• Thomas Eriksen, centrifugal force behind true Norwegian black-metallers Mork
• Tobias Grave, frontman of shimmering post-rock trio Soft Kill
• Derrick Vella, guitarist of death-metal arsonists Tomb Mold
• Niklas Källgren, guitarist of Swedish fuzz fanatics Truckfighters
• Los Angeles Satanic doo-wop duo Twin Temple
• Bruce Lamont, frontman of experimental heavy-jazz project Yakuza and Led Zeppelin tribute band Led Zeppelin 2
• Aaron Rieseberg, bassist of Oregon doom-metal dealers Yob