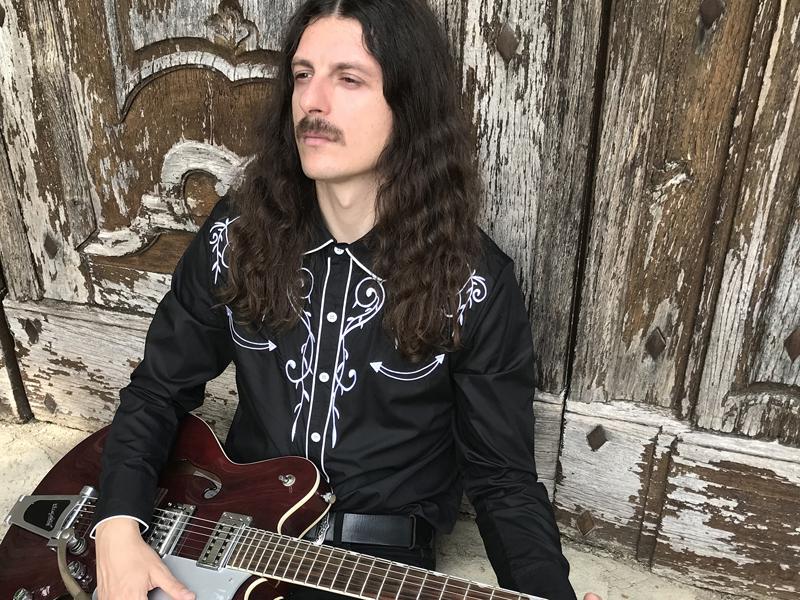 22 January 2021
Can we start with a bit of background, where has the musical journey taken you so far and what music and artists have inspired you along the way?
Nero Kane: Since the beginning of my solo project as Nero Kane I've been through many satisfying things. Starting from the collaboration with Joe Cardamone (ex- The Icarus Line) for the recording in Los Angeles of my debut album "Love In A Dying World" (American Primitive 2018) and the film shot in California by my partner Samantha Stella and scored with my music, to the many shows that we played together both in Europe and Italy till the last UK Tour made in February 2020 and ended just before the beginning of the pandemic. After this, all the process that led me to write and record my new album "Tales of Faith and Lunacy" (Nasoni Records 2020) produced by Matt Bordin and released last October, which has been gaining amazing reviews and appreciation and was listed among 2020 best albums in many charts. Along the way, I've been inspired by so many artists but I'd like to mention in particular: Nick Cave, Nico, Swans, Johnny Cash, Mark Lanegan, Wovenhand, PJ Harvey,Neil Young.
How did yourself and Samantha Stella end up working together? Please tell us about your audio and visual collaborations.
Nero Kane: We collaborate since 2015. Basically, it all started when I asked Samantha to shot some promotional videos for one of my previous records. From this moment, our two worlds, that are really similar and complimentary, began to mix with each other and our collaboration has given birth to new projects. The performance "Hell23", presented in 2016 in Milan and Los Angeles at the Italian Cultural Institute, was the first step. The following year Samantha shot the film "Love In A Dying World" based on the music of my debut album, then I asked her to join me on stage on vocals and keyboards for the live promotion of the record. I ended up writing new songs and I asked her to add some lyrics and to sing them because I really appreciate her vocals and imaginary. This last step took shape with this new record and a short film made up of two episodes, "Lord Won't Come" and "Mechthild", that we shot together for the new release. Samantha has an aesthetic taste and a visual approach that really permeate my music and my visions.
There is a wonderful mix of The Old West and a wonderfully bleak Dystopian future landscape being painted on the album Tales of Faith and Lunacy, where do you draw your inspirations from to build and populate that place?
Nero Kane: I have many sources of inspirations. Literature, poetry, paintings and movies first of all. To be more specific, for this new album I'd like to mention these artists with their relative works: movies, like the darkness of Béla Tarr's "The Turin Horse", the desert territories of Wim Wenders' "Paris, Texas", the shamanic spirit of Jim Jarmusch's "Dead Man", and novels, like the visionary border landscapes of Cormac McCarthy, and in particular "The Road", or John Williams' "Butchers' Crossing". And also ancient writings like "The Flowing Light of the Godhead" by Mechthild of Magdeburg, a thirteenth-century German Christian mystic. And music of course, with the artists mentioned in my first reply.
And again, it is a place where religious imagery is very prominent, particularly on songs such as "Mechthild" and "Lord Won't Come", does this come from a personal place or is it more an artistic feature?
Nero Kane: I would say both. As a songwriter, I'd like to investigate those topics that are part of our life such as love and death, darkness and light, and of course religion. Although I can't say I'm a religious person, I'm really attracted by these aspects, how they determinate our path and how we face them. On the other side, also the aesthetic religious imaginary plays an important role that I think it's deeply connected to my Italian origins and heritage which are dominated by Christian culture.
If Tales of Faith and Lunacy was the soundtrack to a Hollywood movie, and I think it should be, who would star in it?
Nero Kane: Vincent Gallo and Juliette Lewis or William Dafoe and Tilda Swinton.
You've released this album through several different labels simultaneously and the reaction has been solidly positive. Has it been a challenge getting the word out to the world about this new album?
Nero Kane: This has really been a wonderful experience. We are working on this and also with Shauna (founder of Shameless Promotion PR), who has been very kind and there has been a good success and communication with her during the PR campaign.
Which artists these days do you see as your 'kin'?
Nero Kane: David Eugene Edwards / Wovenhand, Nick Cave, Michael Gira / Swans, Mark Lanegan,Lingua Ignota, Anna Von Hausswolff.
And where next for Nero Kane both musically and otherwise?
Nero Kane: I've started to write new songs for a new album. I also would like to go back to tour as soon as possible, but in the meanwhile, I'm looking forward to enter the studio for a new chapter of my music/story.
Thank you very much for taking the time to talk to us