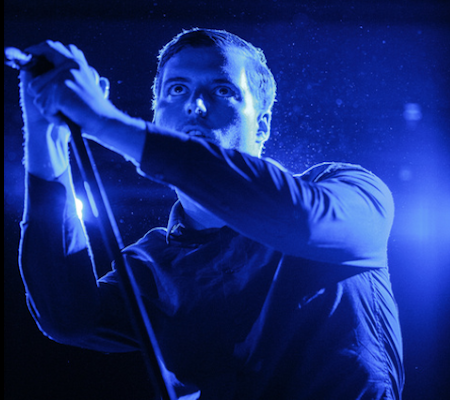 24 June 2019
Photo: Tim Bugbee
Six years after the release of Deafheaven's Sunbather, it's hard to overstate the impact the San Franciscans' second record has had on heavy metal. Taking a tip from French band Alcest, Deafheaven melded their love of post-rock and black metal, and brought to the foreground the subgenre some call "blackgaze."
For a band that has inspired countless bands in the subsequent years, it's startling that Deafheaven has yet to play Psycho Festival — which began as a different incarnation the same year as Sunbather's release. "America's annual rock 'n' roll bacchanal," as its organizers call it, will finally feature the quintet this year; they play Sunday, August 18 — the same day as one of their favorite bands, Mogwai.
Deafheaven's participation in Psycho Las Vegas — taking place at the Mandalay Bay Resort and Casino — is indicative of the festival's ostensible and continuing expansion beyond the heavy psych and metal genres to which it initially appealed, and into quarters of indie-rock, electronic music and punk. It also deepens the festival's embrace of taste-making acts; last year's Ordinary Corrupt Human Love was Deafheaven's third consecutive, critically championed record.
Today we bring you the second installment in a three-part series in which the Big Takeover spoke with the frontmen of both Deafheaven and Mogwai. (Go here for our interview with Mogwai's founding guitarist/vocalist, Stuart Braithwaite, and return tomorrow for a third article in which the musicians discuss their mutual affection for one another's bands.)
We recently caught up with Deafheaven vocalist George Clarke over the phone to talk about his band's invincibility; the wild success of their recently released B-side, "Black Brick; and his new hairstyle (!).
Unlike many of Psycho's participating bands, you've actually played even bigger festivals in the U.S., like Bonnaroo and Coachella.
CLARKE: We don't necessarily vie for festival slots or anything, just take the opportunity when they come. But we were really happy when we did get the offer. It's cool to be part of [Psycho's] expansion — that might've even been the reason we were asked in the first place. Bands that cater to other parts of our sound are also performing.
Why are you particularly excited to play Psycho? What makes the festival so special?
CLARKE: Roadburn comes to mind, in terms of other festivals that cater toward metal but also toward fringe artists that incorporate elements outside metal. It seemed interesting to me that Psycho, which I've noticed is more of a traditionally metal festival or has more of a focus on doom or heavy metal, has this year opened up a bit. I think there's room for everybody.
I want to reiterate that getting these opportunities and being invited to a festival that carries a lot of weight is cool, and we appreciate being heard — and the offer to play.
Was this the first time you were invited to play Psycho? That'd be a surprise, given how regularly Deafheaven tours. Have you ever gone as a fan?
CLARKE: I think [guitarist] Kerry [McCoy] has [gone]. One of our friends Kim (a.k.a. DJ Painkiller) DJ'd the event one year and is doing it again and maybe went with her.
Do you have any surprises planned for your Psycho set, whether they be songs you wouldn't normally play, added stage elements, etc.? A lot of metalheads say "Black Brick," an Ordinary B-side you recently released, is your heaviest and maybe even best song to date.
CLARKE: We're still pretty excited about last record and "Black Brick." I'm imagining what we're going to do — because it's a one-off [show,] it is going a mixed bag. The challenge for us is covering a good part of our career in an hour, because our songs are so long. But we're going to try to do a little bit of everything.
Why didn't you include "Black Brick" on the album?
CLARKE: We recorded it at the same time as we recorded the other songs off Ordinary. Originally it was going to be this centerpiece of the record, but listening to the sequence … we all loved the song, but it conflicted with everything else. We were able to keep it as a B-side, and we decided to play it on our recent tour with Baroness. It's a great song to play live.
Do you prefer playing in the heat or in the cold? Indoors or outdoors? Will you manage OK in the heat if you're scheduled to play at the pool?
CLARKE: I think our music plays better to indoors or cold weather but no, we've played hot stages tons of times, on hot stages in the middle of the day. I remember playing Download [Festival] Madrid and the sun was really attacking us, and it was fun. It's always a little awkward, because it's sonically not what you imagine, a middle-of-the-day set in the 100 degree weather.
Tell me something that happened to you in Vegas that was supposed to stay in Vegas.
CLARKE: Man, that's a good one. But that's just it with Vegas — thankfully a lot of the stuff that was supposed to stay there has been wiped from my brain. I've done, in my days of partying, maybe every bad thing you can do in Vegas.
What other bands are you most excited to see perform at Psycho?
CLARKE: I'm in that [non-metal] boat a little bit. For me, it's very exciting to see Mogwai. I'm very excited to see acts like Beach House and such. But for me, honestly — I love to see bands perform, but things like this are really cool because friends will be there. People like Cold Cave and Power Trip will be playing. [It'll be fun] to hang with some quality people, because we're always on tour.
What will you do in your downtime at the festival?
CLARKE: I won't know till I'm there, but usually — like other fests — it's walking around. Eventually everyone will be in the pool, because that's how it ends up in Vegas in August. But we keep it mobile. There'll be a lot of spectacle and people-watching. Our crew will be [on foot].
Will this be one of the biggest crowds you will have played to in the U.S.?
CLARKE: It'll be up there. But I'm going to go out with the same amount of nerves. It'll be a big show. When all those faces are staring at you, it's big.
What can fans and newcomers expect from your performance(s) at the festival?
CLARKE: For us, we try and keep things as tight and high-energy as possible. Fans can expect a lot of interaction. Especially at these settings, I like to bring the crowd in a little closer — with these big stages, you're generally so far from the audience. I anticipate a lot of energy and a good pace and hopefully a lot of good crowd interaction. We want to make it a real show instead of an awkward experience.
This is a corny question, but I can't resist. You have long hair now. Do you prefer performing with it versus short hair?
CLARKE: I love it. My hat's off to fellow longhaired people and such, but when we're [not touring], I like having short hair. I keep it purely for the show. If we didn't have a band, I'd cut it off. But it's a blast. I've always headbanged, but the effect isn't there [with short hair]. It's cool, I like it.
For previous installments of the Big Takeover's Psycho Las Vegas preview series, check out our interviews with:
• Colin H. Van Eeckhout, vocalist of Belgian post-metal purveyors Amenra
• Jason Shi and Scott Key, singer/guitarist and drummer, respectively, for melodic hard-rock masters ASG
• Victor Vicart of Scottish progressive-metal quintet Dvne
• Zack Simmons, drummer of blackened death-metal demigods Goatwhore
• Emil Amos, drummer of experimental post-rock band Grails
• Julien Chanut, guitarist of French sludge-doom band Hangman's Chair
• Tony Campos, guitarist and founder of thrash revivalists Hell Fire
• Nashville cosmic-riff connoisseurs Howling Giant
• Stuart Braithwaite, founding guitarist/vocalist of post-rock legends Mogwai
• Thomas Eriksen, centrifugal force behind true Norwegian black-metallers Mork
• Tobias Grave, frontman of shimmering post-rock trio Soft Kill
• Derrick Vella, guitarist of death-metal arsonists Tomb Mold
• Niklas Källgren, guitarist of Swedish fuzz fanatics Truckfighters
• Los Angeles Satanic doo-wop duo Twin Temple
• Bruce Lamont, frontman of experimental heavy-jazz project Yakuza and Led Zeppelin tribute band Led Zeppelin 2
• Aaron Rieseberg, bassist of Oregon doom-metal dealers Yob