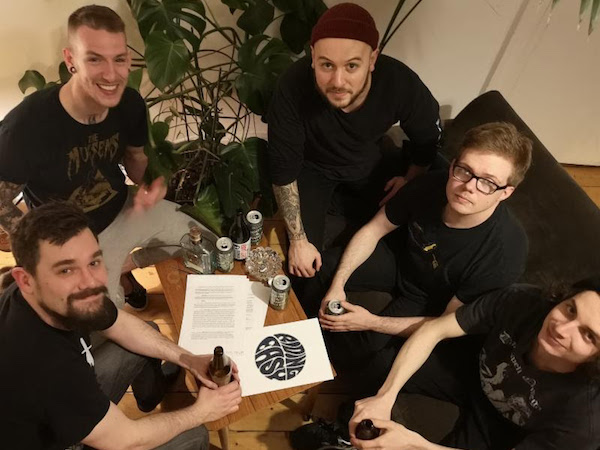 18 June 2019
Photo: RidingEasy Records
Progressive-metal quintet Dvne are in seventh heaven right now. As one of the few participants of Psycho Las Vegas 2018 invited to return for an encore performance at this year's installment, the band from Edinburgh, Scotland, already knew summer 2019 was going to be special. Then came Monday's announcement that they had signed to RidingEasy Records, home of two other Psycho 2019 bands: Danava and Electric Citizen (as well as 2018 guests Monolord).
The Mastodon-sounding crew, formed in 2013, made their first-ever U.S. appearance at Psycho last year. Despite kicking off the festivities on Friday at the early time of 12:30 p.m., Dvne drew throngs to the 4,000-capacity main stage. In fact, crowd reception was so strong by the end of the band's set that they were invited to do an encore performance on Sunday when it appeared Zakk Sabbath weren't going to arrive on time. Unfortunately for Dvne, the second set was nixed after Zakk Wylde's van showed up after all and rolled out their Black Sabbath covers.
Regardless, the Scots — Victor Vicart on guitar/vocals/keys, Dudley Tait on drums, Daniel Barter on guitar/vocals, Jack Kavanagh on bass and new member Richard Matheson on keys — are poised to play Saturday, August 17. While the venue and time have yet to be announced, they are billed in the middle of the poster, between the Obsessed and Tobacco, which could bode well for the white-hot band's positioning on the lineup.
The Big Takeover caught up via email with Dvne, which got their name from the sci-fi epic "Dune," shortly before the record-deal announcement. They spilled about what made their first U.S. show "overwhelmingly good," expanding from a quartet to a five-piece and why they're stoked to see Opeth.
Why are you particularly excited to play Psycho? From your point of view, what makes the festival special — both from a performance perspective and as a personal experience?

VICART: Psycho is one of the most exciting heavy music fests out there. We had known about Psycho way before we were invited there with Dvne last year because of their beautiful lineups, so you can imagine how delighted we are to be coming back this year. From the artist perspective, we also feel like we're given the means to do something special live. Set lengths are longer and the production side of things (lights/sounds) is amazing.

And, of course, this year is particularly special with the festival move to Mandalay Bay [from the Hard Rock last year]. Stoked to be part of it!
What especially fond memories do you have of playing last year?
VICART: Amazing. Psycho 2018 was our first U.S. show and it was overwhelmingly good. The crowd is really synched in too, and the Vegas vibe makes the whole experience really unique and crazy.

Do you have any surprises planned for your Psycho set, whether they be songs you wouldn't normally play, added stage elements, etc.?
VICART: We've gone through a lot of changes in Dvne. We've switched from a quartet to a five-piece formation with the introduction of keys to the music, and have two new members since last year. We're also entering the studio this June, and we'll be switching up our set with a few new tracks in there.
Do you prefer playing in the heat or in the cold? Indoors or outdoors? What are the advantages and disadvantages of playing at the time and on the stage where you're scheduled to perform?
VICART: Heat/indoors; a sweaty gig is a good gig. Indoors because the sound is always better.
Tell me something that happened to you in Vegas that was supposed to stay in Vegas.
VICART: No comments.

What other bands are you most excited to see perform at Psycho?
VICART: So many this year. Opeth are one of our favourite bands. We've seen them this year in Norway, they were incredible. Old Man Gloom, huge fan of the band and their scene. Amenra, Clutch, Oranssi Pazuzu, Yob, Mogwai. [Check back next week for our interview with Mogwai guitarist/singer Stuart Braithwaite.] Also always excited to discover some new bands. It's gonna be rad.
What friends of yours are also playing at the festival? Who are you planning or hoping to hang with in your downtime?
VICART: I'm not sure we know any of the bands playing this year personally, but I'm sure we'll be partying and making tons of new friends. That said, tons of people we've met last year, returning fans and Psycho's crew are more than we can wait to hang with.

What can fans and newcomers expect from your performance(s) at the festival?
VICART: Different set, different band, new music. It's gonna pop off.
For previous installments of the Big Takeover's Psycho Las Vegas preview series, check out our interviews with:
• Colin H. Van Eeckhout, vocalist of Belgian post-metal purveyors Amenra
• Jason Shi and Scott Key, singer/guitarist and drummer, respectively, for melodic hard-rock masters ASG
• Zack Simmons, drummer of blackened death-metal demigods Goatwhore
• Emil Amos, drummer of experimental post-rock band Grails
• Julien Chanut, guitarist of French sludge-doom band Hangman's Chair
• Tony Campos, guitarist and founder of thrash revivalists Hell Fire
• Nashville cosmic-riff connoisseurs Howling Giant
• Thomas Eriksen, centrifugal force behind true Norwegian black-metallers Mork
• Tobias Grave, frontman of shimmering post-rock trio Soft Kill
• Derrick Vella, guitarist of death-metal arsonists Tomb Mold
• Niklas Källgren, guitarist of Swedish fuzz fanatics Truckfighters
• Bruce Lamont, frontman of experimental heavy-jazz project Yakuza and Led Zeppelin tribute band Led Zeppelin 2
• Aaron Rieseberg, bassist of Oregon doom-metal dealers Yob