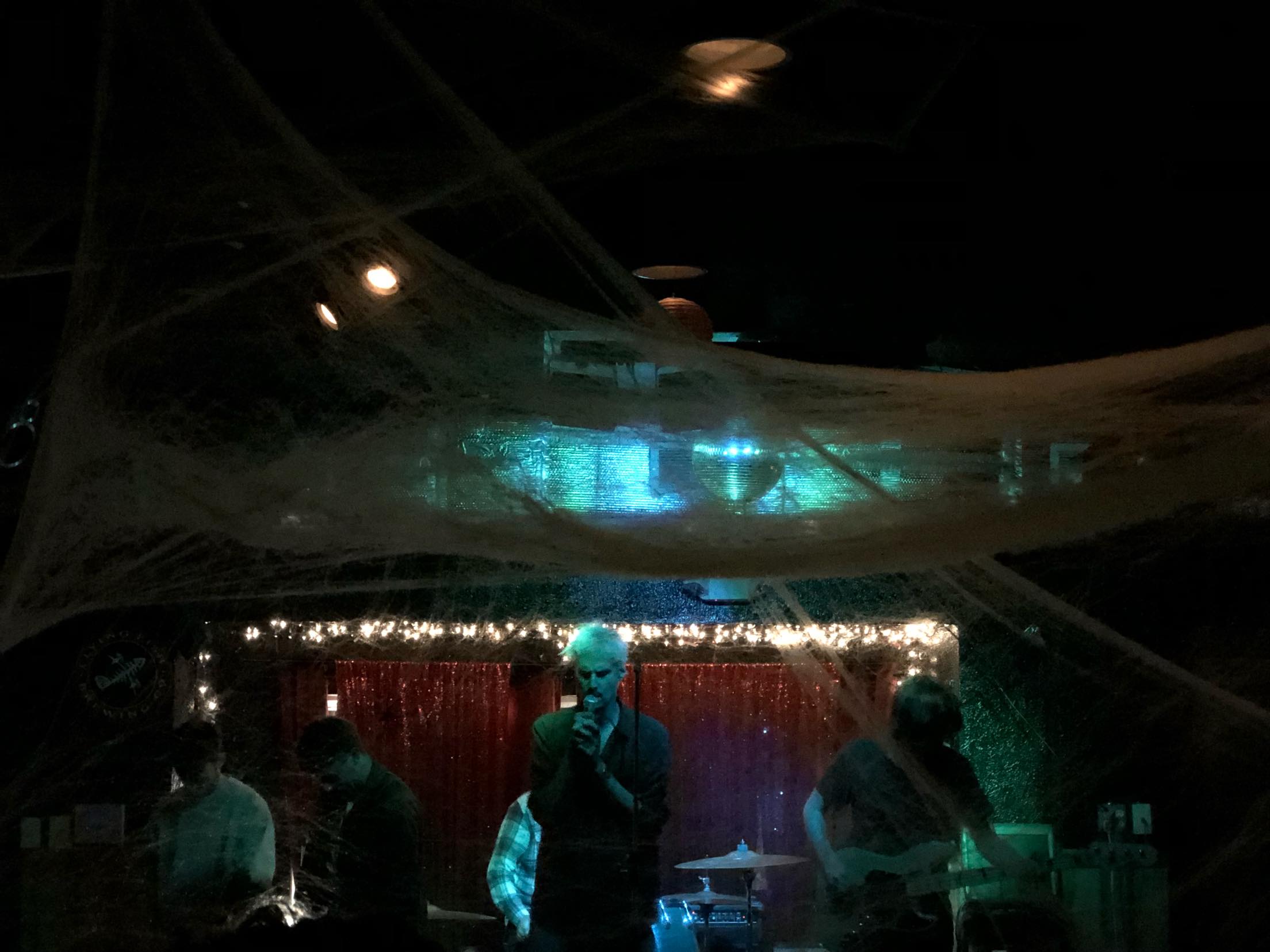 8 September 2019
Photo by Pia Hannah
Melbourne Australia's EXEK have just released their latest album, Some Beautiful Species Left on Digital Regress in the U.S., SDZ in Europe, and Anti Fade in Australia. Like their previous releases, Some Beautiful Species Left is the culmination of bountiful overdubs, where once again EXEK subscribe to Brian Eno's philosophy of the studio as an instrument; a technique EXEK is getting increasingly adroit at. This method of exploration allows the songwriting to develop in conjunction with the recording process whilst privileging greater sonic control.
The result is a record with seemingly in numerous textures and nuances leaving EXEK difficult to pin down but post-punk is perhaps the most accurate; post modern and containing the sneering defiance inherent within punk accommodating elements of dub production, combining tense classical arrangements with funk ("Iron Effeciency"), and Krautrock rhythms that permeate throughout; all the while embellishing tracks with kitchen wares and other unconventional objects in instrumentation.
The record's line-up features Albert Wolski (vocals, guitar, bass guitar, percussion, violin, piano, treatments), Henry Wilson (guitar), Jai K Morris Smith (guitar), Ben Mackie (trumpet), Sam Dixon (drums), and Andrew Brocchi (synthesizers). Some Beautiful Species Left continues to champion and perfect the innovation and intricacies that made post-punk a genre of heightened creativity in the first place.
After last year's successful tour of the United States, EXEK embark on their first European visit this month (dates below), before a potential return to the U.S. next year. Special thanks to Albert Wolski for the fun banter.
James Broscheid: Congratulations on the release of "Some Beautiful Species Left"! EXEK has been praised for using resources at the studio as forms of instrumentation in recordings. Was the approach in writing/recording the new LP any different compared to past efforts? 
 
Albert Wolski: Thanks! Yes this was much the same approach again, of incessant overdubbing. But it's kind of interesting how this record came about. As it completely hijacked plans I had for another record I had written and planned on releasing. In November 2017 we began recording drums for the album that was going to be the follow up to Ahead of Two Thoughts. But we had a bit of a good flow going so I wanted to try out some other drum ideas. I would beat box them to Sam, and he and I would scribe them onto the drum kit. I remember the beats for tracks like "Iron Efficiency" and "Plastic Sword's Retractable" being kind of difficult, but I was happy with the results we got. Whilst Sam was doing takes I would noodle quietly on a bass guitar and come up with bass lines. The songs came out very quickly and naturally, and so my plan was to knock this out as a U.S. tour EP. But it ended up filling out to be album length. But I was still left wanting to do a US tour EP, and so Some Beautiful Species Left was interjected by (2018's) A Casual Assembly. And only now am I back on track on working on the drums and other elements for the intended follow up to Ahead of Two Thoughts. Phew, hope that all makes sense!
 
JB: Tracks like 'Lobbyist' leave me giddy with delight like when I first heard the dub work of Ruts DC, Joy Division's revolutionary work on Closer and even Syd Barrett's vocal delivery (especially "Plastic Sword Retractable"). EXEK's stuff is very dystopian in nature and seems apropos to our current times. Where do you draw influence from? Whether it be music, literature, etc. How does the record's title tie into the music therein?
 
AW: I enjoy reading scientific publications. Magazines like New Scientist, and then when something really interests me I look deeper and find the journal article it cites. We are living in a dystopia. Its amazing! How exciting. Better write another song about it!
The album title does tie in nicely with all the tracks. It's about nature, humanity, death, what's left, and looking positively at the bigger picture. It's also about not having a grasp of the situation. Things don't turn out as you'd have hoped. But what can you do?
 
JB: Are the lyrical themes and melodies/layers of EXEK's sound a collaborative effort between the band's members? Are melodies pre-conceived or a product of studio experimentation? Maybe both?
 
AW: EXEK started out as a studio project of mine, and it still maintains that element. I enjoy chipping away at a record and find it much easier than getting everyone together and slogging out a few live takes. My background is in film and sound design, so I love editing and chopping and pasting waveforms. If I can get one decent bar then that is enough for me to work with. And most importantly it's more fun this way. Every time I open a session I can develop a song much further, by chopping up a melody or intentionally doing something odd or wrong.
 
JB: 2018's brilliant Ahead of Two Thoughts was released on Superior Viaduct. The new record is out on SDZ/Digital Regress/Anti Fade. Is it difficult to coordinate label support? Let alone 3 different labels on 3 different continents!
 
AW: It's piss easy and an absolute pleasure to deal with labels like those three. Super helpful and accommodating – love 'em!
 
JB: Can you provide a brief history of the band? How the current line-up came to be and how the name EXEK was settled on?
 
AW: I came up with the idea of EXEK when I still lived in Sydney over 7 years ago. I wanted to do a rock band that didn't sound like a rock band. Where the typical sonic tropes were inverted; the drums having more effects than the guitars. Where diverse influences like dub, kraut, punk, jazz, hip hop, classical, no wave, soul all found refuge under the lazy umbrella term of 'post punk'.
 If we match the lifespan of The Fall then we could perhaps get close to having as many members/ex-members as that amazing group! At the moment we're up to 15 past and present. Currently live shows have been handled by Ben Hepworth, Chris Stephenson, Jai K Morris Smith, Andrew Brocchi, Ying-Li Hooi and myself. I still dig the name. It's short for 'executive', and the K is just a cosmetic feature that looks sharp and solid when all letters are capitalized.
 
JB: With the amount of studio tinkering on EXEK releases, is it difficult to translate/replicate the band's sound to a live setting? Are there any tentative plans to come back to the U.S. (please!)?
 
AW: It's like your house is on fire and you can only rescue so many possessions. That's the analogy for 'EXEK live'. The pots and pans remain at home. Along with the cement balls, chains, bicycle wheels, egg beaters, baking trays, etc., etc., etc.
We will be back in the states in 2020! Contact us to book us. Give us money! And supply us with cement balls, chains, bicycle wheels, egg beaters, and baking trays in order for us to perform an accurate representation of our recorded material!
 
JB: Is it difficult to initiate new band members into EXEK as far as reaching your vision/achieving the sounds you have in mind?
 
AW: Yeah, sometimes. But as stated, it's hard for us to recreate our recorded body of work, and a lot of songs we've never played live. And probably never will. So the band needs to have this malleability. And that's good. As our live shows may differ depending on the other bands on the bill. If we play with hardcore bands; you end up with punk EXEK. If we play with an electronics artist, then you get some different kind of EXEK.
 
JB: To me, the greatest bands have killer rhythm sections and EXEK is no exception! How have you managed to keep Henry and Sam happy this long? I understand Henry moved from bass to guitar for this new LP?
 
AW: Henry was hard to get a hold of during the period of recording this album. But came up with some futuristic guitar sounds, what he refers to as "locust guitar". Which sound great and added a perfect touch. Sam has been living in Brisbane for a bit now (two states away from Melbourne, Victoria) and Henry currently living in New Zealand, so I don't think I'm doing that great of a job at keeping them happy!!!
 
JB: What kind of impact (if any), does Melbourne have on your art? Is there much support there from a scene perspective? 
 
AW: The scene's very big in Melbourne (and Australia in general), and at any moment it can feel like there's approximately a million bands to "compete" with. But there are some great people around, and I'm very happy I've met them. They either play in other bands, or are supportive of the scene by attending shows or buying records. 
 
JB: What are some of your favorite effects/trinkets to experiment with when recording EXEK material? I love listening to EXEK records with ear buds in because I feel there are so many textures to your recordings that you really need to isolate outside distractions to hear them. 
 
AW: Thanks for taking the time to do that. I've always enjoyed familiarizing myself with a record, and then going on to find something new after a while. I love getting a big pan or wok, and adding a pool of water, and then hitting it with a wooden mallet whilst swirling the water on different angels. It creates some real fluid and immersive qualities. Quite "space" like, but it also reminds me of the skate videos I grew up watching, where the editors would toggle with slo-mo whilst someone was grinding a rail. The side effect from that visual tool was an amazing sound and feeling.
 
JB: I enjoy how abstract EXEK's music is and when paired to lines like, "That I wear an iron cross/That is wear the nazis lost"; your stuff is much more than the post-punk tag its labeled with. Does a label like "post-punk" encapsulate what a band like EXEK is about? I think of EXEK in individualistic terms like I do say, Teenage Panzerkorps, This Heat and the like.
 
AW: Symbols and signifiers fascinate me. A lot of lyrical inspiration comes from the meanings of words. Perhaps we're a 'post-structuralist band'. But I'd rather be 'post-punk' than 'alternative' or 'indie'. In regards to the cross lyric, that also relates back to skateboarding, as it's the logo for Independent Trucks. And yet people wearing them are subverting their meaning, and that is literally 'wear' the Nazi's lost.
EXEK is currently touring Europe – dates here:
Sept 09 Mon Toulouse, FR at Le Ravelin
Sept 10 Tues Gigors, FR at Gigors Electric
Sept 11 Wed Lyon, FR at Grrrnd Zero
Sept 12 Thu Milan, ITL at Macao
Sept 13 Fri Kreuzlingen, CH at Horst
Sept 14 Sat Leipzig, DE at TIFF
Sept 15 Sun Wroclaw, PL at Luksus
Sept 18 Wed Warsaw, PL at Poglos
Sept 19 Thu Szczecin, PL at Klub Storrady
Sept 20 Fri Berlin, DE at Internet Explorer
Sept 21 Sat Groningen, NL at Vera
Sept 22 Sun Diest, BE at Jeugdhuis Tijl
Sept 23 Mon Antwerp, BE at Cabron
Sept 27 Fri London, UK at Moth Club
Sept 28 Sat Brighton, UK at Bees Mouth
Sept 29 Sun Bristol, UK at Gravy Train