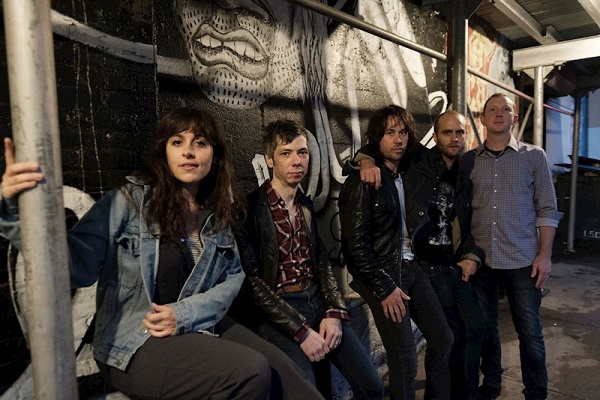 12 June 2019
Photo by Rachel Rosenberg
Americana under the New York skyline is celebrated fully in the unique, and fresh sound of Earnhardt. Based in Brooklyn, the quintet comprises of Adam Gerard (guitar and vocals), Grant Anderson (drums and vocals), John MacDonald (lead guitar), Steve 'Sunshine' Stapleton (bass), and newcomer to the band Veronica Davila (vocals).
A band in their infancy, who have just released a follow-up to their debut ep from 2017, Live At The 100. This new release, is a self-titled tour-de-force of cosmic country with balls out rock, faithfully living up to expectations. The band present a fresh take on an old medium, forging new techniques within the old framework. It is as if the specter of Tom Petty floats in the ether of singer Adam Gerard's voice as the band inject their own unique blend of alternative rock to the backdrop.
There is a vast range of influences within the sound of Earnhardt, indeed, it is something addictive and wholly worthwhile. Songs such as "Transmissions", "Drywall" and "Long Shot" hold a magnificence which is raw, honest and delivered with a cool swagger. The one cover on the album, the Drive-By Truckers track "Women Without Whiskey" is an self-styled reinvention of the original. This is solid work, a fresh formed extension to the innovations Steve Earle began in the eighties with Guitar Town.
What is also refreshing is the news the album becomes available on vinyl the 14th of June. But, before that event, Adam Gerard and Steve Stapleton answered some questions I put to them surrounding their influences, their music and the direction it has taken them in.
How did Earnhardt as a band come together?
Adam Gerard: Grant, Sunshine and I used to play in a band called Red Horse. We made one record and then spent the next few years touring as members of Your 33 Black Angels. Grant was also playing drums in another band, and when I went to see them play one night I fell madly in love with their guitarist, John MacDonald. I got him liquored up after the show and promised him wealth and fame if he came and joined a non existent band called 'Earnhardt'. Vocalist Veronica Davila has been singing with us for the past year or so.
What sounds did you soak up from a young age that helped you develop such a unique approach and style?
Adam Gerard: I really liked the Little Mermaid soundtrack, particularly Sebastian's vocals which I think were supposed to allude to reggae. I could sing you 'Under The Sea' right now. My mother played Christmas music in the house all twelve months of the year, so I was very familiar with Nat 'King' Cole and Bing Crosby, crooner types. The first rock and roll song I remember hearing was The Capitols "Cool Jerk" when Kevin walks in on Uncle Frank in the shower in Home Alone. My first concert was Willie Nelson at our local upstate New York county fair, and as I got a bit older my favorite thing was 90's FM rock radio, Smashing Pumpkins, Counting Crows, Third Eye Blind, Pearl Jam.
Who do you think are is target market for you music? Who do you see yourselves appealing to?
Adam Gerard: We're not as young and hip as we used to be so we're probably nearing Adult Contemporary territory.
There is one cover on the album, the Drive-By Truckers track "Women Without Whiskey", When you started out, was material such as this part of your set list or what bands in particular did you cover?
Adam Gerard: We really haven't done many covers. We covered Bowie right after he died, and we do a Steve Earle song to close out sets once in a while.
How easy did songwriting come to you when you started to pen your own material?
Adam Gerard: For a while it came very easily. It's gotten more laborious as I've gotten a bit older, although I'd like to think it ultimately makes for better songs. I've ostensibly quit smoking cigarettes, which I find makes the writing process make less sense as smoking was such a natural companion to the process.
Expressions of experience come very easily to the band, are the songs simply one life experience, that of Adam Gerard or are they a collective effort?
Adam Gerard: All the lyrics are basically true from my life.
What reaction do you get from audiences at your shows with regard to your songs? Do many feel an emotional connection to what you are singing about?
Adam Gerard: The audience reaction is always great. We're a good live band. We have a pretty visceral sound, so I'd like to think we're able to pull them in emotionally with that, and if the lyrics mean anything to them that's even better.
Although there's a feel good element to the the album, there is an energetic feeling which pumps clearly evident through every song, and it is obvious that these nine-tracks mean something, was it a difficult recording process or was the material so well honed entering the studio that it all just flowed?
Adam Gerard: : We went into the studio with a batch of 15-16 songs and recorded them all. I think we were writing a bit in the studio. The recording process was easy.
The influence of New York certainly comes through in the Earnhardt delivery, are you all lovers of country music in some respect? or is it simply a common belief and love of different types of music?
Adam Gerard: I think we are all fans of the genre. The songwriting is certainly rooted in the tradition of country music. American rock and roll is basically the lovechild of Country and the Blues, so it's all sort of coming from the same place. I think we in the band have all of those influences in our blood. Our tastes are pretty widespread. We're not married to a genre. Two of my favorite records of the last few years are a black metal record and a rap album.
The sound of the album is definitely country based but not bound to that genre, do you agree with the Americana label of your music because it projects so much more?
Steve Stapleton: We're not too worried about what genre we "fit" into, we all try to make songs that sound right, and we think we're pretty good at that as a collective. We each listen to and are big fans of all sorts of genres and bring all of that to the table.
What influences or are you hoping to fuse into your sound in the future? Such as Celtic like Steve Earle did on Copperhead Road?
Adam Gerard: I really want to use drum machines and play around with auto-tune on the vocals.
Years down the line, if Earnhardt do a covers album, who would you include on it?
Adam Gerard: Ryan Adams, Sheryl Crow, The Cure, Brooks and Dunn and Jackson Browne.
Is the sound of country rock a dying genre, or is it more of underground sound nowadays?
Adam Gerard: I think at its core it's as big as ever. Country acts are some of the most mainstream, highest-grossing acts on the market.
For more information on Earnhardt:
Bandcamp
Facebook