2 March 2022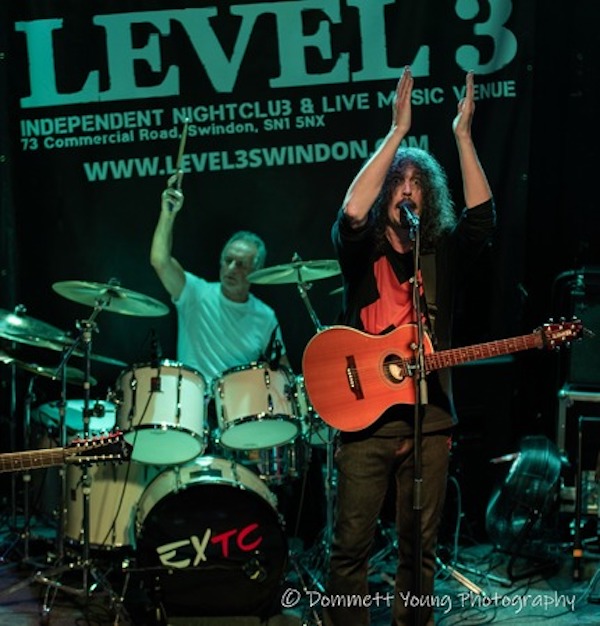 Photo: Dommett Young Photography
After nearly 40 years from last keeping the drum seat warm for seminal UK band XTC, Terry Chambers is once again on the tour bus, bringing the good words of Messrs. Andy Partridge & Colin Moulding to a new generation (or two) of listeners.
For those of you keeping score, Chambers exited XTC in 1983 near the beginning of the sessions for the band's sixth long-player Mummer as the band transitioned from a live act to a studio-album only entity, soon moving to Australia.
Fast forward to 2016 – Chambers returns to Swindon UK, reconnects with XTC bassist/singer Colin Moulding, with the duo forming the band TC&I. TC&I put out the Great Aspirations collection in 2017, played a few gigs, then disbanded soon after.
With guitarist/lead vocalist Steve Tilling (TC&I, CIRCU5), Chambers put together EXTC, with guitarist/vocalist Steve Hampton (Dead Crow Road) and bassist/vocalist Matt Hughes (Robyn Hitchcock, Rick Wakeman). After a number of January and February shows in the UK, EXTC will be heading over to North America from March 19 to April 9, and finishing their first-ever tour back in the UK with several more shows in June and July.
We've recently checked in with the band to see how things are going, word on the current tour and a few possible glimpses into the future of EXTC. Here's what's on their minds…
1) While spending all those years in Australia, was there anything specifically that you missed in Swindon for purely sentimental reasons?
TERRY CHAMBERS: Maybe the local football team!
2) Has anyone come forward to the past band members with an offer of loadsadough to reform XTC?
TERRY CHAMBERS: I did hear a rumour of money being offered for XTC to do a new album but I don't have any specifics on it. Maybe that question should be put to the other three members of XTC. (note: no word as yet, but still digging!)
3) How has the initial response been to the upcoming tour (sales, etc)?
TERRY CHAMBERS: The response to the tour so far has been has been very enthusiastic, and sales have been very good in light of the Covid situation.
STEVE HAMPTON: The response has been amazingly positive especially considering the Covid situation so it's a big optimistic thumbs up!
MATT HUGHES: We've had some really positive feedback from our UK gigs and some good ticket sales. So many people are excited to be able to come out and see Terry's legendary drumming and hear the music of XTC live.
STEVE TILLING: Great so far! Covid has put a crimp on things obviously, but considering we're a new band going out in uncertain times, we're delighted with the response.
4) What's a particular stop on the upcoming tour that you're especially looking forward to, and why?
TERRY CHAMBERS: I'm looking forward to visiting several cities on the UK tour that I've never been to before. I visited most of the cities on the North America tour previously with XTC. As far as I remember, we had a good reception at all of them!
STEVE HAMPTON: For me, there's no specific stop. We're stoked for all the dates and looking forward to airing the songs.
MATT HUGHES: I'm looking forward to playing the Magic Bag in Detroit, because that's a great name for a venue. I want to tell people I've played 'The Magic Bag', just to see the look on their faces!
STEVE TILLING: All of them! But if I had to pick one, it would be Toronto as I'm a big fan of Canadian bands, especially Max Webster and Kim Mitchell.
5) What are some tracks fans might expect to hear at the upcoming shows; are there going to be any unexpected deep cuts/TC&I/CIRCU5 tracks/covers?
TERRY CHAMBERS: The show consists of a good cross-section of the band's albums. Obviously, there's a lot of material to choose from, so we'll need to draw the line somewhere.
STEVE HAMPTON: I keep losing my set list to eager XTC fans which appear on social media quite a lot! It's a two-hour set so there's a decent smattering of crowd pleasers.
MATT HUGHES: I don't think fans will be disappointed. They can expect to hear all the classics as well as some great tracks from the further dusty reaches of the XTC catalogue.
STEVE TILLING: Yes, fans can expect the hits and a few surprises. There will be no CIRCU5 covers but we do a track called 'Scatter Me' by TC&I.
6) What's up (if anything) in terms of future recordings – any chance of a live album coming out of the tour?
TERRY CHAMBERS: We're currently recording the UK tour and will be sifting through this probably after the US tour – if we all agree, it may well be released.
STEVE HAMPTON: Well there's definitely talk about a live album and maybe an EP or album of self-penned songs. Watch this space, I guess.
MATT HUGHES: We're currently working on some new material which we'll be recording in the near future. A live album is a great idea – something to consider for sure.
STEVE TILLING: The plan has always been to make EXTC an original band in its own right and give people something fresh. We have lots of ideas to work on, including two new songs called 'Dynamo' and 'Do I Really Need To Spell It Out for You?' We won't be playing new stuff on the approaching tour, but we'll be slotting original songs into our set at future gigs.
7) Best place(s) in Swindon to play live and/or grab a pint or six?
TERRY CHAMBERS: There aren't many places to play in Swindon these days. The two places we have played are The Victoria and Level 3, which are good venues.
STEVE HAMPTON: I'm from Portsmouth but I really like The Victoria and Level 3.
MATT HUGHES: Level 3 in Swindon is a great venue: a big enough stage to run around but intimate enough for people to see bands up close and personal.
STEVE TILLING: There are lots of good pubs in Swindon – too many to list. For music, I'd recommend or The Victoria, Level 3, The Rolleston, The Beehive and The Castle.
8) Have any of you performed at a gig that ended in fisticuffs (crowd or band)?
TERRY CHAMBERS: With the stage lights in your eyes, it's difficult to see whether people are dancing with their feet or fists!
STEVE HAMPTON: Yep, unfortunately, but it's not common. Everybody seems to be having too much fun at an EXTC show to be doing the toe-to-toe two step!
MATT HUGHES: Oh yes – at a wedding! There was too much alcohol and tension between the families. Fists were swinging. Thankfully, we were already packing down, so we made a hasty retreat.
STEVE TILLING: There have been no fights in bands I've been in. But there have been a couple of hairy moments when lairy punters have had a go at the band. In 1989, I was in a hard rock band called Bardiche. We played a bikers' pub in Bristol, and the regulars didn't take too kindly to our glammy audience. They threatened to throw our gear in the river. That didn't happen, but I've no idea who sweet-talked us out of that situation!
9) If there's a past musical act you could've been part of, what would it be?
TERRY CHAMBERS: The Sensational Alex Harvey Band.
STEVE HAMPTON: Crowded House without doubt!
MATT HUGHES: Move over Noel Redding; I would have loved to play in as part of the experience with Jimi Hendrix!
STEVE TILLING: Yes. Not a cool answer, but I've never been cool and am too old to start trying now!
10) Anything you want to say to the folks coming out to the shows?
TERRY CHAMBERS: We hope to see as many people as possible – it would be a nice thought to sell out all the shows. For those who do turn up, we have put a lot of work into this to get it as good as we possibly could. I don't think you'll be disappointed because we have been receiving a very good reaction in the UK.
STEVE HAMPTON: We're just stoked to be able to play these tunes to them and do them justice.
MATT HUGHES: To quote the almighty Spinal Tap, 'Have a good time all the time. That's my philosophy.'
STEVE TILLING: Please come and check us out. We've put all we have into this. It's not a side hobby or something we take lightly. We genuinely want to do these songs justice and give everyone the best night out possible. We want to take EXTC as far as we can – and hope you join us on the journey!
Bonus question: (Swindon-based brewstuffs) Arkells or Wadsworths (or are they both dreadful)?
TERRY CHAMBERS: Arkells or Wadworths? – I'm a lager man and neither of these do a lager. They do ales.
STEVE HAMPTON: What's Arkells or Wadworths?
MATT HUGHES: Wadsworth – I've been on a tour around the brewery there which was awesome – from what I can remember!
STEVE TILLING: I've lived all my life within nostril-distance of Swindon's Arkells brewery, so I'm no stranger to the sweet smell of fermented fruit. But I don't really drink, and am not sure I've even tasted their beers! I've heard they're good though. Wadworths are up the road in Devizes, so I'll choose Arkells out of loyalty to my home town.
Website: extc.co.uk
Instagram: Dommett Young Photography