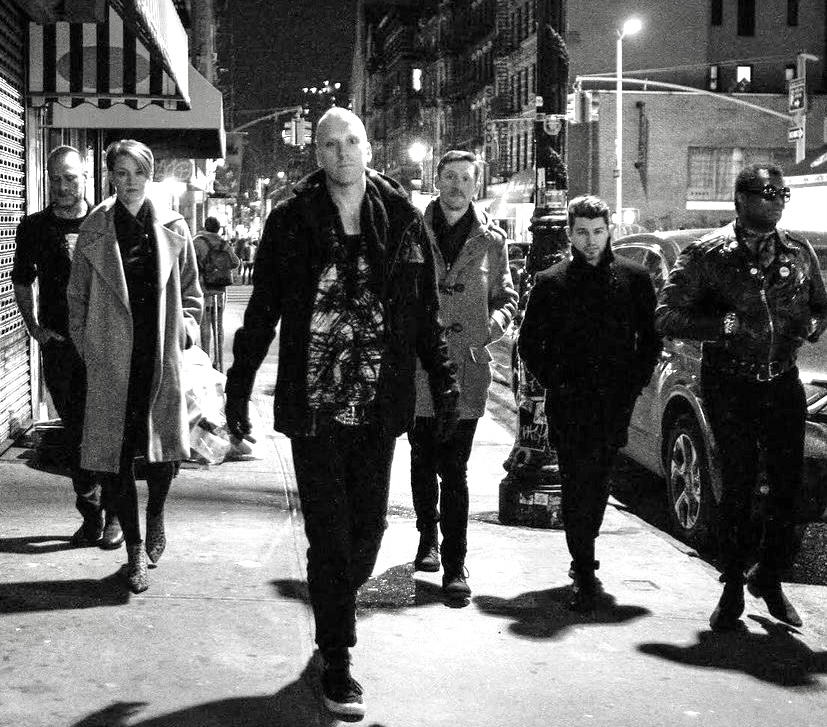 2 September 2022
Recently, post-punkers London Plane released their sophomore album Bright Black via the Declared Goods label. This six-piece collective is made up of David Mosey (guitar and vocals), Jessica Cole (vocals), Bryan Garbe (drums), Grant Parker (bass), Julian Tulip (synths), and Kristofer Widholm (guitar). Their roots trace back to 2014 backstage at a tribute show to the recently deceased Lou Reed, when Psychedelic Furs' Joe McGinty introduced David to Jessica, who were both performing.
With a commanding performance and stage presence that feels like a cross between Bauhaus' Peter Murphy and John Malkovich, frontman David Mosey took the time to speak with us about the new album.
Just as a bit of background, can you tell me how the band came together, and is it true that both the late Lou Reed and The Psychedelic Furs had a part to play? Can you tell us about your back story?
Yes, I guess in a peripheral way, and with the smallest of "p's," Lou Reed played a part. About the time that he died – nearly ten years ago now, I think – I had begun writing songs with the idea that someone other than myself would sing them. They were pop songs, a bit more saccharin-ey and less theatrical than what I usually write. I had it in my mind that the songs should sound a bit like The Ronettes had they been formed in 2015 instead of 1965. After Lou Reed died, my friend Joe McGinty who played keys in Psychedelic Furs asked me to sing a song for a tribute show that he was putting together, and that's where I met Jessica, who was also singing. I had heard her sing a couple of times before, and I thought her voice was a bit Ronnie-esque. So I strung together a few songs informed by the entries of a diary I found lying amongst some trash on a Lower East Side sidewalk. It was leather-bound, and it caught my eye just enough that I stopped to investigate. It was a young woman's diary from the early 80s, full of drama and angst, and it informed a lot of the material on that album. I put a band together intending to do a one-off, and the result was 2018's New York Howl.
London Plane wasn't meant to be much more than a project serving that group of songs, but then we started writing as a group, I started singing again, and everything changed. We went from a pop band with a few good hooks and a good back-story to something far more determined and, I think, meaningful.
Having recently reviewed "Watch That Madman Go", it is clear that you are a band with something to say. What themes and messages are you trying to discuss through your music?
It's more of a cathartic thing than a predetermined mandate that certain songs have to deal with the experience of living and falling in love and dying in these troubled times. I find myself rejecting songwriters who are writing inward-looking, self-involved, self-aggrandizing, and otherwise shallow material. While villains are continuing their ascension politically and culturally, and totalitarianism is sweeping across the planet, maybe it's not the best time to write ten more songs about breaking up with your fucking boyfriend. Or do – I don't care, but there's a lot more to say about the human condition, and that's where my pen goes when I put lyrics to music.
I can hear some wonderfully British bands running through your sound – The Banshees, Bauhaus and the glorious Shriekback, to name a few. What influences would you say inform your music?
Given the themes that we're approaching lyrically, we naturally gravitated toward a darker, more rhythm-oriented sound. The songs needed to sound dangerous and spirited if we were to get across some of the more complicated and ultimately barbed and politically-tinged messages. But we don't set out to sound like any one band or fit into any genre in particular. And I don't think we do – the bass guitar is awfully funky and disco-ey sometimes, isn't it? Not very goth, that. All that said, my first concert was Peter Murphy, in fact, so I'm sure that seeing him in his prime informed everything that was to come for me as a songwriter. And funny enough, I only discovered Shriekback after we had finished writing the album. But I can definitely see how we might be considered disciples of sorts. Bowie, of course, is unavoidable and runs through everything, subconsciously or not. Reggae artists like Linton Kwesi Johnson and Culture really set me off in a mood to write. There's no lying in that music. Above all of that, Scott Walker is probably the patron saint of London Plane.
And your band name is interesting. Is there a story behind it, or is it just a case of trying to find a cool name, which it definitely is?
Thanks for saying so. London Plane trees are known as New York City's street trees. You can find them all over town, but especially on dense, high-trafficked, dirty urban streets where they might take a beating. That is their specialty, in fact, taking a beating. And they don't exist in nature as they're actually a hybrid between two kinds of sycamores. So they act as these semi-synthetic, durable lungs-of-the-city in an otherwise choking environment. And they're tall, pale, and ghostly. In a rather tongue-in-cheek way, I thought that the band shared a lot of these qualities, thus the name.
Especially given the absence of a live scene for the duration of the lockdown waves, many bands have found it challenging to promote themselves and their music, but I see you've got a team to support you now. What's it like to be working with Declared Goods and Shameless Promotion PR for this new album?
It's a group effort for sure. How to cut through the dross? I don't think anyone really has the code. But Greg Vegas of Declared Goods and I set out to find some synergy, and I think we have. And Shauna from Shameless Promotion PR really gets the music, so hopefully we can break through, expand the audience, find the discerning listeners.
What can listeners expect from the new album Bright Black?
When we were writing the songs, if from the very top they didn't challenge us – if they didn't feel essential – we put them in the bin. Listeners can expect a group of songs that sound like the last that a good band at its peak will ever write. Which they might be. They're spirited and full of razor-sharp hooks. Bright Black is a haunted house dance party. There's no acting, no posturing in these songs. There's too much at stake not to be precise.
My older sister commented to me recently of the apple tree in her backyard in Oregon that despite its dying of some blight, the apples are getting sweeter, more intense with every harvest as the tree knows it might be its last. That sounds about right.
Am I right in thinking that the new album could be described as a lockdown album and if so, how much of a challenge was it recording in such isolated and detached times?
No, actually. We had finished recording most of the album prior to March 2020. The pandemic only allowed me to go back in and perfect parts that I thought needed attention to the extent that I could. But isolation and the New York City mini-diaspora did halt the band's momentum. We were spread all over the country by Summer 2020, and more than one of us hasn't yet returned to New York City.
And following on from the last question, how much did those difficult times impact the sound and lyrical content of the album itself?
Because the songs were informed by the rise of villains and current events which still hold the world hostage, as well as the demise of heroes we hold dear and certain loved ones close to the band, the songs didn't rot at all. They're as spirited and barbed and rumbling as the day we wrote them. And I'm still as emotionally tethered to the message as the day the songs were formed. That all tends to come out onstage, so the shows this summer shouldn't be boring.
Finally, what does the future hold in store for you all, both as a band and as individuals too?
I honestly don't know. Being in London Plane is pretty demanding. The timing in the lives of everyone in the band was right for Bright Black. We were like an army; assembled, trusting in each other, focused, had our wits about us, sharing in a mission. It's difficult to say if circumstances will allow it again. I'm just pleased that once upon a time we came together to make something significant.
Links
website
bandcamp
facebook
Instagram
Band photo courtesy of Alice Teeple