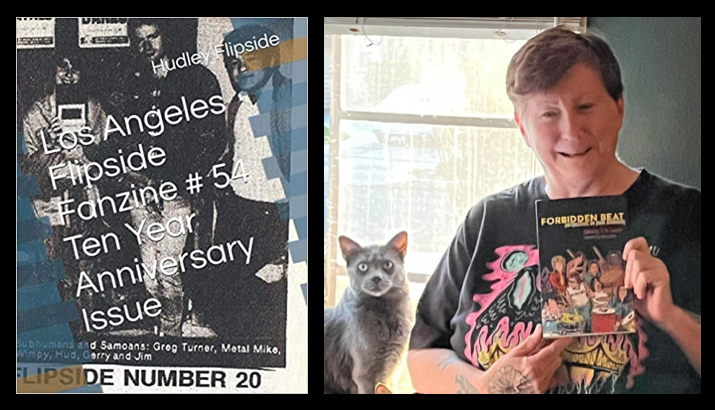 6 April 2022
Playing Favorites is an interview series where creative people pick a topic and tell us their five favorite things about it. Opinions expressed in this series are those of the interviewees and do not reflect the opinions of S.W. Lauden or The Big Takeover.

Hudley Flipside is the pen name of Holly Cornell. She co-owned and edited Los Angeles Flipside Fanzine from 1979–1989, and is the current owner of The Seminary of Praying Mantis Publishing where she published the memoir My Punkalullaby and Los Angeles Flipside Fanzine #54 Ten-Year Anniversary (replica). Hudley is currently working on Los Angeles Flipside Fanzine The Narrative, a documentary film series chronicling early Flipside staff members and behind-the-scenes punks.

HUDLEY

FLIPSIDE

'S

TOP

5

FAVORITE

PUNK

DRUMMERS
(Excerpt from
Forbidden Beat: Perspectives on Punk Drumming
.)
5. Ivor Hay of The Saints
In any image of the original members of the Saints (1973–1978), you will see Ivor Hay dressed in dark clothing. He is tall, thin, has short blond hair, and often wears dark sunglasses. The original incognito guy, a punk drumming saint found about town, in a bar, or a dark alley. "One Way Street" is the second song off the Saints' debut album.
Ed Kuepper
starts with lead guitar before Hay explodes in with his unique pulsation. A call for the underground music to begin. The original drum beat of punk rock. My only current addiction is this band.
4. Scott Miller of Agent Orange
This three-piece surf-punk band shines bright. Hearing the original trio of
Steve Soto
on bass,
Scott Miller
on drums, and the infamous
Mike Palm
on guitar together is great. The Posh Boy Records recording (1979) of the song "Bloodstains" is a winner punk anthem. Happy-beat Scott stuck with the band and was always a joy to talk to. Agent Orange skates on the cover of
Los Angeles Flipside Fanzine
#42. Scott also is viewed pouring a drink over his head. One of the best drummers and characters to send a throbbing rhythm down my spine.
3. Lucky Lehrer of Circle Jerks
Many bands tumbled in the back door of Posh Boy Records to get their careers going; Circle Jerks is one of those bands. They were out-of-control good. Lucky is a trained jazz drummer who was a smart ass. The sixth track, "Wasted," off the
Group Sex
album has Lucky's fast drum roll confidence. I remember in a
Flipside Fanzine
interview with Circle Jerks, Lucky confronted me, saying that not voting in presidential elections is pathetic. I gave him the empty punk reason for not voting. He told me most punks think that way and it is wrong. Got me thinking about politics differently. He is smart, fun, and a thrill to hang out with.
2. Reed Mullin of Corrosion of Conformity
Of the many bands that toured through Los Angeles in the 1980s,
COC
is one that rings loudly in my memory. They started the fast-hardcore sound or, as we knew it, thrash bands. Reed was active in the punk scene and seemed to know all the punk hubs. He shared and bootlegged music cassettes. He made me, with much opposition, listen to a cassette tape of a nobody metal band named
Metallica
. An intense and gut-wrenching drummer boy. One of my favorite Reed drum songs is "13 Angels." Slower than I remember him drumming, yet older and wiser. Rest in peace, sweet prince.
1. Scott Preece of

GBH
When Charged
GBH
first hit the punk scene in the early 1980s, I knew the band's original drummer,
Wilf
. Then, a few years later, Scott Preece joined the band. Finally, I got to see the song "Lycanthropy" live, a number off their debut album
Leather, Bristle, Studs, and Acne
(1981). I'd waited years to hear it live. My youngest son drums. He told me that Scott sounds like drums on steroids. The second time I casually met Scott was at the Rainbow Bar and Grill on the Sunset Strip before a show. I sat next to him drinking a pint of beer. Before I left, I told him how much his style of drumming improved the band. He was surprised I knew who he was. When it comes to
GBH
, I know who is drumming with bass player
Ross Lomas
and
Jock Blyth
on guitar. The best damn punk sound in the universe.
• • •
About Forbidden Beat: Perspectives on Punk Drumming
"Whether they're self-taught bashers or technical wizards, drummers are the thrashing, crashing heart of our favorite punk bands. In Forbidden Beat, some of today's most respected writers and musicians explore the history of punk percussion with personal essays, interviews and lists featuring their favorite players and biggest influences. From '60s garage rock and proto-punk to '70s New York and London, '80s hardcore and D-beat to '90s pop punk and beyond, Forbidden Beat is an uptempo ode to six decades of punk rock drumming."
Previously on Playing Favorites:
Alison Braun's Top 5 Favorite Punk Bands to Photograph
Jim Ruland's Top 5 Favorite Punk Books
Tim Hinely's Top 5 Favorite Venues